He's Got Rhythm
Houston crooner Horace Grigsby — stylish, smooth and celebrated by his fellow musicians — struts his stuff at the Katy Jazz Fest.
Phoebe Rourke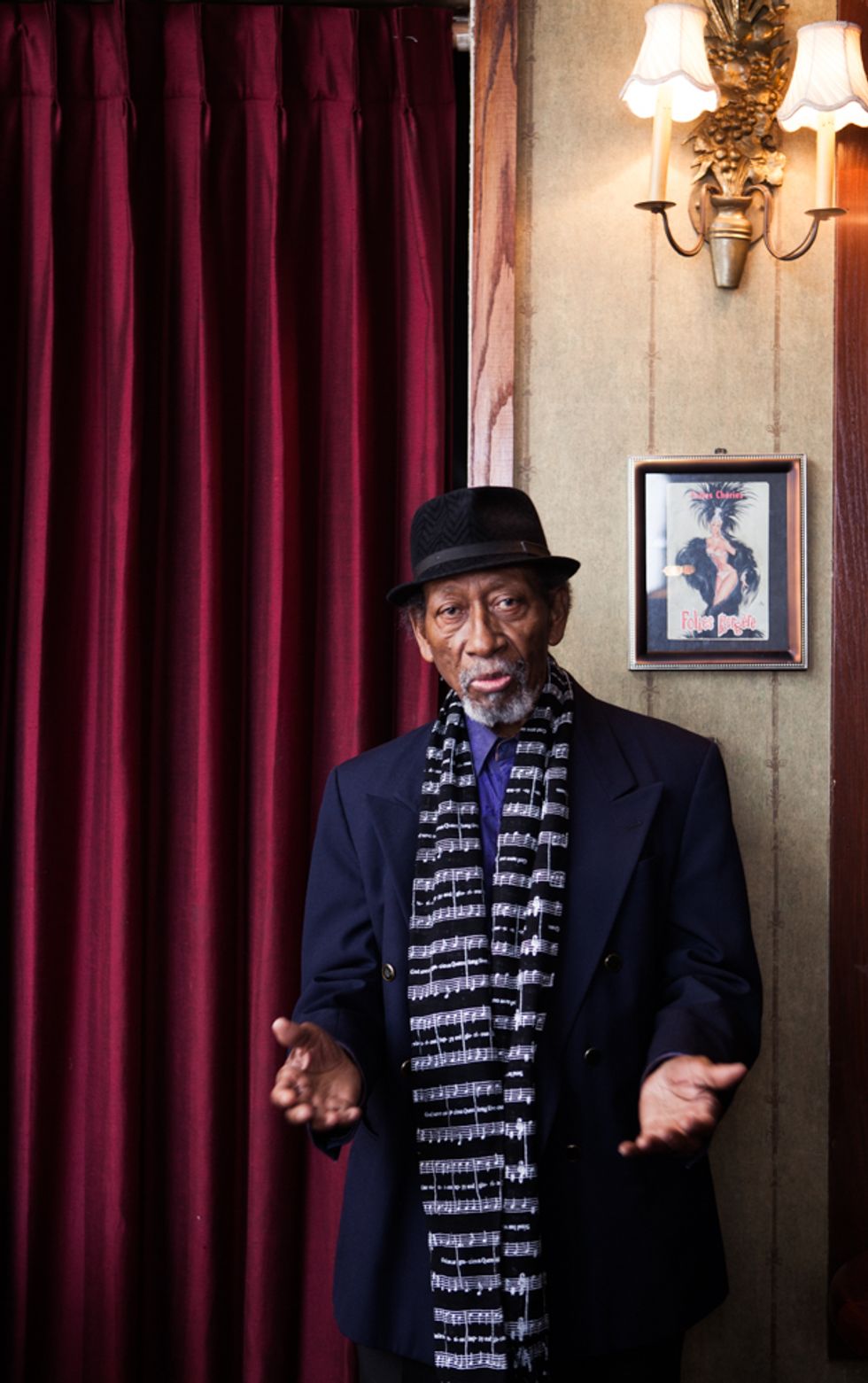 Seated on a stoolin front of the floor-to-ceiling stained glass windows in the chapel of Trinity Episcopal Church, dressed in a stylish dark blue denim jacket and fedora hat, 81-year-old singer Horace Grigsby has his audience in the palm of his hand. Despite the early hour, and being a bit under the weather after the previous night's gig, Grigsby is regaling the gathered faithful (actually a master class for young musicians) with a swinging rendition of "They Can't Take That Away From Me," a song made famous by Ella Fitzgerald. As sunlight pours into the chapel, Grigsby, accompanied by longtime pianist Bob Henschen, sings the lyric in his distinctively melodic and conversational style that belies the years of practice and experience it takes to reach this point, where communication with a listening audience appears effortless.
---
Grigsby will perform twice with Henschen at the 2017 Katy Jazz Festival (katyjazzfestival.com) April 21-22, at the 900-seat Katy High School Performing Arts Center. Now in its ninth year, the festival brings together professional musicians with student ensembles from high schools across the state of Texas. For students of jazz, Grigsby is a direct line back to a time in Houston when jazz clubs like the Eldorado Ballroom — known as "The Home of the Happy Feet!" — were hopping, and the Texas Tenors Arnett Cobb, Illinois Jacquet and Eddie "Cleanhead" Vinson inspired him to learn music that was deemed off-limits by his Baptist preacher father.
"I learned jazz by listening through the walls of beer joints," he says. "I would sit on the ground with my back to the wall … the jukebox was on the other side. I would get caught, get my butt whipped by my father, and go right back later on.
"My parents never heard me sing other than in church," says Grigsby. "No jazz, no blues. I wasn't supposed to do that because I was Reverend Grigsby's son."
Butt-whippings notwithstanding, Grigsby's singing career has taken him from Houston to Honolulu, New York, San Francisco, and back again. He has also mentored many young players over the years, including pianist and MacArthur "Genius Grant" recipient Jason Moran. "There's a texture in Horace's generation that isn't in my generation at all," says Moran, who cast Grigsby in his 2015 multimedia Da Camera performance "Holed Up." "The way they swing and tell a story, that's of a generation."
And for Houston bassist David Craig, Grigsby is nothing less than one of the last living masters of a style of singing in which the singer not only tells a story, but also pulls the listener into that story with "a sense of pulse." "If Horace sang a song all by himself, you would feel the time," explains Craig, whose first professional gigs were with Grigsby. "You would tap your toe, you would bob your head, and you would feel the groove. Even people who can't clap on the right beat, they're still going to be moved."
Whether in a club or the classroom, Houston jazz is alive and relevant thanks to a rich history of cross-generational collaboration. "You aren't able to climb the ladder if nobody gives you any rungs," is how Moran puts it. Grigsby, who typically gigs several nights a week, is grateful to the older musicians who took time to teach him when he was just a young man, hiding his passion for jazz from two uncomprehending parents. "They taught me to listen," says Grigsby of those early mentors. "They just carried me around, which is what I try to do for youngsters today."
These words, like the lyrics of the songs he sings, come from the heart. Just like the words Grigsby always speaks to his audiences at the end of his sets, as the last piano chord fades into silence: "I love you."
Far Above: Horace Grigsby at Birraporetti's, a venue where he regularly gigs
Uncategorized