Kendrick Scott Drums Up Moments of Harmony and History on New Album, Plans Big Concert for May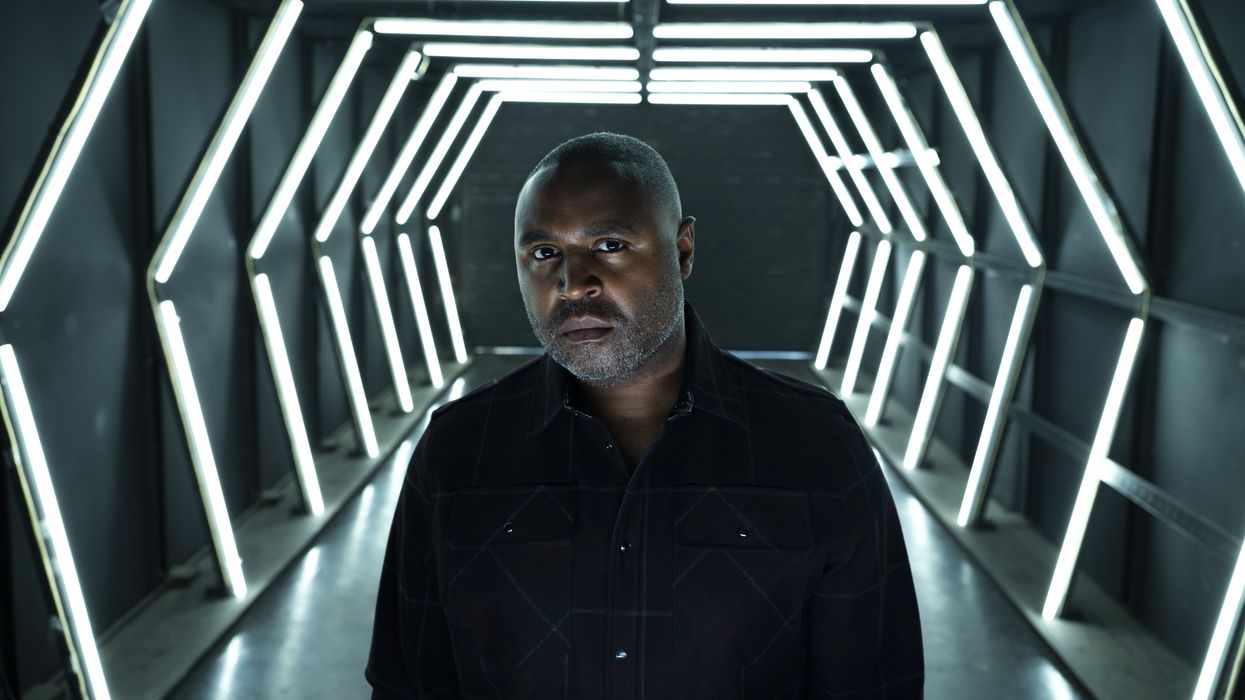 POST-PANDEMIC, HOUSTON-born drummer Kendrick Scott is keeping busy. On March 3, Scott released Corridors, his third album for the iconic jazz label Blue Note Records, with fellow Houstonian Walter Smith III on tenor saxophone and Reuben Rogers on upright bass. Historically, the piano-less trio has inspired several groundbreaking albums in the jazz canon, and Corridors is indeed experimental, though pensive in its mood.
---
Originally commissioned in 2020 for The Jazz Gallery's 2020 Artist Fellowship Series, many of the album's titles ("What Day Is It?" "A Voice Through The Door") evoke the intense emotional states we experienced collectively during the months of Covid-19. But by the end of the album's swinging final track "Threshold," there is a feeling the musicians and you, the listener, have come through a tunnel and stepped back into the light.
As both a drummer and composer, one of Scott's many strengths is creating a "harmonic space" for his groups, and with no piano or guitar to be heard on Corridors, there is an abundance of space for Scott to explore the music.
"Harmonic motion is one of the secrets of really great drummers," says Scott, who delights in following the rise and fall and tension and release of chords as they unfurl within a tune. "Once you understand the different types of chord qualities, you can play into that."
So are the drums a harmonic instrument?
"Absolutely," says Scott. "I think the drums have everything in there." He points out that the drum, the second instrument to come into existence (the voice being the first), was played by groups or "tribes" of musicians.
"You have to consider, what is the resonance of drums being played by groups of people?" says Scott. "To me, that's what harmony is, it's finding those resonances between more than one thing."
Speaking of the voice, Scott, who grew up singing in the Baptist church, can be heard singing along with Smith's tenor on the track, "One Door Closes, Another Opens."
"I did that to give people a window into my world of how I'm hearing and I write the music," says Scott. "I'm always singing, whether the mic is there or not."
On May 12, at the Cullen Theater, Scott gives voice to the Sugar Land 95 — convicts leased and forced into fatal labor just after the Civil War in the fields of Sugar Land, Texas, and whose remains were discovered in 2018 in several unmarked graves — with his multimedia performance, Unearthed. Commissioned by DACAMERA, Unearthed features Smith, pianist Gerald Clayton, bassist Joe Sanders, the Harlem String Quartet, poet Deborah D.E.E.P. Mouton, and projections by visual artist Robert Hodge. While Hodge and Scott have known each other since high school (Hodge's art is heavily inspired by the history of hip-hop, jazz and R&B music), Mouton is new to his creative circle, and she is a crucial component to Unearthed.
"She's just a force of nature," says Scott of Mouton's writing and skill as a performer. "This is a big story to tell. There are so many parts to it, and the way she weaves things together and makes you visualize and internalize them is very unique."
Scott, like many artists, is highly aware of the escalating drive to white-wash, if not completely erase, the more painful and complex moments of our nation's history.
"There's hurt inside of there," says Scott of that history, and Unearthed provides the audience and participating artists an opportunity to be still and feel that hurt together. "I feel like we should be able to sit with it, and not say anything. If we can just sit with it, we can consider where we can go from here."
Art + Entertainment