'Black Chameleon' by Deborah D.E.E.P. Mouton Is a Magical Blend of Memoir and Myth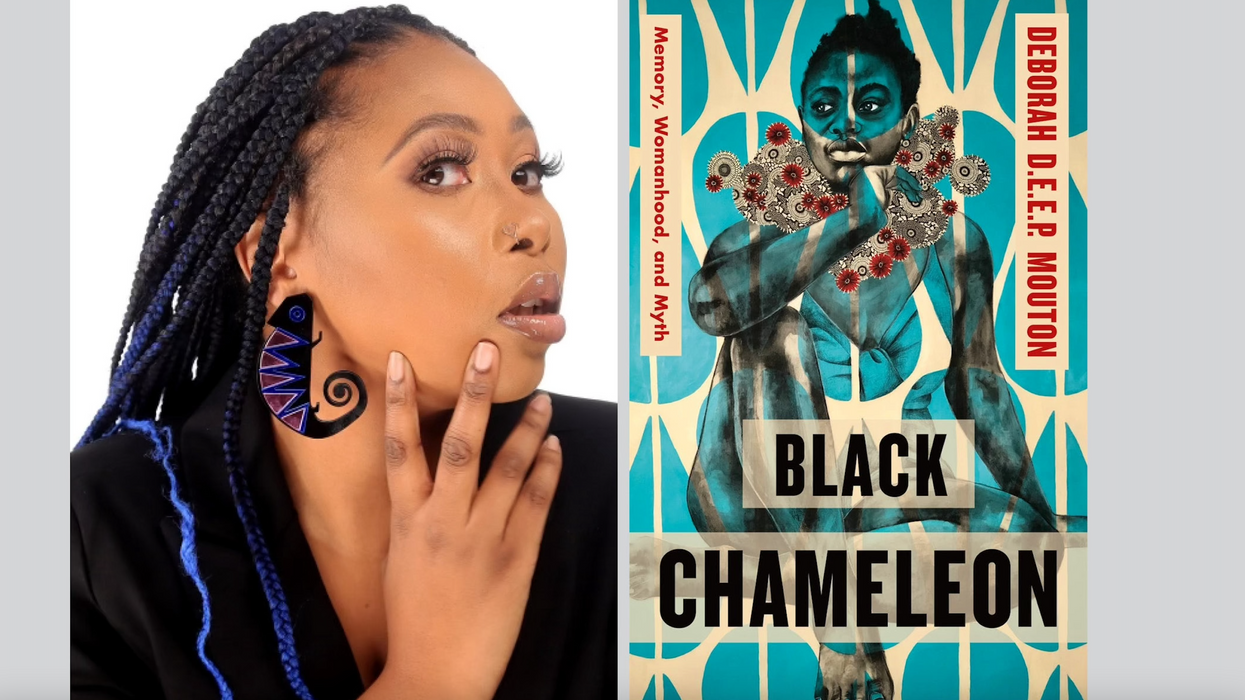 LAST FALL, HOUSTON writer, poet, playwright, and performer Deborah D.E.E.P. Mouton enjoyed great success at Stages with her play Plumshuga, a celebration of the life story of legendary ballet dancer Lauren Anderson. In her brand-new, debut memoir Black Chameleon: Memory, Womanhood, and Myth, Mouton shares her own story in prose that reimagines the possibilities of what an autobiography can be. Publishers Weekly calls Black Chameleon "a spirited portrait of Black American womanhood," and it is certainly another fine example of the high level of literary innovation and excellence to be found in Houston.
---
Throughout Black Chameleon's 300 pages, Mouton skillfully amalgamates first-person details of growing up in California as the daughter of a preacher and a tough but loving mother with fantastical moments drawn from Black American folklore, mythology, fairy tales, and her own crazy imagination.
In a chapter titled "To Keep From Crying," Mouton, who won a two-year term as Houston's poet laureate in 2017 when she was working full-time as an English teacher, describes chaperoning a school trip to Six Flags, and the psychic trauma she unexpectedly experiences while unsuccessfully attempting to fit her body into the harness of a rollercoaster. Mouton writes: "I didn't know how I had gotten there. Maybe it was two high-risk pregnancies, or depression after losing a child. … Or maybe it was the autoimmune disease and my inability to keep my body out of starvation mode. … How did I let myself get so out of control?" A second attempt magically triggers her body to shape-shift to the size of a "magnificent gold" giantess: "The plastic seat exploded from my hips, and I looked down as the track in front of me bent and the line began to scatter." In the aftermath of the event, Mouton concludes: "What are we Chameleons but the greatest imposters? Convincing ourselves that we can fit into the world…. But there is no longer a reason to hide when so much shelter can abound."
"All of us, not just Black women, have something about ourselves that we would want to change or want to hide," says Mouton when asked about those last lines. "But the more we embrace those things, the more we come into making space for other people to connect with us and really see us for who we are."
For Mouton, one such person is her husband, a life partner who is foreseen by Mouton's father at the end of the chapter "Spare the Rod," and has "picked every lie out of the air that I could give for an excuse not to love myself." (Mouton and her husband are parents to a 10-year-old daughter and a 6-year-old son.)
With its vivid descriptions of Mouton as a child being beaten by her mother as punishment for misbehaving, "Spare the Rod" is one of the more harrowing chapters in Black Chameleon. "It's kind of this last-ditch effort to try to hold on to and as much as you can control making sure that your child comes out right," says Mouton of those beatings. "In some ways, it's its own kind of love, which is scary, and also understandable." She's delighted to share that her mother loves Black Chameleon. "She read it cover-to-cover in a night!" says Mouton. (Mouton's father passed last April and did not have the opportunity to read the book.) "She said it confirmed some things she thought I felt, but she is super proud of me and the work."
On March 7, Kindred Stories bookstore will host an in-person talk with Mouton and artist Delita Martin, who created the cover of Black Chameleon, and on Mar. 10, Mouton will be at Brazos Bookstore for reading and Q&A.