Poetic Justice
In a volatile political era, slam poets are having their say, adding their voices to a growing movement. Will write trump wrong?
Shannon O'Hara and Phoebe Rourke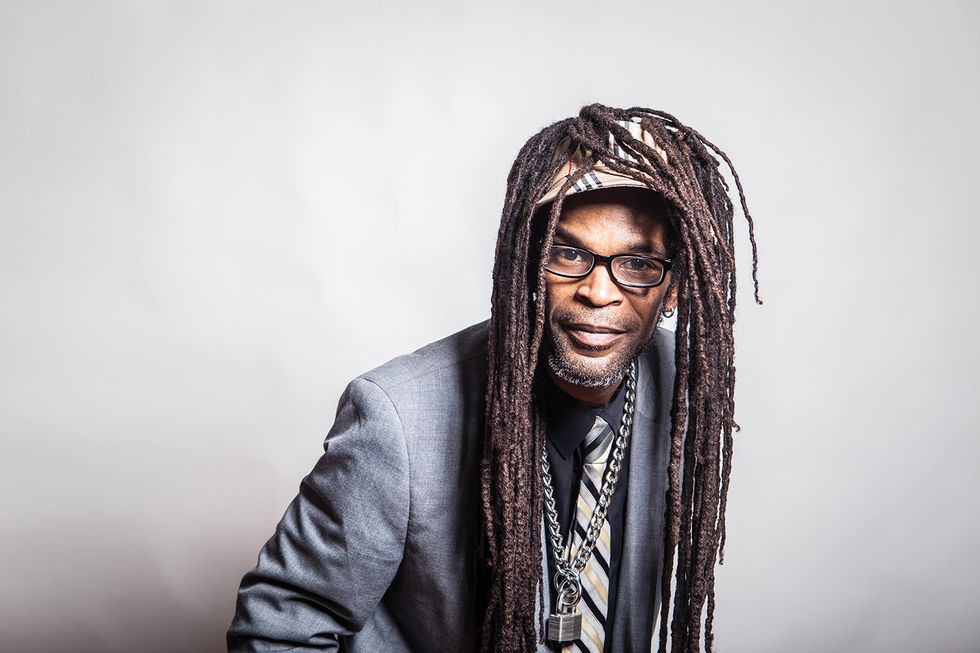 It's an overcast February night in the Museum District, less than two weeks after the presidential inauguration, and the second of two Writers Resist events is in progress at St. Paul's United Methodist Church. To his great joy and surprise, Houston poet Lupe Mendez, a burly man with a big smile who teaches English by day and writes poetry at night, is scrambling to set up chairs to accommodate what has become a standing-room-only crowd. Organized as part of a nationwide initiative by the literary and human rights group Pen America, local poets of every age, gender and skin color have come together to read their works and celebrate the Constitutional right to free speech.
---
Mendez himself eventually takes the stage, describing the power of collective action with his poem "How We Move," which concludes:
…all four chambers when they skip a beat,
all the tribes on a Standing Rock, 
all the houses burning at nightfall,
old brown and black planets, finally seen,
a repeated line, 
a repeated line, 
a repeated line, 
a single no,
breathing in unison,
together, mis compañeros, together,
fists in a march towards a light. 
"All different points of view were brought to the table," says Mendez some time later of the events, which ultimately featured 80-plus Houston poets from several literary organizations, including Inprint, First Friday Reading Series and Writespace, reading to capacity audiences. To be sure, turbulence in the political sphere is having an impact on public discourse in Houston. But beyond politics, the Writers Resist events even offer a clear indication of the growing size, increasing diversity and overall vitality of the city's poetry scene.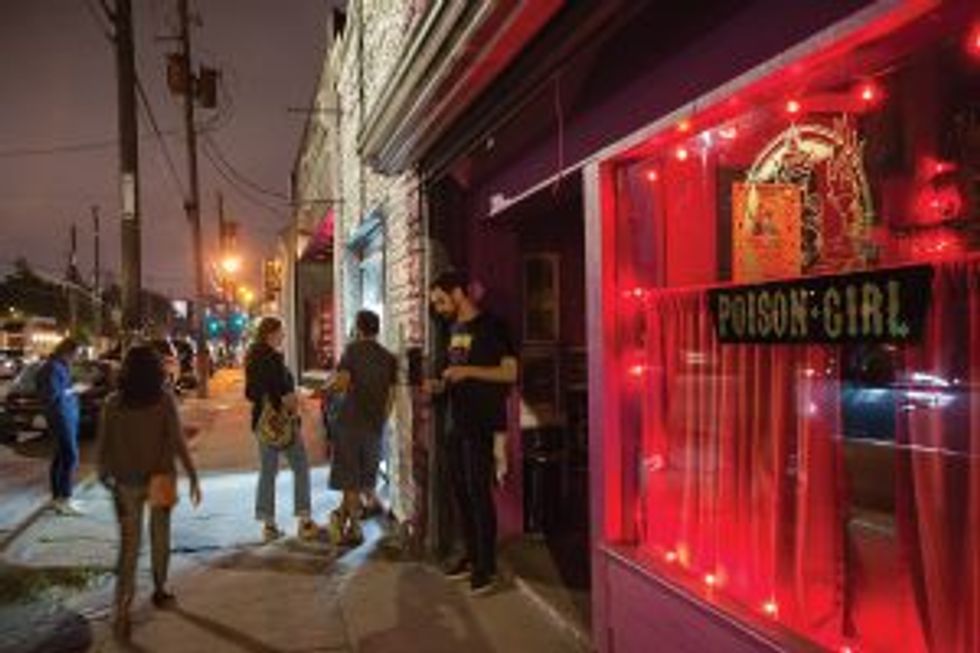 Girl's Poison Pen reading series is a popular outlet for Houston poets
Those old enough to recall the city's first poetry slams, which coincided with the founding of UH's nationally lauded creative writing program in 1979, are amazed at the scope of the scene today. Like the city itself, Houston's current poetry culture is a sprawl; one could feasibly attend a different poetry reading every night of the week. Write About Now presents weekly open-mic readings and slam poetry competitions (where poets read and are scored by a panel of judges) at Avant Garden, while the Houston VIP National Poetry Team presents a monthly slam at such venues as Warehouse Live and Esperson Gallery. Other organizations that regularly present readings include Brazos Bookstore, Tintero Projects, Poison Pen Reading Series and Balcony Poets. In Houston, and across the country, poetry has become a cool, intellectually stimulating form of entertainment, and its audience is growing fast.
And digital media has played an important part in the explosion. "People are interested in discovering things quickly and randomly," says 30-year-old San Antonio-born poet Analicia Sotelo, who combines her passion for writing and marketing in her role as communications strategist for Writers in the Schools (WITS), an organization founded in 1983 to bring creative writing programs into local public schools. She cites Buzzfeed, which publishes poems online, and the Instapoets movement, where visually savvy poets have parlayed their social media feeds into successful careers as bestselling writers.
At ease in her public role with WITS as she is hunched over a notebook at Montrose's Black Hole Coffee House, Sotelo herself is a rising star in the poetry scene. In 2016, her poem "Death Wish," a portrait of the minotaur-slaying Greek hero Theseus as a high-maintenance cad was published in The New Yorker. It reads in part:
O that his arms could shine
like shields at some local Subway,
slamming tubs of antibiotic meat
before the middle class who hope to be happy. 
Surely
he would miss the cashmere call of the Banana Republic  
Besides being cool, writing poetry is especially beneficial for young people. As a writer who has taught in the classroom, Sotelo knows firsthand the impact writing poetry can have on a child. "It gives the students a chance to breathe freely," says Sotelo. "Sharing poems lets them see that language gives you a chance to discover and surprise yourself." (Students in WITS programs have used poetry to address complex issues as violence, grief, and gender and sexual identity.) Sotelo's first full-length collection of poetry, Virgin, will be published early next year.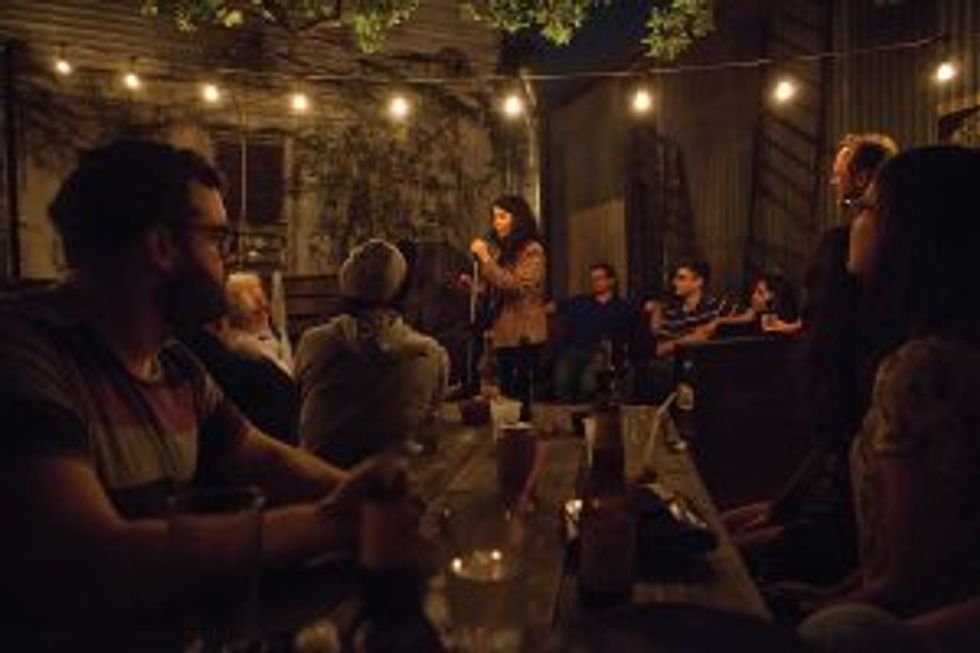 Analicia Sotelo
Meanwhile, the appointment in April of 32-year-old Deborah Mouton as Houston's third poet laureate is evidence of the respect our elected representatives have for the art. "As all art forms do, poetry provides a creative outlet to let people take what they feel inside, and share it with others," says Mayor Sylvester Turner, who believes poetry has "the power to unite communities." (Fareena Arefeena, a junior at the High School for the Performing and Visual Arts, was named Houston's second youth poet laureate.)
Married and the mother of two children, Mouton is the special programs manager at WITS and director of the Houston VIP National Poetry Slam Team. While soft spoken offstage, for her incendiary solo slam performances Mouton becomes a force of nature, drawing on her skills as an actress and singer to create
a cathartic experience for her audience. When performing her poem "Mother Emanuel," Mouton begins by singing the spiritual "I Couldn't Hear Nobody Pray" before delivering the lines: Upon entering your church the devil don't always appear out of place. / Remember / he was once an angel and still remembers how to sing! Since 2011, Mouton has coached the Houston VIP team to several national slam finals, and brought even more attention to the city's performance poetry community.
For Alvin LeBlanc, a.k.a. Kool B, a veteran of poetry slams going back to 1990, the South is nothing less than "a literary haven," with Houston in particular "primed" for poetry. "People in the South talk," says the 54-year-old LeBlanc, who grew up in Lafayette, La., and came to Houston to study sociology at Texas State University. "They see you down the street, and they want to say something. Southern people are also used to listening to orators, preachers. From all of that, poetry has an ear."
LeBlanc, an instructor at the Adult Reading Center, brings his poetry to the people as producer of the online show Wordville and a member of the DJ collective Rebel Crew. In performance, LeBlanc recites his poetry in a way that is fluid, yet sounds unrehearsed, as if the words were being pulled out of thin air. In a performance at the Jazz Church of Houston, with his visor wrapped around his long, braided hair, the bespectacled LeBlanc moves gracefully as he speaks, illustrating each line with slow, simple gestures, like a Tai Chi master talking jazz: A village of windblown desperados in pursuit of a gold train loaded down with precious metals, pressed into bullions that grow like sunset, Texas to California dreamin'… It was the sound of black thunder and gallop that made the canyons quake. Let's make no mistake about it: There's no honor among thieves and siege is how the west was won.
Though poetry has always been a tool for political protest, LeBlanc believes the art often reveals more commonalities than differences. "It brings the races together," says LeBlanc. "Coming from rural Louisiana, where you would get chased home if you didn't stay on your side of the city, poetry has shown me that people can work together, that people do have the same heartbreaks, the same anger. Poetry is where you can hear the humanness in people."
If there is a mission that drives these and other poets across Houston, it is to keep the art form alive so it may continue to connect and empower people from all walks of life. "As artists, if we don't push forward to inspire, and provide spaces, tools and the resources for other people to create," says Mendez, "then what are we really doing for the long-term sustainability of the art?
"In Houston," he adds, "we're notorious for knocking down old buildings in the name of innovation. So we're constantly having the race against the clock to see what can we do to sustain the identity of the space we live in. And who better to do that than an artist, a writer or a poet?"
ABOVE: Veteran poet Alvin LeBlanc, whose pen name is Kool B, says verse brings people together. "Poetry is where you can hear the humanness in people."
Art+Culture