Prolific, Award-Winning Artist Hodge Opens Two Summer Gallery Shows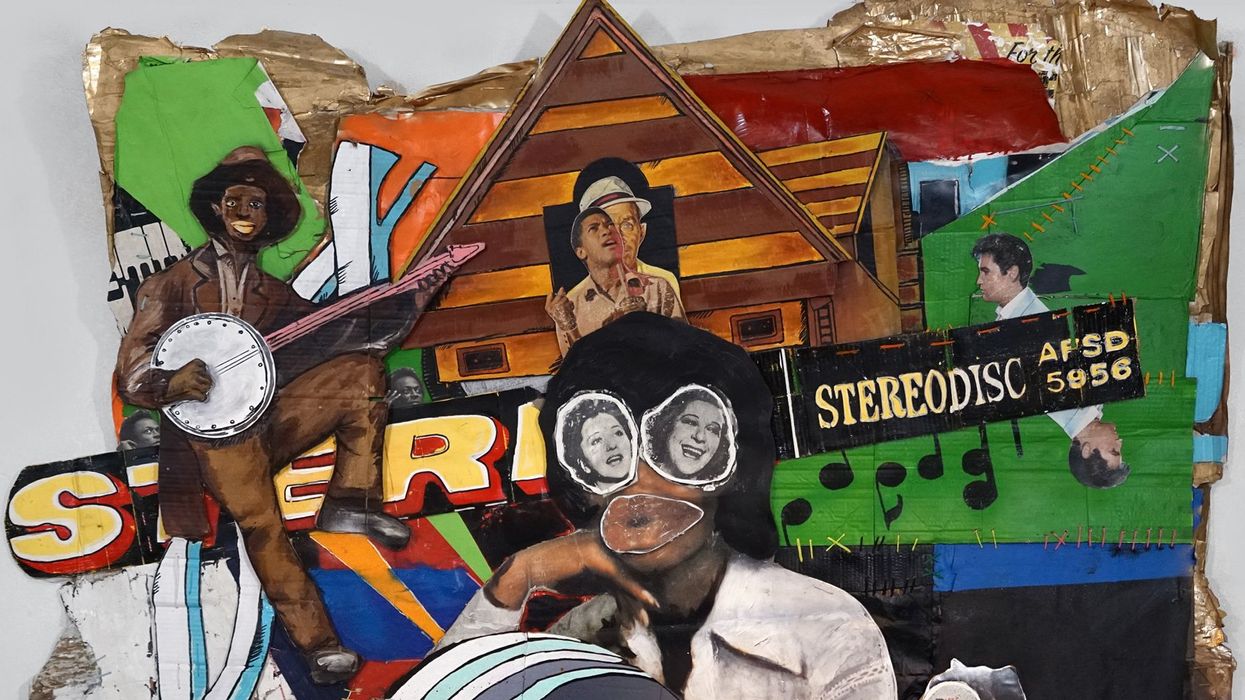 THE HEAT IS on this summer when Houston artist and curator Robert Hodge unveils not one but two shows at David Shelton Gallery: Speakerboxxx, which features a new, amped-up series of Hodge's collages, and The Love Below, a collection of text-based paintings inspired by his collaboration with drummer Kendrick Scott for the DACAMERA-commissioned multimedia performance, Unearthed.
---
Fans of Atlanta hip-hop duo Outkast will recognize the title for each exhibit. "I just love how those two names were appropriate for the body of work I'm making," says Hodge. "But they're not really linked to the albums."
Hodge is known for his mastery of collage, using hand-cut, vintage photos to unpack historical and cultural narratives that some politicians are desperate to eliminate from children's schoolbooks. His work connects back to the French surrealists and the politically charged, WWI-era photo montages of the Dadaists — although Hodge's style is distinctly his own.
For example, "Dixieland"contains vintage images of Black people in subservient and buffoonish roles, and what is likely a white man in "Black face" strumming a banjo, all hovering above the mustached, basketball-shaped head of a man smoking a cigar, looking like some being you encounter upon successfully surviving a video game. (Look closely, and you will spot the head of Miles Davis, his expression somewhere between bemusement and exasperation.)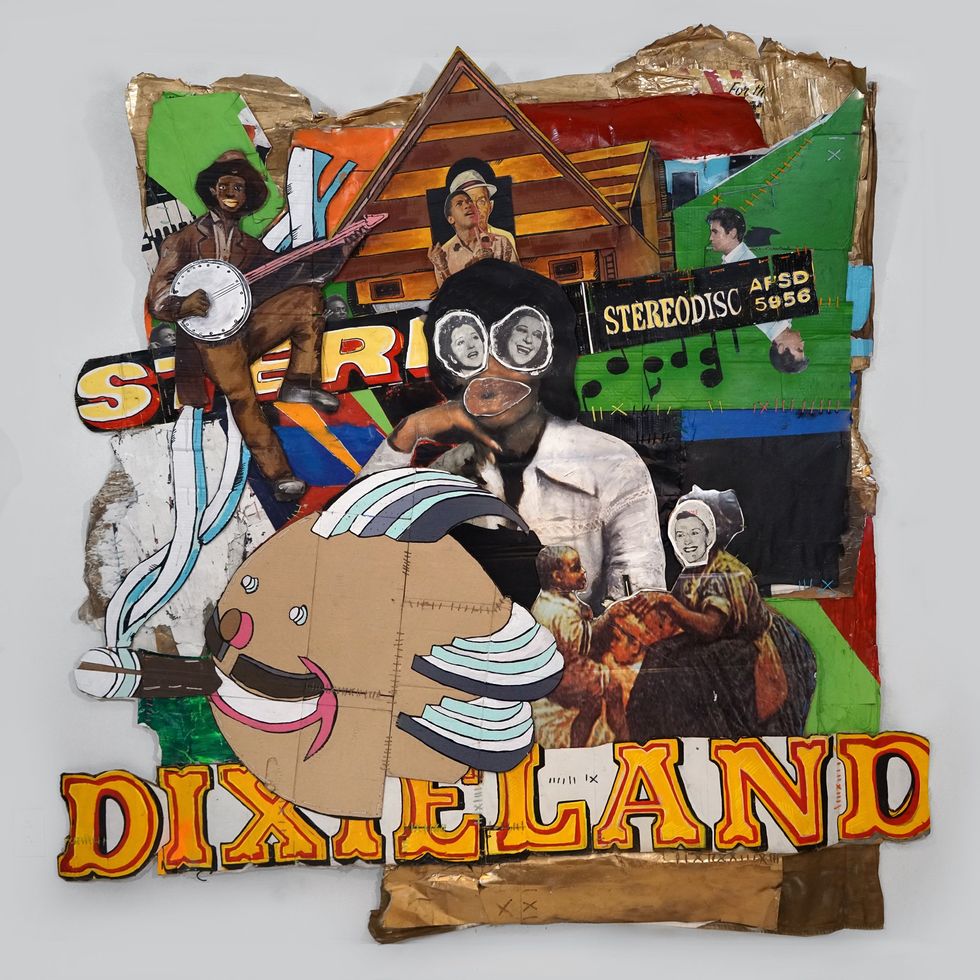 'Dixieland'
Recycled and repurposed materials, including cardboard, cereal boxes and foam core, remain essential components to Hodge's work, calling to mind Rauschenberg's cardboard wall reliefs from the '70s. For Hodge, there's no excuse for not creating just because you don't have expensive materials. "Use what you got," says Hodge. "That's the fun part that reconnects you to being creative."


The title of the second exhibit, The Love Below, which opens Nov 17, refers to the fate of the Sugarland 95 — convicts leased and forced into labor just after the Civil War and whose remains were discovered in 2018 in several unmarked graves. "I thought about those bodies underground, and the people that loved them and didn't know what happened to them," says Hodge. "The title The Love Below led me in the direction toward what I wanted to say with these shows."


The texts in these new paintings come from poet Deborah D.E.E.P. Mouton, who collaborated with Hodge and Scott for Unearthed to give voice to the Sugar Land 95. While he and Scott have known each other since high school, before Unearthed, Hodge only knew Mouton by reputation. "She's amazing," says Hodge. "She's like, the ultimate professional!"


Hodge is aware that when children and teenagers view his work, many of the images, people, and historical references may be new for them. As the father of an 11-year-old girl, Hodge hopes to inspire young viewers to investigate and learn more about what they see in his collages and paintings.
"That's an obligation I don't mind carrying," says Hodge. "There are so many people in history who should be honored, who have a really great story that's not mainstream or in traditional schoolbooks. People who have the potential to be forgotten if I don't do my job."