Three Years Ago He Worked at Amazon. Now this New Chef's ReikiNa Is Among H-Town's Hottest Restos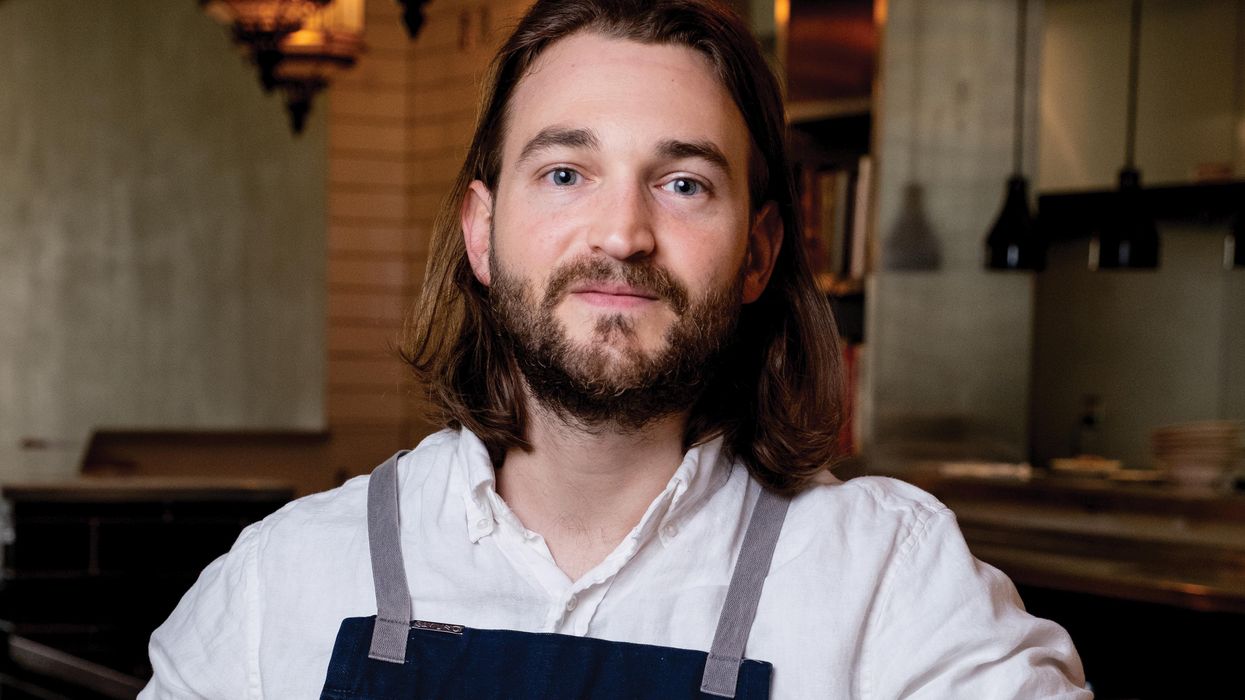 IN AN ALTERNATE universe in which the pandemic didn't happen, chef Thomas Stacy might still be toiling away obscurely in someone else's kitchen. But it's 2021, in the age of Covid, and a few months ago Stacy debuted his first restaurant, in CityCentre, an ambitious 24-seat Euro-Asian tasting-menu concept called ReikiNa.
---
It's an astounding feat for someone who, until three years ago, had never worked in a professional eatery. After studying supply chain management at UH, Stacy, a Houston native, moved to Seattle, where he managed a fulfillment center for Amazon. In 2019, unimpressed with corporate life, he returned home to pursue his passion for cooking. With zero experience but a drive to learn, he applied for a cook's position at his favorite restaurant, Uchi, and was hired. He worked there for nine months, till the pandemic happened.
ReikiNa, a contraction of two Japanese words which means "divine snacks," was created as a way to facilitate human connection. "I started the concept to fill a hole for people who wanted to have a restaurant during the pandemic," he explains. At first, it was just a dinner he held for friends at his Montrose apartment. Social media posts from that dinner led to a weekly pop-up dinner series, which, in turn, resulted in an offer, from one of his patrons, to turn his concept into a brick-and-mortar.
The restaurant, open Thursdays-Saturdays, is an experience that blends art, music and cuisine — a gallery featuring large-format paintings by Houston artists such as Bradley Kerl and Molly Koehn, music from Stacy's eclectic personal vinyl collection, and food designed to match. There's only one seating each night. And when you're there, it feels like you're at a dinner party with friends, with Stacy playing host.
Blessed with rock-star good looks — blue eyes, long hair pulled up in a bandana, and a sleeve of tattoos featuring a butterfly he says represents metamorphosis — the 30-year-old chef greets all guests personally, and concludes each evening by playing the piano. Radiohead's "House of Cards" is a favorite.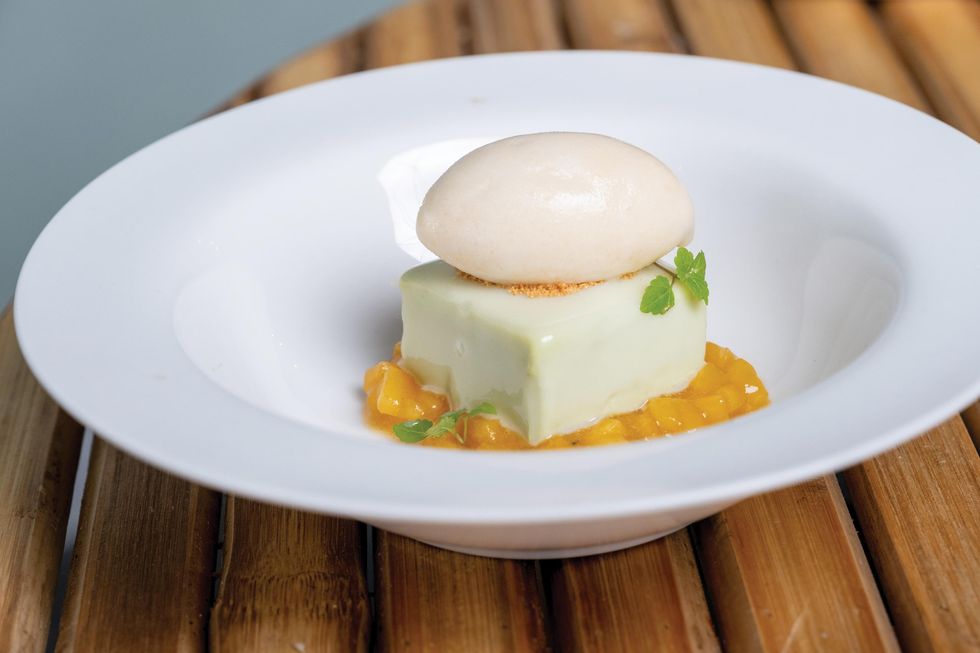 Matcha and white chocolate mousse with nectarine sorbet
Upon entry, guests are invited to relax and order apéritifs in the lounge, an area marked by brightly hued velvet sofas, cocktail tables and period armchairs positioned over colorful area rugs. Stacy refers to the design ethos as "grandma on psychedelics."
When it's time to be seated, guests have a choice of bar seating or a communal table, where chairs are positioned to facilitate easy conversation. Cue the music. Stacy chooses different genres to fit a mood, from records like 1965's Whipped Cream and Other Delights by Herp Alpert, or Anak Ko by Jay Som from 2019, which spin from a vintage turntable.
The menu, which will be updated every two months, pulls from the chef's experience at Uchi, his love for Houston's broad ethnic cuisines, and cookbooks like David Chang's Momofuku and Gabriel Rucker's Le Pigeon, creating dishes that evoke familiarity yet reflect his singular style.
One recent night, the first two courses are Japanese-esque in nature — New England oyster on the half shell, served with sake mignonette and a couple drops neon-green cilantro oil; and yellowtail sashimi with pineapple vierge and lemon-drop melon. By the third dish, a chicken liver mousse served with butter crisp toast, lychee cassis reduction and radish kimchi, you're starting to see more complexity.
As the dishes become more substantial, there's that first wow moment — a crab cake fried to a crisp and served as a butter lettuce wrap with pickles and miso orange emulsion. And then, just when you think that wow moment has passed, another one hits you in the form of a char siu pork bao, a play on a traditional Chinese dim sum dish, with cherries and pickled fennel.
"I really love a tasting a menu as a way to express a full idea," he says. "Kind of like how an artist would write a full album, and you'd listen to a full record, as opposed to just picking tracks."
Food