Sea and Be Seen
Too good for Instagram? Houston finally has a socialite-savvy, sushi-chic Nobu to call its own, and it's just about perfect.
Kirsten Gilliam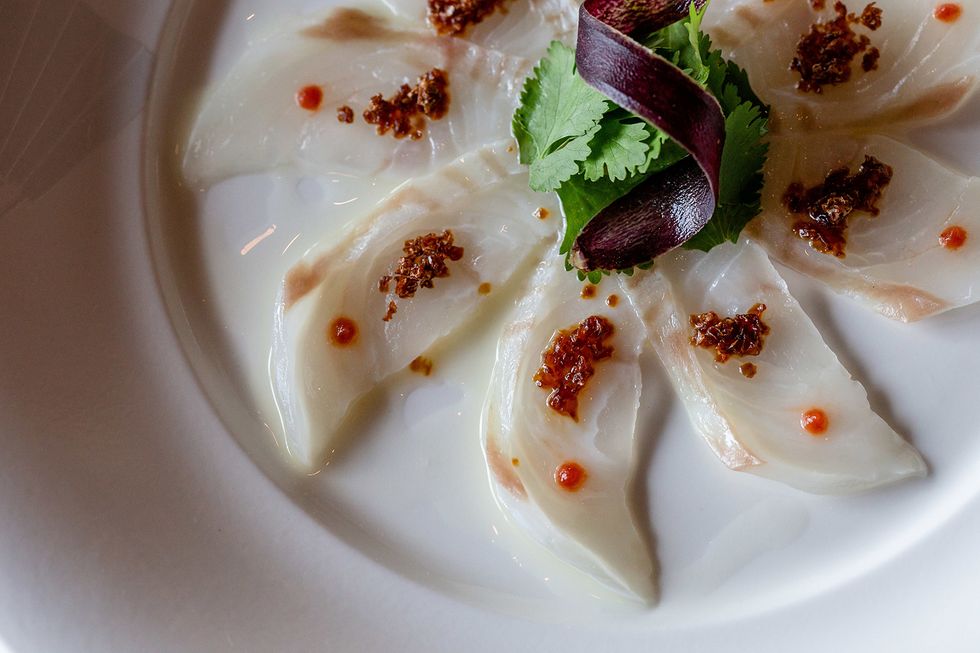 It's not uncommon these days to look around while dining at a fancy restaurant and observe the soft blue cell-phone glow and bright camera flashes illuminating tables.
---
But not at Nobu, newly open in the Galleria. It's not because the food here isn't photogenic; in fact, the little slices of raw fish and sauces and hunks of rice are perfectly plated, probably with tweezers. No, it's because the food is actually too delicious, too complex to bother with the distraction of camera phones. Diners seem focused on their meals and their company.
Besides the lack of paparazzi, the vibe here is what one may expect at a famously trendy Japanese hot spot that originated in New York and has celeb-beloved outposts in Malibu, Miami and beyond. It's a warmly modern space, wood-wrapped with geometric light fixtures and ceiling tiles to echo the place settings. But there's a sense of graciousness and friendliness that might surprise. An uber-Texan GM greets with a thick accent, and the businessmen enjoying a happy-hour meeting are outfitted in jeans and button-downs, with sleeves rolled up.
The waiters float around the second-story space, next-door to fellow new arrival Fig & Olive, effortlessly, delivering various bite-sized delicacies on geometric white plates to tables. Kind and savvy, they inform patrons what the dish is, and how best to eat it. ("Like a sandwich, with your hands," says one waiter about the crispy rice topped with spicy tuna and wrapped in butter lettuce.) It's possible that a new server will bring each course; everyone seems equally knowledgeable.
A multicourse, tasting-menu-style meal here may begin with a cocktail — one from the "Light Crisp & Refreshing" section of the menu fits the bill on a late-summer night — and handful of appetizers, all designed to share, but all relatively small-portioned. The yellowtail sashimi is a classic starter, with each slice of fish simply dressed with a skinny little jalapeño, and plated with leaves of cilantro. The waiter will advise that the chef suggests placing one leaf on each bite, to bring out the different flavors.
As the hours tick by, the crowd turns from biz-meeting to date-night, and the food gets a little heavier. A nice follow-up to the cold apps is a piping hot slab of Chilean sea bass with Nobu's signature dry-miso seasoning. But the crown jewel of Nobu's menu isn't fish, cold or hot. It's the Smoking Pot of Japanese A5 Wagyu. When it arrives at the table, the waiter lifts the lid off the clay pot, and wafts of smoke float out. After a little time spent soaking up the nostalgic smell of campfire, thanks to the cherry wood on which the thin slices of tender meat have been smoked, take a bite — and then sigh in satisfaction as the Wagyu simply melts in the mouth. Don't forget to munch on the little carrots and Brussels sprouts shavings, some with charred leaves.
The chef sends out one last hurrah: more sushi. Five different iterations of nigiri — thin slices of fish like bigeye tuna and more yellowtail pressed atop vinegared rice — to be exact. It's an unusual way to end a meal, but decidedly satisfying.
And for an encore? Dessert. Now is when the camera phone, having sat in a pocket or purse for the whole meal, makes an appearance. An off-the-menu special, the Nobu-style shaved ice, is beyond impressive. A towering hunk of shaved ice in a bowl is soaked with peach and strawberry syrups, and a bit of sweetened condensed milk to achieve another nostalgic effect.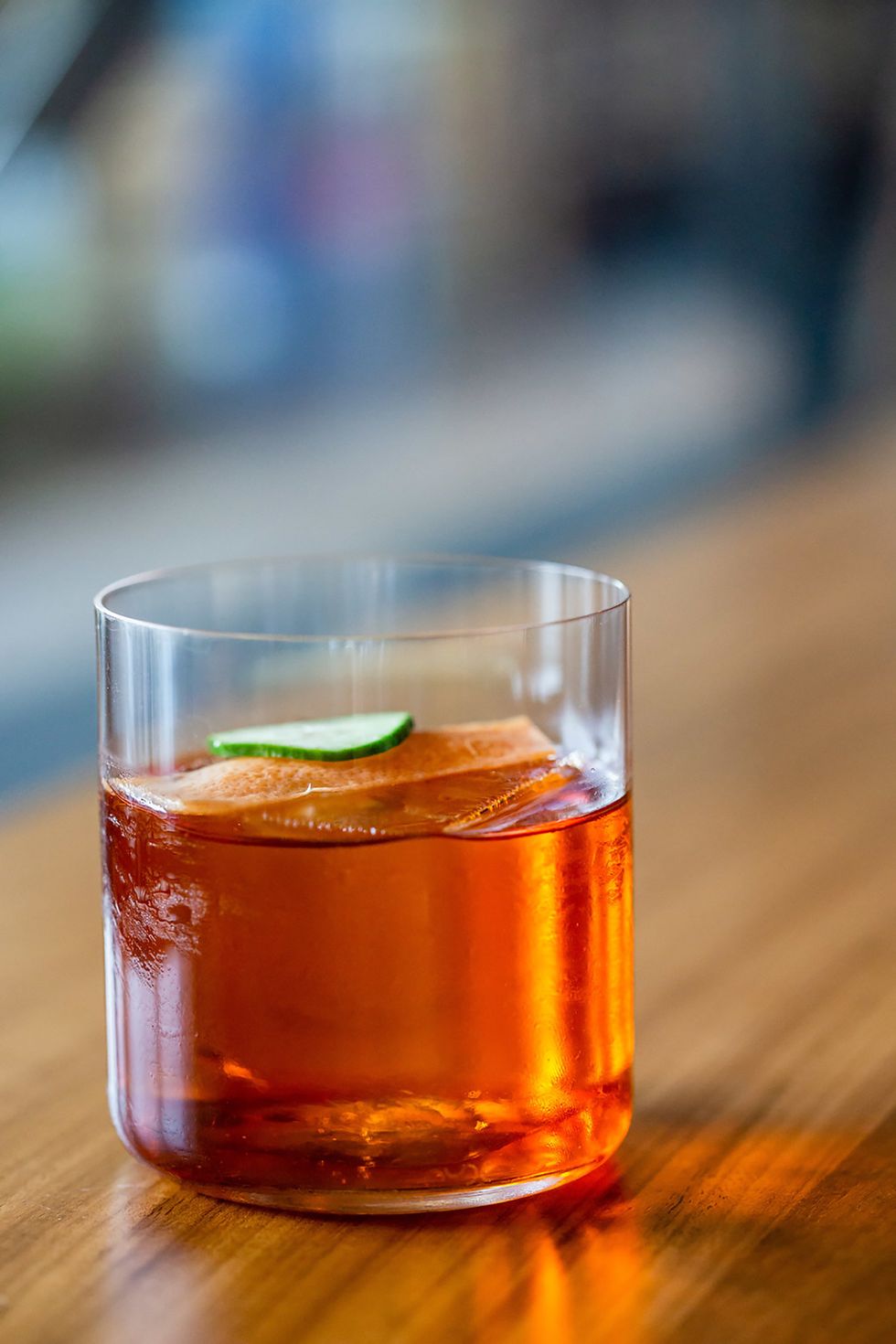 Nobu's Negroni cocktail
Upon sticking a spoon into the side of the volcano-shaped dessert, the consistency of the ice will surely surprise. It's not hard and crunchy, but rather fluffy, like a cloud. This is because the ice is made with Fiji water, so it's "extra pure." And despite having eaten many, many courses of the highest-quality seafood and beef, somehow this photo-worthy, young-at-heart dish completes the experience.
AT TOP: White fish 'tiradito,' with layers of spices, yuzu juice, salt and cilantro
Food+Travel