Setting a President
It was a rare and risky commission in the 1980s. But now HGO's visionary 'Nixon in China,' reopening 30 years later — on Inauguration Day — on the very stage on which it debuted is renowned as a game-changing masterpiece.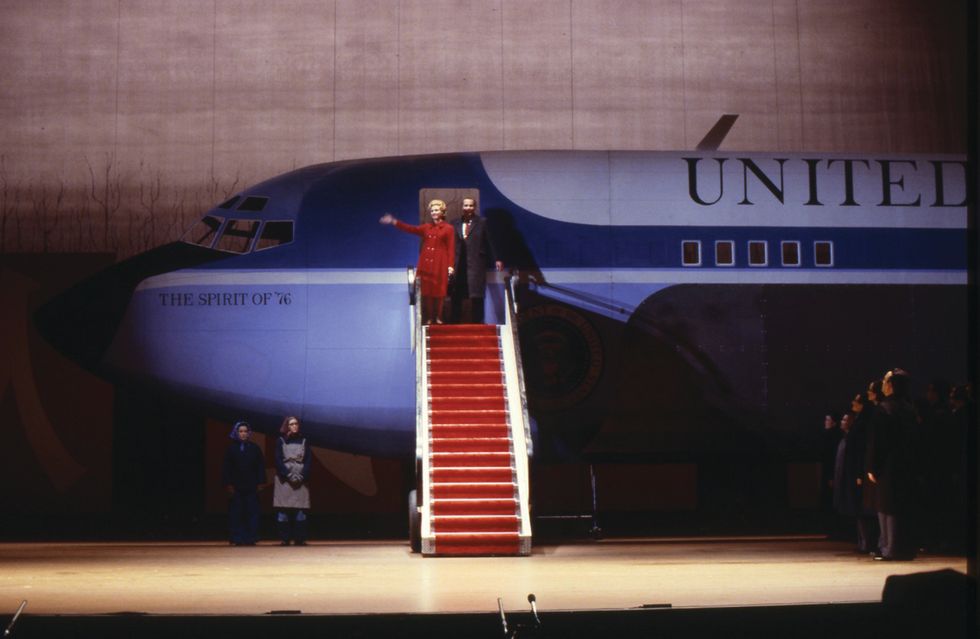 On October 22, 1987, the Houston Grand Opera premiered a new opera with a provocative title in the city's then brand-new Wortham Theater Center. Alternating with performances of Aida, Nixon in China, a series of dream-like and occasionally bizarre tableaux inspired by President Richard Nixon's history-making 1972 visit to China, was a production as musically and visually audacious as Verdi's triumphal march. Beginning with an onstage landing of a pasteboard Air Force One, and concluding with Richard and Pat Nixon drifting to sleep in their single beds, Nixon in China both delighted and bewildered its opening-night audience. Despite receiving mixed — well, sometimes scathing — reviews, Nixon made its way to stages in Brooklyn, L.A. and across Europe, and now enjoys rare status as a standard repertory opera.
---
It also put HGO on the world's cultural map as a risk taking champion of new works and American contemporary opera. And in 2017, the 30th anniversary year of its premiere, Nixon in China returns to the HGO stage Jan. 20 — Inauguration Day, not coincidentally. It runs through Jan. 28.
David Gockley, who served as HGO's general director from 1972 to 2005, originally commissioned Nixon — the brainchild of iconoclastic theater director Peter Sellars — under unlikely circumstances. Its radical plot concept was just the beginning; neither composer John Adams nor story writer Alice Goodman had ever attempted anything near its scale. "I think David Gockley was out of his mind to commission us," says Adams, who turns 70 in February. "We're all very grateful for what was either a great visionary leap, or else an inexplicably crazy idea. Or both!"
'Nixon in China' composer, John Adams, today.
Crazy? Maybe. Especially when you consider what else was going on in Houston in the mid-'80s. Despite an oil bust that precipitated the loss of 225,000 jobs, the philanthropic community remained defiantly resolute in its commitment to the arts. In fact, like the Wortham, the Menil Collection also opened in 1987. Furthermore, instead of devastating the city's cultural scene, the era's economic challenge was a catalyst for growth and greater accomplishment in the artistic realm. As the city's economy was forced to diversify, so too was HGO; the company began to rebrand itself as one committed to making opera a vital part of Houston's growing and increasingly diverse community. And Gockley believed Nixon, and its story of a deeply flawed U.S. president seeking to establish warmer relations with a closed, communist country, would resonate not just with local audiences, but audiences across the country who were hungry for a repertoire of new American opera.
"Some loved it. Some hated it," says Adams of Nixon's debut. "But no one seemed indifferent about or unaware of what we were doing." The premiere received an unprecedented level of national and international press coverage, and was later telecast on PBS' Great Performances. By choosing to open a major opera house with performances of Aida and Nixon in China — as well as an intimate, very contemporary staging of Mozart's Abduction from the Seraglio, presented in the style of silent movies — HGO showed the world it was a creative force to be reckoned with, one that understood how to reach and appeal to 20th century audiences, and one dead set on being relevant beyond its city limits.
Three decades later, Nixon continues to capture the imagination of both seasoned and new fans of opera. HGO Artistic Director Patrick Summers attributes its longevity to Adams' music, which embraces the percolating repetition, breakneck tempos, and pop-like harmonies of what was then a new and much derided style of music: minimalism. "What's so unusual about the opera is the extraordinary rhythmic propulsion of Adams' score," explains Summers, who joined the opera company in 1999 at Gockley's invitation. "It's a foretelling of the internet age, where we communicate through these fast, fast machines."
After the success of Nixon, the HGO continued to commission new operas by such maverick composers as Philip Glass, Michael Daugherty and Meredith Monk, and under Summers commissions at least one production every year. Recent premieres include Gregory Spears' NASA-inspired O Columbia in 2015 and Jake Heggie's It's a Wonderful Life, which debuted in December. Over time, the ripple effect of the HGO's commitment to infusing new work into one of the oldest of musical art forms has been profound. "Many, many opera companies around the country are now echoing the Houston model of focusing on new works," says Summers. "In 1987, the opportunities for composers were much less than they are now. Now, there is a group of American composers whose main job is the composition of operas."
Despite the recent echoes of the mid-'80s oil bust, opera audiences in Houston and around the country continue to buy tickets to see new works, which bodes well for the form, and the future of the arts in general.
"I recently returned to Houston to conduct the Houston Symphony, and I was reminded of how wonderfully enthusiastic the community is about the arts," says Adams. "I think it's a much healthier time to be a composer now than it was when I was starting out in the 1970s."
So what's next for the HGO and contemporary opera? For his part, Summers is always looking ahead. "Music is the narrative engine of opera," he says, "and I think traditional narratives will greatly change in the information age as storytelling changes. As music evolves, and as composers fuse all of these traditions together, we're going to see a lot of new kinds of storytelling." He cites one of the performing arts' biggest popculture phenoms, a hip-hop-informed Broadway smash as proof of his thesis. "I mean, look at Hamilton. That is something new that grew out of the imagination of the composer."
Art+Culture