Smoke Signals
They say where there's smoke, there's fire. And that's certainly the case in Houston, where the storied barbecue scene has never been hotter.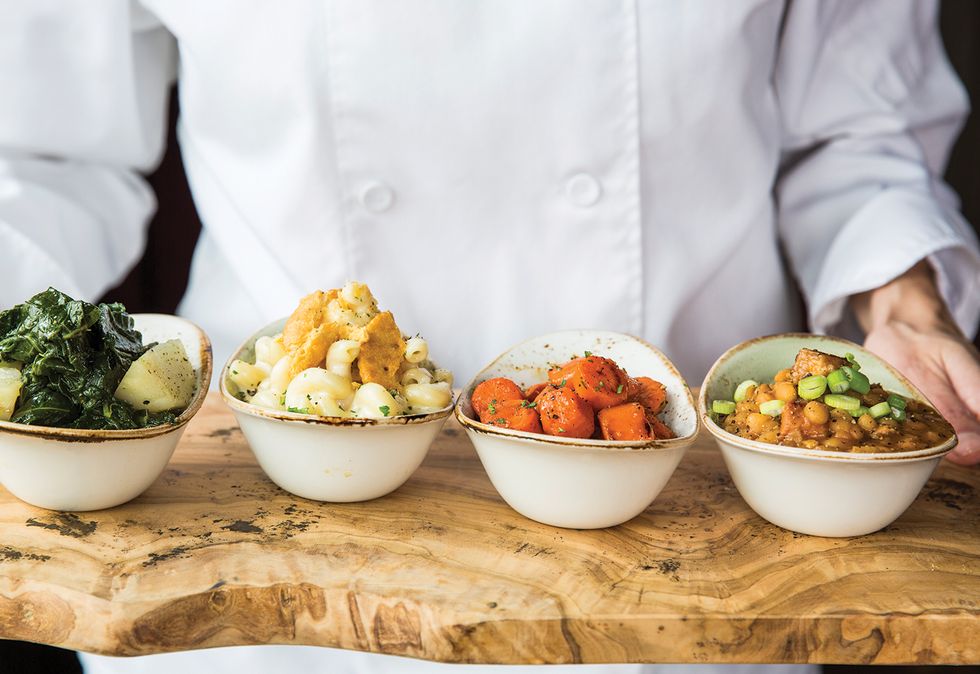 Houston's foodie scene is smoking hot! Literally: A number of new barbecue joints — some in unexpected places — are firing up the coals this spring.
---
Let your nose guide you through the Greenway Plaza underground food court to Feges BBQ (3 Greenway Plaza). After years of grilling at festivals and pop-ups, Patrick Feges and Erin Smith are making their traditional Texas 'cue — smoked sausages, ribs, house-made boudin — available on the reg. The couple's "updated versions of classic sides" incorporate fresh, seasonally driven produce, as in coleslaw made with yogurt. "We don't typically see this kind of focus on sides in other barbecue restaurants," says Smith. Squeeze in a visit during the workday, as the restaurant operates weekdays from 7am to 5pm.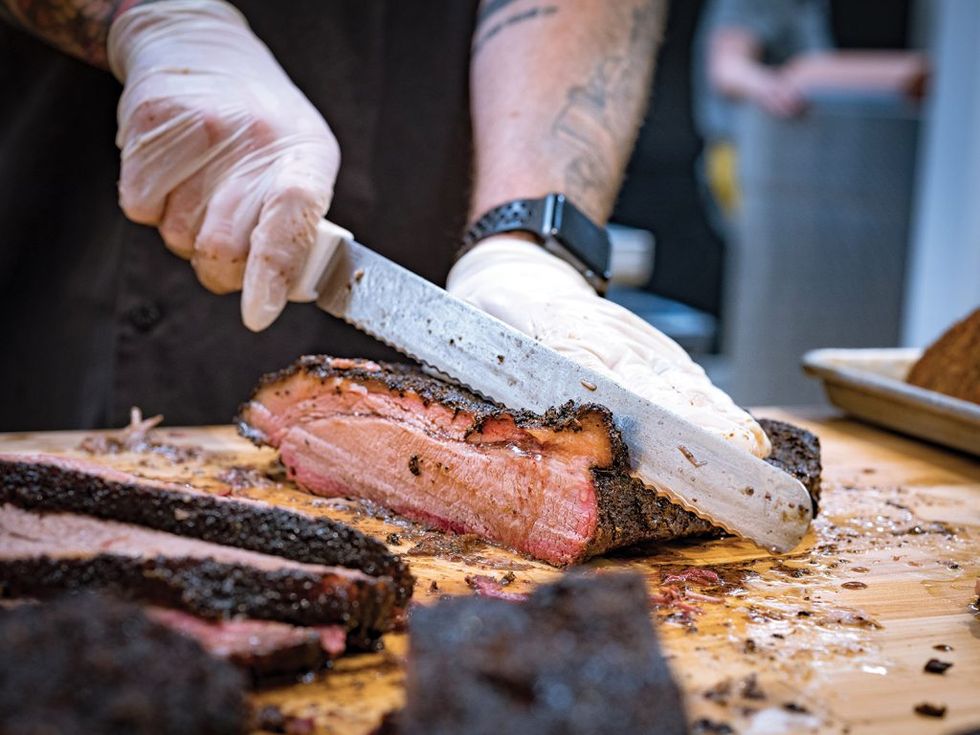 Feges BBQ owner Patrick Feges slices brisket
Also no stranger to the scene, Pappas Restaurants has upped its barbecue game with its latest interpretation, Delta Blues Smokehouse (19901 Gulf Freeway) in Webster. Here, enjoy Creekstone Farms brisket and USDA Prime rib-eye alongside wine and bourbon-based cocktails, all in a sophisticated, table-service setting. "It's a new way to experience barbecue," says Christina Pappas, director of marketing. "Beautiful food should be served in a manner and environment that equals the food."
Meanwhile, Greg Gatlin has opened Q inside Terminal E of IAH, giving travelers the opportunity to get a taste of Houston the moment they land in H-Town — and locals the chance to get one final bite before takeoff. The restaurant, outfitted with flashy copper pipes that assist with the operation's smoke ventilation, offers a breakfast menu for early-bird travelers.
Other hot spots are on the way: Brenham's Truth BBQ opens later this year in the former J. Black's space on Washington, as Robin and Terry Wong join forces with pitmaster Quy Hoang to open Blood Brothers BBQ in Bellaire (5425 Bellaire Blvd.) after a successful run of pop-ups.
And for a true Texas experience, trek to Richmond for HarlemRoad Texas BBQ (9823 Harlem Rd.). On the weekends, a line is expected — but there's a BYOB policy. So pull up a picnic blanket, pop some bottles — and stay for dessert. At Harlem, you'll find chocolate bread pudding worth saving room for.
Food+Travel