Stolen Moments
In provocative pictures that leave untold stories to the imagination of the beholder, a photographer grapples with his own unanswered questions.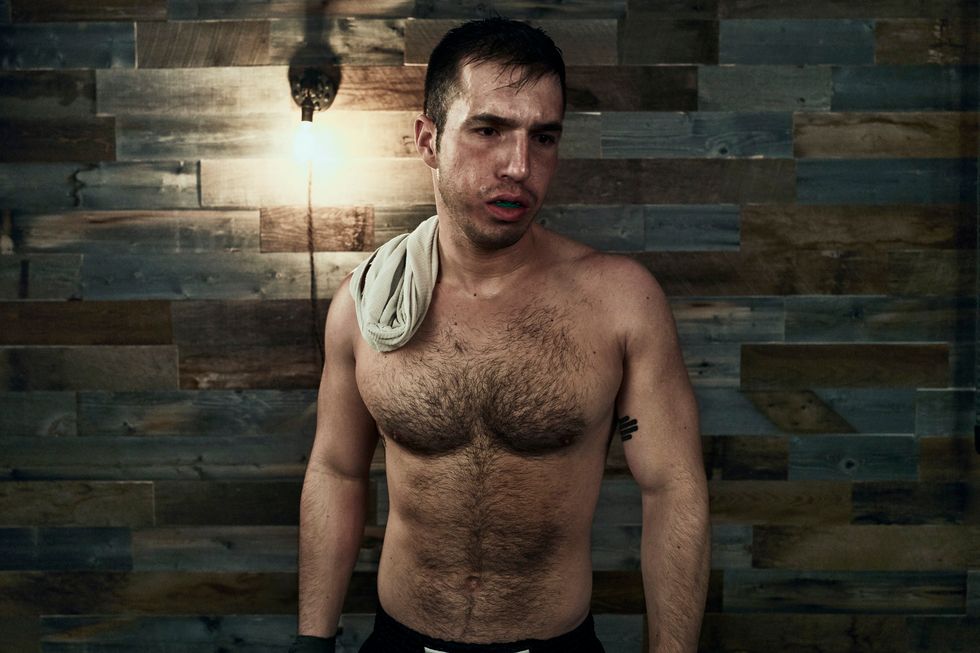 So where are we, exactly? A dark alley? A gym? The basement of a condemned building? And who is this man, shirtless and sweating, as if caught in-between bouts with an unseen opponent, his trim, muscular body illuminated by the intense glow of a single light bulb, and wearing an expression somewhere between trepidation and exhaustion?
---
Well, we are looking at just one of several provocative images conceived, composed and captured by photographer Jan Rattia, whose show Landings opens at Cindy Lisica Gallery Feb. 23, up through the end of March. Though Rattia's photographs often explore the tension between what is seen and what is left unexplained, his latest work is more personal, inspired in part by the 2016 election, and the ongoing economic and political crisis in his birth country of Venezuela. Tellingly, the subject of the aforementioned photograph, which he titled "Round Three," is Latino, and stands with his back to an imposing, darkly shadowed wall. "After the election," says Rattia, "I felt more brown, more immigrant, and more gay than ever before."
Rattia, who endured a "very intense, conservative upbringing," arrived in Atlanta from Caracas 23 years ago to study music at a Baptist university, where coming out would have meant getting expelled for "sexual misconduct." Although he bought his first camera at the age of 15 — his father and grandfather were both gifted photographers — Rattia pursued a successful career in international business for a decade before deciding he needed to do something more meaningful with his life. "I realized photography had been the one thing that had been there all along," says Rattia, who applied to New York's prestigious International Center of Photography, with the goal of becoming a fine artist.
At ICP, he began to explore what he describes as the "inconclusive moment," when a photographer captures a scene "where you don't know what happened before, and you don't know what's going to happen later." In his 2017 series Tease, a collection of photos of male strippers that recently showed at the Houston Center for Photography, Rattia not only photographed his subjects in performance and backstage, but also in the private spaces of their homes, creating an oblique, cinematic and very contemporary type of portraiture, rich in content and infused with tension.
Though now happily settled in Houston with his partner of four years, a former DJ who is now completing his medical residency, Rattia admits to still feeling a sense of rootlessness. "The notion of the country that I once knew as home is no longer there," says Rattia of Venezuela, where President Maduro continues a brutal clampdown on his political opposition, even as the country spirals into economic ruin. "People who leave the country don't come back anymore."
In the upcoming Landings, Rattia explores this feeling of loss in a meticulously arranged still life of uniquely Venezuelan objects, including a cuatro (a South American four-string guitar), coffee beans, figs, a toy truck that belonged to his father, and an arrangement of orchids, the country's national flower, some of which are alive, while others are dying. The resulting photograph is like a Renaissance painting come to life, and speaks to Rattia's own complex personal history.
Rattia hopes each person viewing his work is compelled to "take the story somewhere," he says. "I believe that what's most important in a photograph is not necessarily what's in the frame but what exists outside of the frame."
Art+Culture