Tell It on the Mountain
This is not your father's Branson. In Missouri's Ozarks, a legendary entrepreneur's vision of an upscale conservationist's paradise comes to life.
Fans of the brooding Netflix organized-crime drama Ozark — Jason Bateman plays a former suburban soccer dad morphing into a low-level mobster seeking to blend into the scenery of the Ozark Mountains of Missouri — may be disappointed by a couple cold truths. The show is filmed in Georgia, on a lake made by a film crew as a TV-show backdrop. And in the real Ozarks, which are much prettier than the Netflix version, there's nary a hint of money laundering or extortion. Just about the only thing that could pass for intrigue is the occasional lost golf ball or a fish that slips off the hook.
---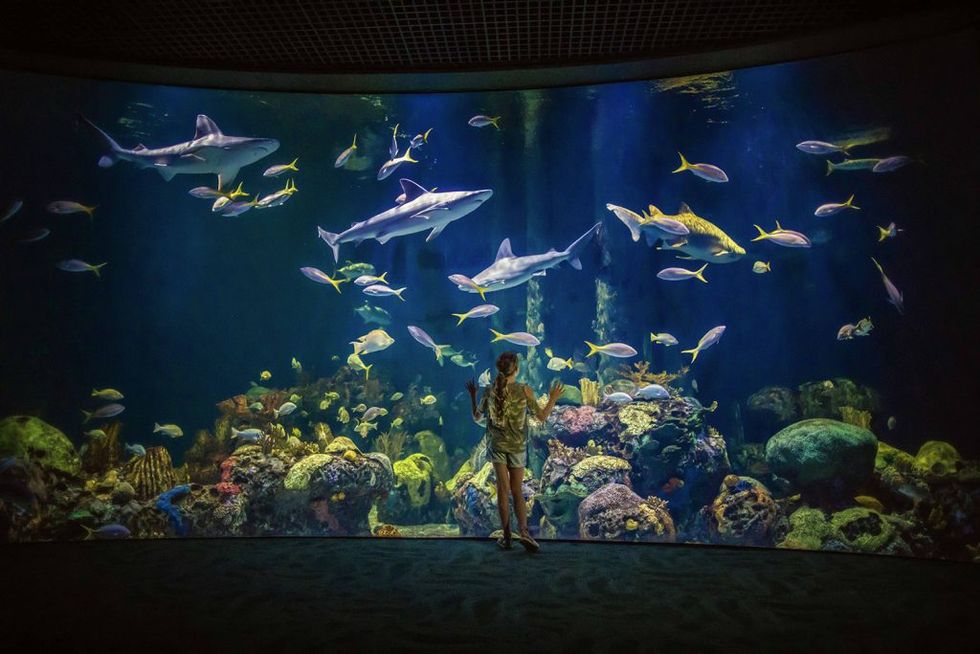 The new Wonders of Wildlife aquarium in Springfield
And yet, something is a little different in southwestern Missouri these days, in the rural region outside Springfield. They're not pushing Branson, the most famous town in the area, the same way. So don't think charter buses full of blue hairs pulling up to an Andy Williams show. While the theaters of Branson are still kicking, the draw now is wondrous nature — hunting, fishing, golfing, hiking, kayaking, water-skiing, sightseeing of all sorts, and much more — as the Ozarks tout themselves boldly as a conservationist's paradise.
It would make sense that the man most responsible for the shift is Johnny Morris, a favorite son who turned a sort of pop-up shop selling tackle in his dad's Springfield liquor store around 1970 into what's now the Bass Pro Shops and, after a merger two years ago, Cabela's empire. He entered the tourism game in the '80s — again betting on the magnetism of the natural world, again ahead of his time — and now his extraordinary Big Cedar Lodge, with all its sprawling, still-evolving, often a bit quirky array of related sites and attractions, is quite something to behold. "We're a one-of-a-kind resort," Morris has said, "dedicated not only to preserving the soul of the wilderness, but to restoring your soul as well."
The resort itself, perched above Table Rock Lake, feels a bit like its own tiny town; Mayberry comes to mind, if Mayberry had room service. A cluster of cozy-looking white houses, some dating to the previous resort built on the site in the '40s, contain the lobby and a shop and the airy spa and few dining options. You can have your frozen custard blended with a piece of apple pie at the little cottage known as Truman Café & Custard.
Spreading out nearly 5,000 acres from the would-be town square, over a series of roads and bridges misted by waterfalls, accommodations include a huge variety of old-school lodge setups and individual log cabins. The standard one-room cabins feature vaulted ceilings, accents of stained glass, rustic-style but comfy furnishings, (lots of) taxidermy birds as wall art, and a deck with a gas grill and a pretty water view. (The staff will happily stock everything you need for a cookout.) Trendy new "glamping" options will also be available soon.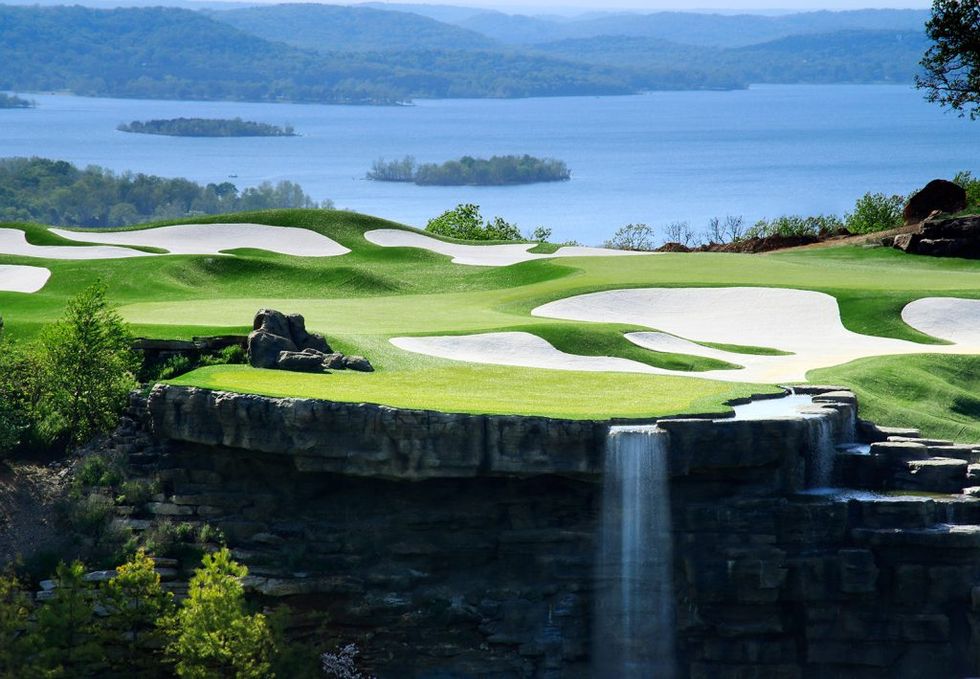 A practice facility at the Tom Fazio-designed Buffalo Ridge Springs golf course
Besides your own balcony barbecue, there are plenty of good places to dine. Devil's Pool Restaurant has a killer view of the lake and the mountains encircling it, especially gorgeous as dusk turns to night, when an aubergine sky, bejeweled with stars, reflects on the water.
Drinks served from the antique mahogany bar at Devil's Pool include the Bourbon Buck with whiskey, orange juice and ginger beer. The menu is pure Southern glory, with more than a few nods to Louisiana à la crawfish cakes, and a shrimp boil for one with Andouille sausage thrown in. The must-get, though, is the surprise appetizer of sautéed chicken livers in Balsamic pan sauce; it tastes like a rich pâté, if made by a cowboy cooking over a campfire. Speaking of cowboys, a singing one with a delightfully smartass sense of humor entertains raucous crowds at the bar downstairs.
Beyond the immediate confines of the lodge proper, dozens of other Big Cedar-affiliated destinations are scattered from here to Springfield, where a vast new aquarium has opened adjoining Morris' vast Wonders of Wildlife museum, which itself adjoins the vast flagship Bass Pro Shop store. It's a lot to take in, and engrossing. (No fewer than two U.S. presidents attended the aquarium's grand opening last fall.)
Closer to the Branson area and Big Cedar, bass fishing on Table Rock Lake is world-class fun — and your guide will practically reach into the water and put the fish on your hook if you're not having luck. And Morris' spectacular mountainside Top of the Rock spread has to be seen to be believed. Besides golf at Top of the Rock — the Jack Nicklaus course, used in PGA play, is only one of Morris' breathtaking courses designed by legends such as Tom Fazio and, coming next year, Tiger Woods — there's the Ancient Ozarks Natural History Museum. At the latter, expect everything from prehistoric dioramas and Native American pottery to a huge and impressive collection of Civil War artifacts.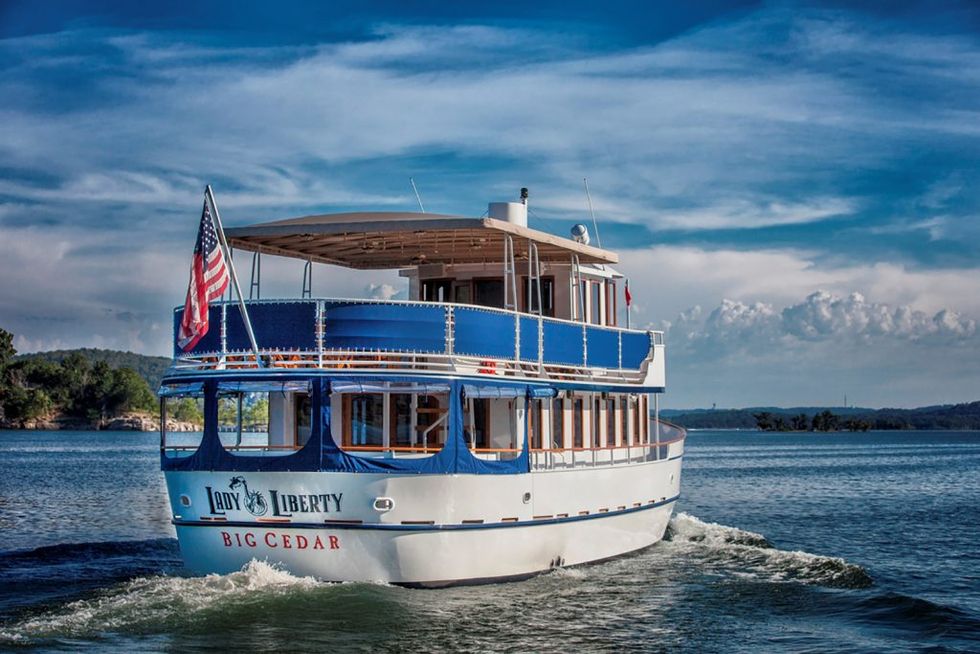 A dinner cruise on Table Rock Lake
Also close by, a relaxed tram tour is offered through underground caves touting towering waterfalls, and a little cocktail bar, thank you very much. Another tour by tram — or on a horse or a bike or a Segway if you like — goes through a large nature preserve that spills into Arkansas, with yet more dramatic waterfalls, not to mention a fully functioning period-style gristmill, and a herd of buffalo.
Morris' vision for a high-end family destination, built from a boyhood love of fishing and an entrepreneurial bent, is thoroughly engaging and lovely. Definitely worth the trip, even without Andy Williams and Jason Bateman.
AT TOP: An observation point at Dogwood Canyon Nature Park, one of the many attractions in the Big Cedar universe. 
Food+Travel