The Exhibitionist
Joining a movement, self-styled gallerist London Ham shows fascinating works by emerging artists in his intimate Montrose apartment.
Anthony Rathbun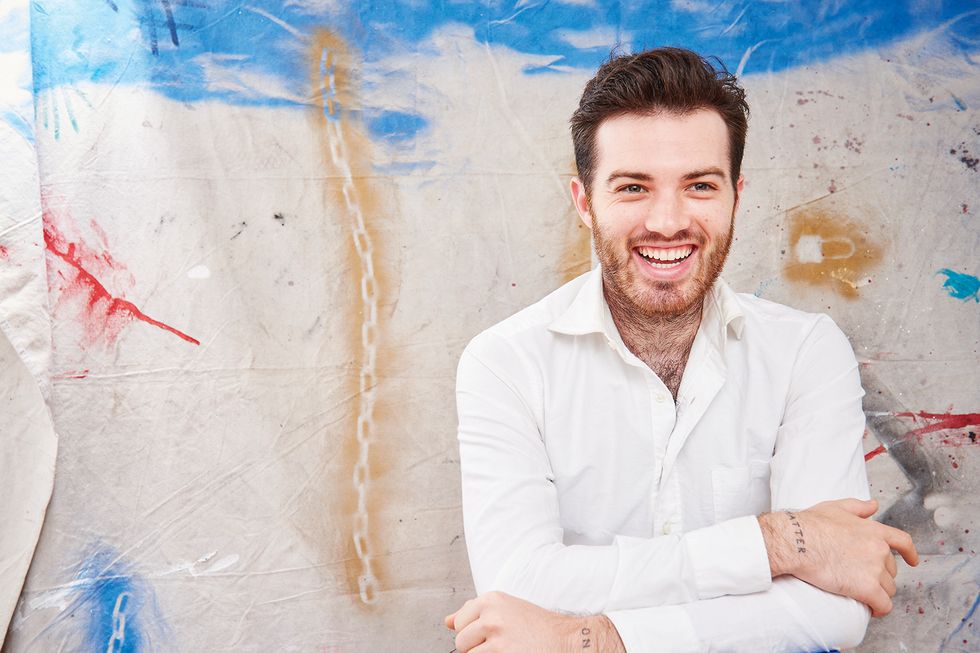 For 26-year-old London Ham — a new kind of gallerist, whose cozy, refurbished living space above Paulie's restaurant in Montrose also doubles as his Blank Check Gallery — the transformative power art has a lot to do with how and where it is presented. While the once revolutionary, now traditional "white cube" presentation of art is still the norm and widely validated, some feels it's too conservative, and maybe not the only way to help collectors develop an appreciation for challenging work by younger artists. In contrast, Ham and a handful of other Houston gallerists have chosen to show the work of their peers in intimate, home-based settings.
---
Since February 2016, Blank Check (1834 ½ Westheimer Rd., 310.880.1535) has presented artists who stretch boundaries of painting, sculpture, video and site-specific work. From Houston-based artist Mia Cugasi's delicate drawings and paintings of surreal nudes and forest animals rendered directly on the walls of the gallery, to New Yorker Michael Bevilacqua's industrial-gray, silver and black canvases, with stenciled words taken from the lyrics of the British post-punk band Joy Division, their name spray painted on the belly of a Styrofoam snowman in the center of the space, Ham has championed art that is "a little bit outside of painting and traditional sculpture."
Born in Texas, Ham grew up in Lake Conroe where he took up theater, but the drama onstage often paled in comparison to his real life. His parents never married, and his father died when he was 16. Ham lived with his mother, moving out before graduating high school. ("I was kind of a wild hare," says Ham.) After a brief sojourn in Los Angeles, where he pursued his acting dreams, Ham enrolled in UH to study broadcasting. But when his mother was diagnosed with terminal cancer, Ham dropped out of school to take care of her.
Ham found solace in painting while his mother was resting after treatments. "I'm one of those people who, unless I achieve something artistic daily, I can't sleep." After she died, Ham made what he calls a "monastic journey" to Portland, a city he had visited previously. He befriended the owners of a gallery there that specialized in graffiti art and convinced them to refurbish and rebrand the space, and he discovered a gift for curating and selling art. He decided to return to Houston to participate in its burgeoning art scene, where his contemporaries were showing work by their peers in alternative gallery spaces around the city.
"In the Houston gallery scene, there are very entrenched lines of loyalty that are difficult to break," says Ham, who cites home-based gallerists Edgar Meza of Scott Charmin Gallery and Pablo Cardoza of Cardoza Fine Art Gallery as inspirations for Blank Check's commitment to showing emerging artists in intimate solo or two-person shows. "My M.O. is I want to help you achieve whatever it is you want to achieve. This is a space for you to push the limits on stuff that no one else is going to give you the space to do."
True to form, Blank Check's current and upcoming shows, which can be viewed by appointment only, are heady, though not without some humor.
For his show, The Dust Shadows Cast, which runs Aug. 12-Sept. 23, Alex Goss, a machinist whose CV includes replacing the master screws in public spaces with his own patented smiley-face screws, has built a machine that will run in the space, gradually carving a form out of cork. The impact of automation on humanity is one theme Goss is exploring with the piece. "He's removing himself from the creative process physically, but not mentally," explains Ham, who admits Goss' machine will be bit noisy. "When you live with a work for a month, you have to really like it!" Then, running Sept. 30-Nov. 12, multi-disciplinary artist Shana Hoehn will take over Blank Check with a show of her photos, paintings and strangely mesmerizing videos of still-life objects, 3D models and human actors. "Her video work is like Renaissance painting."
In a time where it seems every twenty-something artist is busy blowing up on Instagram, Ham chooses to promote Blank Check the old fashioned way: by hanging out and talking with folks. "I don't have a lot of trouble having conversations with people I've never met before," says Ham, whose friendly demeanor complements his passion for art. "I don't know if I know how to build a strong social media presence, but I know how to build a small loyal base that will definitely show up."
Tattooed on Ham's arm are the words "Saut dans le Vide" — "Leap into the Void" — the title of Yves Klein's photomontage of the artist leaping off the high ledge of a building with nothing below to break his fall. "I find myself there a lot," says Ham of that image, which speaks to the faith both gallery owners and the artists they show share. "There's been a lot of good attention, and a lot of people are reaching out to me about the gallery. The tattoo is a reminder that, sometimes, you just gotta jump."
Art+Culture