Six Awesome Activities for a Leisurely Long Weekend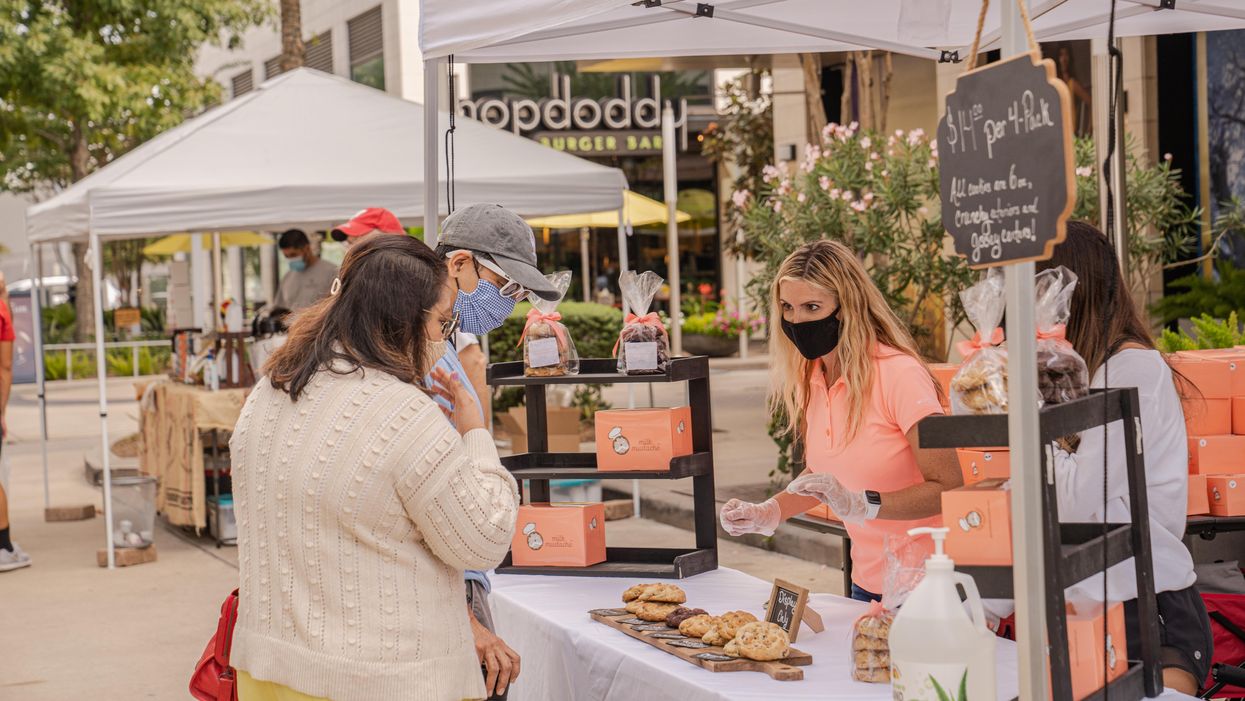 This weekend promises clear, sunny skies through Saturday — perfect for a nice dinner out or, may we suggest, a pajama party with total strangers? Stream shows at home, or hit up a new farmers market for fresh produce. Due to the ongoing Covid crisis, some events are prone to cancelation, so be sure to check before heading out; mask-wearing and social distancing is encouraged.
---
BRING OLD-TIMEY CINEMA HOME Tonight at 6:30pm, MFAH streams a concert by silent-film pianist Ben Model — live from his living room! Model will tinkle the ivories as the film, which features Charlie Chaplin's The Pawnshop, Buster Keaton's The Goat and Charley Chase's Dog Shy, plays. Free; registration required.
RAISE A GLASS AT A CRAFT BEER DINNER Starting Friday and running through the 24th, State Fare Kitchen & Bar collaborates with No Label Brewery to offer craft-beer pairings during dinner. The pre-fixe menu offers a different brew with each course — a salad, surf-and-turf main, and shortcake dessert. Available at both their Memorial and Sugar Land locations. $40 per person.
ATTEND A PAJAMA-PARTY HAPPY HOUSE – AT NOON For the first time in more than two years, B-52 Brewing is releasing another batch of its Brandy for Breakfast, a breakfast stout stored in brandy barrels. The bottle release is being celebrated with a PJ party that's going from noon until 10pm — or as long as you can last! There will be food trucks galore, and a goofiest pajama contest at 5pm. No cover charge.

SHAKE UP YOUR WEEKEND WITH A MIXOLOGY CLASS AT TREZ Heights-area Trez Art and Wine Bar offers a mixology cocktail class every third Saturday. Impress pals with innovative, obscure and tasty combinations unique to Trez. Class starts at 2pm, and participants can take advantage of the 25-percent off food and grab a bite to eat beforehand. $50 per person.
BROWSE A NEW FARMERS MARKET IN RIVER OAKS DISTRICT The River Oaks District launches a new monthly farmers market series this Sunday from 11am-3pm. The market, which moving forward will be held the third Sunday of every month, boasts an array of local vendors including Pain Train Salsa, Mama's Tamales, 4 Brother's New York Bagels, Biryani Hut Indian cuisine and more. Plan to make a day of it and enjoy fresh produce, handmade condiments, baked goods, refreshments and even dog treats. Free.

HONOR MARTIN LUTHER KING, JR. FROM HOME OR BY GIVING BACK Stream Houston's 43rd Annual Martin Luther King, Jr. Day Parade right from home through HTV at 10am on Monday. The parade, produced by the Black Heritage Society and the City of Houston, will include original footage from Houston's first MLK Day Parade in 1978. In addition to the livestream, the Black Heritage Society is also hosting a Parade of Giving at the same time — 10am-12pm. The drive-thru drop-off at MacGregor Park is open to registered donors; distribution, organized by the World Youth Foundation and St. John's Downtown, will target those most affected by the Coronavirus pandemic. They are most in need of blankets, water, baby diapers, baby wipes, toothbrushes, travel size toothpaste, soap, deodorant (men/women), socks, old coats and sweaters. Everything helps!
People + Places