We Can't Wait for This New Downtown Park to Open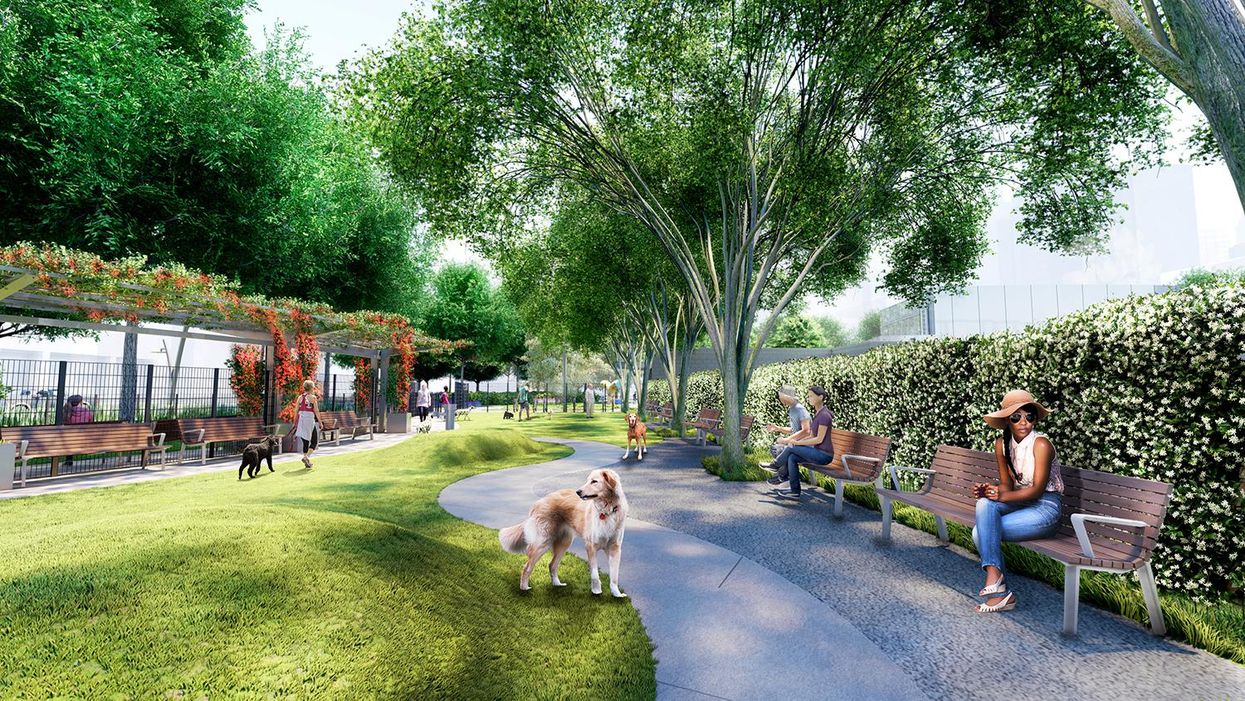 THE DOWNTOWN REDEVELOPMENT Authority (DRA) broke ground yesterday on a new park in southern Downtown that promises to become a favorite for H-Town park-lovers when it debuts next March. Located at 1515 Fannin, Trebly Park will include a spacious new iteration of popular EaDo staple Tout Suite, dog runs for both large and small-breed dogs, an event lawn and an expansive public art program.
---
"We aim for Trebly Park to become a destination that reflects the character of this emerging Downtown neighborhood," said DRA Board Chair Curtis Flowers in a statement. "The genesis for the name was inspired in parts by location, shape and the fun factor." "Trebly" means "three times as much," and the DRA hopes Houstonians will enjoy the new space just that much.
The L-shaped public park, which will serve as a much appreciated "backyard" for area residents and commuters, will be comprised of a large lawn with a stage and lush gardens (and accompanying water features) that flow into an area for the kids and the dogs. Public art will be dotted throughout.
The gateway installation, Porta Pigmenta, by German artists Thomas Granseuer and Tomislav Topic of Quintessenz, will feature layers of PVC mesh of different colors suspended over a square frame. The fabric in the "floating art" installation, displayed at canopy height, will constantly change in a wave-like manor as its affected by wind and light.
Not to be outdone by the Germans, there will also be a multi-piece and colorfully patterned sculpture by American artist duo Chiaozza, based in Brooklyn, which will provide a whimsical playscape and entertainment zone for children.
While the kiddos are busy playing with the "curious fragments" that make up the colorful Chiaozza piece, parents will be able to sup some of the delicious libations that will be proffered up by the park's new iteration of Tout Suite. The 2,400-square-foot-café will feature indoor dining — where they will serve their signature food items in addition to coffee, juice, craft beer, wine and bubbly (hooray) — along with outdoor seating under a canopy of trees.
The pedestrian-friendly park will also tout a BCycle station, ample bike racks and bike-repair station — a necessity for cyclists in our precariously-paved-but-slowly-improving city.
Trebly Park, which will be managed and programmed by the Downtown District after it opens, will feature live music, movie screenings and public art that will serve as a delightful attraction for the area's predominantly young-professional residents.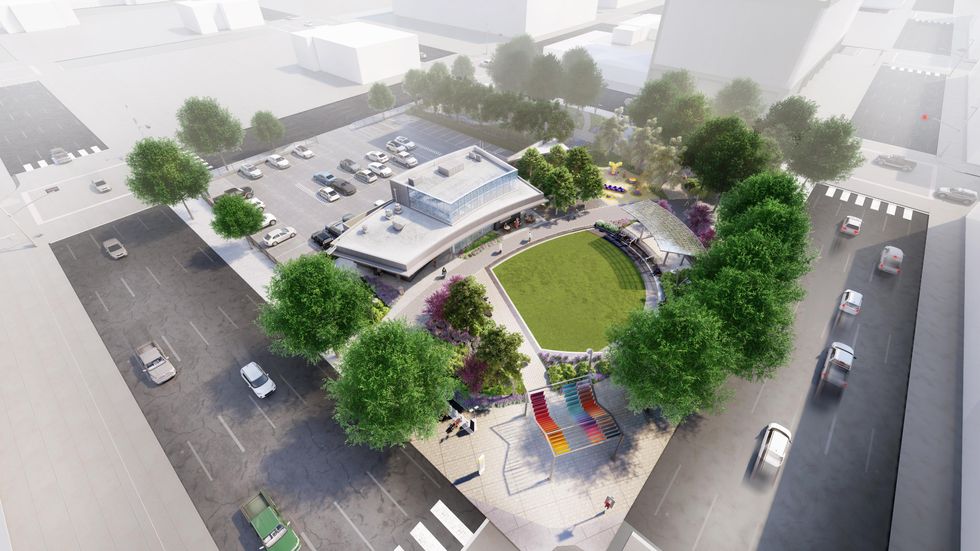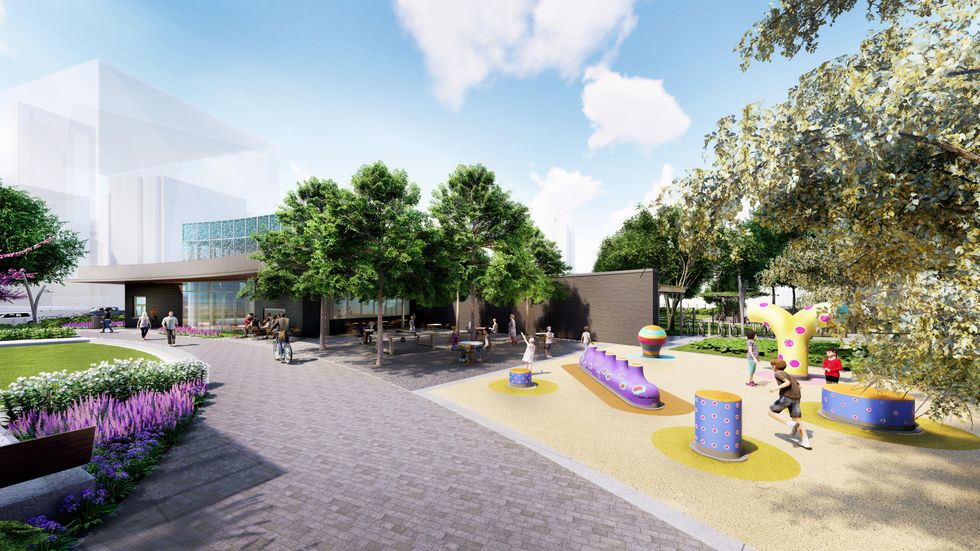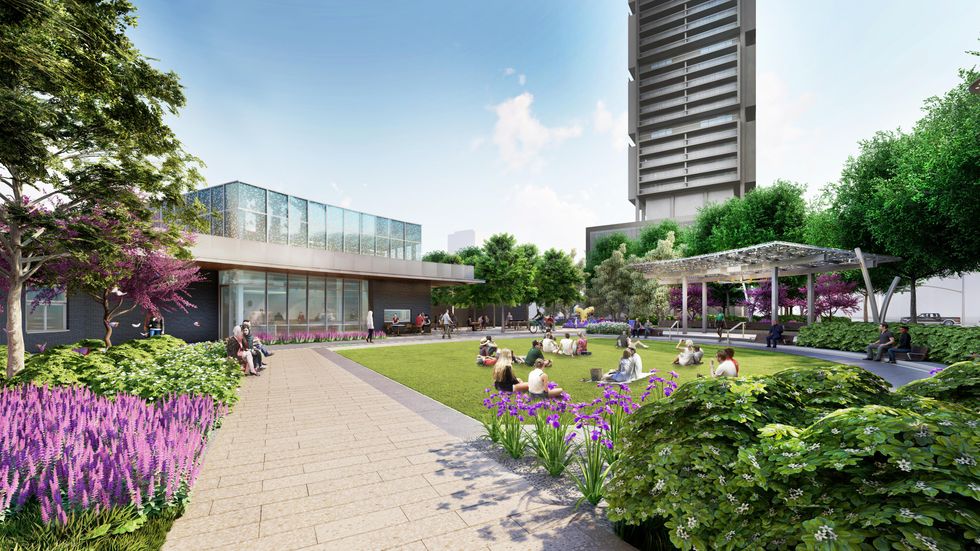 People + Places