United State
As his sixth album hits, Hayes Carll takes on political tribalism –– and what it means to be a good Texan.
David McClister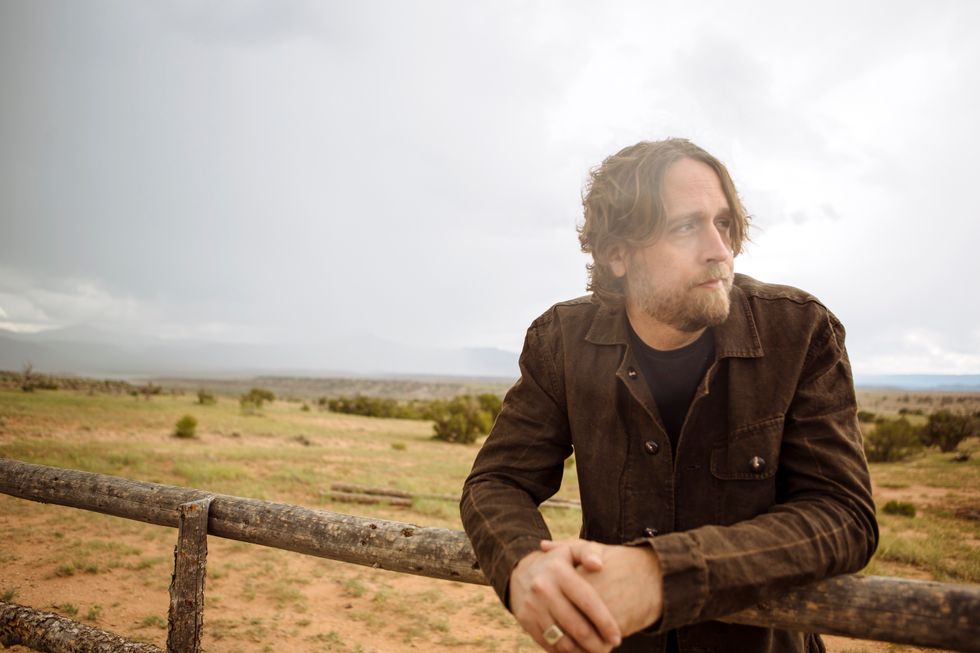 Houston-born singer-songwriter Hayes Carll, 43, first got into the live-music scene performing in local honky-tonks and Bolivar Peninsula shrimp shacks. Inspired by the Lone Star State's long lineage of folk- and country-music storytellers — particularly Willie Nelson — the bearded, shaggy-haired musician dropped his first album, Flowers & Liquor, in 2002. Since, he's risen through the ranks, topped charts and received a few Grammy nominations. He recently released his sixth studio album, What It Is, and started his world tour with performances right here in Houston. 
---
The album's already received major praise from critics, getting special nods for sharp-shooting lyrics about his own spiritual journey, as well as larger cultural observations. Themes of love and loyalty are strong given Carll's recent engagement to fellow singer-songwriter and collaborator Allison Moorer, but even stronger are heavy-hitting assessments of white male privilege and today's politically polarized climate. 
He acquired a new boldness to tackle sensitive issues after tussling with detractors on social media over white nationalism and Charlottesville. "I was shocked to learn that there were people following me and calling themselves my fans who thought I should keep my mouth shut about those issues," he wrote in an online music journal. "My job as a songwriter is to explore all aspects of life and report what I see. It's to show where I am on my journey and make sense of it for myself." 
As Carll becomes a man in full — and an artist, and a Texan — he talks with CityBook. 
Your music has always been celebrated for its storytelling quality. How does that manifest itself in this new album? Early on, I was obsessed with the past and with the future. How was this going to turn out? Was I gonna reach dreams and goals? Now, I'm looking at bigger ideas about what's going on socially and about how I want to live. Most of these songs are guide posts to myself, and reflections on the things I learned along the way. I used to leave sticky notes taped to the wall with quotes and life advice. On this record, I've done that via music. It's about getting off the sidelines and being bold enough to live life on your own terms.
Several reviews have noted heavy political undertones and social commentary in the lyrics. First, I don't want to tell anybody how to think. I try to express what I'm seeing or feeling. Sometimes that's through humor or sarcasm, sometimes it's just being straight with it. I wrote "Fragile Men" with LOLO [musician Lauren Pritchard] originally about misogynists, but it ended up focusing more on hate and white supremacy following the marches in Charlottesville. Right now, it seems everyone is pointing fingers and discounting other people's opinions. If any truth threatens your own, you want to shut it down. That's no way to live, and it frustrates me to see it, whatever side it's on.
Coming from Texas, you've long seen opposing viewpoints coming together and working through differences. What do you think has changed? Somebody used to sing about an issue, and audiences could just ignore it without immediately going off and burning their records. Now it's like a sense of pride. "If I don't agree with you, then I'm going to remove you from my world." It's thin-skinned, and that's atypical to what Texas is about. Texas is supposed to be a place with largess, strong community, diversity and pride.
The song "Times Like These" takes on a more reconciliatory tone: In times like these everyone could use a hand / Instead we stand around losing ground fighting o'er the promised land. How do you see the country moving forward and healing? I think it's our elected officials' jobs to unite us, and I have a real problem with leaders using division intentionally to strengthen their own position. That's a disservice to all of us. They should be reminding us of what we have in common and how we can work together. I am close to a lot of people I disagree with about a host of issues, but they are also people who have good hearts, who I could call if I need anything. We can disagree, and not be written off as an enemy.
What was it like working with your fiancee, Allison, who co-produced and co-wrote much of this album? She is an artist by pretty much every definition. It's been an eyeopening journey to see how she approaches her life and her work. She's releasing a memoir in the fall — I think I make a brief appearance. She's taught me to keep keep my butt in the seat. I tend to daydream and fantasize. I get an idea for a song, and suddenly I'm thinking about the award I will win, what I'll say at my speech. Meanwhile, the actual song hasn't even been written. Allison's much better at sitting down every day to work, and being in the moment. Her discipline and work ethic are something I am in awe of.
In the end, what legacy do you want to leave with your music? I think in some ways I'm still figuring that out. I want my son to be able to look at me and know that following your heart and overcoming fear is possible. And I want my partner to look at me and know she can count on me to be honest and strong. Those are the two most important legacies for me right now. 
Art+Culture