'Pop-Up' Classical-Music Group Hosts Weeklong, Family-Friendly — and Free! — Concert Series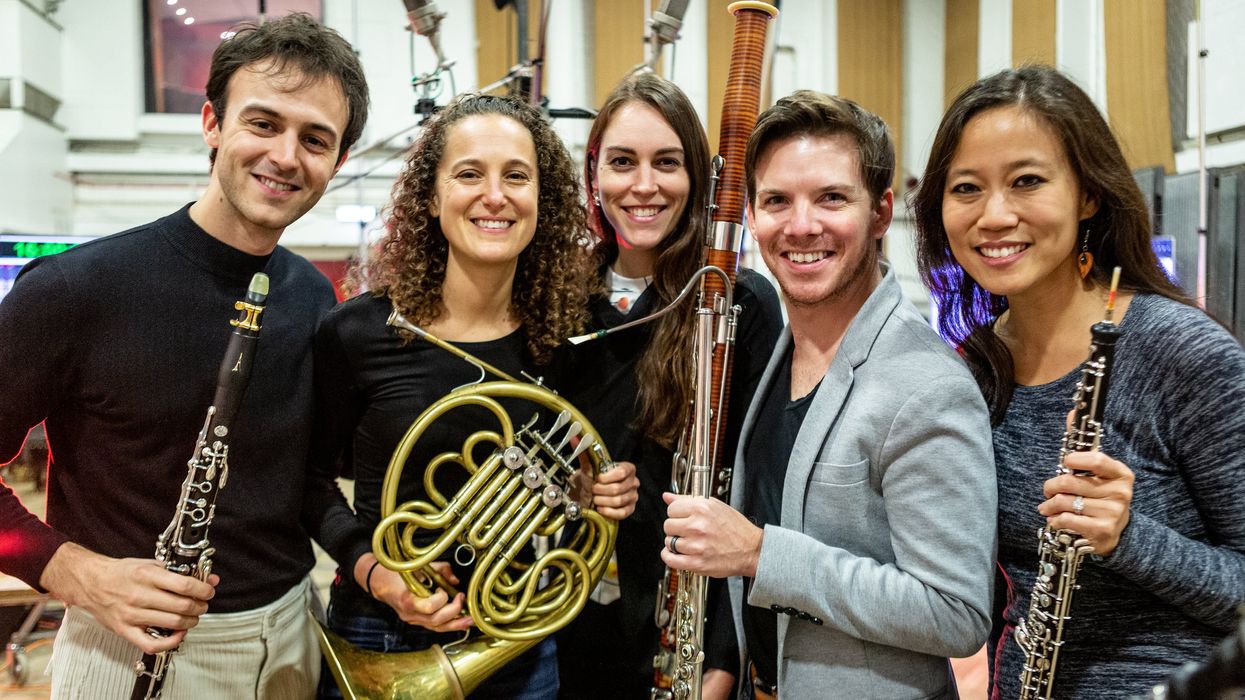 IT'S NOT ENOUGH for Houston's premier wind quintet WindSync to put on great concerts, like last February's performance at Live Oak Friends Meeting House, or travel to London's legendary Abbey Road studios to record an album of music by Miguel del Águila. No, this ambitious, community-minded quintet of classical music ambassadors is wrapping up its 2022-23 season with the Onstage Offstage Chamber Music Festival, a weeklong series of (mostly) free concerts, workshops in Houston schools, and two main stage concerts at MATCH and Zilkha Hall. This is the seventh edition of the festival, and its programming brings together guest professional musicians and elementary through high school level students to celebrate the quintet's various community and educational residencies.
---
The festival gets rolling with two outdoor, family-friendly "pop-up" concerts. (WindSync is well known for "popping up" in venues other than the concert hall to reach audiences who may be unfamiliar with classical wind repertoire.) The first takes place Tuesday, April 25 at noon at Crain Garden, a favorite common space in Houston Methodist Hospital. Bring your lunch and enjoy some Beethoven, some blues, and (maybe?) some Beatles.
The second happens Wednesday, Apr. 26, at 6:30pm at The Lawn at Houston Farmers Market, with students from HSPVA, and a performance of WindSync's interactive, theatrical family show, Interstellar Cinderella. (It should be said, the members of WindSync — including founding members Anni Hochhalter and Garrett Hudson and newer members Emily Tsai, Graeme Steele Johnson, and Kara LaMoure — are all unapologetic hams.)
On April 27 at MATCH, pianist Yvonne Chen joins the quintet, along with double bassist David Connor and violinist Rainel Joubert, both Community-Embedded Musicians with the Houston Symphony, for a season-finale concert featuring a special chamber-music performance of George Gershwin's piano concerto Rhapsody in Blue.
And for an encore, on April 28 at Zlikha Hall, WindSync joins forces with musicians from the Houston Youth Symphony (HYS) Coda Music Program for a concert led by Coda director Jackson Guillen. The Coda Music Program provides after-school instruction to third, fourth, and fifth-grade Houston ISD and Fort Bend ISD students from low-income families, and for the majority of the students, this will be their first time performing downtown.
The Onstage Offstage Chamber Music Festival is made possible in part by the City of Houston through the Houston Arts Alliance, the Texas Commission on the Arts, Rice University's Boniuk Institute for Religious Tolerance Arts of Tolerance Program, the Huff Foundation, and the Paul R. Judy Center for Innovation and Research at the Eastman School of Music.
Yvonne Chen