"I WISH I came here sooner to experience this amazing city," says advanced sommelier Rachel Van Til of her move to Houston just one year before the pandemic lockdown. When Covid appeared in 2020, along with layoffs and closings, it led to a career swerve for Van Til, a working mom who was a sommelier at Pappas Steakhouse. She took over the wine program at The Clubs at Houston Oaks, a posh (initiation fees can range into the six figures) members-only club northwest of the city with 10 lodges, 17 lakes, 900 acres and six dining options. Speaking of lots of good food and vino, the club's 2022 Wine and Food Classic is this February 12 — it's a great chance to taste hundreds of wines from around the world and learn about them from winemakers and professionals. "It's our largest event of the year and it's open to the public." In our Q&A, Rachel dishes on her favorite date night, best wines to try this year and her brush with the me-too movement!
Where did you study, and what inspired a career as a sommelier? I studied American Postmodern Literature at Grove City College in Pennsylvania — I swear it ruined my sense of humor. I was working summers at a winery near my home throughout college. When I graduated I had to decide whether to go to grad school and take on more debt, or get into the wine business. What sounds like more fun to you?
Where did you grow up? Northern Michigan, on Old Mission Peninsula right on the lake. I spent some time in Detroit (the food scene there is great!) and then Dallas before moving to Houston.
Tell us about your Pappas experience? I was privileged to work for three-plus years on the sommelier team at Pappas Bros Steakhouse. They have the most amazing team, and their cellar is basically the Library of Congress for wine. Plus, their steaks are the best in town, even if Vic and Anthony's beats them on the crab cakes.
How does Houston's wine crowd compare to that of other cities? Detroit was the wild west of the wine world. I knew many top restaurants without a single domestic Cabernet on their wine list. Then in Dallas, not only was Cab king, but most guests would ask for the same labels and were hard to steer elsewhere. In Houston, I'm grateful to be surrounded by people who are curious and excited to try new wines, and often know the subject. Y'all are fantastic!
What's the most controversial thing you've done as an adult? Throughout 2020, a group of female sommeliers shared their stories of being sexually harassed by some of the world's top male wine professionals. I'm grateful for the women who collected these stories and to Julia Moskin of The New York Times for sharing them. That said, our industry is a small one and putting one's name on a story like that can definitely brand someone persona non grata.
What is your favorite drink? Champagne is the most serious, frivolous thing one can drink. It's my favorite beverage and the best to drink in the shower when one needs a good cry.
Finish this sentence: My idea of the perfect date night is… Wandering around an art museum before enjoying Champagne and a multi-course meal. I'm dreaming of the Metropolitan Museum of Art with the affixed three-Michelin-star restaurant The Modern.
What would you choose as your last meal? Please fly me back to Manresa! Between the butter, the Clos Rougeard, and the company, it was definitely the best meal of my life so far.
Name three things on your bucket list. Visiting Saint Petersburg, getting back into rock climbing, and publishing a book.
Who's the most famous person you've ever met? Curtis Jackson (aka 50 Cent). We hosted him at the Club along with his Champagne and Post Oak Motors for our Champagne Roadshow series. He's very kind and has great style, plus his Champagne is really good. He's doing a lot of philanthropic work in the Houston community and specifically for the schools.
What's your favorite part of the job? Hosting wine dinners! While being a sommelier is definitely a real job, my old boss used to remind me that, while the chef actually made the food and the winemaker made the wine, I hadn't made anything. I enjoy showing off the handiwork of both the winemaker and the chef, and acting as MC.
Name 3 people (living or dead) you would love to have dinner with. Anna Wintour, Ruth Bader Ginsburg and Russell Brand (the perfect vegan to eat with at Eleven Madison Park)!
Tell us about 3 of your most memorable wines from 2021. In no specific order: 1990 Château Lafite-Rothschild,1986 Château Mouton-Rothschild and 1990 Clos Fourtet. I've had a lot of delightful Bordeaux this year and really love it aged. Pro tip: Ask for a wine from your birth vintage at Pappas Bros Steakhouse or at Mastro's. Sometimes they'll even have a dessert wine with age available by the glass.
What about three wines from lesser-known regions we should try in 2022? Sémillon: Whether from Australia's Hunter Valley, South Africa or Mendoza, Argentina, these wines are refreshing with a subtly creamy texture, and hints of key lime and pineapple. Cabernet Franc from France's Loire Valley, specifically Chinon and Saumur-Champigny. Also try the fantastic, under-the-radar wines from Red Mountain in Washington State.
How do you juggle motherhood, a full-time career and a social life? I'm fine with a bit of chaos. I'm grateful for a career that is a large part of my social life, and a great way to connect with people. I'm happiest being selective about what takes me away from my family and work.
What are your future career goals? I would love to design serious wine dinners as part of larger fashion events.
You're an avid reader and read one book each day during the first year in lockdown. How did this passion evolve? When I was in second grade, we read My Side of the Mountain. This book tells the story of a young boy living on his own in the wilderness, finding his own food, and escaping society. It was the first time I remember deeply imagining what that must be like. At this moment, living away from society in the woods doesn't sound all that terrible.
People + Places
HOUSTON IS HOME to hundreds of steakhouses, but the Museum District has been pretty barren of big beef — until now.
Daisy Buchanan, heroine from The Great Gatsby, would certainly approve of the still-new venture, Gatsby's Prime Steakhouse, which recently expanded its footprint, absorbing the adjacent space. "This not only frees up our garden room for private events, but gives diners another backdrop for dinner, along with a second intimate bar space offering more privacy than the main bar at our entrance," said nightlife entrepreneur Luis Rangel.
Rangel knows a thing or two about hospitality: He earned his chops at Steak 48 and Mastro's Steakhouse before stepping out on his own. At Gatsby's, he creates a 1920s mood with polished service and fine steakhouse cuisine, but in an approachable setting. The boutique, European-style ambiance plays off the patina of the venue, while a soundtrack of classic jazz, Frank Sinatra and Dean Martin keeps it mellow.
Softly lit with lipstick red banquettes, chandeliers, and gold and black marble accents, the neighborhood haunt on Montrose Boulevard is a sultry choice for date night or cocktails at the tall, dark and handsome vintage bar. For Valentine's Day, chef Erik Anaya has designed an enticing three-course dinner that represents a good value. First up: your choice of a wedge salad or Caesar. The main course stars a 24-ounce Porterhouse steak crowned with crispy shrimp and butter sauce plus two sides — whipped potatoes and asparagus. For the finale, debate over red velvet cake or cheesecake ($120).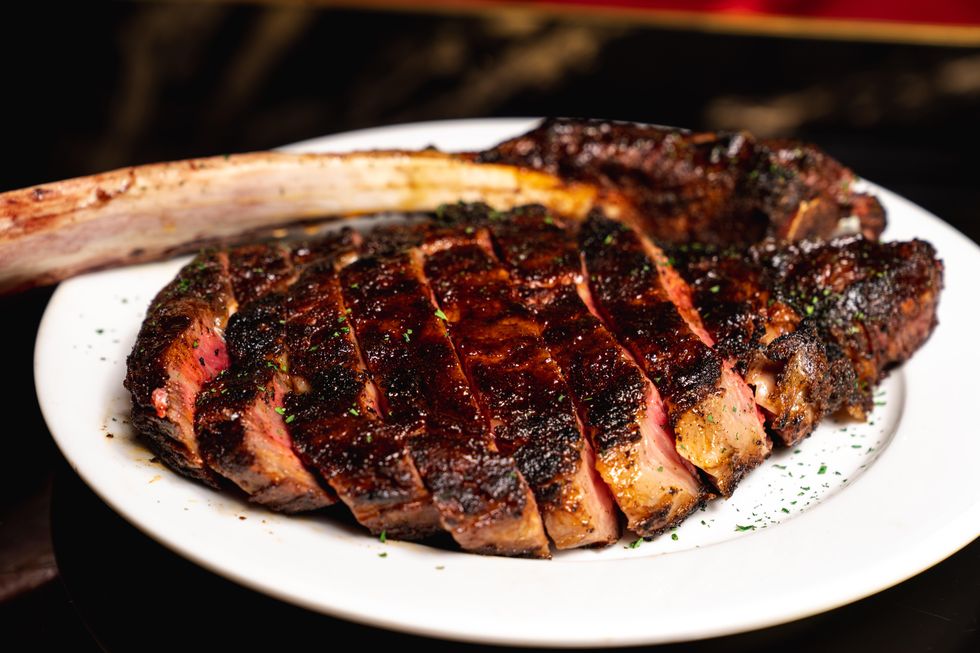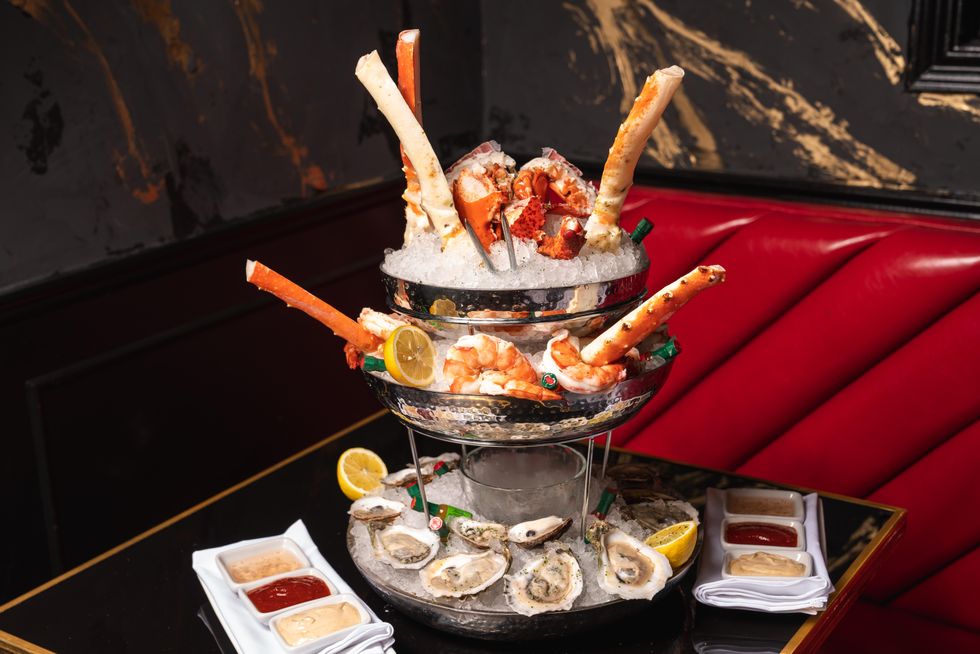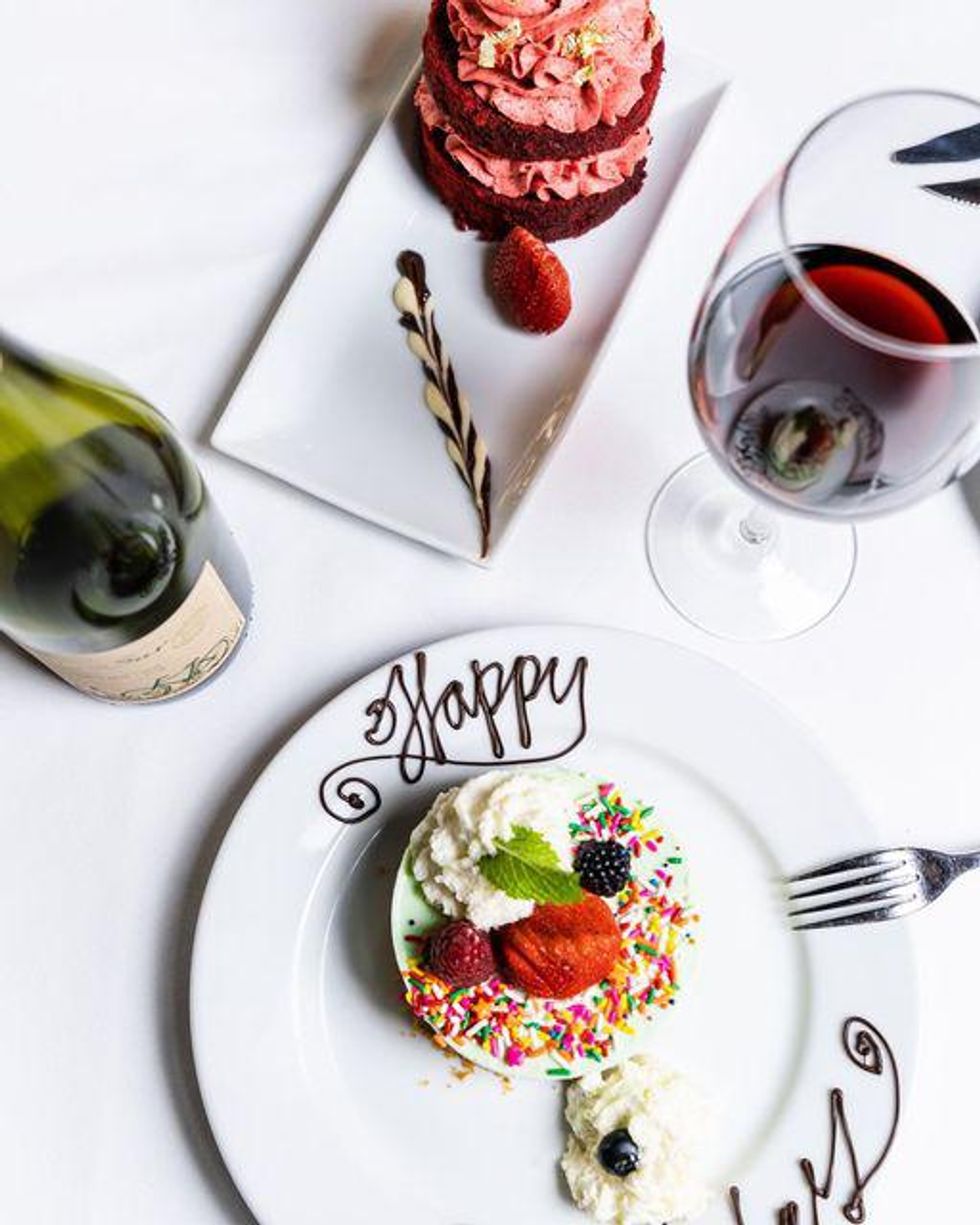 Alternatively, the full menu is available, and appetizers make for fine foreplay. Simple-sounding "sautéed shrimp" is anything but, channeling a dish from Galatoire's presented with New Orleans flair. Three colossal shrimp arrive bathing in a perfectly seasoned white-wine butter sauce with mega Parmesan toast for dipping. Among the many notable starters, the seafood tower is a showstopper and can be custom ordered with your preferred fruits de mers.
As for steak? The 8-ounce filet is best for "light" eaters, and steak sizes grow from there, including a 14-ounce Wagyu New York strip, a 22-ounce bone-in ribeye, and 40-ounce Tomahawk ribeye. And there's a Surf menu for the seafood lovers. Feeling ravenous? Throw in the elevated onion rings. Puffy and crispy, these unique rings are fried in a Dos Equis beer-and-vanilla batter lending a light, crackly coating. Simply irresistible.
What to Drink Think you're too sexy for your cocktail? Try The Boulevardier — its strong yet rounded flavor makes it deeply complex and vivacious (hopefully not unlike your date). New bar creations include Bull in a China Shop and Tongue in Cheek — pick your mood.The wine list offers fitting global choices by the glass and bottle.
What to Wear "Wear what you would if you were taking your mother to dinner, which means no ball caps or athletic wear," says owner Luis Rangel. For date night, do it up.
Best Seat in the House The roomy Hollywood booths against the floor-to-ceiling windows — or ask for a cushy dark corner booth. The sidewalk patio is great for warm weekend evenings, and when Montrose Boulevard traffic is light.
Where to Park Complimentary valet parking can be accessed in front of the restaurant on Montrose or directly behind the restaurant in its parking lot. You also might find street parking!
Food