In the fifth annual portfolio, meet the icons whose ambitions and accomplishments have shaped those of America's most fascinating city — and the new titans guiding Houston to an exciting future. Presented in partnership with Residences at The Allen and Bentley Houston
College Sports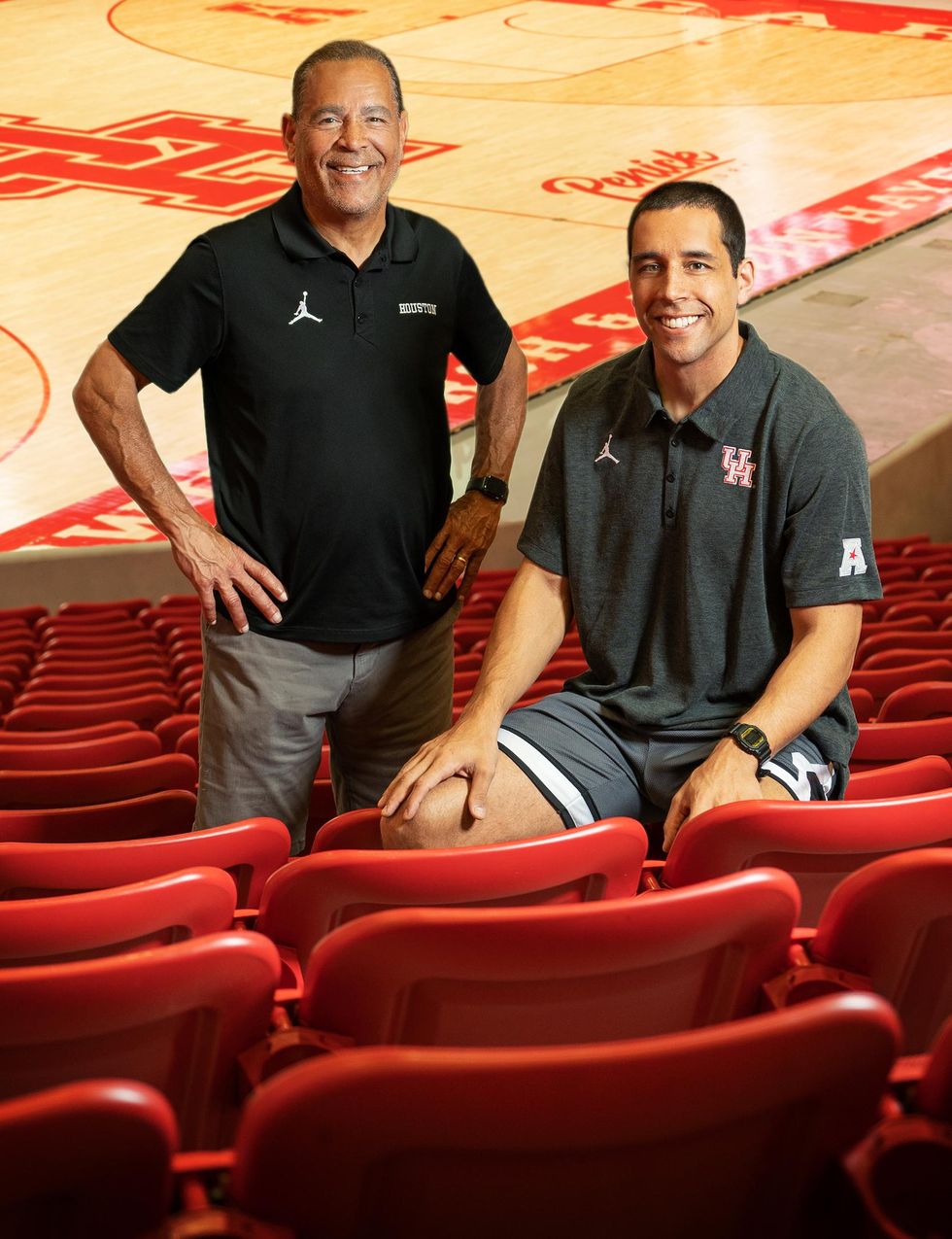 Kelvin Sampson and son Kellen are photographed at the Fertitta Center, one example of Kelvin's push for great new facilities. At his behest, the Cougars also built a $25 million training center, which Kelvin calls a 'Taj Mahal.'
Legend Kelvin Sampson
Since Kelvin Sampson's arrival at UH in 2014, the Cougars have risen meteorically to become the NCAA's third-winningest team of the last five years, claiming four conference championships and, in 2021, making a Final Four appearance. "When I first got here, everyone knew there was one place you never took new recruits: the arena where they'd play their games," says Sampson, 66. "That's blasphemy." He credits the success to others — like Tilman Fertitta, for whom the school's new arena is named — who bought into his vision that UH could become a winning team by building state-of-the-art facilities. "It's been an evolution. There's a lot of schools that have a great basketball team, but we have a great program."
Leader Kellen Sampson
Kellen Sampson spent his childhood idolizing his father Kelvin, hoping to work with him. Now he's the UH basketball team's assistant coach and designated future head coach — a dream come true. In the father-son duo, the Cougars have something no other NCAA program does. "The secret sauce is our continuity," says Kellen. "There's a wholesomeness to when Coach and I walk into a young person's home; we can honestly say that we will both be here for your son. Ideas ... and discussions that were tossed around in recruitment, we're able to manifest them." He's also manifesting things for his own two kids: "They think their Papa K is some combo of Santa, Super Man and Batman, the same things I thought about my father."
Visionaries in Business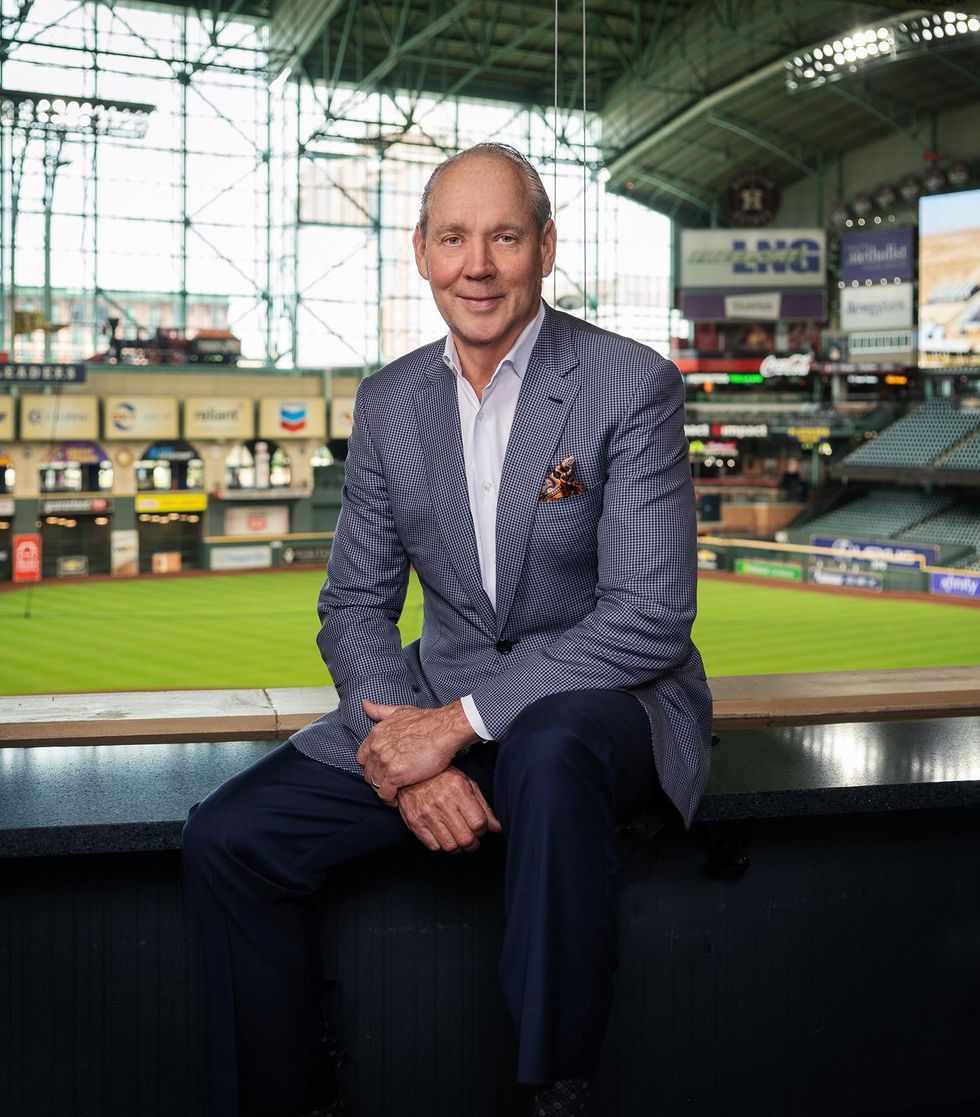 Crane at Minute Maid Park, located near his two Downtown restaurants, Potente and Osso & Kristalla
Legend Jim Crane
Jim Crane, a self-made shipping magnate, is a big-picture thinker. He purchased the Astros in 2011 and led the team to multiple playoff appearances and a World Series win. And while the value of the team has quadrupled since his acquisition, per Forbes, Crane isn't solely focused on the money-making. "We've appeared in five consecutive American League Championships. If we make it to six this year, it'll be a new record," brags Crane, 68, who's also grown the Astros Foundation from $50,000 to a multimillion-dollar endowment. (He used the Foundation's new clout to take over the Houston Open golf tournament in 2018, to ensure it stayed in the city.) What's his end game? "To support our community for generations to come."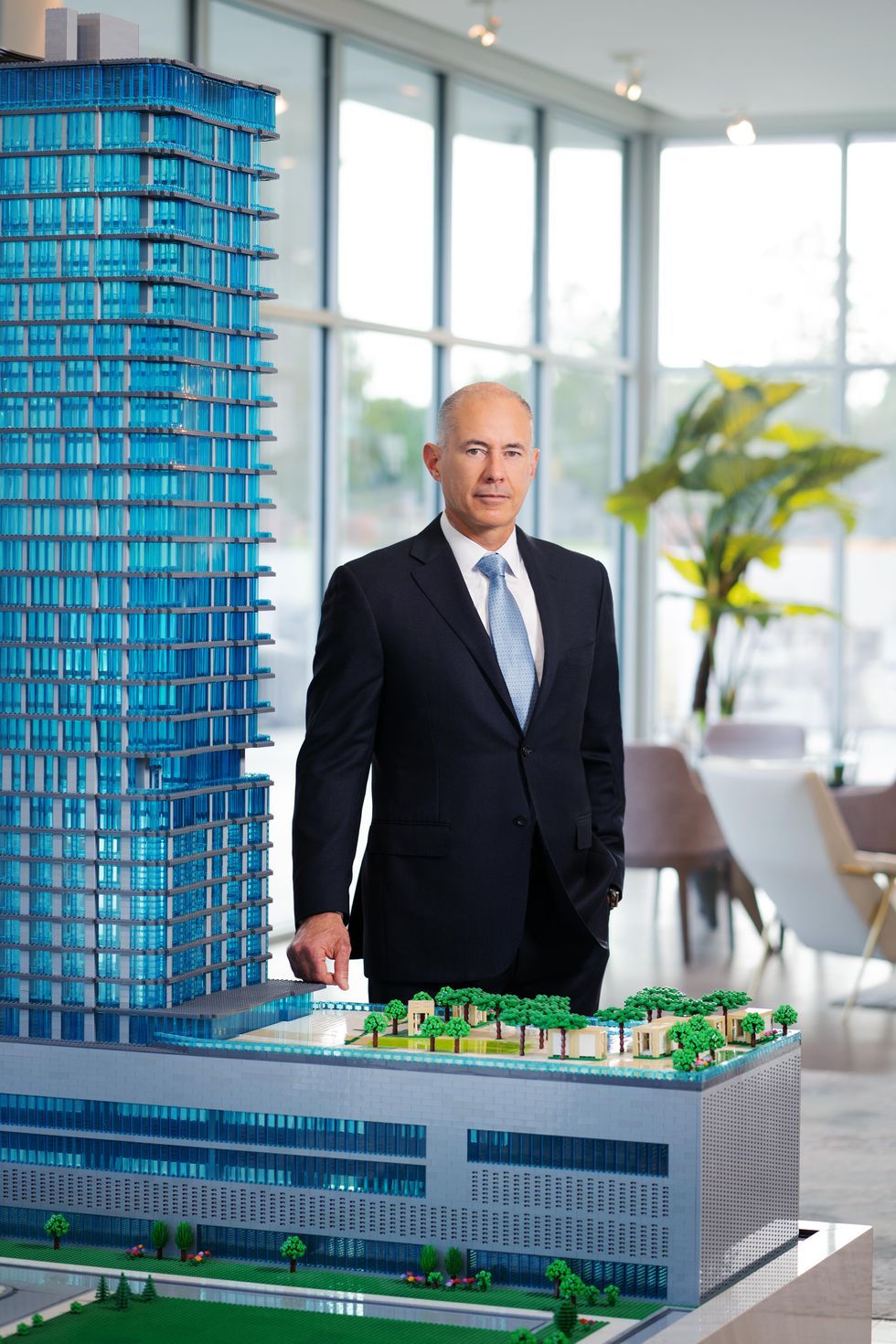 Contreras at the condo sales office for The Allen, which will also be home to a stunning new Thompson hotel, a first for Houston
Leader Roberto Contreras
Mexico City-raised Roberto Contreras is a passionate and gracious entrepreneur, which informs his work as CEO of St. Christopher Holdings. Its subsidiaries include Moderno Porcelain Works — the latest in a long list of stone and surfacing companies established by Contreras, who started his first one as a young UH grad — and luxury real estate development firm DC Partners. The latter is behind the Astoria and Arabella high-rise towers, and the truly revolutionary new mixed-use complex The Allen, rising up near Buffalo Bayou Park. "It's our largest project to date," says Contreras, 58. His aim is not only to "redefine urban living," but also to demonstrate to his seven grandkids "that there is opportunity for them."
Philanthropists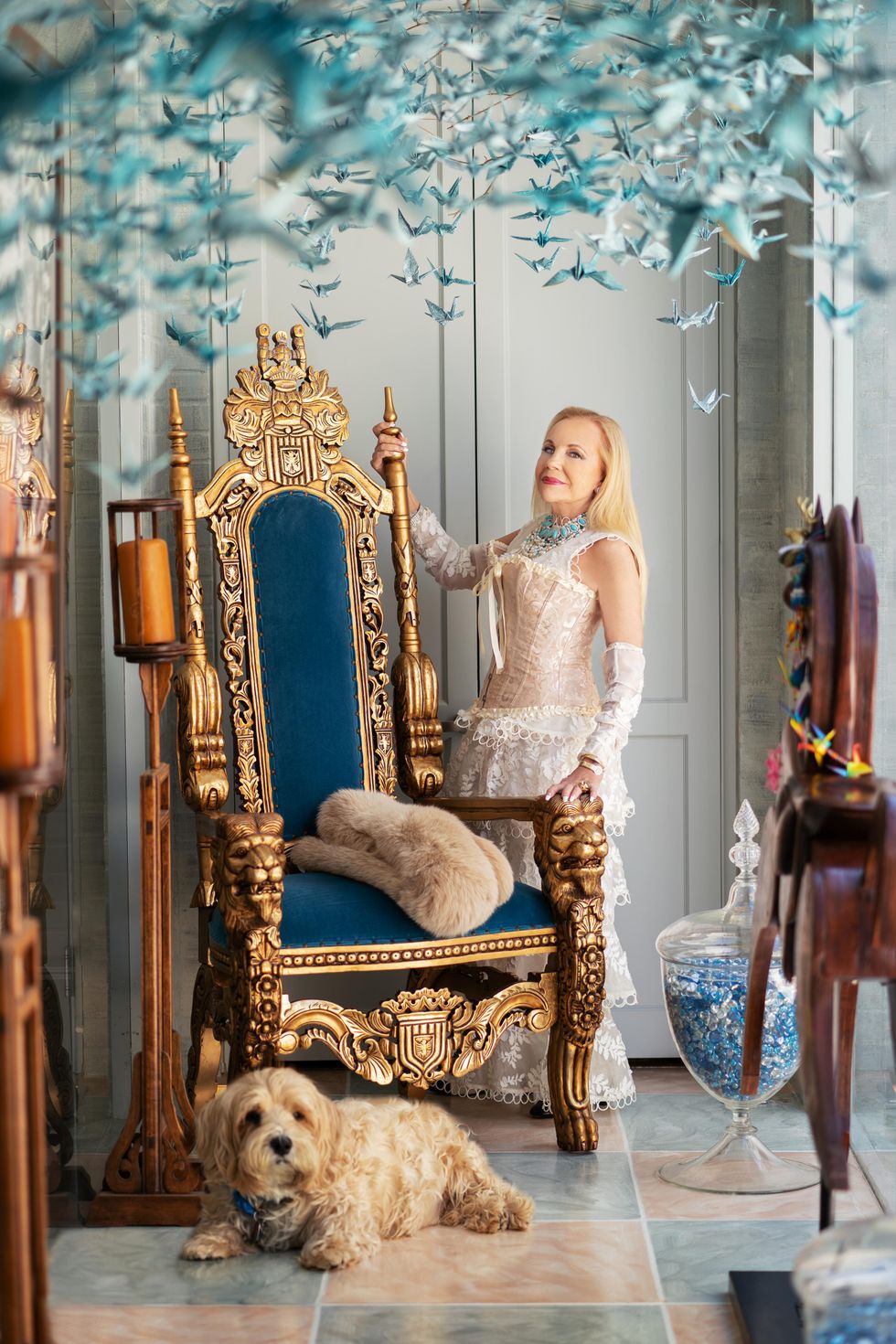 Farb, who authored 'How to Raise Millions' in 1993 and 'The Fine Art of Fundraising' in 2004, at home in River Oaks
Legend Carolyn Farb
Carolyn Farb wrote the book on fundraising. (Actually, she wrote two. And another one, Gracious Beauty: The Purposeful Life of Carolyn Farb, is forthcoming.) "Houston is a giving city," says Farb, "where people care if there is a new opera house, a new library, new playgrounds, including ones for children with disabilities." For causes as diverse as those, Farb estimates she's raised more than $250 million and, despite the setbacks presented by the pandemic, she continues to be generous with her energy. "I enjoy bringing joy to those who are less fortunate," says the consummate hostess who became widely known for her fab fetes in the '80s. These days, she's going to bat for causes like Virtuosi, the Ballet and children's charities. "I'm proud to live in Texas, a state with a big heart."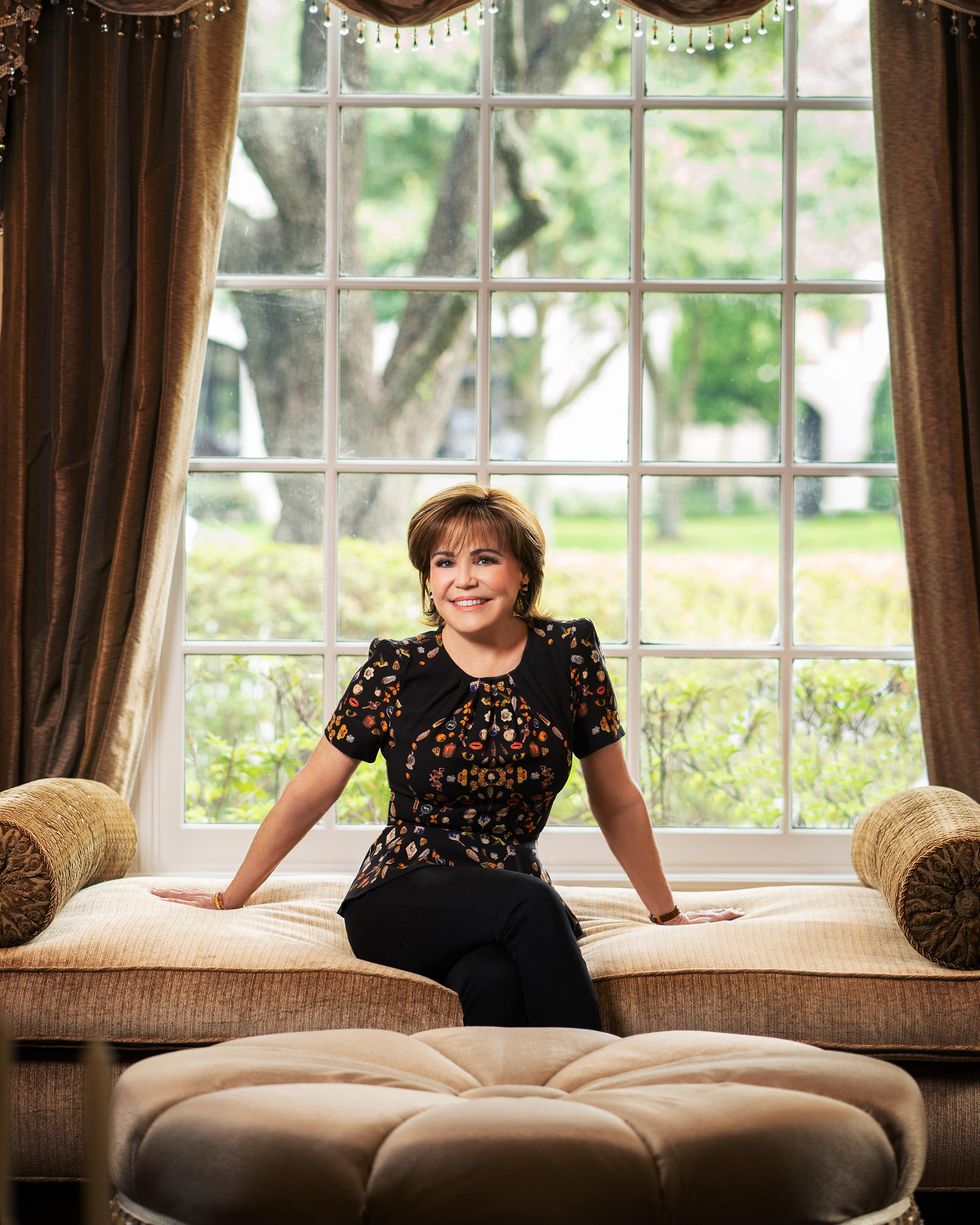 Single mom and cancer survivor Vanderhider, at home in River Oaks
Leader Hallie Vanderhider
After two years of smaller and virtual events, Houston is ready to party — for a cause. Nobody knows this better than society doyenne Hallie Vanderhider, who's behind some of the year's biggest bashes, like the springtime Evening in the Park fundraiser for Hermann Park, and fall's 40th-anniversary Best Dressed luncheon hosted by the Chronicle. While event-planning efforts and seemingly omnipresent society circulating could well be a full-time job, Vanderhider, 64, also boasts a successful oil and gas career. Her work ethic — "instilled in me by my father" — benefits many, but the Houston Ballet is special. "It's pivoted so successfully in the face of disasters," she says, "continuing to provide inspiring art for the community even under the most trying of circumstances."
Fresh Restaurateurs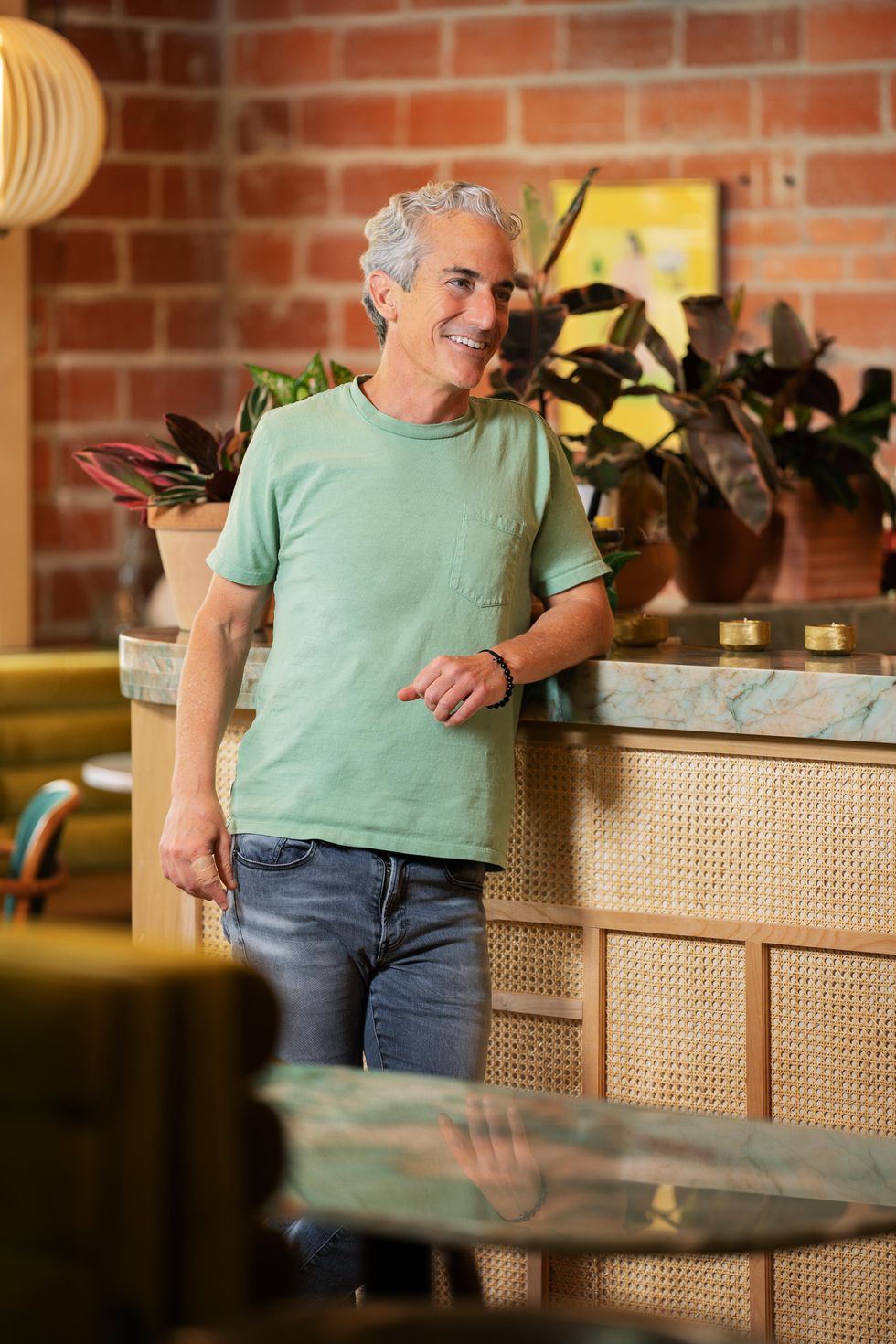 Levit at Lees Den, upstairs from the original Benjy's, now a Local Foods, not far from where he lives with his wife and two kids in West U
Legend Benjy Levit
For a quarter century, Benjy Levit's eponymous restaurant in Rice Village was a sceney spot for brunch all the way through to dessert — his mom's chocolate cake, of course. In 2011, Levit, now 53, opened a next-door sandwich spot simply named Local Foods, which quickly garnered something of a cult following. A pandemic pivot meant that Levit would expand the hugely popular Local Foods concept, which by then had six locations in Houston and Austin, into the Benjy's space. But anyone feeling too nostalgic about the switch should think again: "Benjy's evolved every few years, so I view the change as part of the process," says Levit, who has always prioritized seasonal and local at his restaurants. Most recently, he opened a speakeasy-style wine bar called Lees Den upstairs. "I am so appreciative of the team that continues to grow with us through the changes."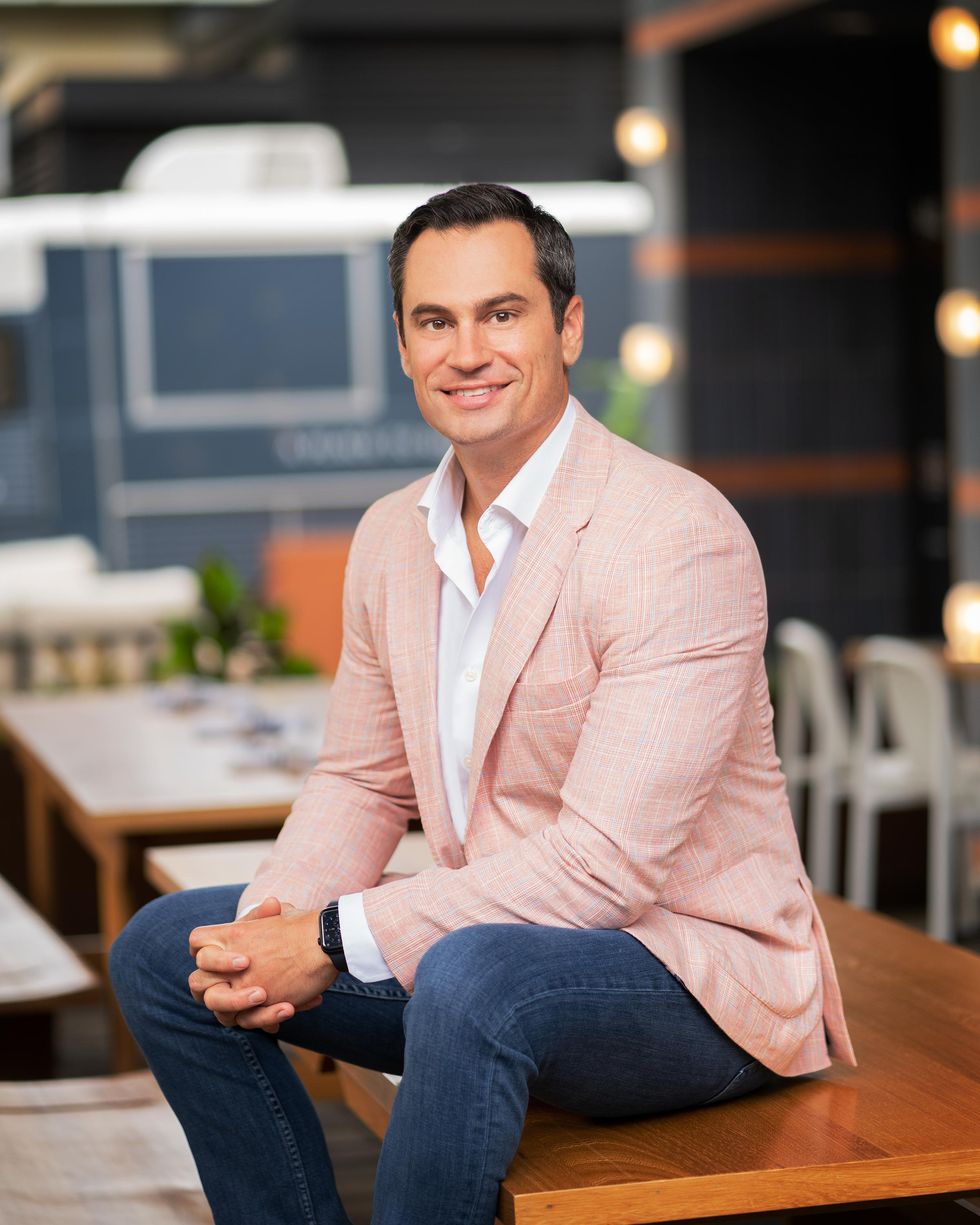 Lyons at Daily Gather in CityCentre, near where he lives with his wife and their three kids
Leader Aaron Lyons
In the early 2010s, the phrase "farm to table" was just becoming mainstream. Aaron Lyons, now 38, recalls that back then, locally sourced ingredients were really only on the menus at higher-end restaurants. "That didn't make sense to me," says Lyons, who opened the first Dish Society in 2014 and has since expanded the brand across Houston and opened another restaurant, Daily Gather, in CityCentre. He prioritized relationships with farmers and ranchers in ways that are now commonplace — thanks in part to restaurateurs like Lyons. "Getting a front-row seat to sourcing and the supply chain has really opened my eyes," he says, "and influenced the way I think about food, the economy, and society in general."
Champions of the Arts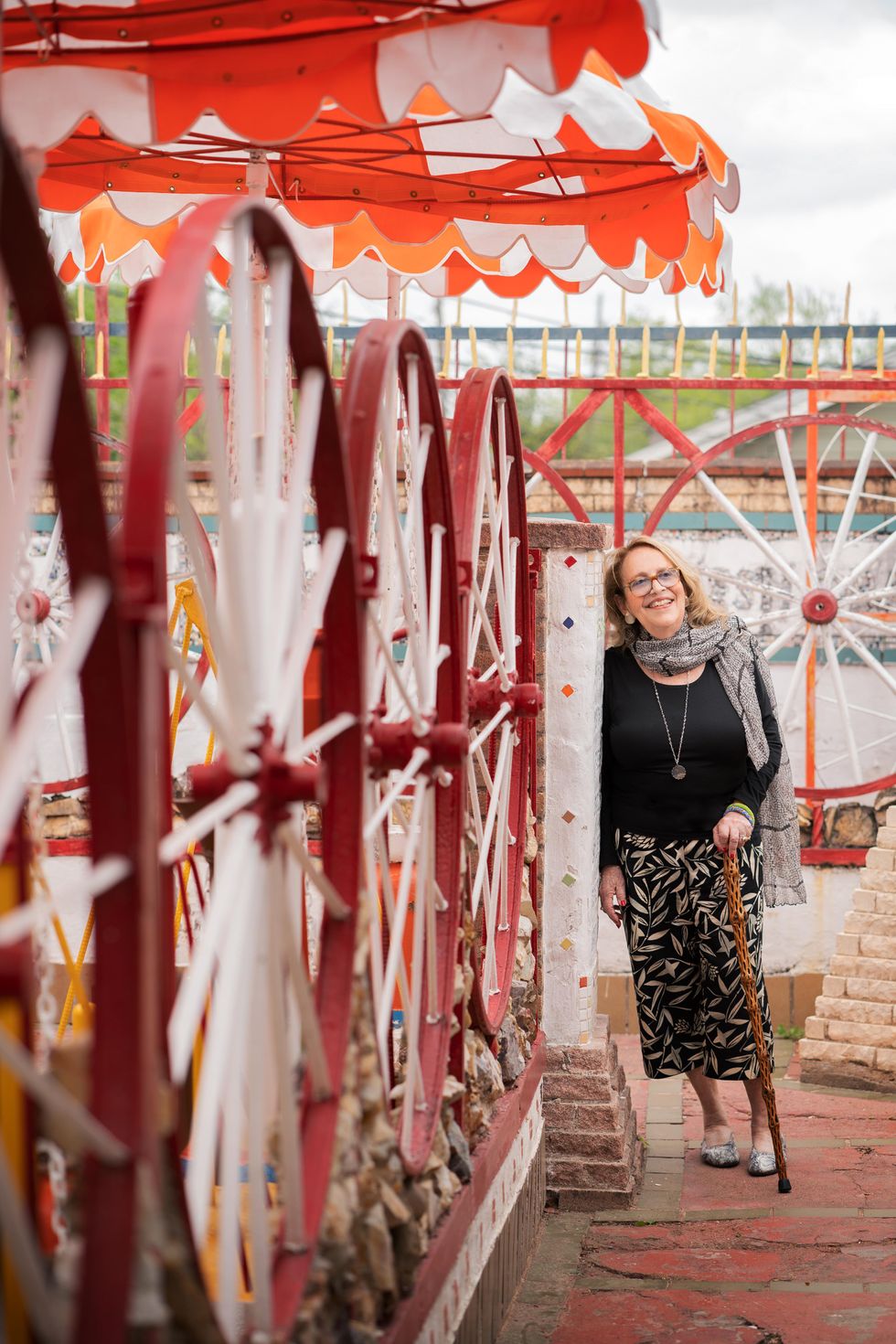 Oshman at the Orange Show Monument on the foundation's East End campus, which will undergo a huge renovation and expansion over the next four years. She also supports the Menil, Parks Board and Baylor College of Medicine.
Legend Marilyn Oshman
In 1975, as the board president of CAMH, Marilyn Oshman befriended mail carrier Jeff McKissack, who built a structure called The Orange Show by hand from discarded tiles and metals over the course of 20 years. The longtime arts patron and collector — she has, over the years, owned pieces by Jasper Johns and Frida Kahlo — knew it was special, and founded the Orange Show Center for Visionary Art to preserve his work and "celebrate the artist in everyone." The foundation recently marked its 40th anniversary. Oshman, 83, is amazed by what the Orange Show, with the Art Car Parade, Beer Can House and Smither Park, has become. "When people come together to express themselves, the energy is magnetic."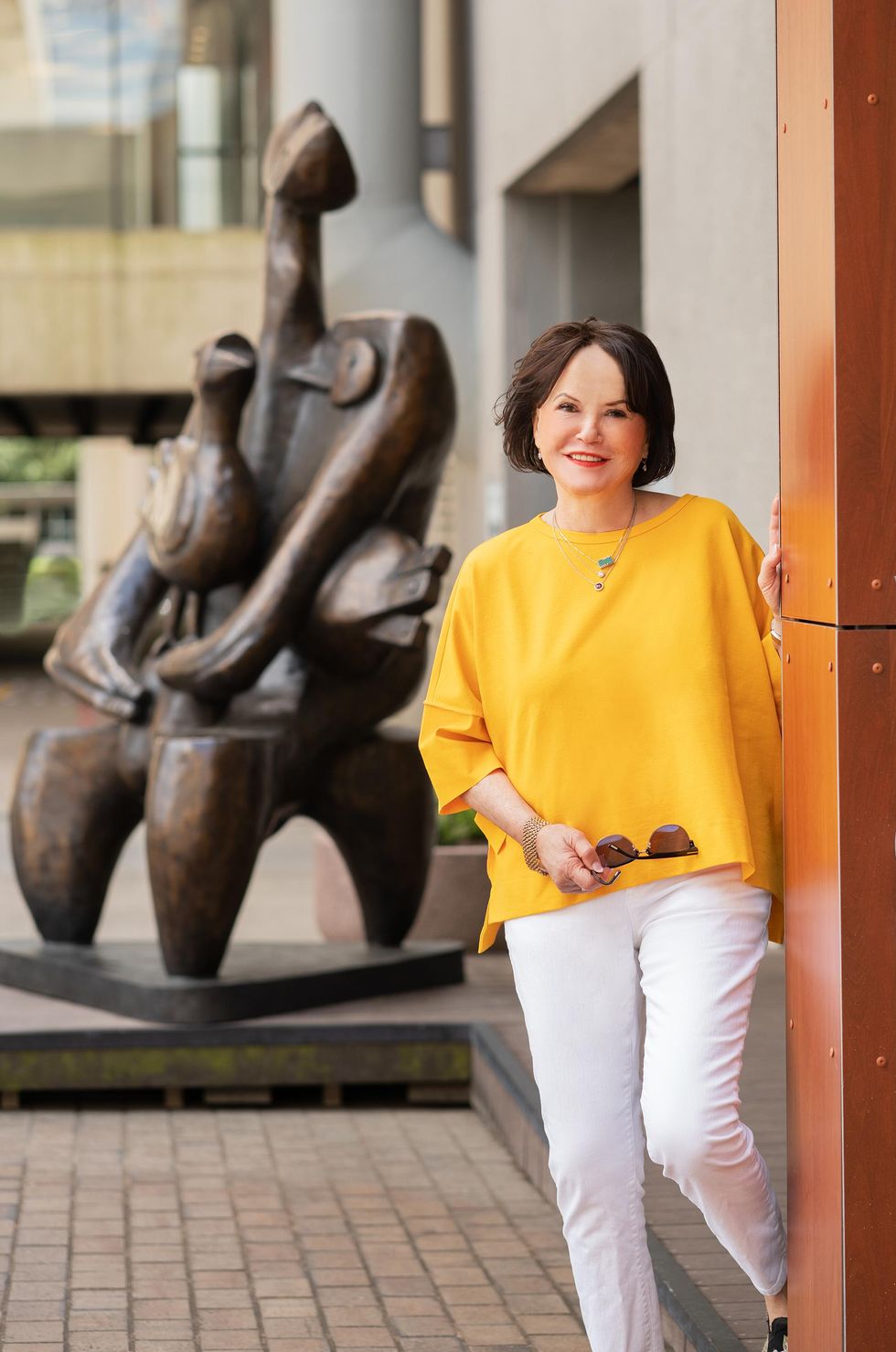 Sperber-Wasserberg at Off the Wall, a nearly 5,000-square-foot standalone space situated just outside of the Galleria
Leader Mimi Sperber-Wasserberg
Houston has grown rapidly in population and diversity in ways that both inform and reflect the city's art scene — something Mimi Sperber-Wasserberg has seen first-hand since opening Off the Wall in 1978. Today, the list of names her gallery represents and sells reads like a who's-who of contemporary artists: Norman Rockwell, Salvador Dalí, Donald Sultan. This fall, British artist Mackenzie Thorpe unveils new works at Off the Wall, and Sperber-Wasserberg leads a group of collectors on an art-exploration trip to Paris. Long-term, a project she's most excited about is the exhibition of works by Armenian-born artist Yuroz, "in honor of Jewish heritage and human rights," she says. "Being a child of Holocaust survivors, this will be an important milestone in my career as a gallery owner."
People + Places
SOME PEOPLE JUST aren't beach-vacation people. Some people get their fill after an hour and a half of lying there, at which point the brain starts to wander to work and home life, thus defeating the purpose of a vacation.
Enter Zihuatanejo, an art-filled fishing village on the central Pacific coast of Mexico. You've probably heard of it, thanks to the 1994 blockbuster Shawshank Redemption, as well as its more commercialized next-door neighbor, Ixtapa. But Zihua, tucked into a hillside on a clover-shaped bay, is a delightful destination unto itself.
It's worth noting there are plenty of beaches here — four, to be exact. A 15-minute ride from the airport, the Thompson Zihuatanejo is situated on Playa de la Ropa, where cerulean waves gently roll ashore, a perfect spot for activities like parasailing and swimming. The 56-room hotel has pristine lounge chairs with umbrellas and poolside palapas where guests can sit back and do nothing (except order the freshest of fresh verde juice and sashimi with sea salt) for as long as they please — it's encouraged. The spacious guest rooms are nearly all suites; some open directly to an infinity pool, and others have their own individual refreshing plunge pools.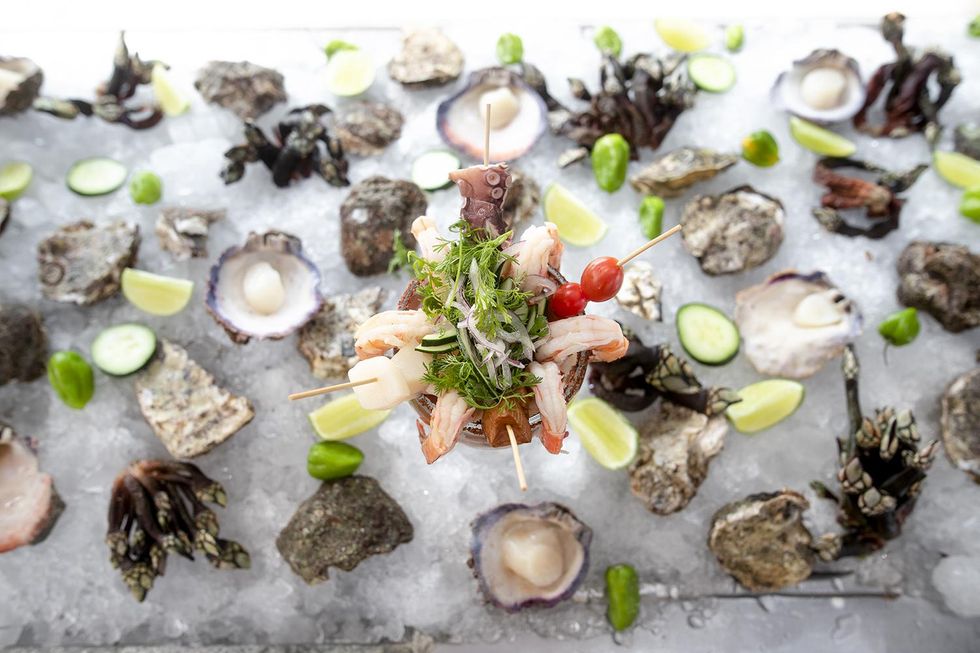 Fresh-caught chef-prepared seafood at Ceniza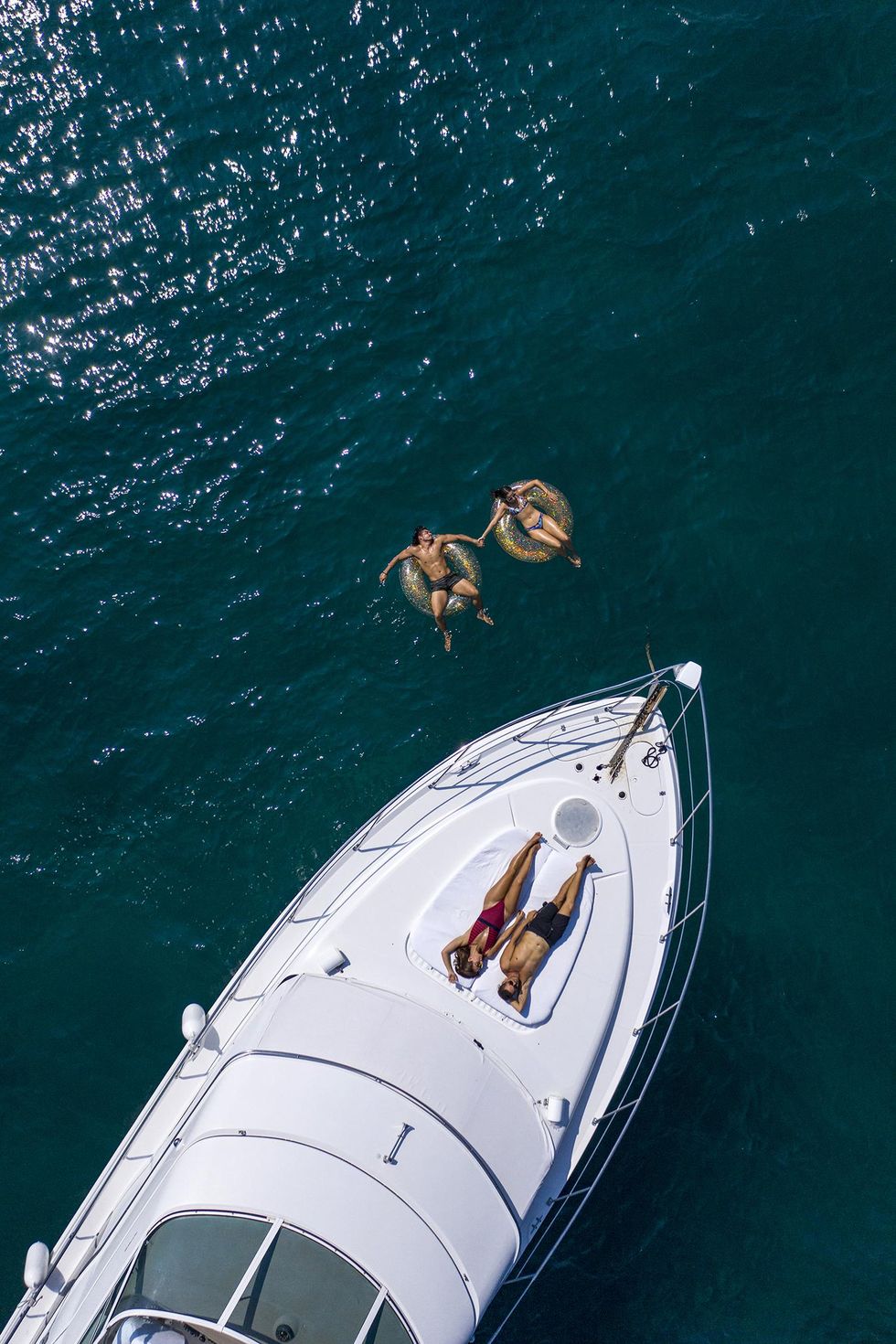 Exploring the cerulean waters
But as tempting as it is to stay on-property — where masseuse Rosy works with her manos magicas and Chef Javier serves the most buttery, melt-in-your-mouth fish tacos ever created — the true charm of Zihua is across a boardwalk and up and over the cragged rocks. The walk is pleasant but steep; the hotel can arrange shuttles as needed. It is here, in town, where most of the hotel workers reside, and where the chef himself shops for ingredients. It's clean and well lit, and street after street is lined with stands proffering artisan bowls and hand-made jewelry — and, of course, an embroidered floral dress that every Houston woman needs in her closet.
There's a fish market where boats dock on the beach and proud locals display their overnight catches in the early-morning hours; a distinct lack of stink indicates just how high quality and fresh the seafood is here. Walk away from the beach for two or three blocks to find hidden street-food stands with delicacies like decadent carnitas nestled in tortillas of masa glued together with pork fat. Alternatively, those who desire a sit-down experience shouldn't miss Angustina, where the guacamole is topped with seeds and nuts and served with thinly sliced and fried sweet potatoes, and the congenial, knowledgeable workers are delighted to pull out every bottle of mezcal for an impromptu tasting flight.
Back at the Thompson Z, Chef Javier makes his rounds chatting with dinner guests at the two onsite restaurants, Hao, which serves three meals a day, plus pool- and beachside snacks and mixed drinks, and Ceniza. At the latter, seating wraps around from the swim-up bar and spills out from under the palm-thatched palapa onto the beach. House music pumps through speakers, and guests — couples young and old, groups of girlfriends who jetted down from Cali for the weekend, the occasional solo traveler in her 40s — linger late into the evening, when the stars and city lights across the bay light up the sky.
People + Places