A Taste for TV
After struggling with his own weight, inspirational chef Adrian Perez is cooking up healthy food — not to mention a thriving new business and TV career.
Juan Gonzalez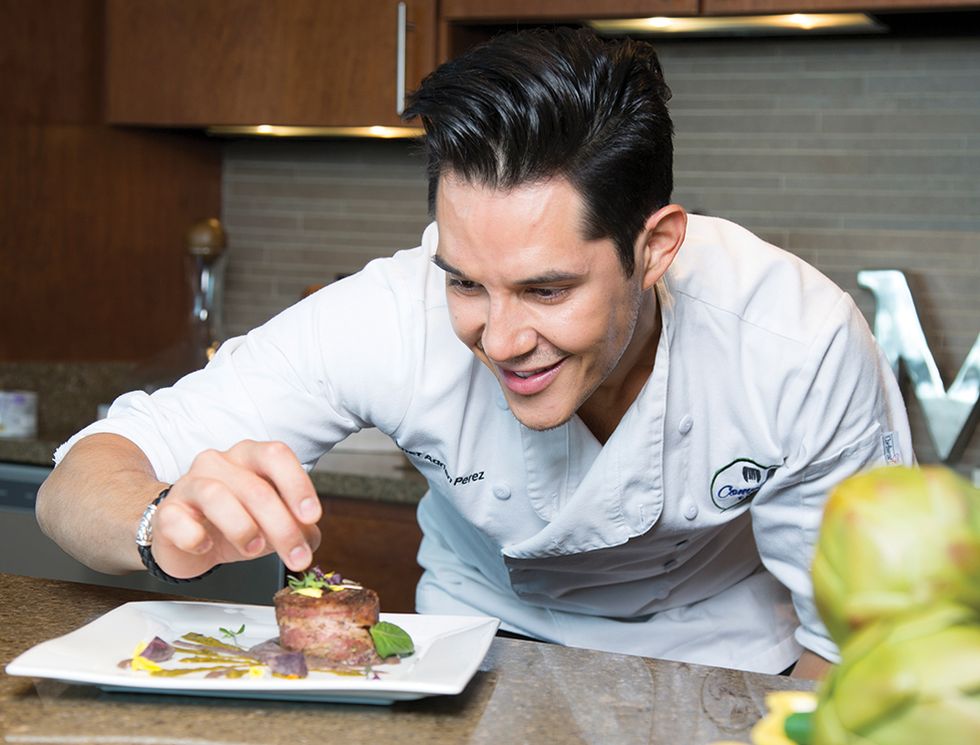 With his glistening smile, beefcake bod, easy demeanor and culinary chops, Houston chef Adrian Perez, 32, seems poised for prime-time food TV. No surprise then that Perez just made his national television debut on the Food Network's Cooks vs. Cons. But unlike many top TV chefs, Perez didn't get his start in a bustling, 4-star kitchen.
---
Perez's culinary career started at his family's restaurant in quiet Beeville, Texas. When he was 20, his father sold the restaurant. "I didn't know what to do with my life," Perez recalls. Soon he was roasting rotisserie chickens, and creating his own dishes, at his local H-E-B. When he realized customers were lining up for his recipes, he was hooked. Perez made his way to Houston, where he's an in-demand personal chef with a burgeoning business, Complete Eats, offering healthy, personalized, delivered meals. The meals range from $7 to $14, everything is made local, "and we use micro-greens and edible flowers — eating with your eyes first is half the fun," adds Perez, who also offers private chef services and event catering.
A crossfit junkie, Perez's commitment to wellness was sparked by his weight issues in his youth. "I was a hefty kid; I always got picked on," he recalls. He credits the South Beach Diet as a life-changing direction. "It gave me the confidence to do bigger better things. It's so rewarding to take your personal struggles, overcome them, and help people with theirs." Perez preaches a "pleasure meets healthy" diet approach. "We're not extreme. We don't limit anything. When it comes to cooking, I say: Make it colorful, make it fresh and make it yourself — or let us make it for you!"
Perez blended food and media during Hurricane Harvey, offering up instructional Facebook videos. "We created recipes for people who had no electricity or had minimal food in their pantries," he says. The likes rolled in for treats such as a spiced peanut butter parfait, which featured diced protein bars, sea salt, instant espresso, peanut butter, marshmallows, graham crackers and dark chocolate. "The videos were lighthearted, but I didn't want it to be tone-deaf to the situation. I just knew I had to contribute. It's all about connecting. Food is just the connection to do so."
And Perez is connecting with TV viewers, having landed the Food Network gig and become a fixture locally on Houston Life. It's quite the jump from his start at the neighborhood grocery store, which he says molded him professionally. "H-E-B is like a person to me," says Perez. "One day I hope to repay my debt to them. Maybe I'll do commercials with JJ Watt next!"
Budding stardom aside, the realities of his day-to-day keep him humble. "I can be on a TV set one minute, and I can be washing your dishes after a private dinner the next," he laughs. "The other day, I came back from Houston Life, and I was scrubbing the floors in the kitchen. But I looked good doing it — I was in full hair and makeup!"
Wellness+Giving Back