Inspired by the 'Ordinary,' Lillian Warren's Paintings Are Anything But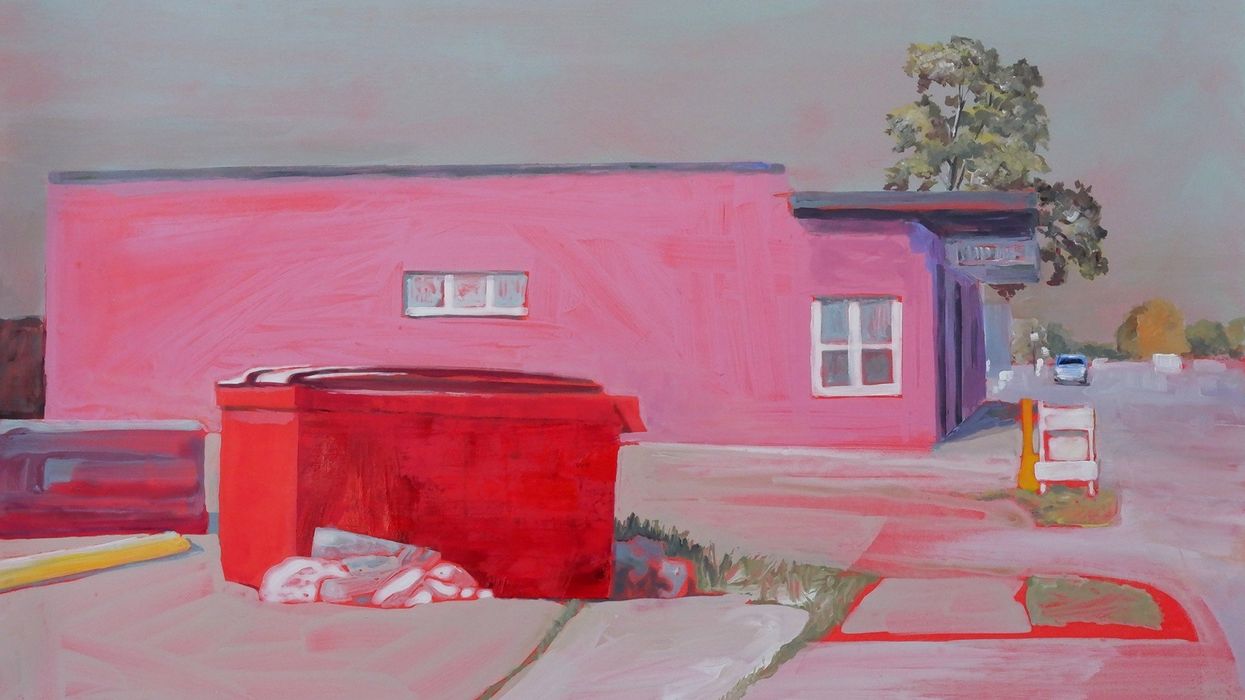 DURING THE WORST months of the Covid-19 pandemic, when galleries and museums were closed to the public, and everyday acts such as buying groceries felt fraught with danger, Houston painter and video artist Lillian Warren found a way to stay sane: She took lots of walks.
---
While wandering through her neighborhood near the Museum District where she and her husband have lived for seven years, Warren saw and experienced her familiar surroundings in an entirely new way. "Life felt so precarious, which heightens your senses," says Warren. "I started getting interested in that very ordinary landscape that most of the time you completely ignore." Inspired by Smartphone photos she took of that "ordinary" landscape, Warren created a mysterious, and beautiful new body of work: Constructed Realities, a series of oil and acrylic urban landscapes on view beginning March 3 at Anya Tish Gallery. Works by Marfa-based painter Ann Marie Nafziger will be exhibited as well.
Constructed Realities is dramatically different from Warren's humorous, pre-pandemic series, Story Telling, where portraits of friends, colleagues, and volunteer models appear within the pages of re-imagined illuminated manuscripts. "My paintings have gone back and forth from being of absolutely nobody to being full people," laughs Warren. "The commonality for me is an overarching interest in liminal spaces — in-between, transitional spaces and states of mind."
Although paying attention to what people typically overlook is a time-honored tradition in contemporary art, the paintings in Constructed Realities are not literal, representational renderings of "real" places. Back at her studio after her walks, Warren used Photoshop to grab an object from one photo, place it into another, and construct a scene that captured what she was feeling at the time, rather than what she saw. Interestingly, whether it's an outrageously painted dumpster or an abandoned toy, Warren doesn't think of the objects in these paintings as part of a concrete narrative. "I see them more as symbolic of how odd our lives are," says Warren, "and how casually we discard things and leave traces behind." Color is also used poetically in Constructed Realities, often suggesting an emotional state. But Warren takes great pains to avoid "the realm of melodrama" and instead bring the viewer into a "liminal" space.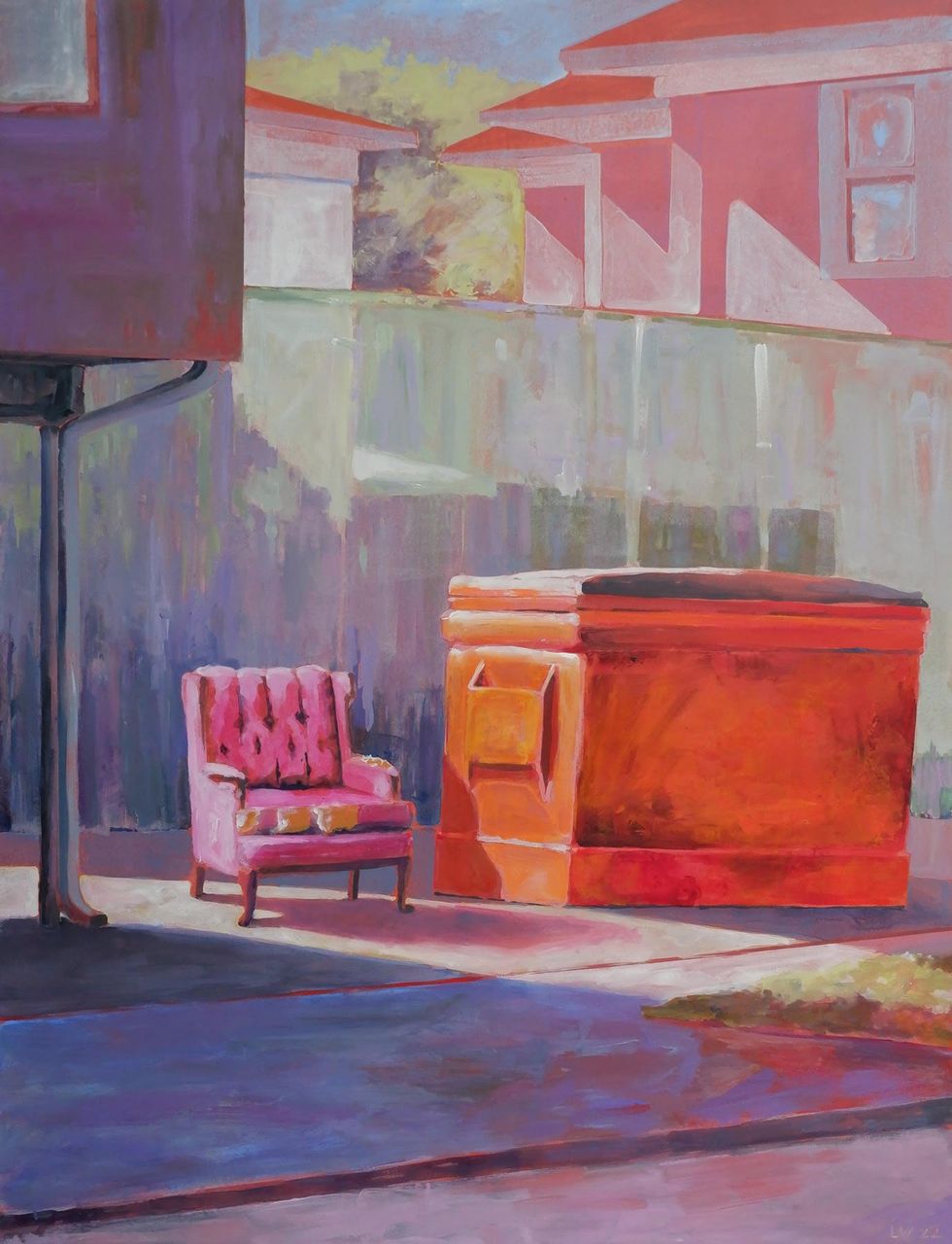 'Reconsider Where We Belong' by Lillian Warren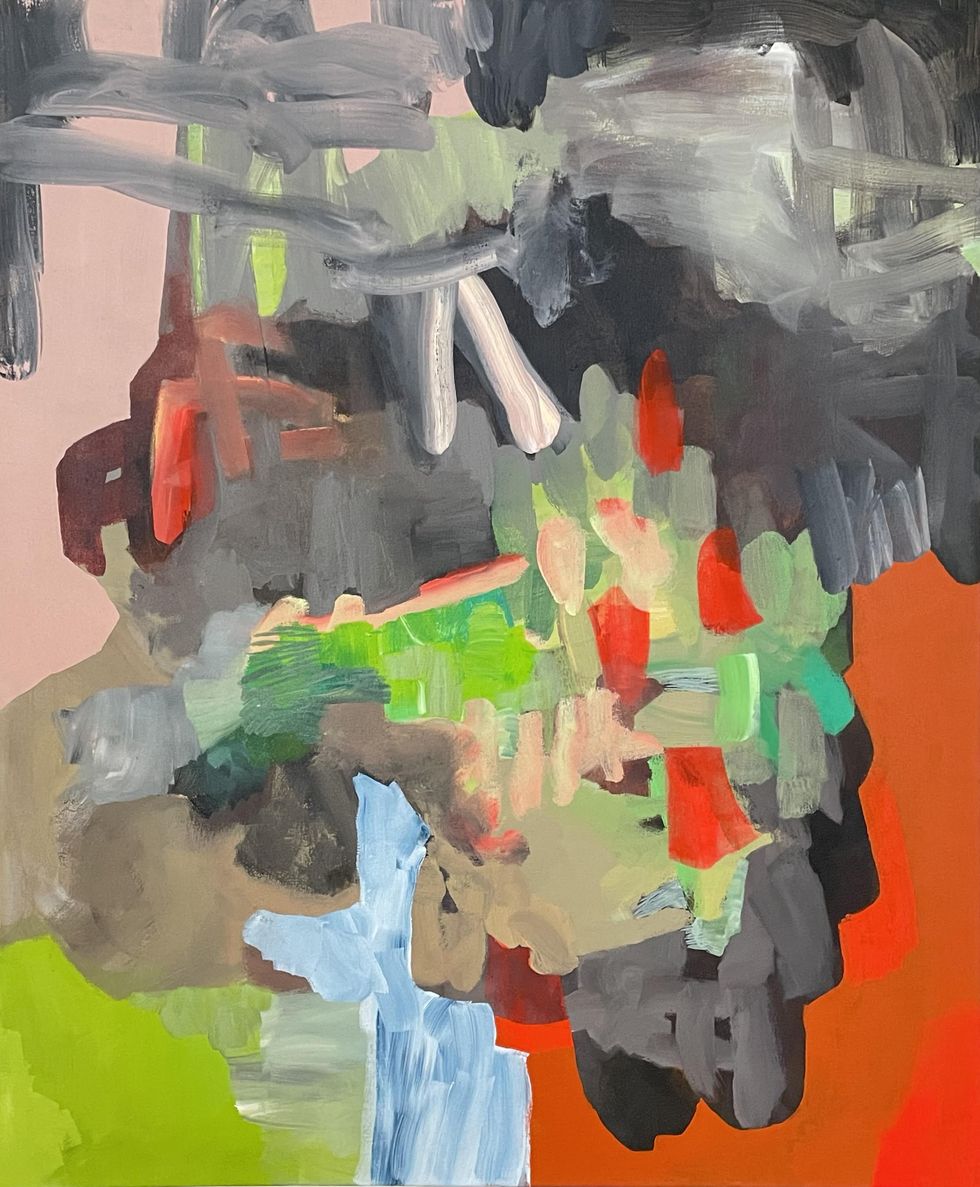 Ann Marie Nafziger's 'Cactus Witching'
The connection between Constructed Realities and Nafziger's abstract paintings of "wild and remote" landscapes may be how attentive each artist is to their respective surroundings. "They come from a sense of being very present in our current environment," says Warren of her and Nafziger's work. Both artists value the act of slowing down and paying attention, although Warren admits her recurring motif of dumpsters in all kinds of unexpected colors is a slight dig at our culture of consumption. "We generate so much trash!" says Warren.
With her first post-pandemic show just around the corner, Warren is perfectly content to leave room for the viewer to come up with their own ideas and feelings about what they will see. "To me, as I look at the paintings, the emotion that comes across is a kind of quiet loneliness," says Warren. "But then maybe a quiet joy from the unexpected beauty that comes from being present."
Art + Entertainment