Ambitious Musical Ensemble Launches New Season with 'Satellite' Concerts, Debuting This Weekend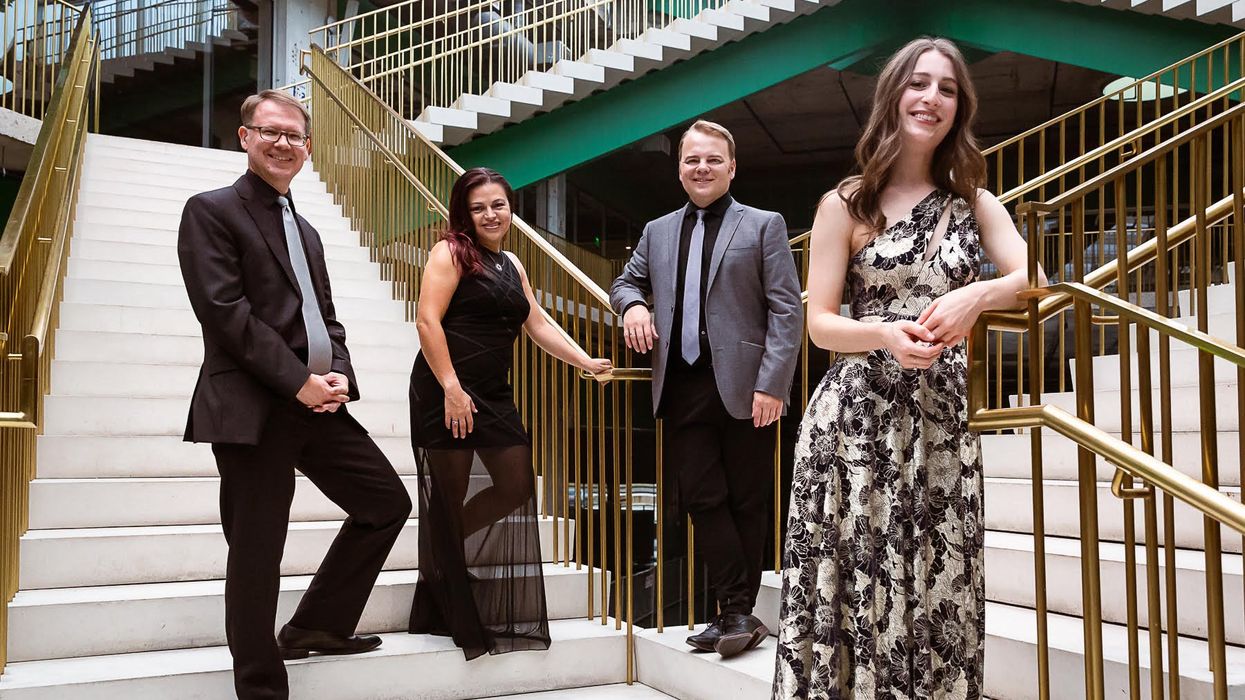 THE OVERRIDING MISSION OF Houston string quartet Apollo Chamber Players, to commission and perform new music, often by underrepresented composers, is a welcome challenge for the ensemble's members. Luckily, the range of their musicianship matches the scope of their ambitions.
---
Founded in 2008 by violinist Matthew Detrick, the quartet includes Detrick's wife and fellow violinist Anabel Ramierez, cellist Matthew Dudzik, and new core member violist Aria Cheregosha. Its 16th season, titled Silenced Voices, may be its most ambitious yet, with world premieres of commissions by Allison Loggins-Hull along with Houston composers Mark Buller, DJ Spooky, Jasmine Barnes and Joey Roukens. There are also collaborations with Houston performance poets Deborah D.E.E.P. Mouton and Outspoken Bean, and musical guests like pianist Tuğçe Özcivan, tenor Kenneth Gayle, and members of the Houston Ebony Opera Guild. Across four very conceptual, and very community-centric concerts, Apollo takes on our modern era's continued efforts to ban, censor and marginalize dissenting and creative voices across the fields of art, history and science.
"I don't see many other performing arts or other arts-related groups trying to tackle this, unfortunately, very topical subject," says Detrick.
In many ways, Apollo's adventurous and inclusive spirit echoes that of the groundbreaking Kronos Quartet, who, beginning way back in 1973, were upending the classical music establishment with a repertoire that included as many (if not more) non-Western composers as Western, heard on such albums as Pieces of Africaand Floodplain — which includes works and performances by artists from Egypt, Serbia, and India. Apollo in turn has released five studio albums, including the critically acclaimed 2021 release With Malice Toward None, commissioned and premiered 20 new multicultural works in 2020, and performed to audiences at Carnegie Hall, The Kennedy Center and in Havana, Cuba. There's even a documentary about the group titled Moonshot(you can watch it on Amazon Prime), with interviews at NASA's Space Center Houston, and appearances by Chickasaw composer Jerod Tate and astronaut John Herrington, the first enrolled member of a Native American tribe to fly in space.
As part of four "satellite concerts" scheduled for the 16th season, Apollo will present Traces of Time on Friday, Aug. 25, at UHCL Bayou Theater, and Saturday, Aug. 26, at Miller Outdoor Theatre. The program is described as "a journey of musical discovery and cultural connections, from spirituals to the evolution of tango," and features compositions by Adolphus Hailstork, Astor Piazzolla, and Latin Grammy-winning composer and bandoneon performer Hector Del Curto. Argentine Tango dancers Hugo Patyn and Celina Rotundo will join Apollo onstage, solidifying the classical to tango connection.
Art + Entertainment