A Day in the Life of the Arts, Presented by Deutsch Fine Jewelry
The arts culture of Houston never stops — from a late-night salsa show that dances on into the wee hours of a new day, to a solitary sculptor working on a haunting papier-mâché piece just before midnight. Photographers Fulton Davenport, Jhane Hoang, Shannon O'Hara, Daniel Ortiz and Todd Spoth capture it all, and many more everyday wonders of making art in Houston, over the 24 hours of Friday, Sept. 27. With Reporting by Chris Becker.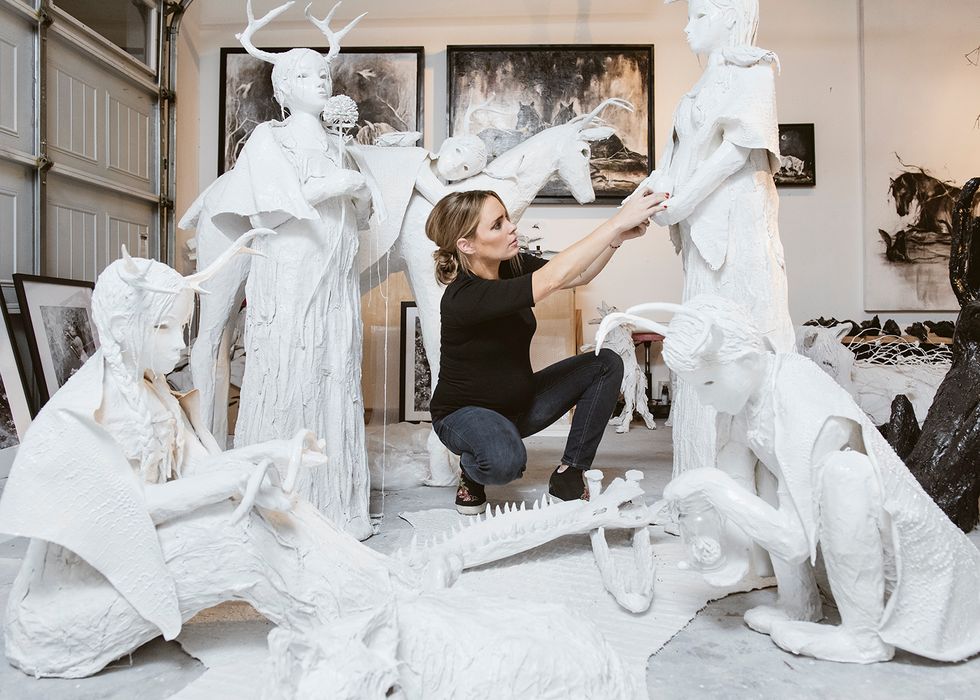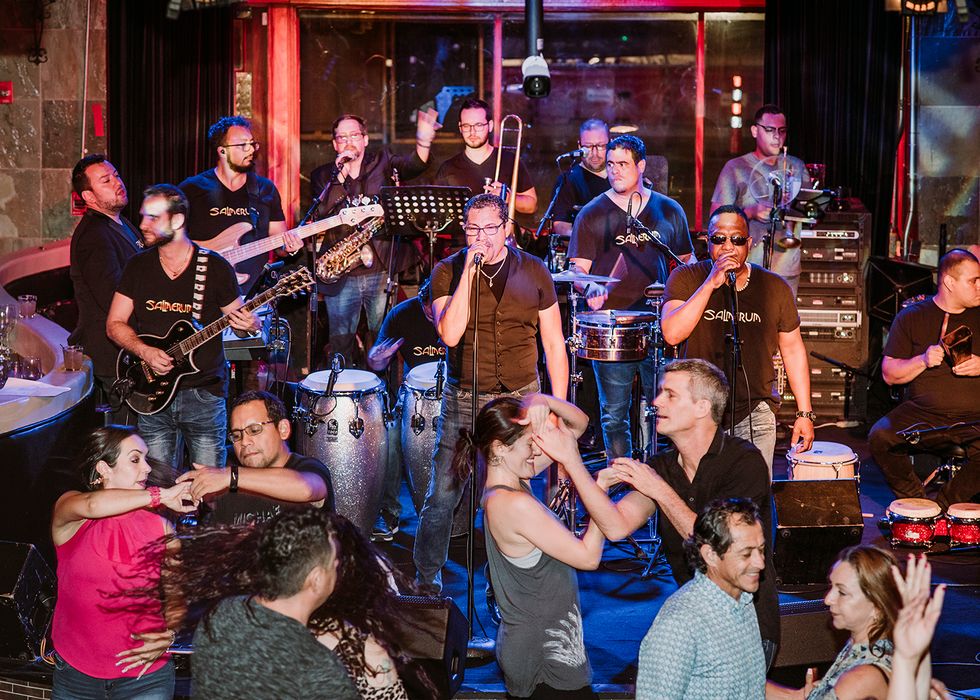 ---
12:01am
In the early morning hours, Houston's La Orquesta Salmerum has the dance floor packed at Downtown's Sambuca restaurant. With a repertoire spanning 60 years of salsa hits, Salmerum are keepers of the flame in the city's vibrant and diverse Latin American music scene. Photo by Jhane Hoang.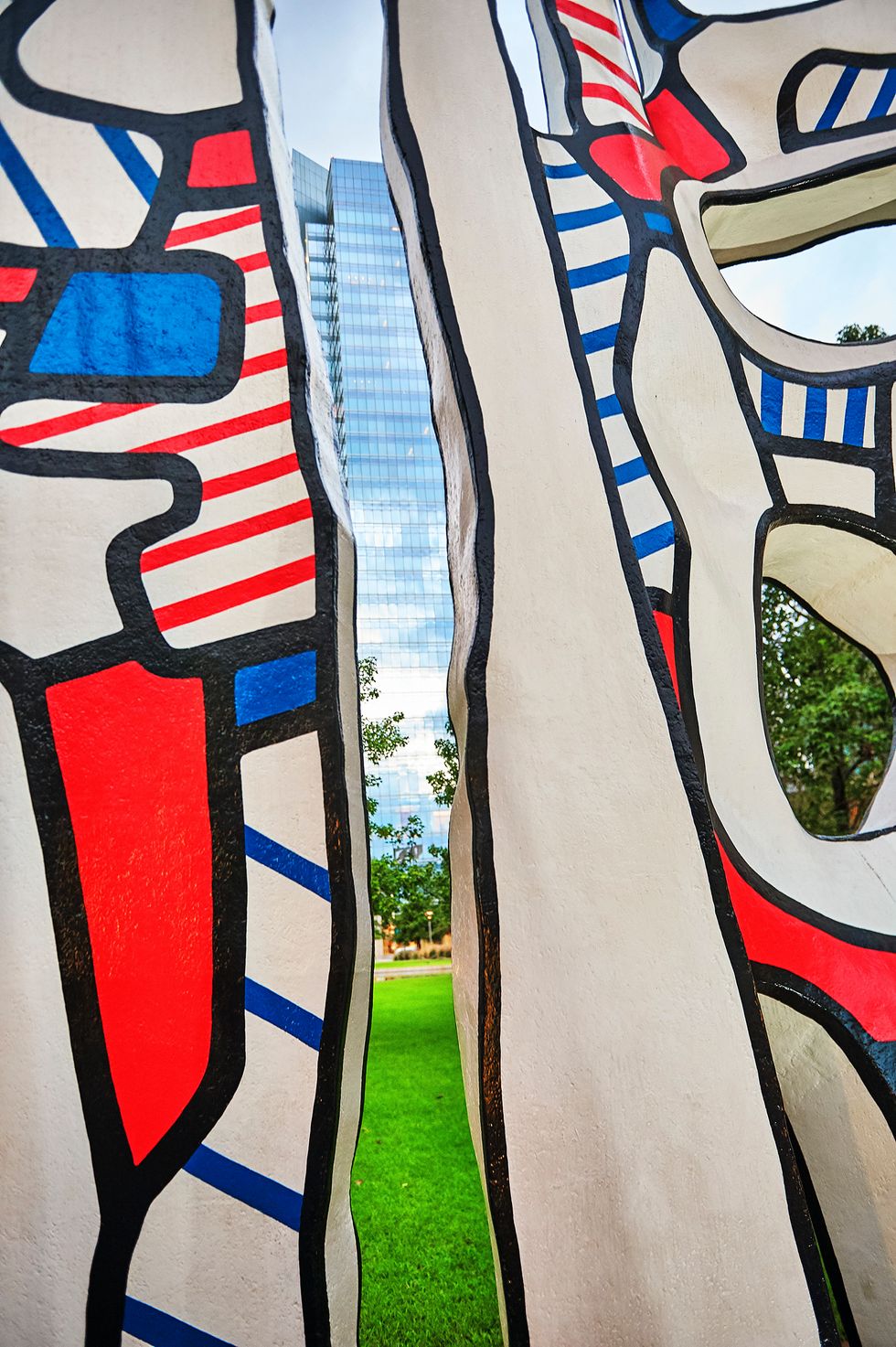 7:10am
The Hess Tower, radiating in the morning sun, peeks through two forms of John Dubuffet's 'Monument Au Fantome' sculpture in Discovery Green. Photo by Fulton Davenport.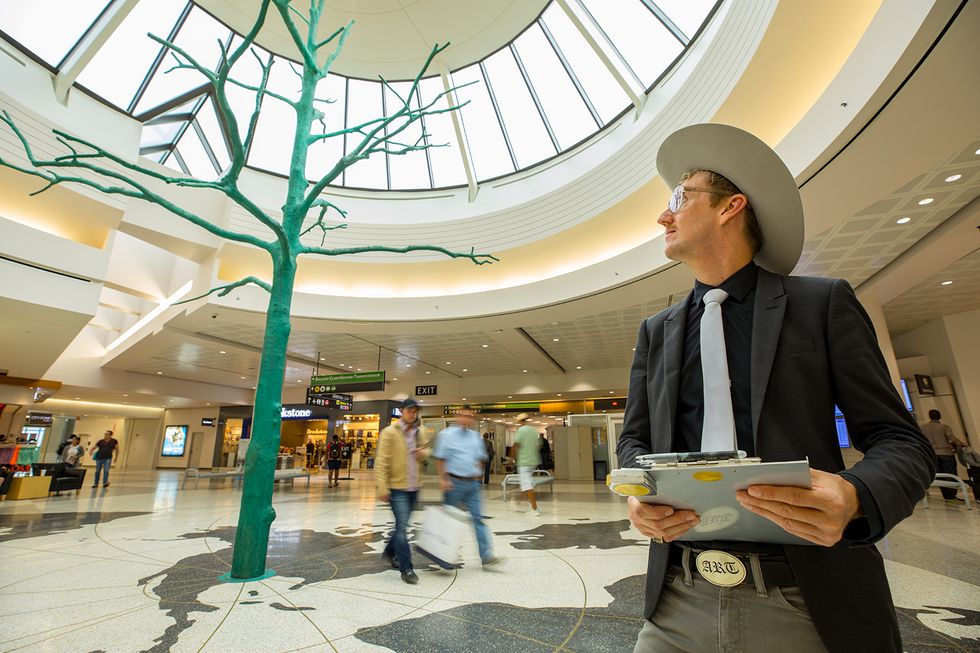 9:59am
Alton DuLaney, the newly named curator of public art for the Houston Airport System, makes his rounds to inspect the installations in IAH's Terminal A, including  "Countree Music" by Texas artist Terry Allen. Photo by Shannon O'Hara.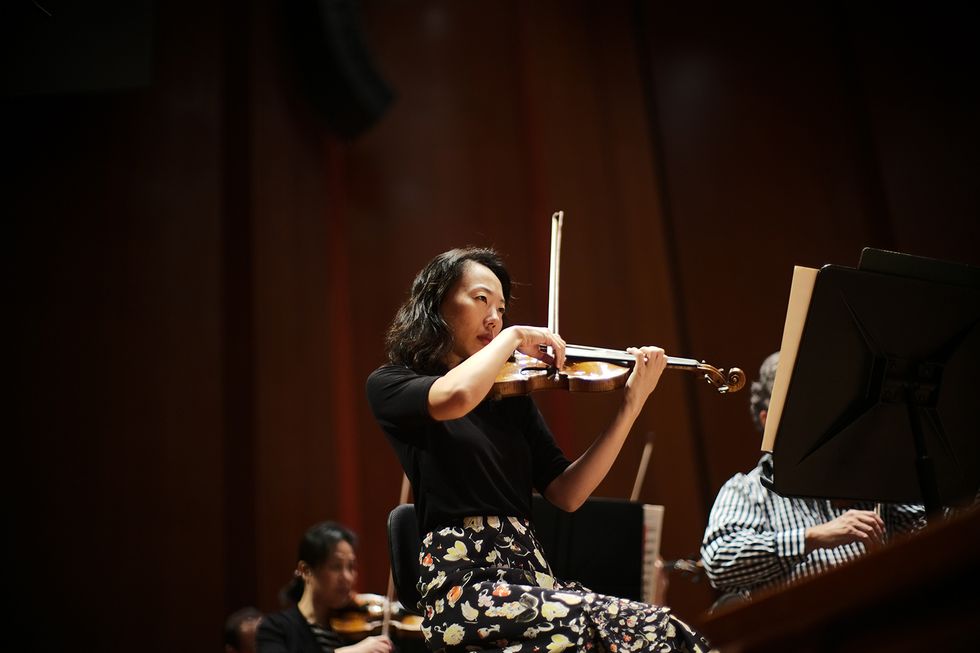 10:10am
Houston Symphony concertmaster Yoonshin Song rehearses with the orchestra. Song moved here from Detroit when she was appointed to the position in the spring, after the company's three-year-long search. Photo by Daniel Ortiz.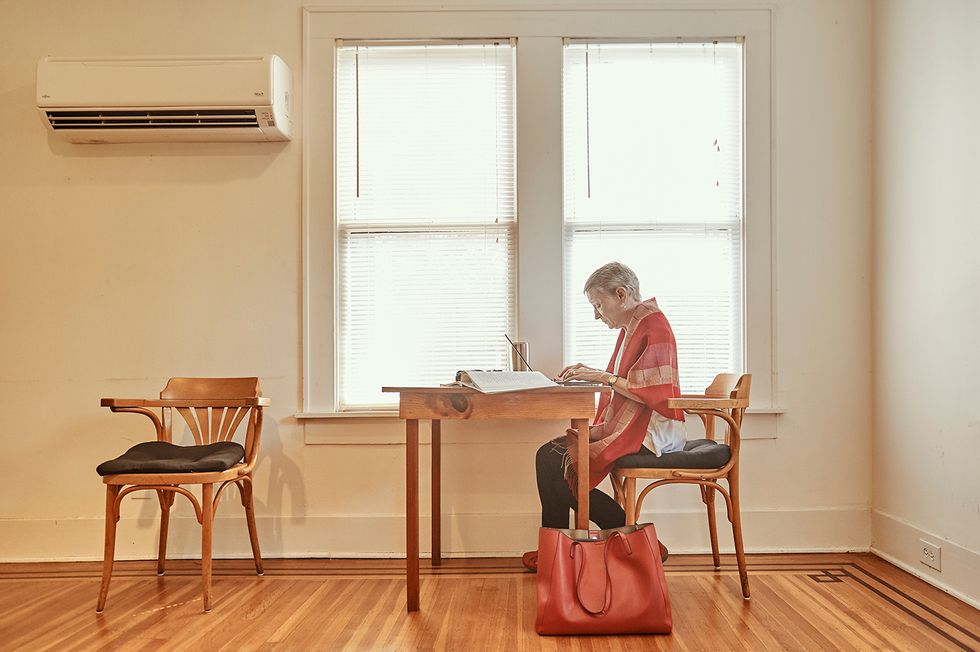 11:04am
A writer types during a Writing Café session at Inprint in the Museum District. Inprint hosts freelancers and creatives on Fridays, offering coffee and a quiet space in which to work. Photo by Fulton Davenport.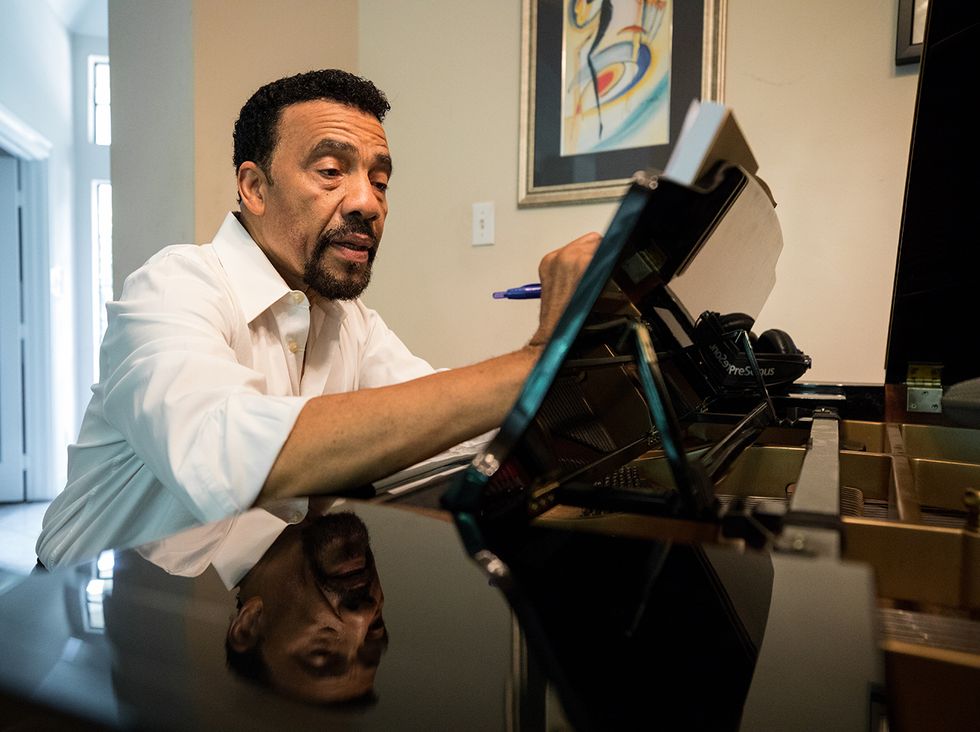 11:43am
Jazz pianist, composer and Hammond B-3 master Bobby Lyle begins the day with some casual practice at his beloved grand piano in his North Houston home. Never one to rest on his laurels, Lyle is fond of saying, "You never stop learning to play this music." Photo by Shannon O'Hara.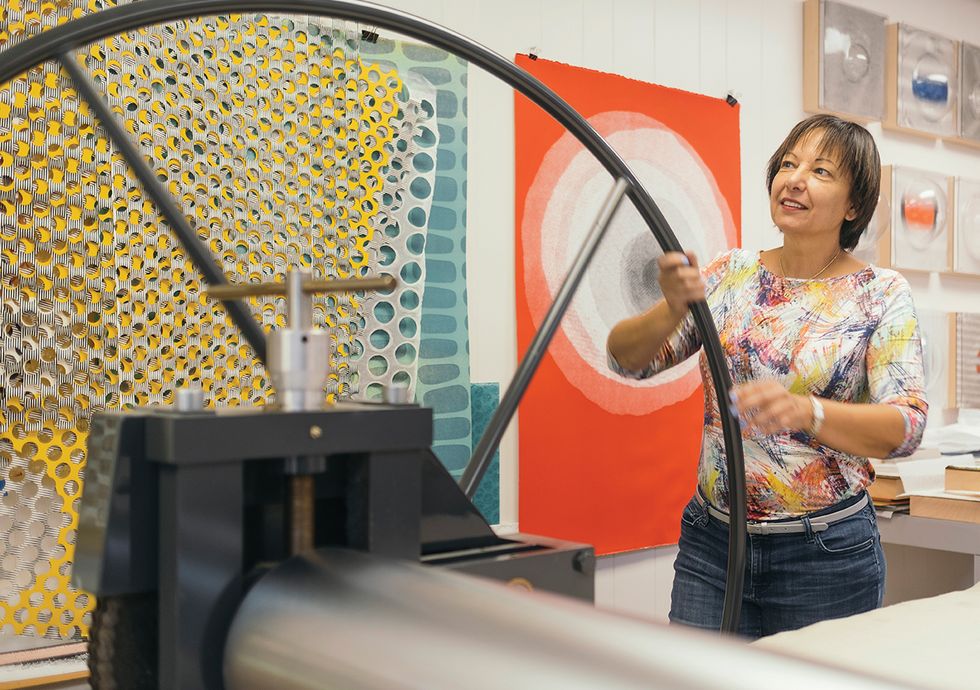 12:17pm
Hard at work in her Westchase studio, artist Orna Feinstein turns the wheel of an enormous press used to create her multilayered monoprints. Feinstein's unconventional art, inspired in part by shapes and patterns found in nature, can be viewed at Anya Tish Gallery. Photo by Todd Spoth.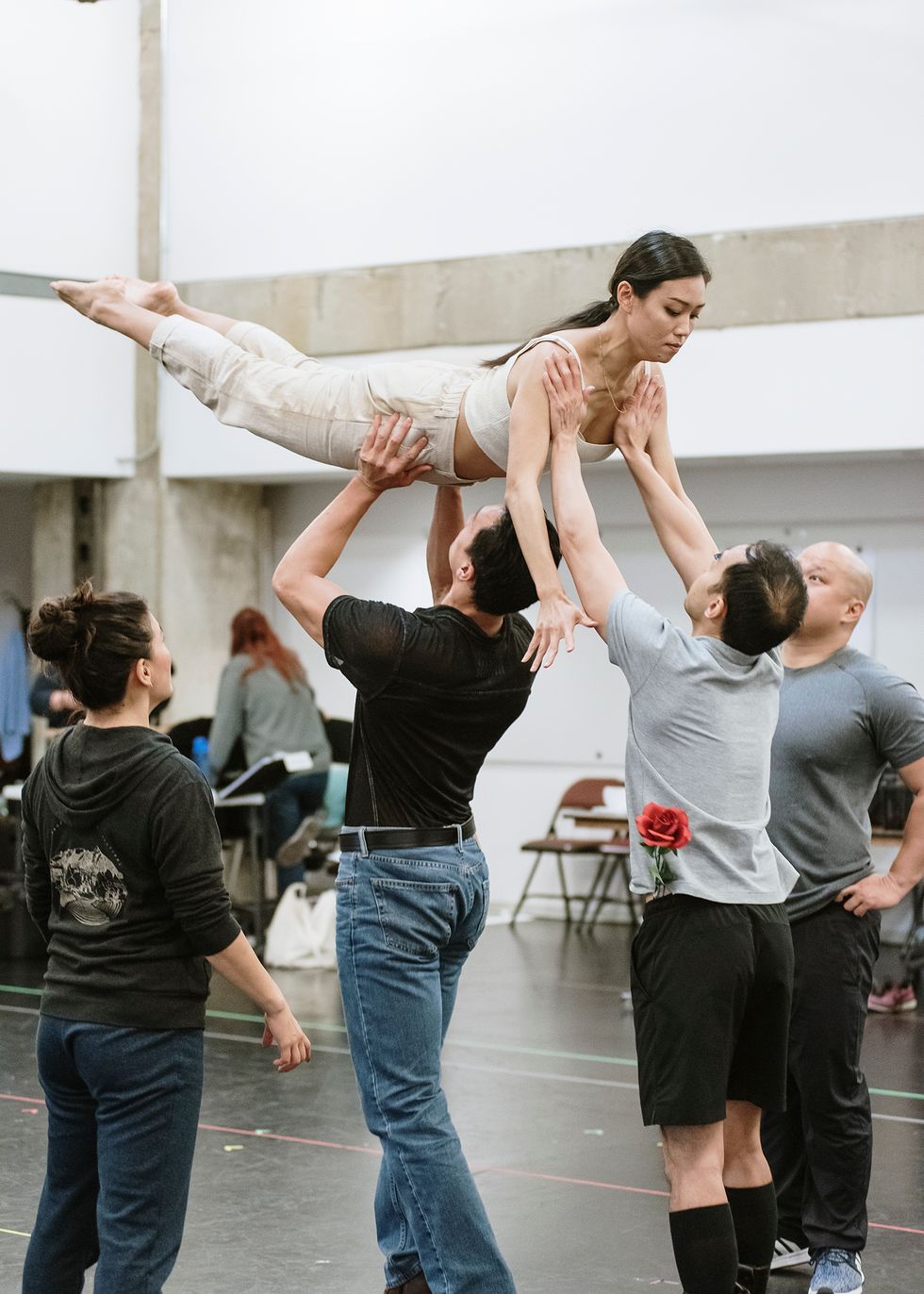 12:49pm
Actress Kim Wong is lifted overhead by her castmates during a rehearsal of the Alley Theatre's production of the Vietnam War-era comedy 'Vietgone,' which opened in mid-October to rave reviews and runs through Nov. 3. Photo by Jhane Hoang.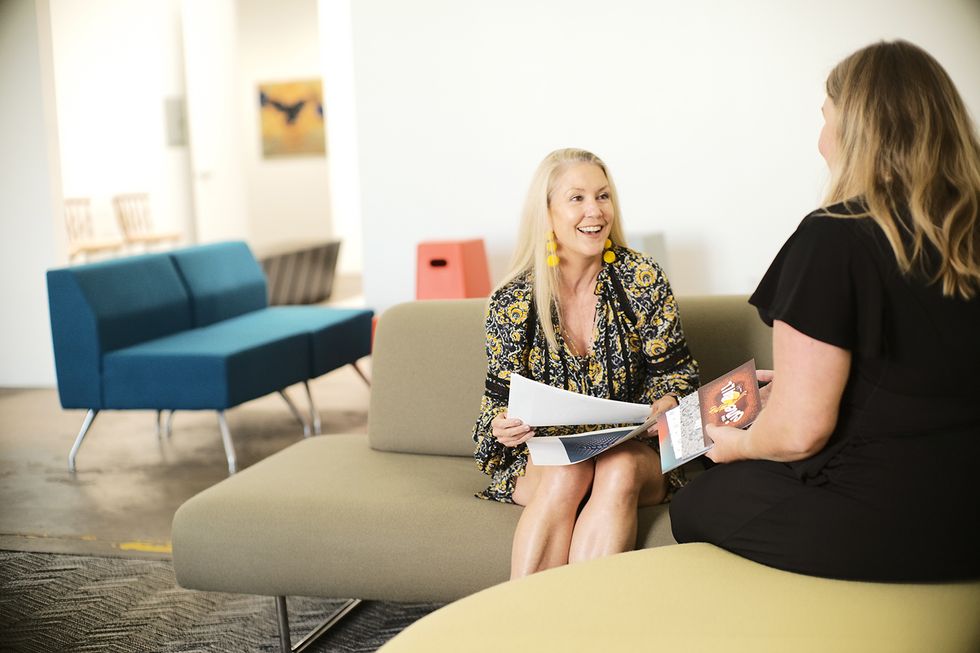 1:07pm
Fresh Arts founder Marita Fairbanks meets with its executive director, Marci Dallas, at the organization's Sawyer Yards office to discuss plans for the 2020 Fresh Arts gala. Photo by Daniel Ortiz.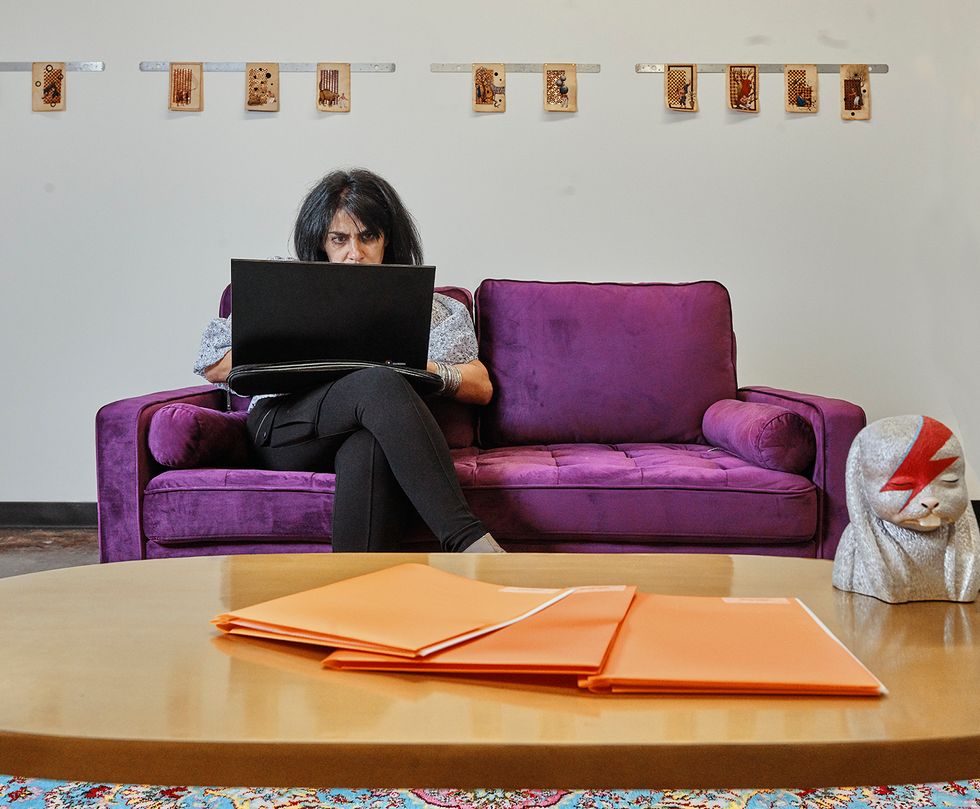 1:09pm
Apama Mackey Pebdani Strickland works in her EaDo space named for her initials, Gallery A.M.P.S. Small, surreal works on paper by Mexico City-born artist Roberto Márquez hang behind her. Photo by Fulton Davenport.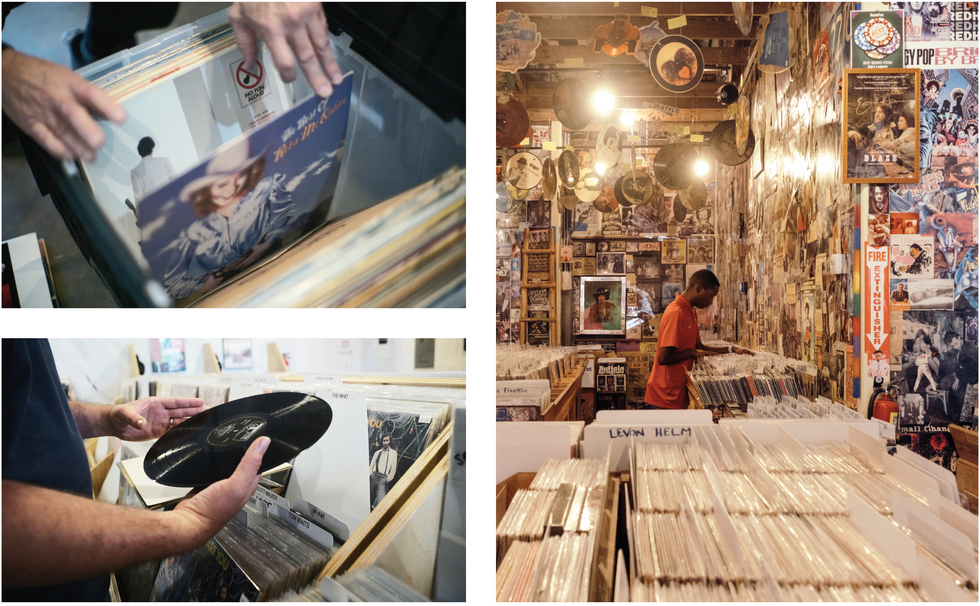 1:21-2:14pm
"Crate diggers" at Vinal Edge (far above, left), Black Dog Records (just above, left), and Sig's Lagoon (above right) — three independent record stores — flip through, inspect and even smell hundreds of albums. This year, vinyl will outsell CDs for the first time since 1986. Photos by Daniel Ortiz and Todd Spoth.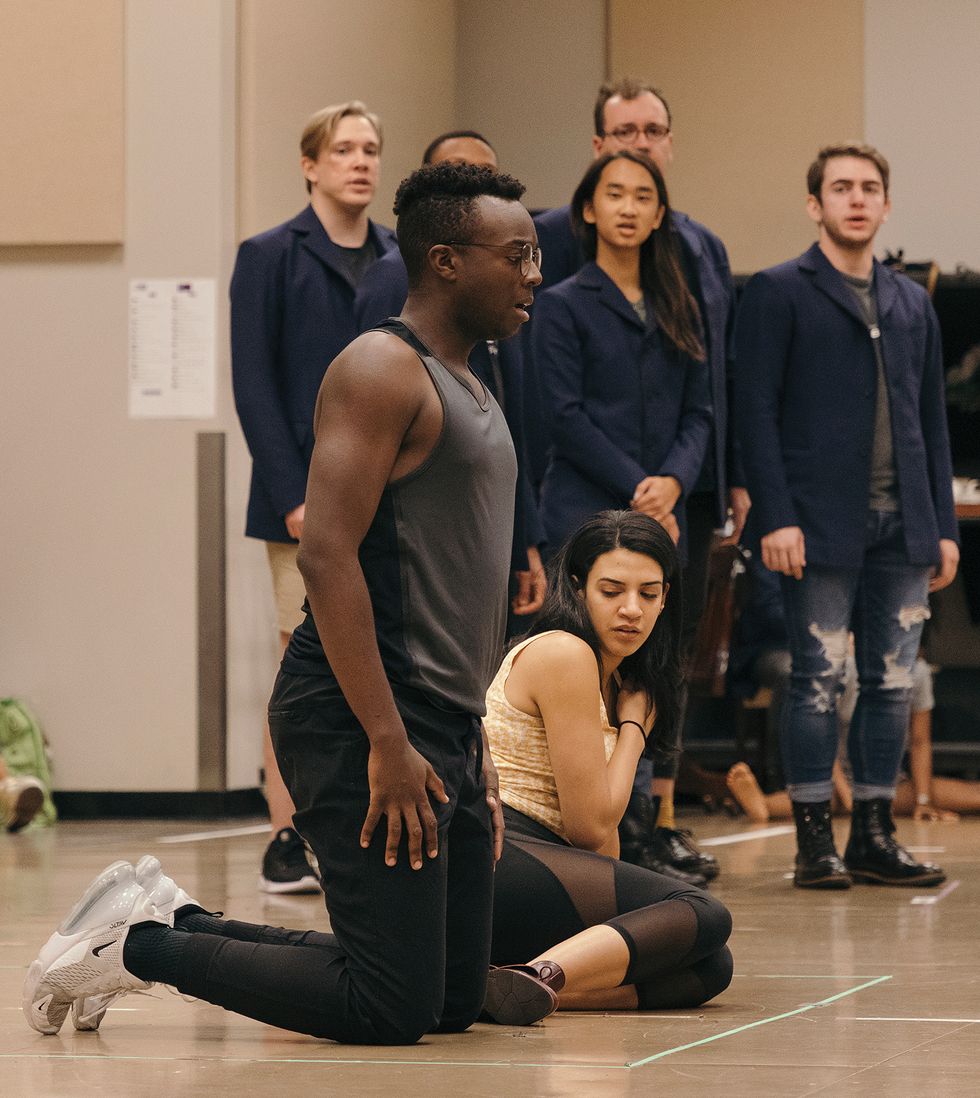 2:34pm
Actors Wonza Johnson and Sophia Introna rehearse a scene for TUTS' production of 'Spring Awakening,' the coming-of-age rock musical that played at the Hobby Center in October. Photo by Todd Spoth.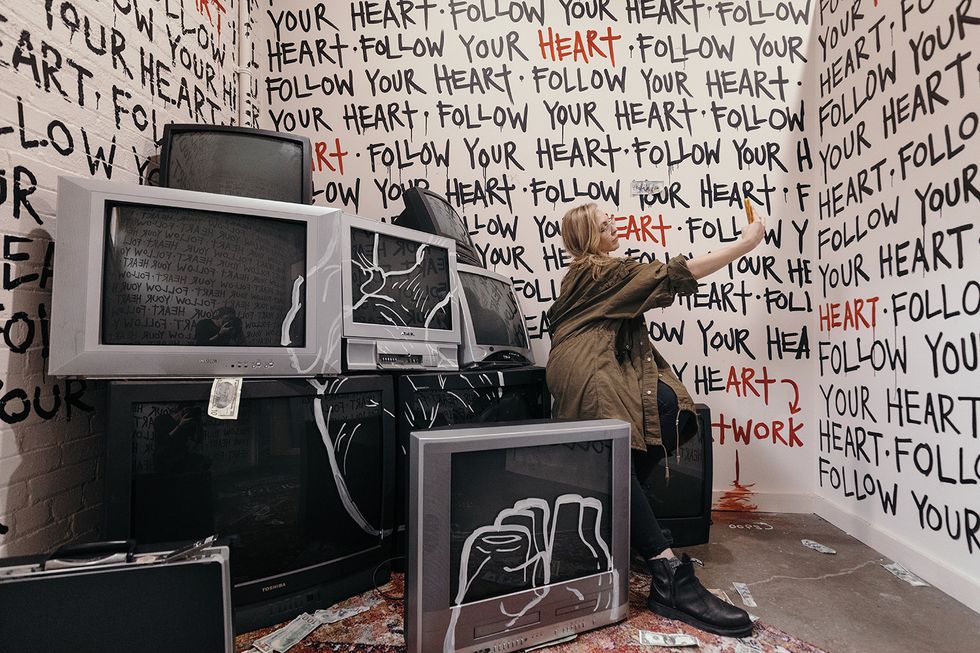 3:55pm
An Instagrammer takes a selfie in Playhaus HTX, one of several pop-up art galleries that opened in Houston this year — offering artful, and often downright strange, backdrops and props for social-media content. Photo by Todd Spoth.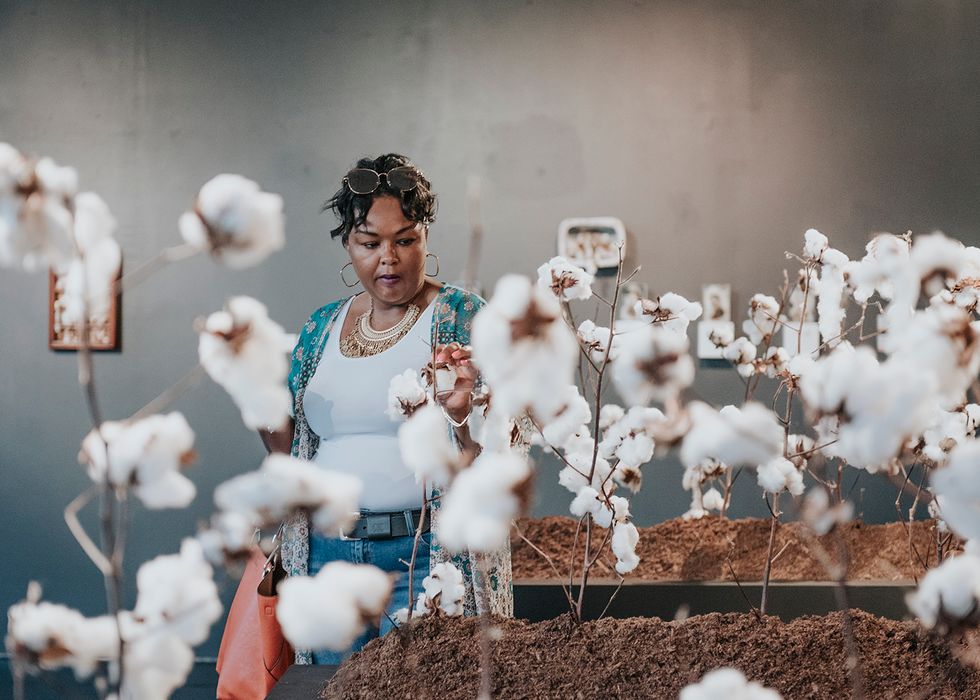 4:07pm
With its combination of raw cotton, textiles and metal tools, the haunting installation 'Harvest,' by artists Ann Sole Sister Johnson and Kaneem Smith, on view at the Houston Museum of African American Culture, compels visitors to contemplate the legacy of slavery and the depletion of Earth's natural resources. Photo by Jhane Hoang.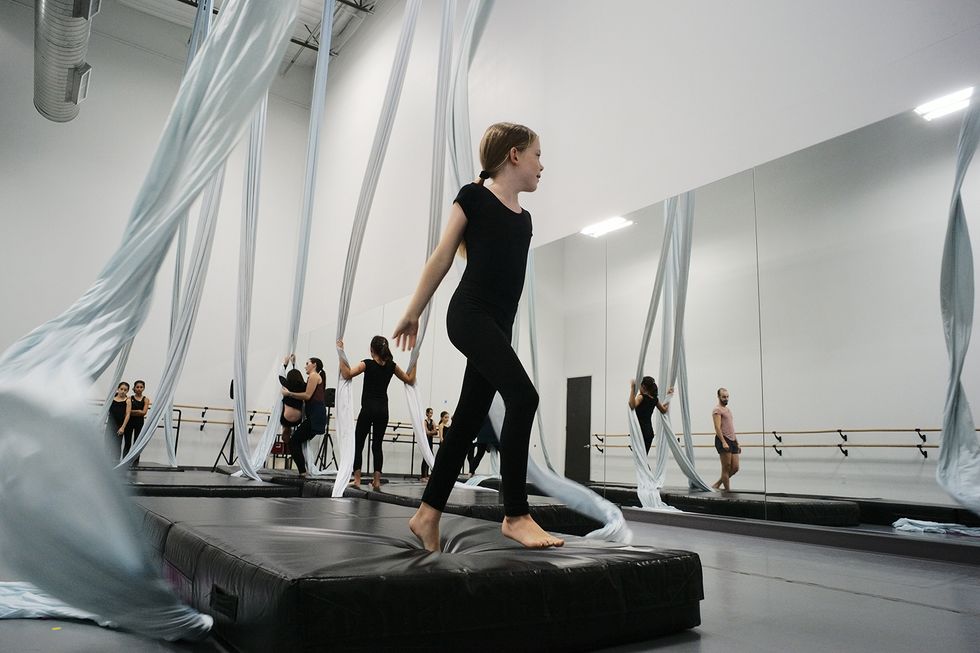 5:18pm
Using bolts of silk hung from the studio's high ceiling, young dancers take flight in an aerial dance class at Hunter Dance Center in the Heights. It's one of several classes Hunter Dance offers to students of all ages and interests, be it ballet, hip-hop or modern. Photo by Daniel Ortiz.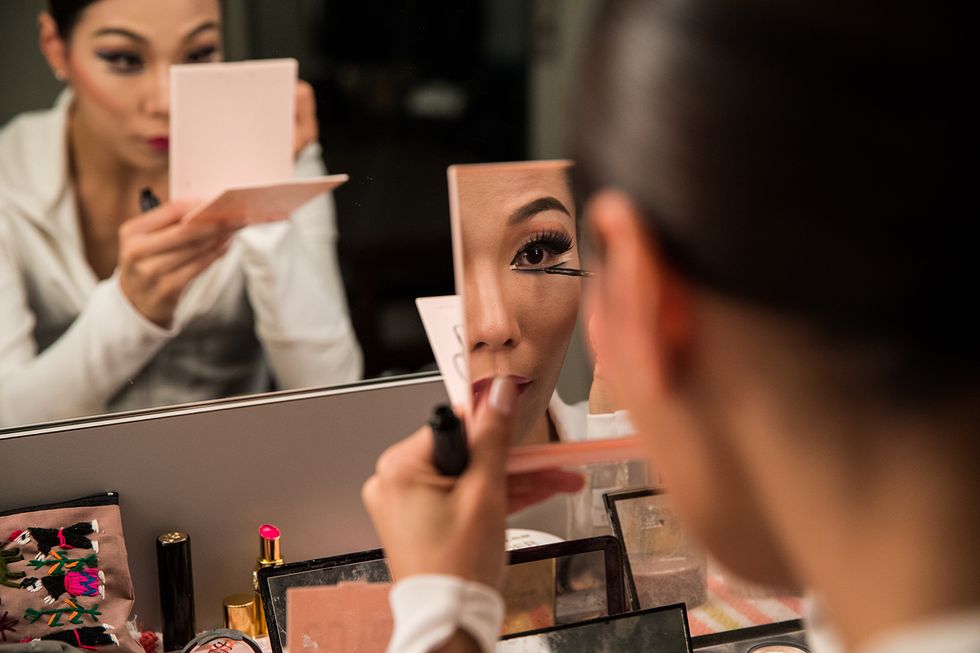 6:02pm
Houston Ballet Principal Dancer Soo Youn Cho applies her stage makeup before the company's mixed-repertoire program 'Locally Grown. World Renowned.' The show featured four works by different choreographers, including 'Following,' choreographed by First Soloist Oliver Halkowich, his first solo choreography gig with the company. Photo by Shannon O'Hara.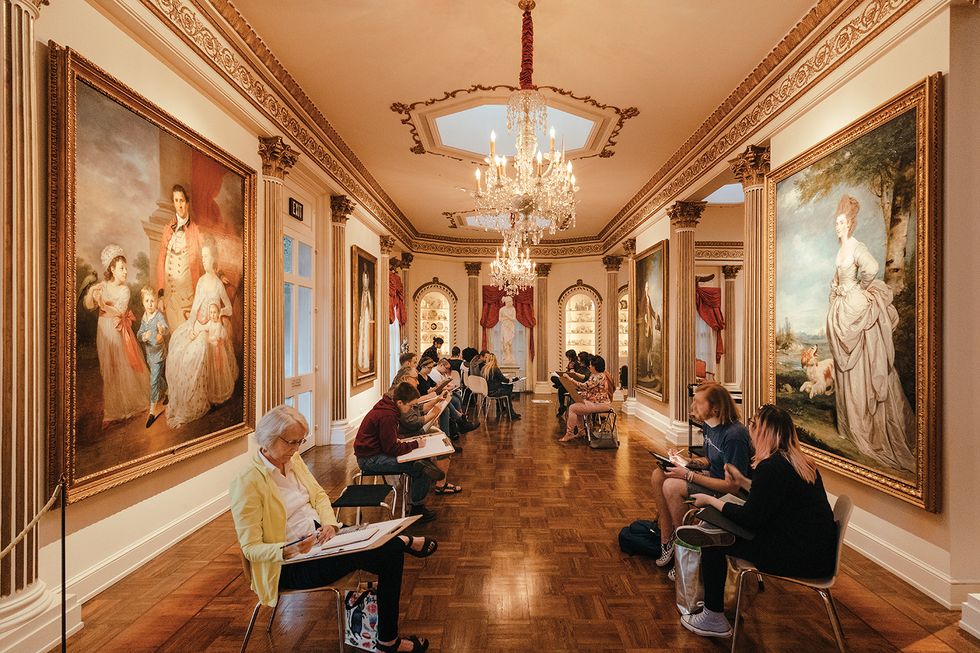 6:04pm
Amateur and student artists draw inspiration — literally — from the dramatically lit interiors of the MFAH's Rienzi house museum during the museum's first-ever public drawing salon. Photo by Todd Spoth.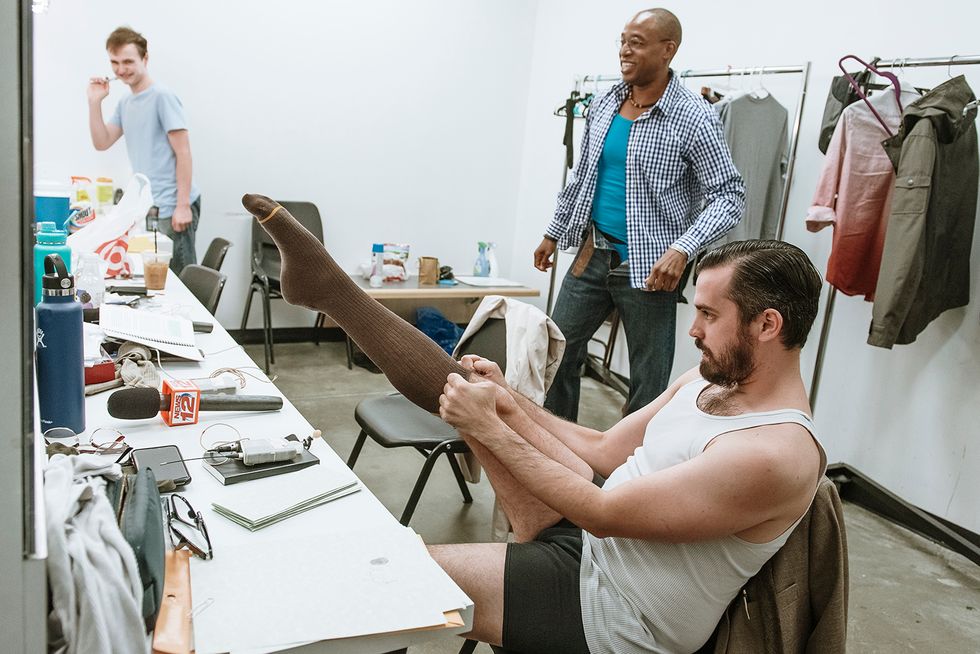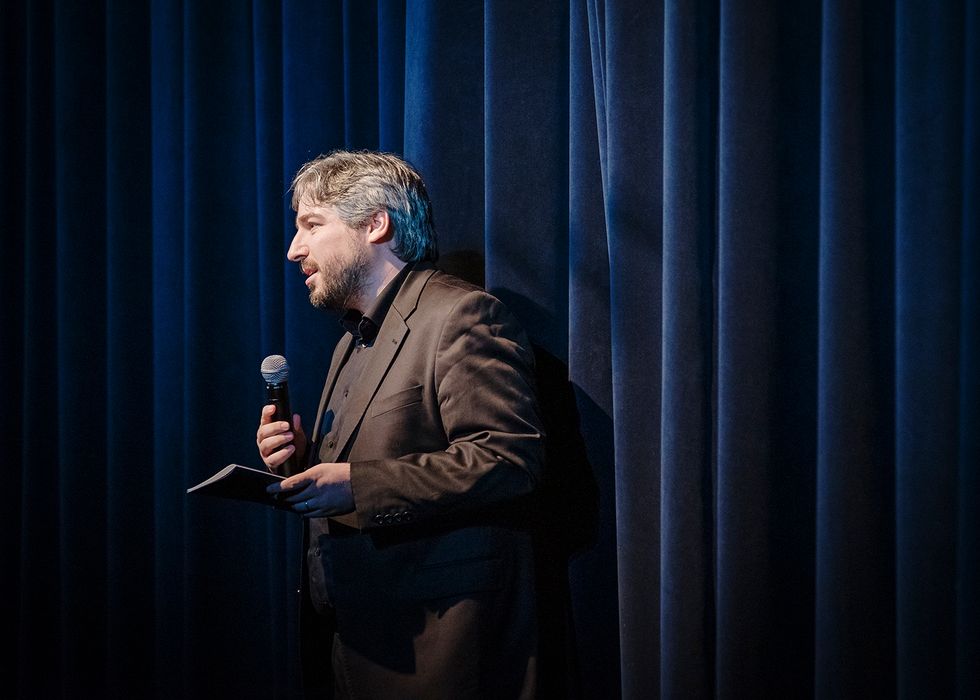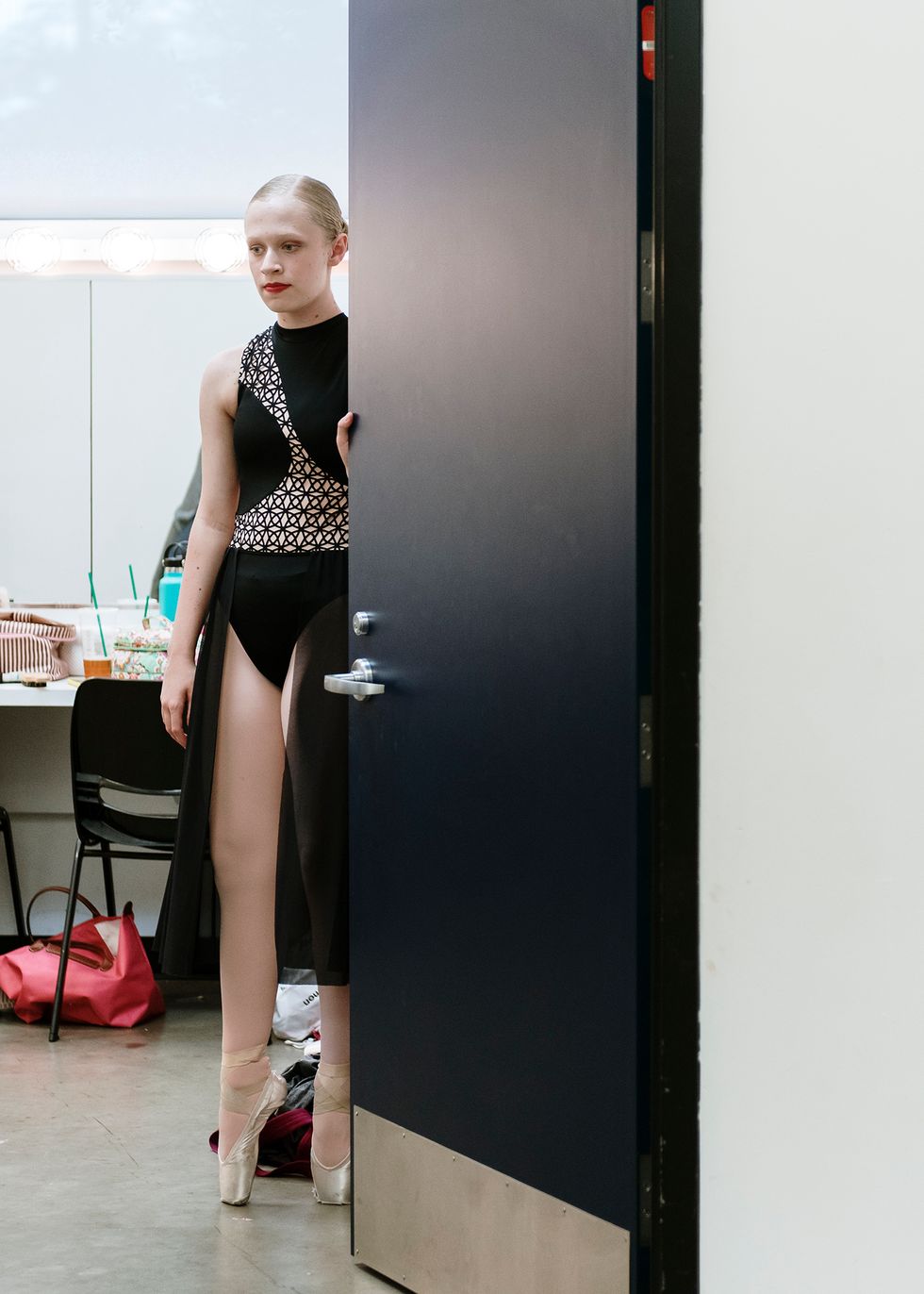 6:07-8:04pm
A trio of images depict performances at MATCH in Midtown. From top, Catastrophic Theatre's Bryan Kaplun gets dressed for 'Tragedy: A Tragedy;' Erberk Eryilmaz welcomes the audience to his musical piece 'Folk Art,' performed by the Apollo Chamber Players; a member of Uptown Dance Company emerges from her dressing room just before  the group's 'Reawaken' takes the stage. Photos by Jhane Hoang.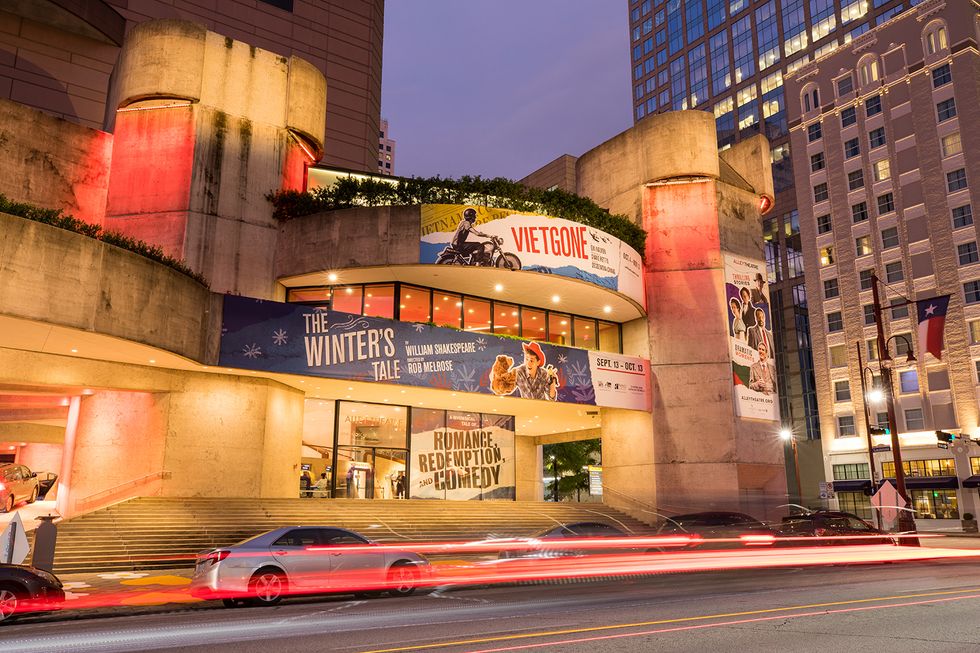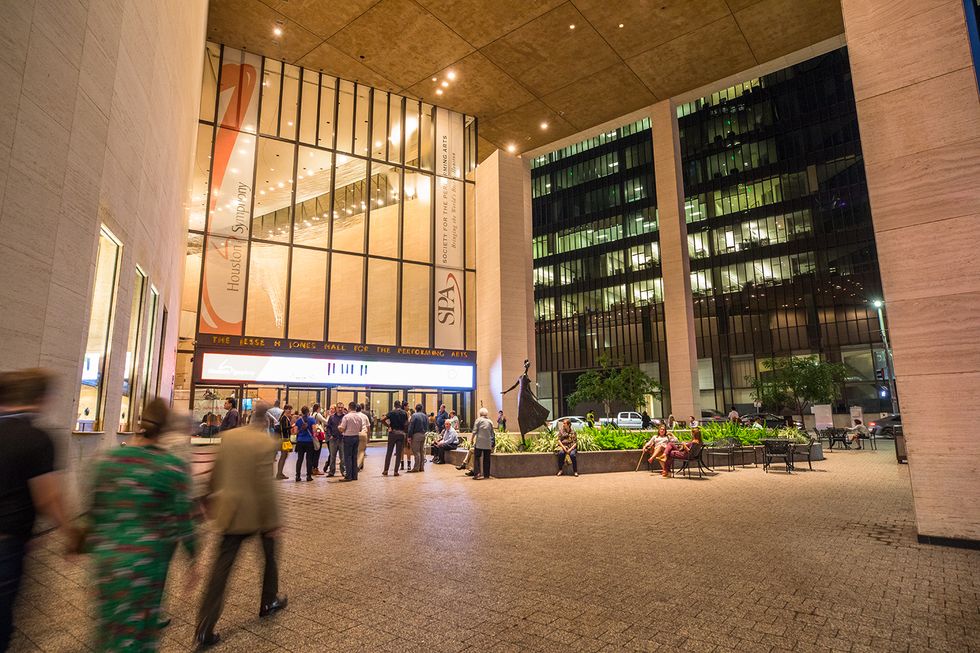 7:24-7:46pm
Snapshots capture a busy Friday night in the Theater District. From top: The Houston Ballet took the stage at the Wortham; the Alley presented 'The Winter's Tale;' and, just above, the Houston Symphony accompanied pianist Jean-Yves Thibaudet for a concert at Jones Hall. Photos by Shannon O'Hara.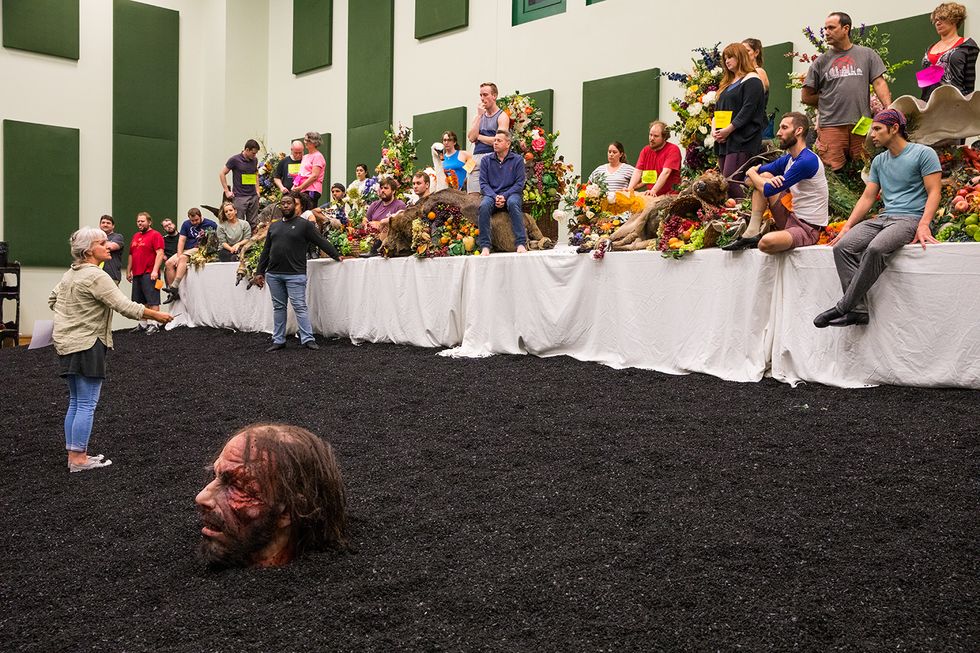 9:22pm
In rehearsal, the cast of Houston Grand Opera's 'Saul' gathers to listen to feedback from director Donna Stirrup, as Goliath's severed head, blinded in one eye, steals the spotlight. Photo by Shannon O'Hara.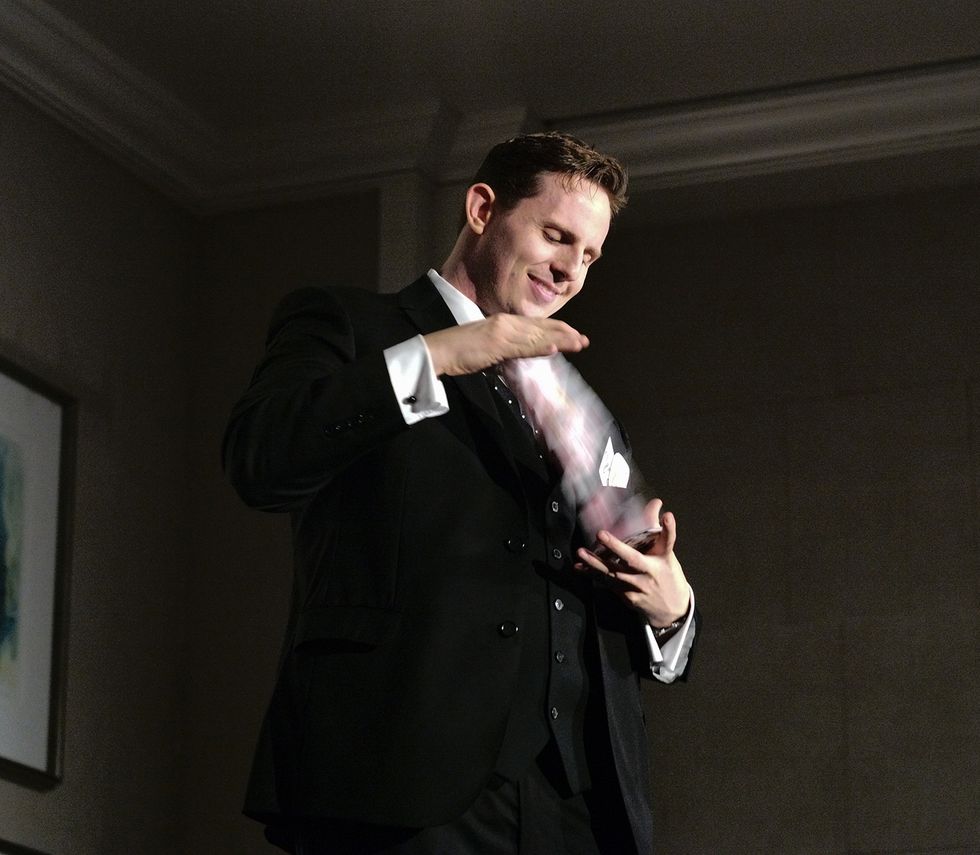 9:25pm
Sleight-of-hand magician Ben Jackson shuffles a deck of cards during the second of two 'Magic, Music & Mayhem' shows at the Four Seasons. He performs several times a month at venues that also include HMNS. Photo by Daniel Ortiz.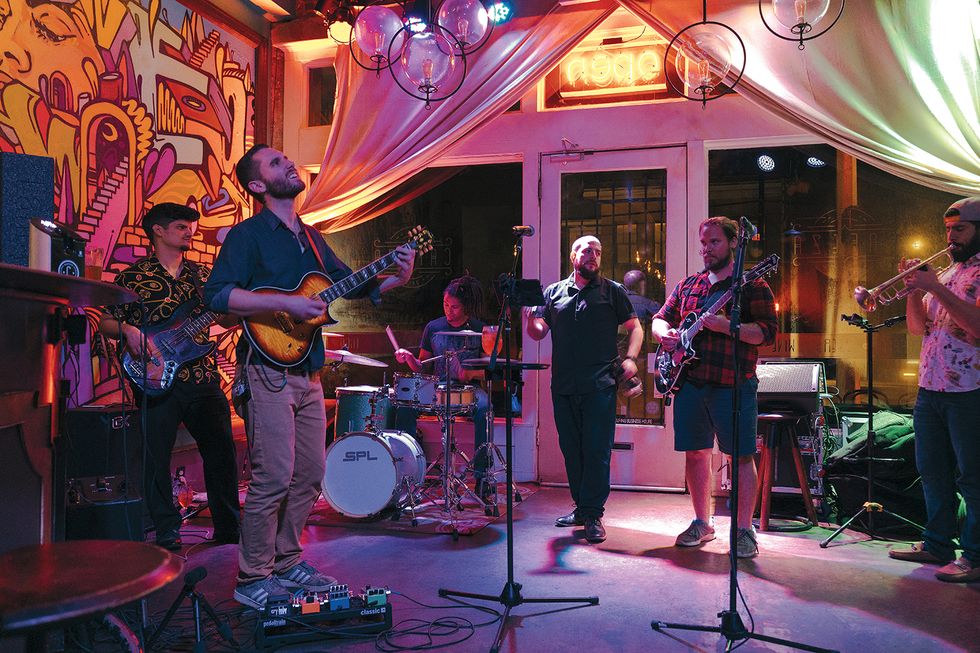 9:28pm
Houston funksters If You Have to Ask lay down the groove at First Ward's Cafeza, a café with a neighborhood vibe serving Spanish and Latin Amercian cuisine, and featuring free performances by singers, DJs and poets nearly every night of the week. Photo by Todd Spoth.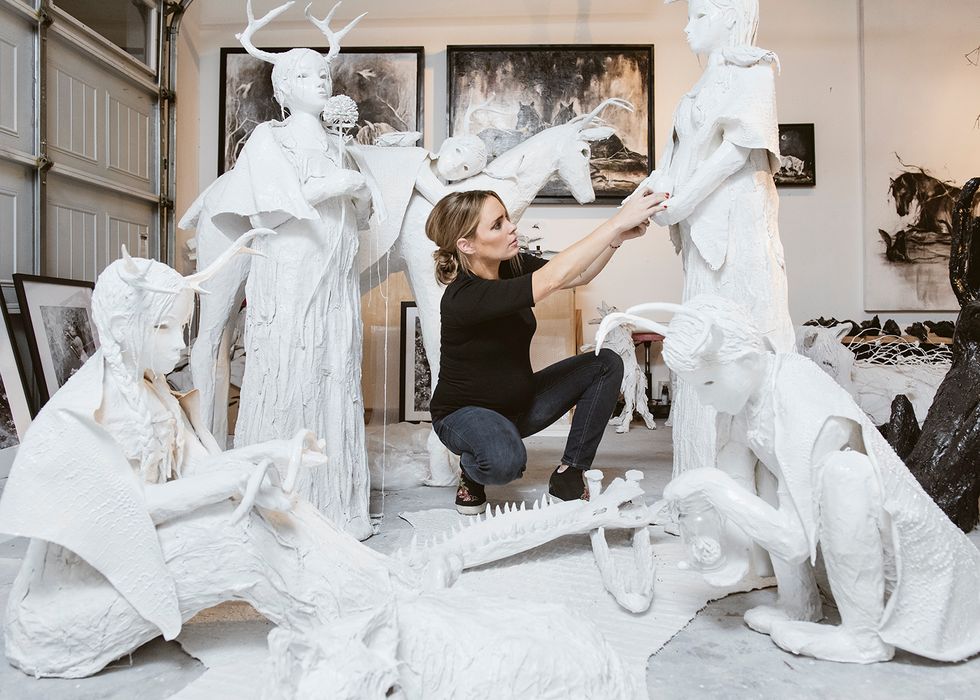 11:09pm
Artist Rachel Gardner works among papier-mâchéd antlered children, coiled snakes and scrawny, howling wolves in her Heights studio. Despite being a self-described "morning person," the sculptor, now pregnant, works after dark when inspiration strikes. Photo by Jhane Hoang.
Uncategorized