Longtime Fave Indie Band Debuts New Song, Music Video at Big White Oak Music Hall Show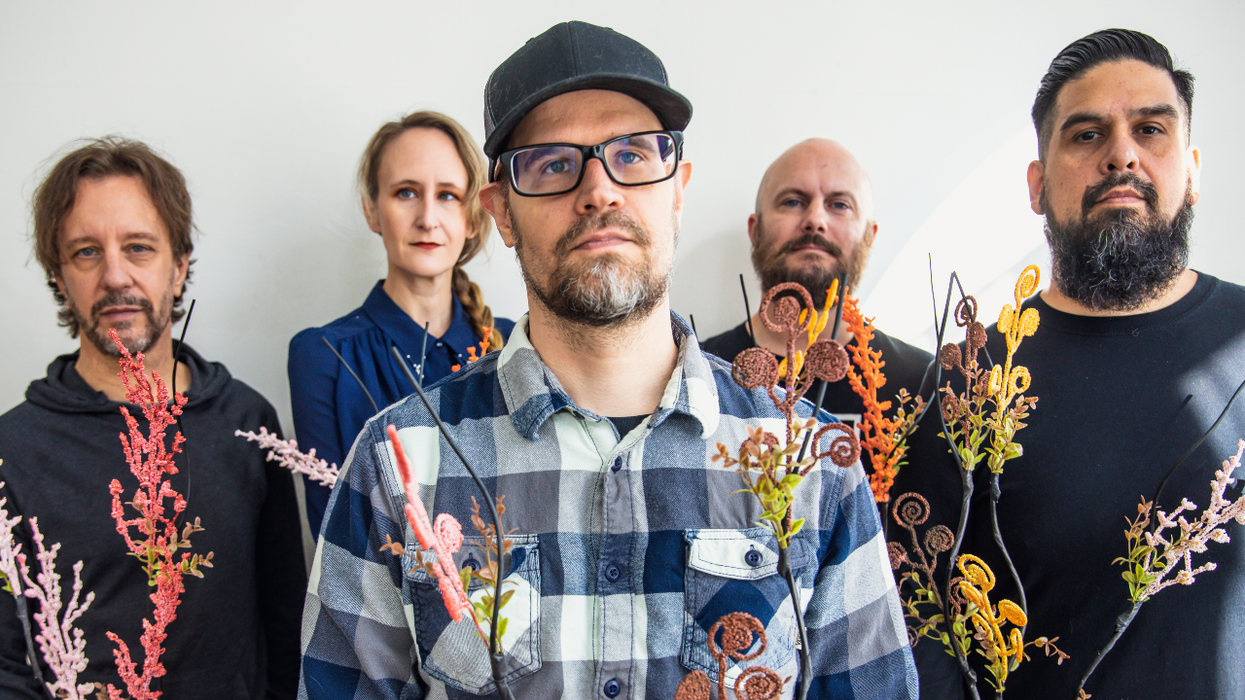 "THIS IS GOING to be our first indoor show in a long time," marvels singer songwriter Steven Higginbotham, who has led the Houston-based indie music collective The Wheel Workers since the early 2000s.
---
On Saturday, Jan. 29, The Wheel Workers will play live and screen the video for their new single "S.O.S." at White Oak Music Hall, a venue with a long history of supporting local bands. Higginbotham, who thrives on collaboration, and speaks generously of the dozen-plus musicians who have at one time or another jammed, recorded and/or shared the stage with The Wheel Workers, describes the band as a community, one he feels fortunate to be a part of.
"I do write a lot of the material myself," says Higginbotham, who moved from Austin to Houston in 2005. "But I like to have other people contribute their ideas, because it might take a song in a different direction and add something to it I never would have thought of otherwise."
The Wheel Workers sound is a kaleidoscopic blend of soaring melodic hooks, alternately chiming and grungy guitars, spiraling keyboard patterns and noisy synth squiggles and squalls. Lead singer Higginbotham is a crooner who's unafraid to scream, and the band, which includes guitarist and keyboardist Craig Wilkins, keyboardist and singer Erin Rogers, bassist Zack Garcia, and drummer Kevin Radomski, know how to hold down each song's interwoven textures and ensure everything rocks.
"S.O.S." is the first single from band's forthcoming album Harbor, which will be released in August. The album was recorded over a period of three years, with some delays due to the pandemic, and Higginbotham's decision to go back to school and pursue a second career in law. He graduated and took the bar in July 2021, and now works as a "baby attorney," doing business litigation and rewarding pro bono work, which often has a direct and positive impact on his clients. "Sometimes, it can be frustrating as an independent musician to see certain opportunities, but the budget isn't there," says Higginbotham, who describes The Wheel Workers as his "life's work," but acknowledges his new day-gig provides an income to help sustain his creative vision. "Fortunately, where I work is very supportive of the fact that I am a musician."
Also supporting his creative vision is sonic wizard and former SugarHill recording studio owner Dan Workman, who has collaborated with The Wheel Workers for over a decade and co-produced Harbor with Higginbotham. "He's crucial to the way our songs are developed and how we sound on our recordings," says Higginbotham. "He's truly one of my best friends."
A former Austinite, Higginbotham contrasts Houston's indie-rock scene as "smaller, but tight knit," with Coog Radio, KTRU, and KPFT providing welcome and crucial radio play for a diverse, mutually supportive network of bands. "You're not going to get tens of thousands of people at your show," says Higginbotham, "but you'll have a loyal few hundred that will come out and you can connect with."
With Harbor in the can and drums already tracked for the next album, Higginbotham, is more than ready to get onstage, with his fellow Wheel Workers, and enjoy the energy that only live music can bring. "One of my favorite things, aside from playing the show, is the aftershow experience of musicians hanging out and having a beer together," says Higginbotham. "That fraternity is something I am very much looking forward to getting back to."
Art + Entertainment