Houston's Hottest 11 Musicians in Covid Times
In a moment of isolation and turmoil, can these young artists, daring and diverse, help bring us together with their song?
Steve Visneau . Styling by Todd Ramos. Hair and Makeup by Edward Sanchez for Edward Sanchez Cosmetics, with assistance by Jennifer Oliver. Text by Daniel Renfrow. Shot on location on Milford Street in Southampton.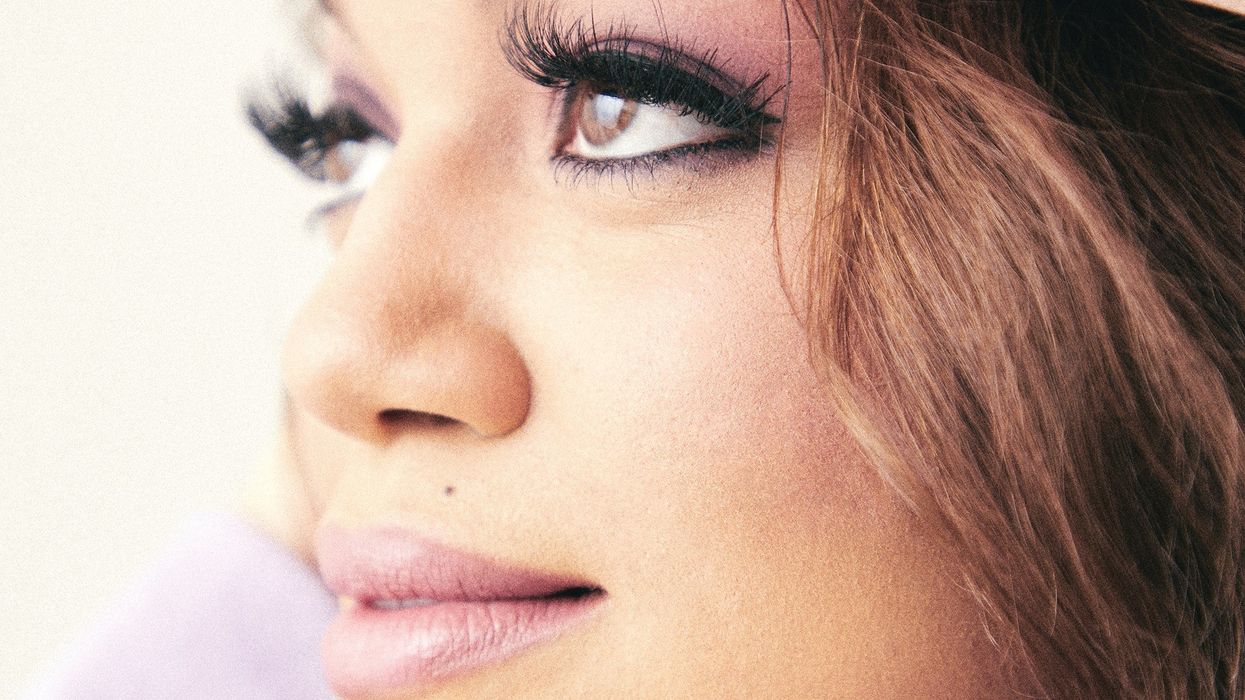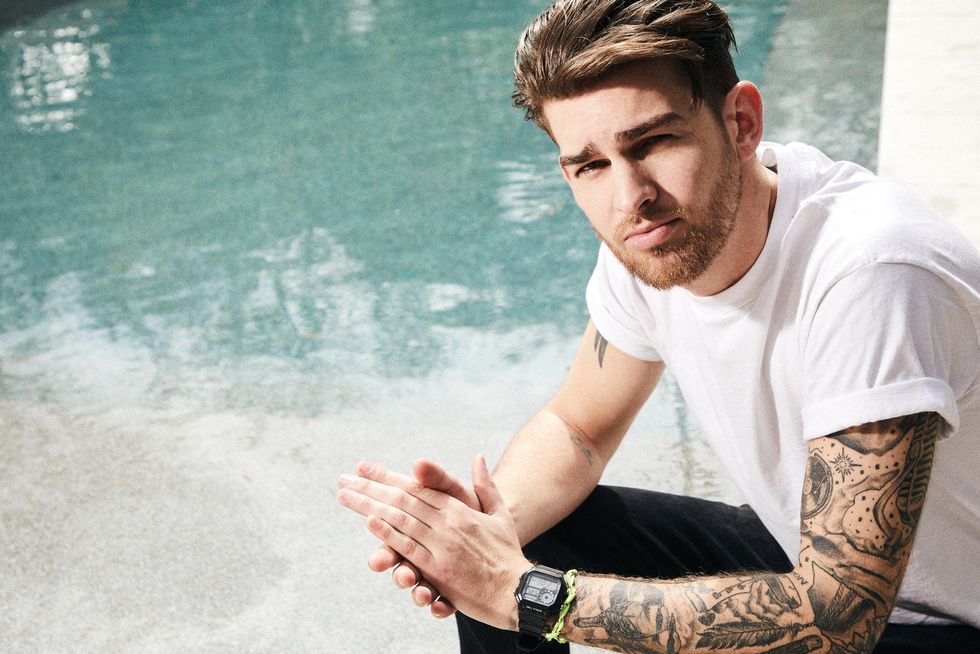 ---
Luke Whitney
Beaumont-reared pop-soul artist Luke Whitney (who prefers to go by his stage name, Lhitney) already had 30 million streams on Spotify before he released Sunsets, his debut EP, in March. Whitney, 28, earned those plays through a handful of covers and singles he has released over the past couple of years, and they're undoubtedly going to shoot up even higher once fans get a taste of his powerful new project. For the EP, Whitney partnered up with two-time Grammy-winning audio engineer Ruben Rivera of L.A.'s Extreme Music, and famed H-Town producer Lab Ox, who's worked with the likes of Rihanna, Drake, Nicki Minaj and 50 Cent. "I ain't no local joker," says Whitney, who taught himself how to play piano during quarantine. "I want my music to reach the masses."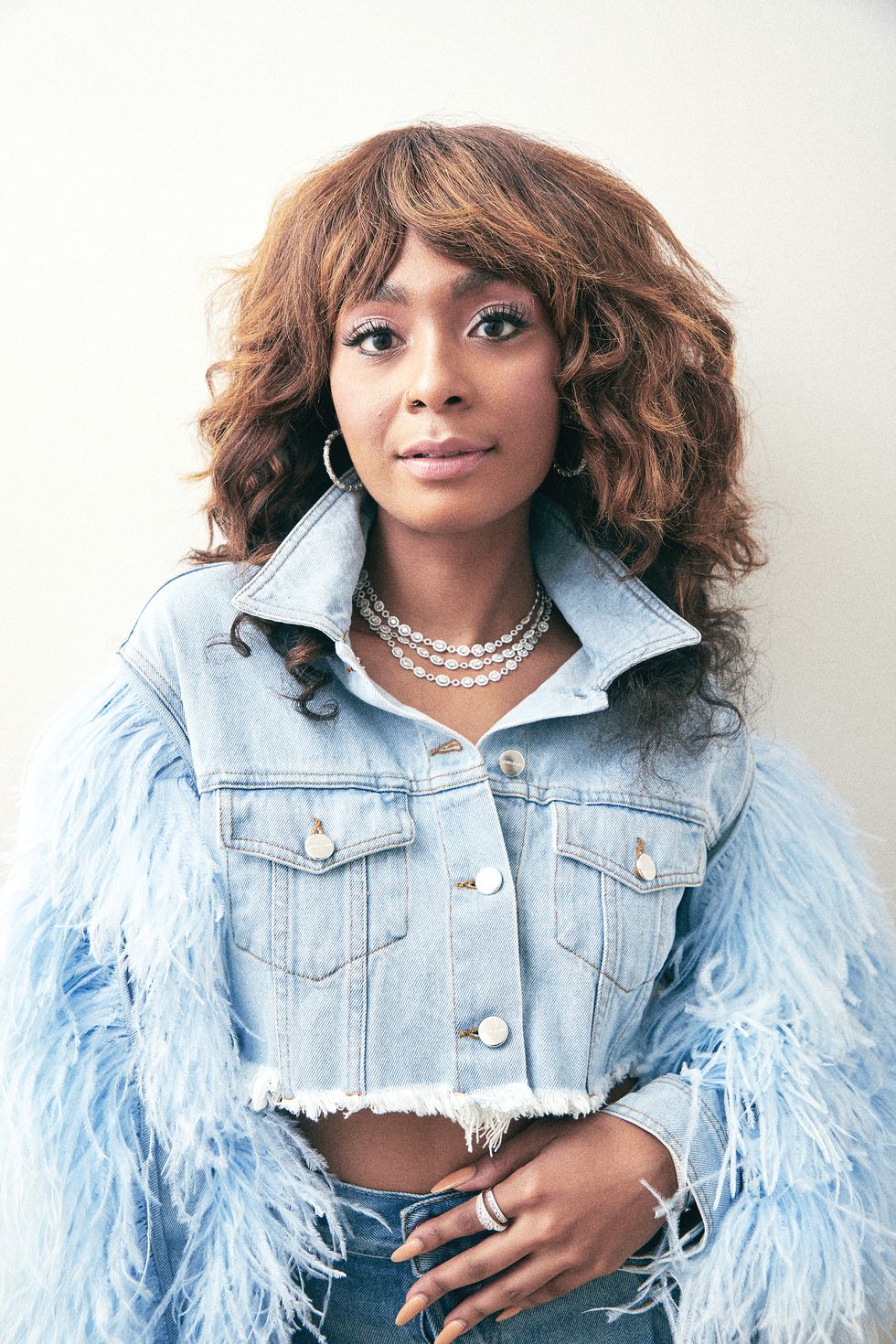 Lenora wears a David Koma jacket from Tootsies and Deutsch Houston jewelry.
Lenora
On 28-year-old R&B songstress Lenora's latest single "Relax," featuring H-Town rapper Slim Thug, the classically trained soprano — who studied opera at Loyola University before deciding to "dig into her roots" — uses her velvety, ASMR-inducing vocals to lull listeners into a hazy, psychedelic slumber. The track, produced by H-Town duo Beanz N Kornbread and released in December, made its debut on Houston mainstream radio during quarantine. Lenora, who writes all of her own music, recently conceptualized a virtual concert series with her band, The Mile High Club. "Performing virtually has been dope and exciting because it's very different than what I'm used to," she says. "And there is so much access and opportunity for people all over the world to experience it. But there is nothing like performing for a live [audience]. I feed off of that energy and it's intoxicating. I'm looking forward to that again."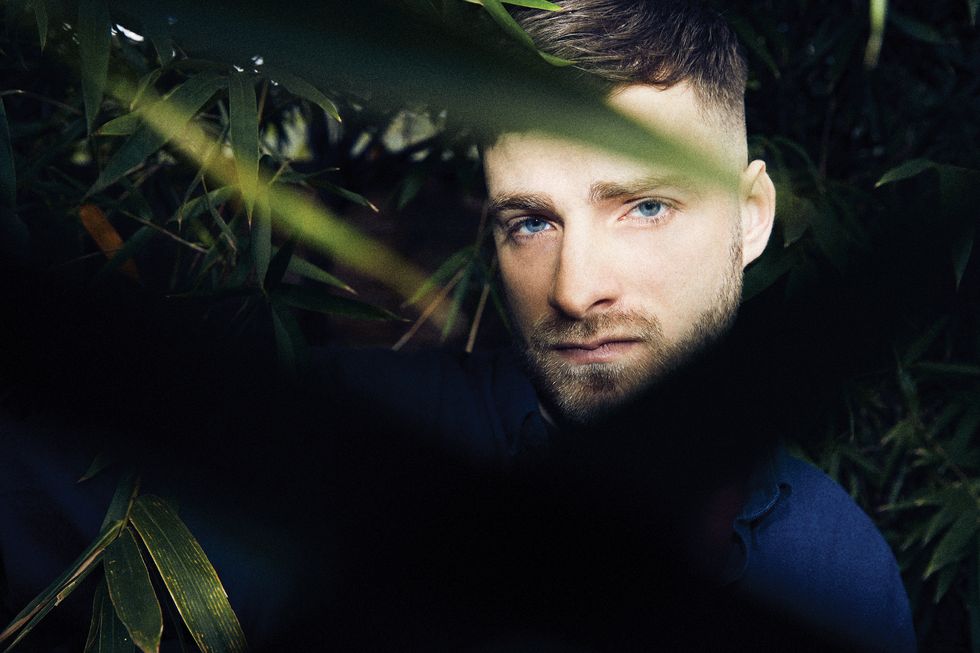 John Allen Stephens
Producer, songwriter and recording artist John Allen Stephens, 32, is arguably one of the most important people in Houston's music scene. As the owner of Third Coast Recording Co., a private recording studio he runs out of his East End home, Stephens has produced albums for many of H-Town's top acts, including The Suffers, Camera Cult, Space Kiddettes, Tee Vee and Mantra Love. Stephens has an artist career of his own, though, and will drop his R&B- and pop-tinged sophomore LP this summer, an autobiographical album that delves into what the young musician has learned from his past mistakes. "I've been wild my whole life," he chuckles, before mentioning that one of the singles from the album is titled "Molotov." (Listeners will have to pay close attention to the lyrics to find out why.) Stephens encourages fans to check out his Bandcamp, where he's releasing lots of new tunes recorded during quarantine, on Fridays, when the site waives fees and sends 100 percent of revenue to artists.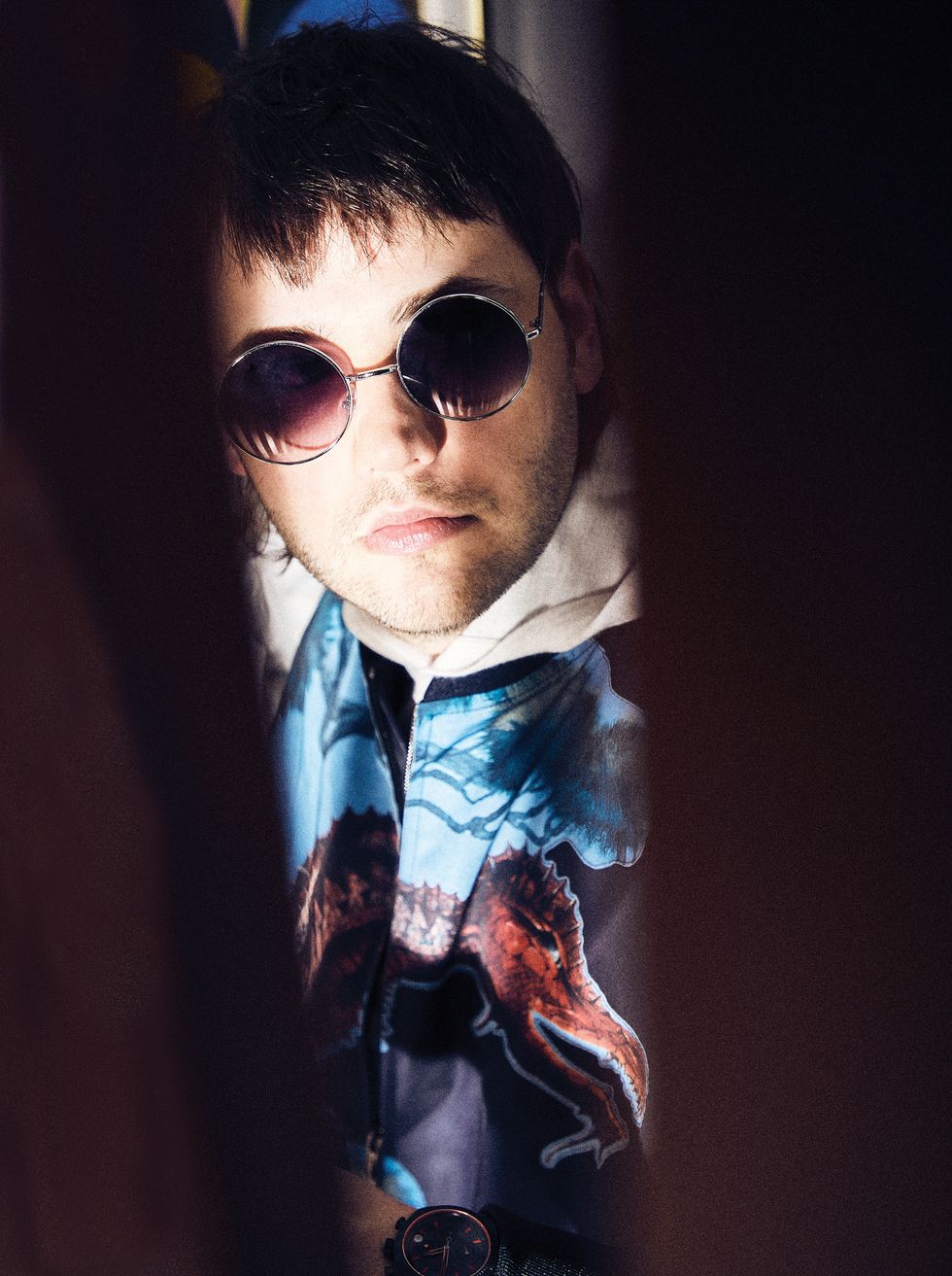 Cobb wears a Valentino jacket from Neiman Marcus.
Josh Cobb
As the lead singer of Houston four-piece psych-pop outfit Mojave Red, singer-songwriter Josh Cobb, 28, has spent years performing his band's signature trippy tunes on stages all over Houston. The band, which released its debut EP in 2015, began slowing down their local gigs even before the lockdown — but that's only because they're about to drop some epic new music. The group is set to release a four-track EP soon, which Cobb says is "coming together to be one of the best things we've ever done." And with the extra time on his hands, he's spent hours in his home studio, developing new songs and experimenting with recording. "Hopefully, after everything settles, we'll all be back out there, just like before."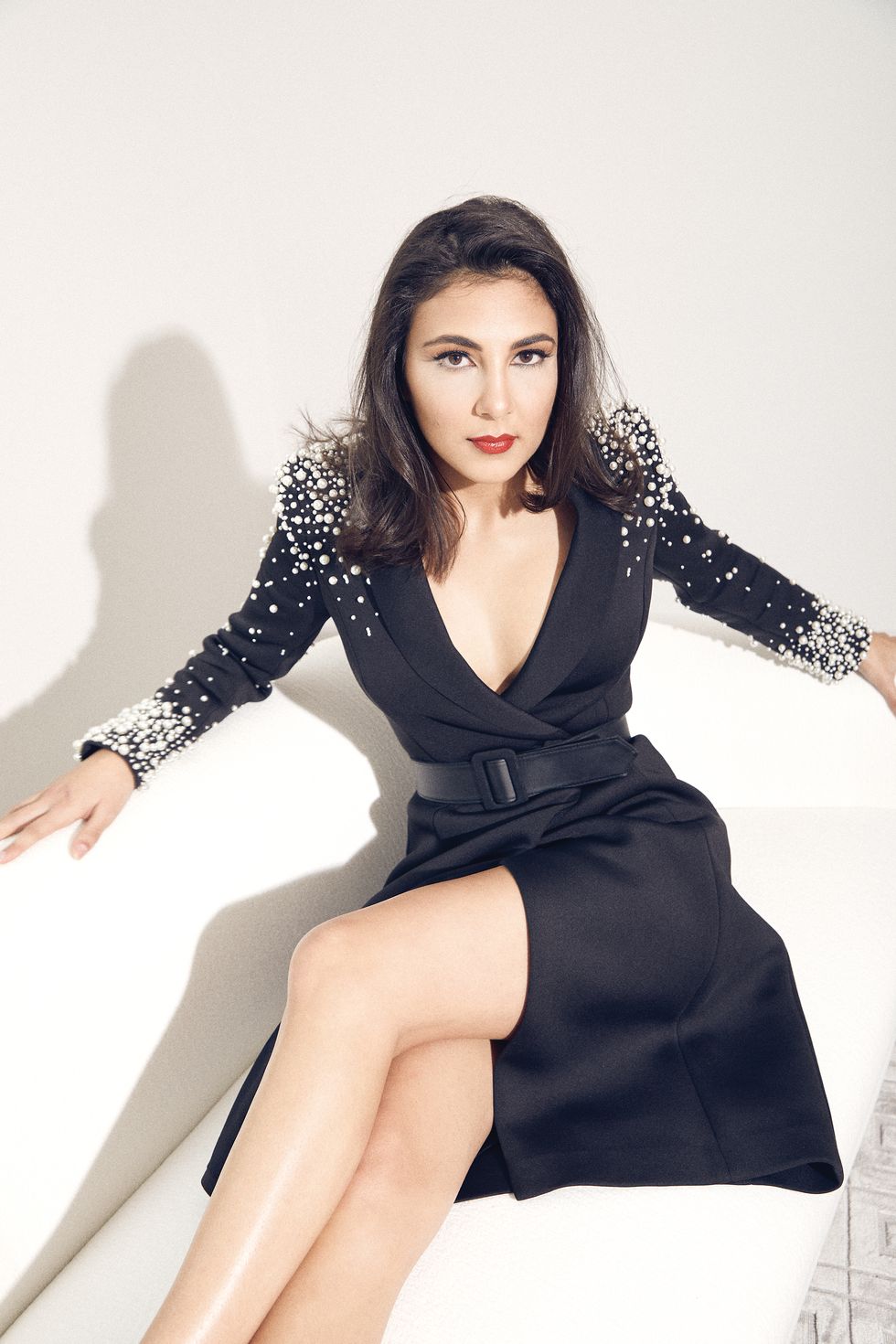 Villalón wears a Badgley Mischka dress from Tootsies.
Elena Villalón
Soprano Elena Villalón, 22, a 2019 Grand Finals winner of the esteemed Metropolitan Opera National Council Auditions, has spent the past year making a name for herself as one of the youngest members ever of Houston Grand Opera's artist development program HGO Studio. In January, the ingenue dazzled in the role of Inès in La favorite, which saw her gracing the stage opposite opera star Jamie Barton. "The cast was really great," says Villalón of the experience. "Everyone was incredible at their jobs." While her on-stage experience will look and feel a little different in the fall — HGO recently announced it is canceling productions through April 2021 due to Covid-19 precautions — she remains optimistic for the future. "It is my hope that the Houston community has a renewed longing for live performance, that audiences will be more present and open, and not take for granted access to the world class art that Houston has to offer."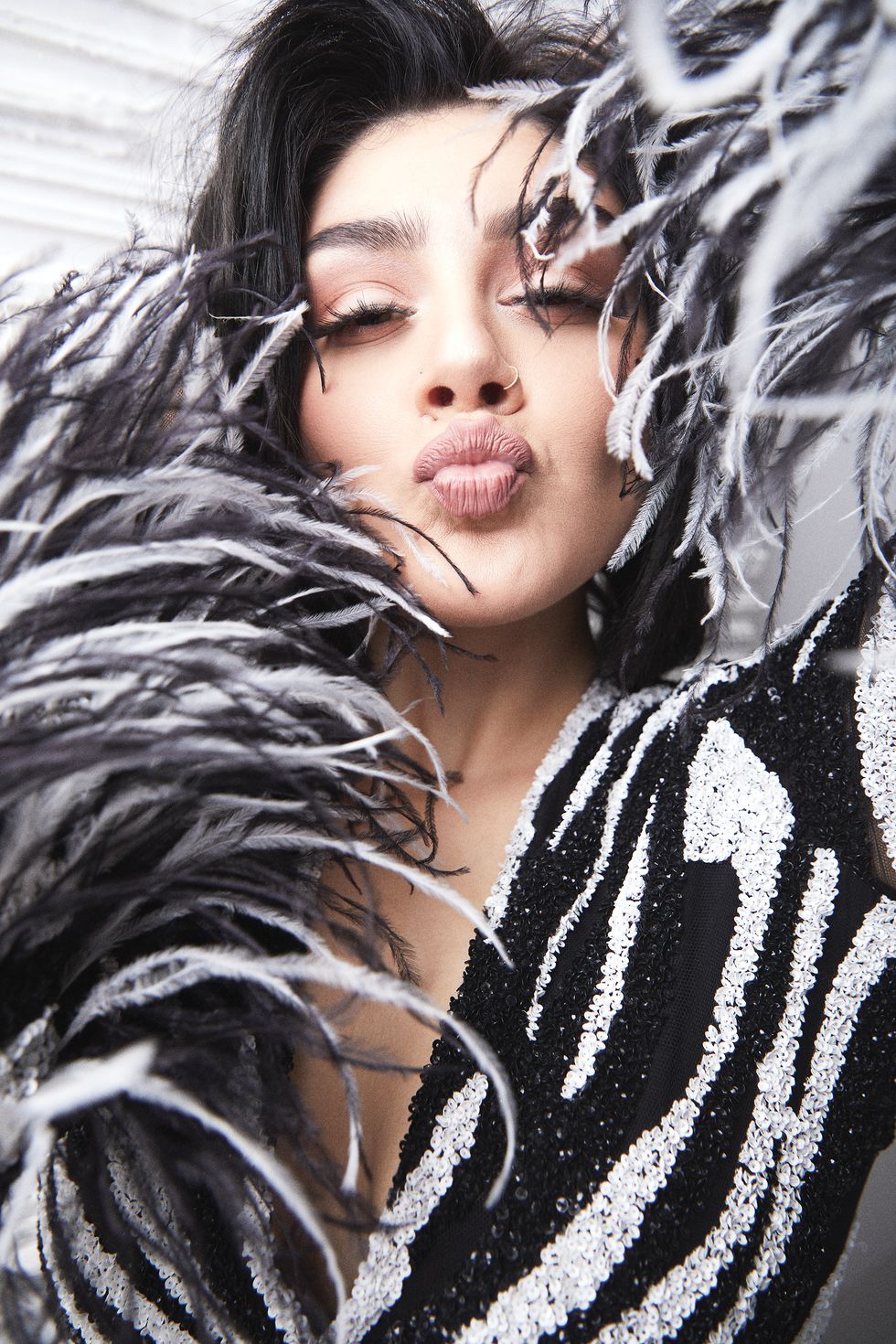 Aviana wears a Pamela Roland dress from Saks Fifth Avenue.
Lilly Aviana
R&B maven Lilly Aviana, 26, released her debut album, Late Bloom, last summer, after two years of hard work. It's chock-full of total R&B and neo-soul bangers. The Houston-reared artist wrote all of the music herself, and had plans to take the highly personal album on a Texas tour this spring. Instead, she ended up using the time allotted by the shutdown to pour into a new funk project. "I've been studying funk music from the '70s and '80s," she says. "It's been really fun and challenging. The time off has really opened my mind up to creating since I have no distractions." However, she is looking forward to getting back on the stage in the coming months. "Feeling the energy from the crowd — there's nothing like it. We need it to survive."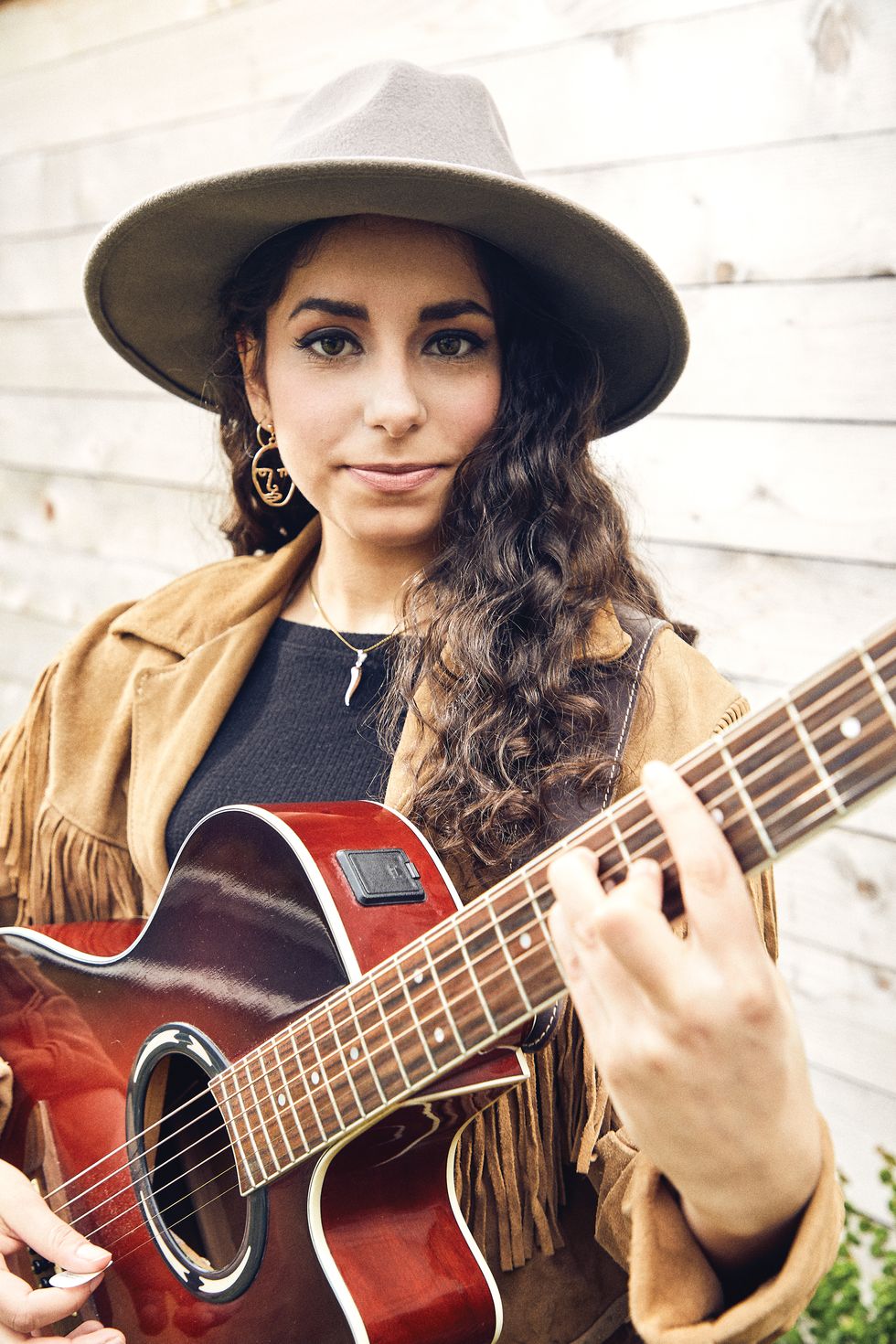 Amanda Pascali
Amanda Pascali, 22, described by some as an Italian Bob Dylan, started singing and playing the guitar at a young age so that she could use her music to tell her family's diaspora story. (Before Pascali's Sicilian-decent father came to the U.S. as a refugee, he spent two years in a forced-labor camp for speaking out against the communist dictatorship in his native Romania.) She released her folksy debut album, with songs in both Italian and English, a little over a year ago — and hasn't stopped writing since. "I write songs about the truth, and the truth sometimes gets some people upset or angry or uncomfortable," says the demure Pascali, who graduated from UH during the lockdown, and had to cancel a European summer tour due to the pandemic. But she sees silver linings in the schedule shift: "Taking time to reflect and better understand myself is hard work that I often pushed aside."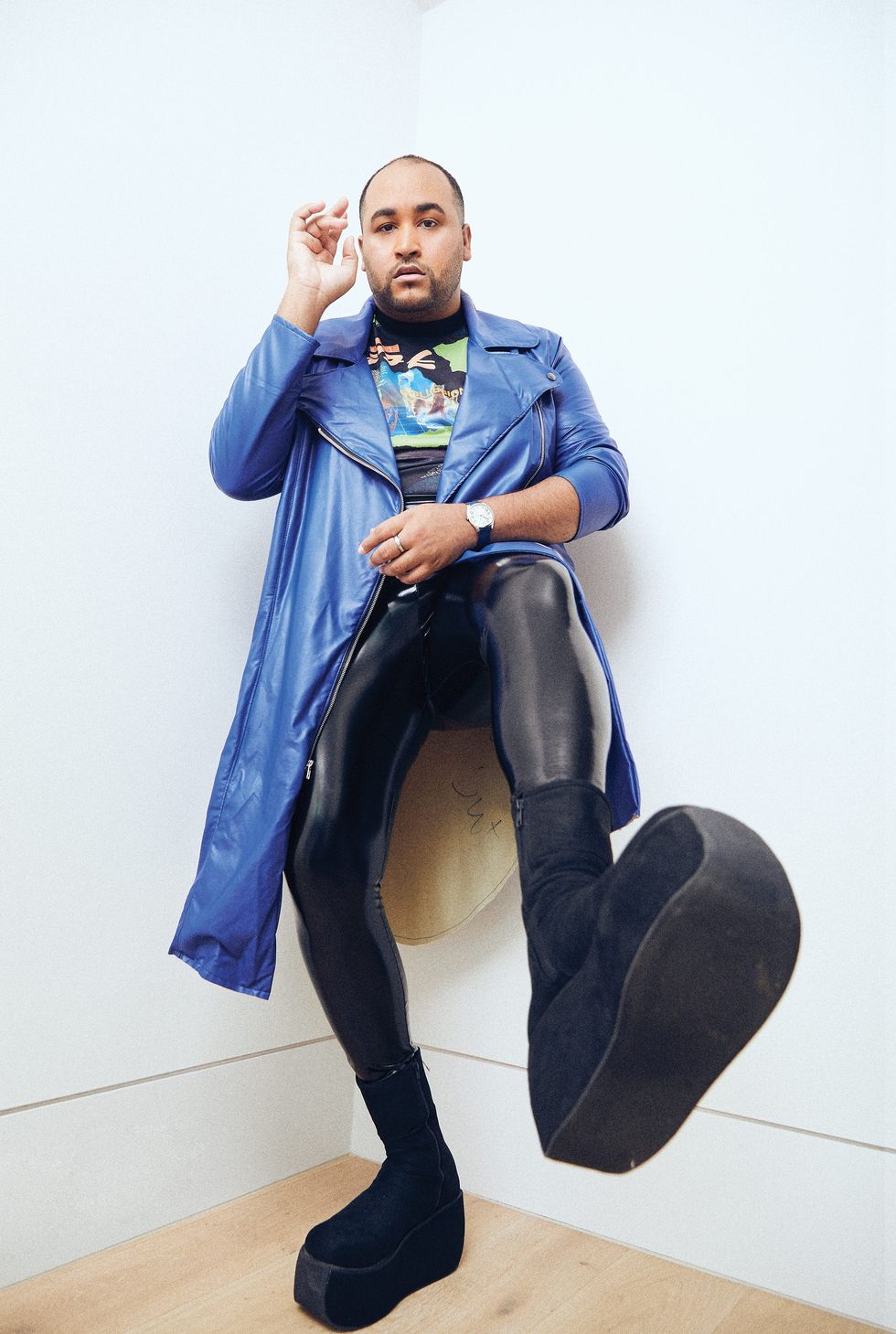 Attxla's clothing is his own, with a Cartier watch from Deutsch Houston.
Attxla
Electro-pop artist Attxla, 24, comes from a long lineage of medical professionals; he grew up imagining he'd follow suit. But that all changed when he started tinkering around on music programs on his computer five years ago, and discovered a gift of song. His debut record — produced by John Allen Stephens, also included in this feature — dropped last fall, and now he's nearly finished with his sophomore effort, slated to be released by end of summer. While his first release, Ebb, depicts his struggles with depression, his next album, Flow, takes a more positive stance. "It's about everything rushing back in. It's about trying to find self-love instead of self-loathing." Those lessons were put to use during quarantine. "I've been writing a lot, but in more of a free-form sense, just to put down what and how I'm feeling in the moment without trying to form a song out of it."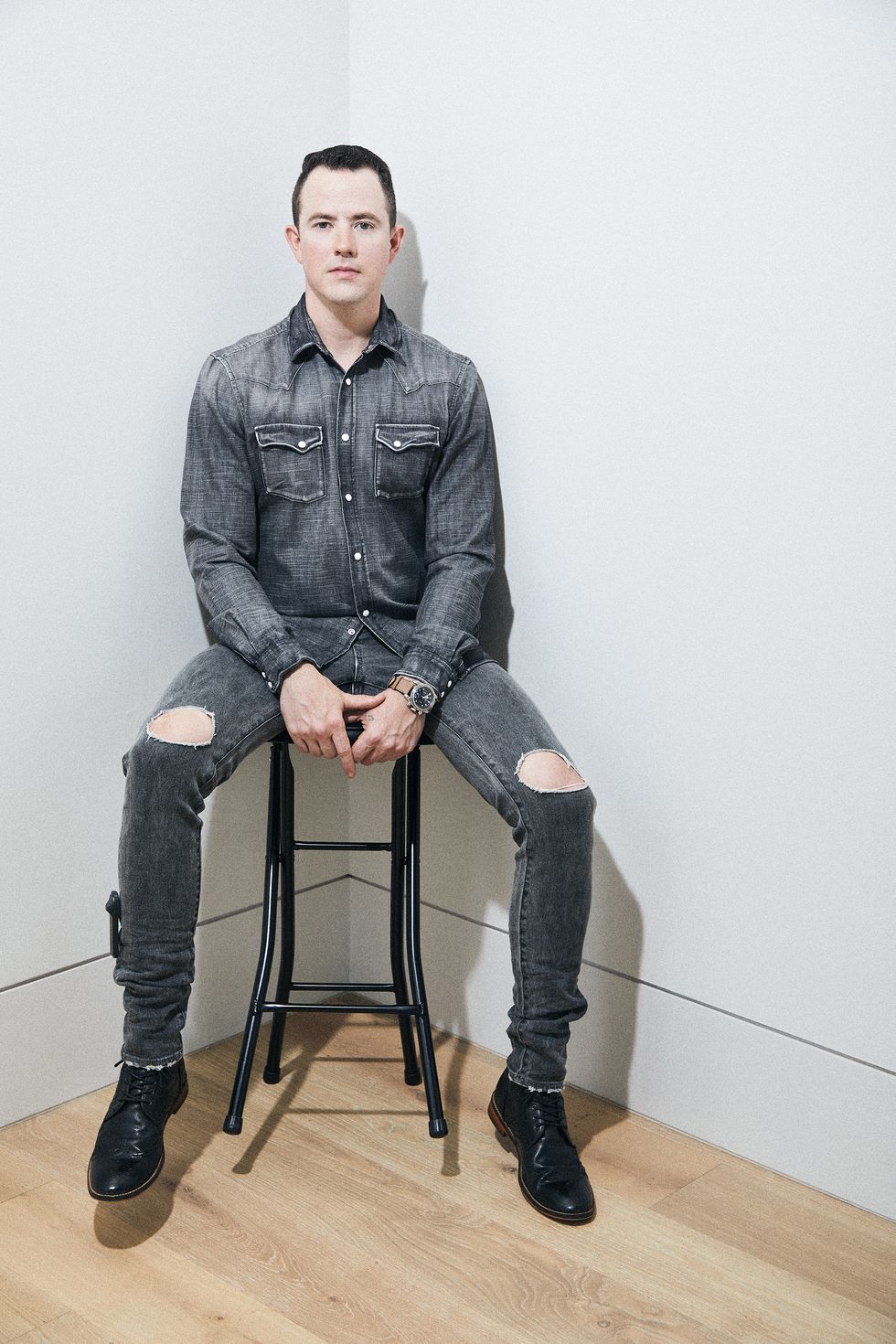 Parker wears Purple jeans and a The Kooples shirt from Saks Fifth Avenue, with a watch from Deutsch Houston.
Sparky Parker
Blues musician and native Houstonian Sparky Parker first picked up the guitar at the age of 13, inspired by his father's old record collection, and soon began strumming original tunes. "The pure soul of blues is something that I've always related to," muses Parker. Now, at the age of 32, the musician — who has been compared to the likes of Gary Clark Jr. and Stevie Ray Vaughan, and who mentors young musicians — has released his sophomore album, In the Dark, a 10-track wonder that dropped in September, a perfect amalgamation of blues, rock and soul. Over the last few weeks, he's transitioned his guitar students to virtual lessons, and has experienced an ebb and flow of inspiration for new material. "I'm excited for the music scene to come back to life," he says. "There will surely be some pent-up energy that people are eager to release on the dance floor."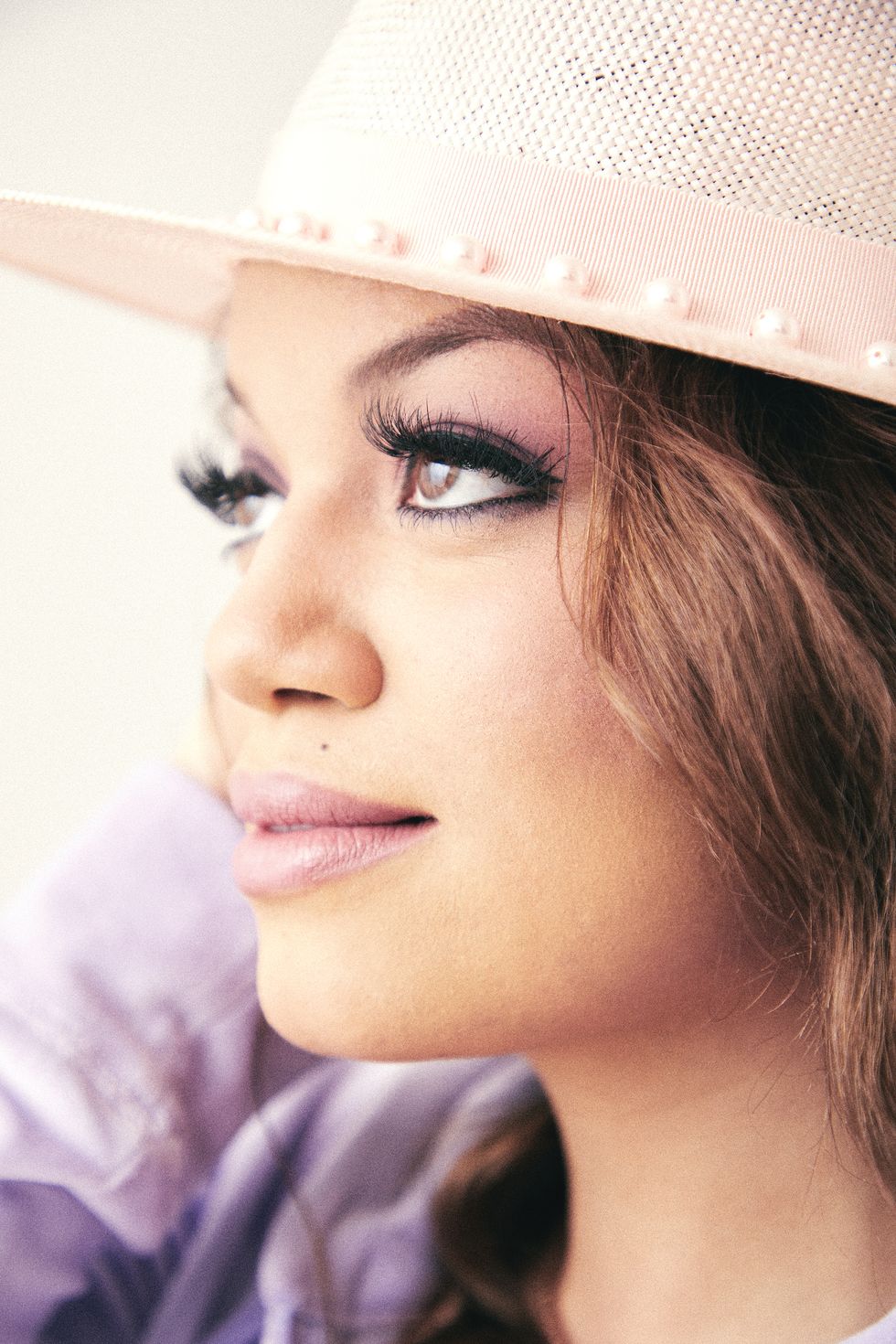 JaeRene wears a Baby Phat track jacket with a Eugenia Kim hat from Neiman Marcus.
JaeRene
R&B princess JaeRene may only be 18, but she's already logged years in the industry. The recent Dobie High grad released her debut EP last fall, featuring artists like Houston rapper Z-Ro; she's been working on the album since she was 13. "I would like to see myself at the top of the charts, being a force in the industry," says JaeRene, who admits experiencing a bit of writer's block during quarantine, but strives to remain creative. "I want to push the message that being young doesn't place any limits on you."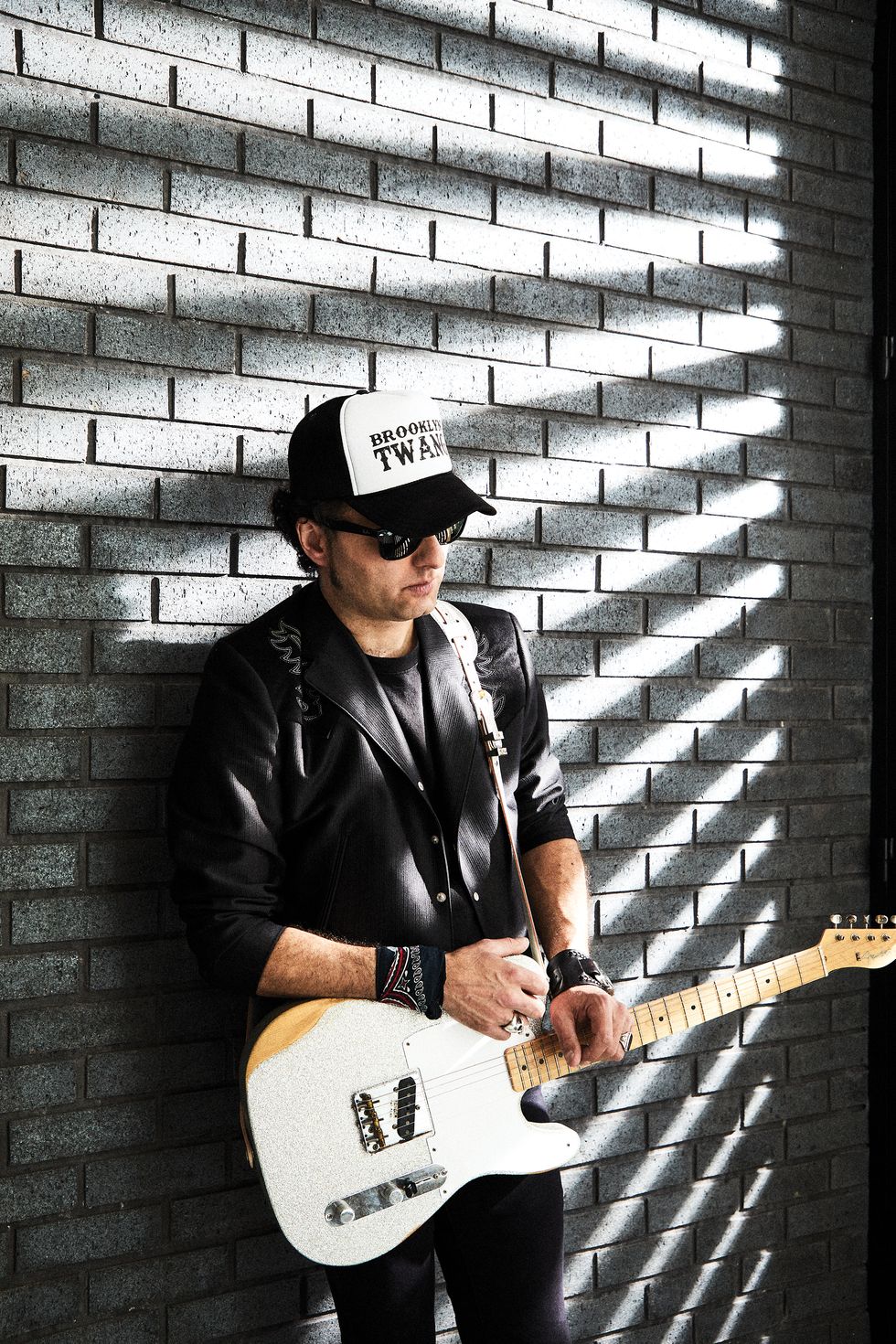 Luba Dvorak
Seeing as he's a distant relative of famed composer Antonin Dvorak and the son of a well-known Czech folk singer, one could definitely say that music is in Luba Dvorak's blood. The Czech Republic-born and Steve Earl-mentored musician, 45, spent years in Brooklyn producing his signature "Brooklyn twang" sound — think of it as a honky-tonk mashup of Springsteen, Dylan and Cash — before moving to Houston in 2017 to find some respite from New York's fast-paced hustle. Dvorak's latest album, American Sin, recorded entirely in one day, dropped last summer, chock-full of honky-tonk hits that are sure to become hits heartland staples. During the coronavirus shutdown, inspired by the sound of his solo livestream shows, Dvorak recorded an entirely acoustic version of the album.
Location: 1527 Milford St. is currently on the market, listed by Mike Mahlstedt of Compass Real Estate for $3.2 million. The Southampton home, designed by George Allen Cole Design Studio, has five bedrooms and five full and two half-baths; the oversized lot boasts a resort-worthy pool and patio.
Art+Culture