The Suffers Perform Saturday for First Time in a Year, Touting Pandemic Record. 'You Can Hear Houston' in It.
Todd Spoth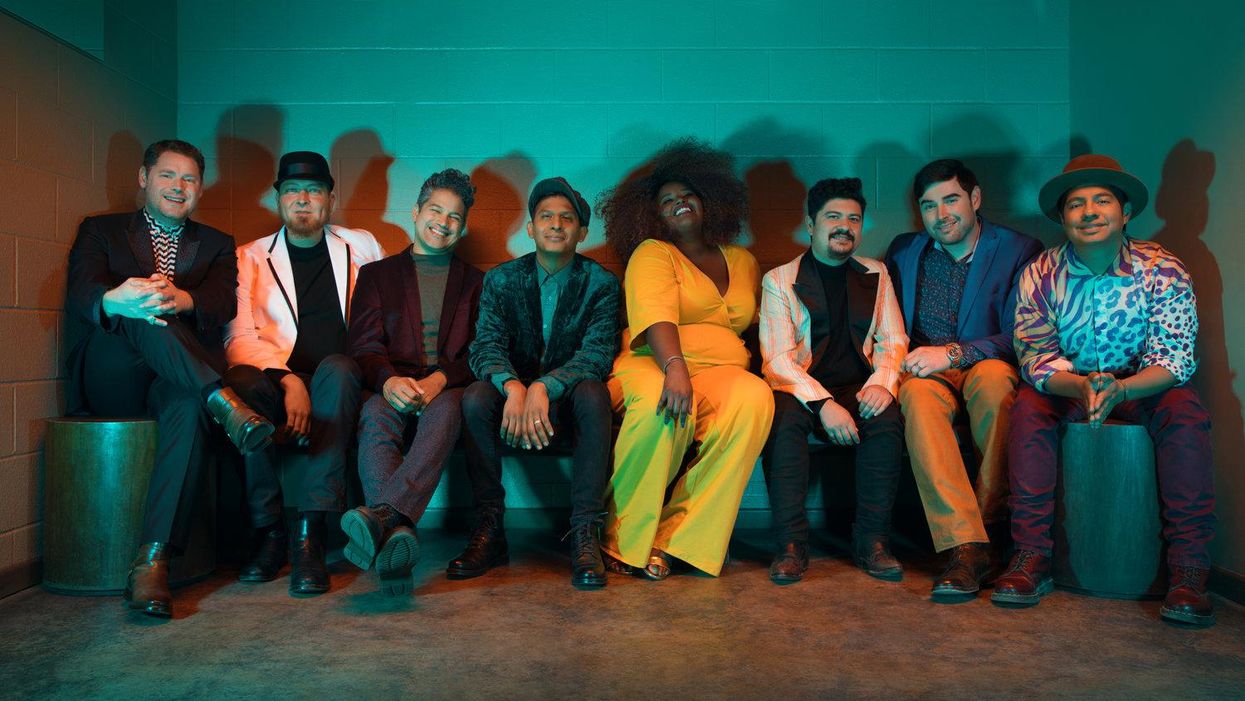 WHEN THE SUFFERS take the stage tomorrow for their sold-out show at The Orange Show Center for Visionary Art's 2021 Houston Art Car Experience, it will mark the band's first in-person, full-band performance in over a year. The band had been touring pretty non-stop since 2015, but just like every other band on the planet, the Suffers found themselves indefinitely grounded when the COVID-19 pandemic reared its ugly head and shut down stages the world over.
---
"It was awful, but it was the break we all needed but probably wouldn't have gotten to have," muses Suffers frontwoman Kam Franklin of the band's year spent in quarantine. "This is the longest we've been away from one another ever, but this pandemic really showed us what we were capable of doing, in terms of not only surviving, but also of finding new ways to grow together and create together — to push through together."
Franklin and her six bandmates stayed busy during the pandemic by using their time off the road to finish recording their third studio album, which drops early next year, in addition to recording a large chunk of their fourth studio album. Recorded largely remotely during the pandemic, the material on the album, which Franklin is the executive producer of — her first official producing credit — speaks of the band's love for the music, their love for the road, and their love for each other. It also features their first parental advisory warning, which Franklin is quite proud of.
"It's a happy record because we wrote most of it before all of this shit happened, but I think happy is what people are going to need for a while," laughs Franklin, noting that record is much dancier and more up-tempo than any of their previous endeavors, and that it's a marked departure from the vintage-modern sound people are used to associating them with.
"I don't think we'll ever lose that sound completely," she says. "But for this record we really wanted to show our range. More than anything, you can hear Houston in our album, but in a more grown-up way."
In addition to using the pandemic as an opportunity to grow their sound, Franklin and her bandmates have also used the pandemic as a chance for them to advocate for smaller artists and the smaller independent music venues, which have struggled immensely during the pandemic, that are an essential training grounds for artists and bands that are just starting out.
As part of that advocacy, Franklin and her bandmates plug the Save Our Stages Act, which was passed by Congress in December of last year with the promise of providing $16 billion in relief to independent music venues and theaters across the nation, many of which have been shuttered for over a year now.
"We all came up in independent venues in Houston, and we all know that a lot of the venues that we all grew up with are not here anymore for various reasons," she says, "but the ones that are still here are going to need our support. You can't just start at House of Blues and the big outdoor theaters. You have to work your way up to those places."
"We have to work together," she continues. "Our industry has proven that art is not only essential but that there are so many moving parts to it. I'm looking forward to being one of the first bands that gets to come back out here, but I hope people don't think that live music is back. We're barely out here getting to do what we want to do because the industry was hurt so badly and because it did take so long for us to get that initial help. Now that we're here, the work doesn't stop."
In addition to the sold-out show this Saturday, The Suffers will also be headlining a show in Austin on Saturday, May 29 at ACL Live. It will be the band's first time headlining at the venue, which they played for the first time as openers for Lionel Richie. They'll be playing some new music at both the Houston show and the Austin show, and Franklin is excited about dipping her toes into the "road life" again, even though the band isn't going to do much touring until early next year.
And now that the entire band has spent a year mostly in the same place, and in doing so has had ample time, just like everyone else has during the pandemic, to assess their values and to develop new ones, Franklin says the band's approach to life on the road is going to look a bit different this time around.
"I love the road. That is where I'm at my happiest — performing every night. But I want to make sure that we tour smarter and take better care of ourselves," she says, noting that she and her bandmates can do that by taking more stops, having more fun outside and by doing simple things like putting healthier foods in their riders. "That quality time matters."