Photographer Ming Smith, Whose Work Is the Subject of Multiple Exhibits this Month, Talks Music and Moxie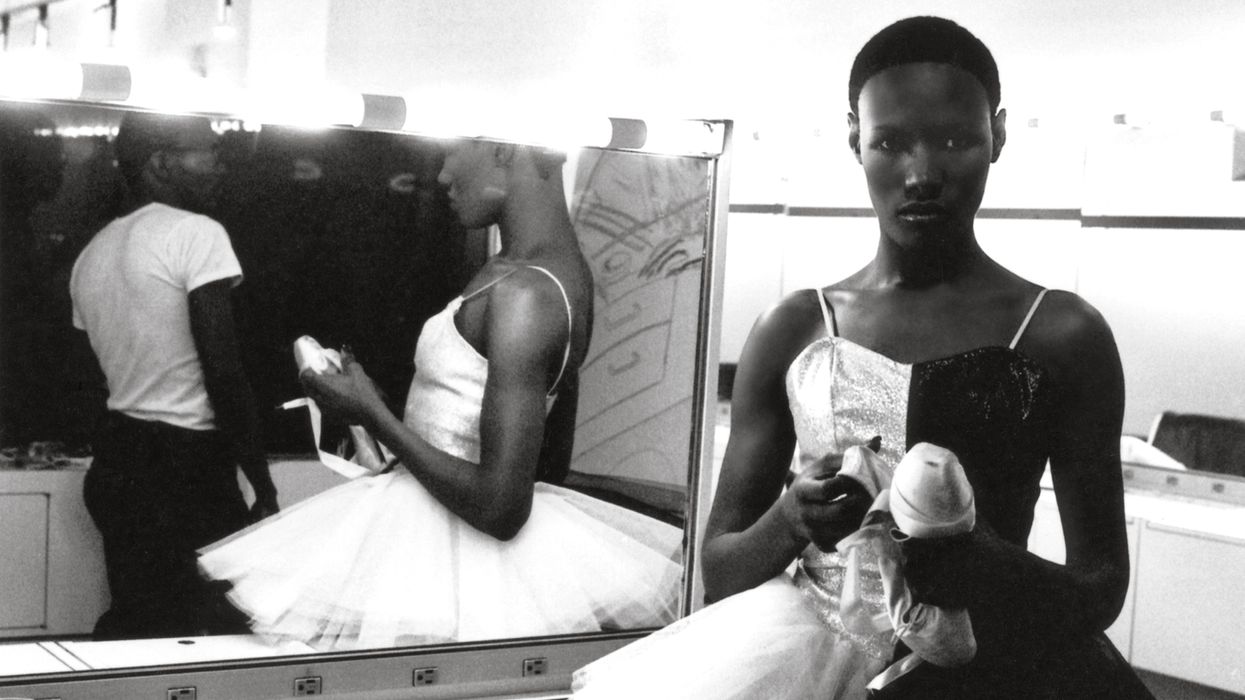 "I DON'T TALK about my years," laughs New York-based photographer Ming Smith, whose "years" are celebrated in Feeling the Future, a survey of her work from the early 1970s to the present at the Contemporary Arts Museum Houston. The exhibit opens May 26.
---
Conceived by Art Is Bond gallery owner Janice Bond — who along with Barbara Davis Gallery will present Catching the Light, a concurrent, dual exhibition of selected works by Smith — Feeling the Future gives Houstonians the opportunity to dig deep into five decades of history and cultural events as documented by Smith, one of America's most respected yet under-recognized photographers. Her images of now-famous friends, luminaries from the worlds of jazz and avant-garde music, scenes in the city, and even flamingos and the gardens of Luxembourg, have only grown more prescient with time and resonate with today's viewers in ways Smith admits she is only beginning to understand.
One of five children, Smith grew up in a white, middle-class neighborhood in Columbus, Ohio, near Ohio State University. Her family was one of the first Black families to move into the area, and lived down the street from Carl L. Brown, who opened the first African American grocery store in Columbus. Columbus is where Smith learned how to Double Dutch ("I loved it more than anything else in the whole world!"), walked through the alleyways to her piano lessons so she could pick raspberries and apples off the neighbors' trees, and first heard the sound of Little Stevie Wonder's harmonica on a distant kitchen radio (music is a recurring source of inspiration for her photographs).
Smith's father, a stern man who worked 12-hour days as a pharmacist, was fascinated by photography. "He was like an old, old hippie, giving us these weird names," says Smith. "In his heart he was an artist. But as he got older, he didn't indulge or practice any art. I guess he was disillusioned." When Smith decided to go to Howard University instead of nearby Ohio State, her father told her she was on her own. "He wanted to keep me at home," says Smith.
At Howard, where she was a pre-med, microbiology major, Smith's horizons expanded; she took photography as an elective, and began to develop her own technique of street photography, but without realizing what she was doing could be considered "fine art." By the time she graduated, Smith knew she didn't have an interest in or stomach for a career in medicine. "I didn't really want to be a doctor," she says. "I couldn't cut the frog."
She decided to head to New York, where she found work as a model, posing for photographers who were in the process of creating their portfolios, and met painters, writers and choreographers who, like her, had come to the city to realize a creative calling. "I was introduced to an entirely new world," says Smith, "and I knew this was my city!"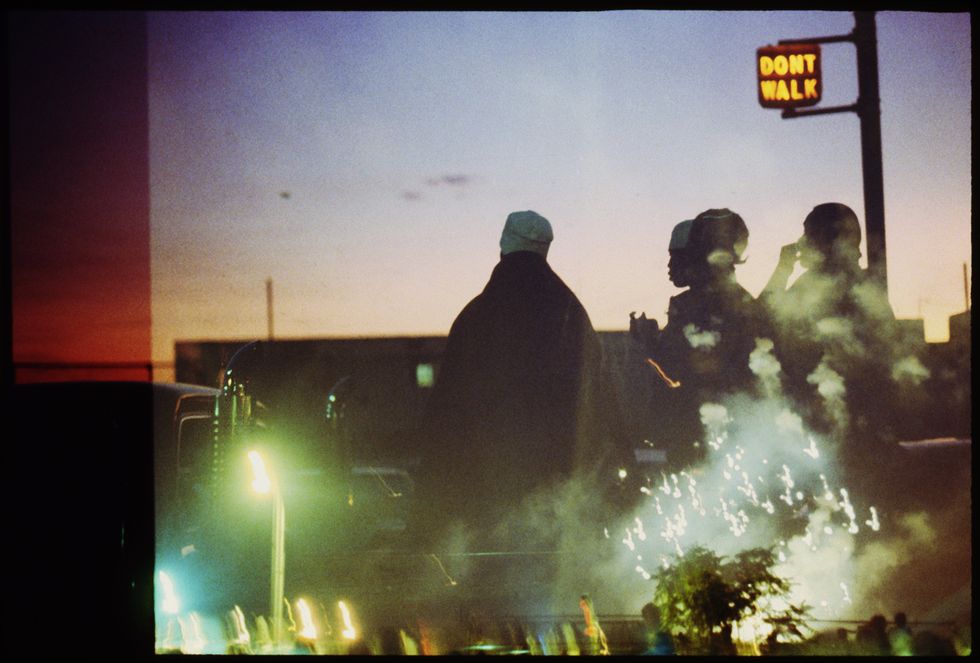 'Acid Rain ("Mercy, Mercy Me," Marvin Gaye),' 1977, courtesy Ming Smith Studio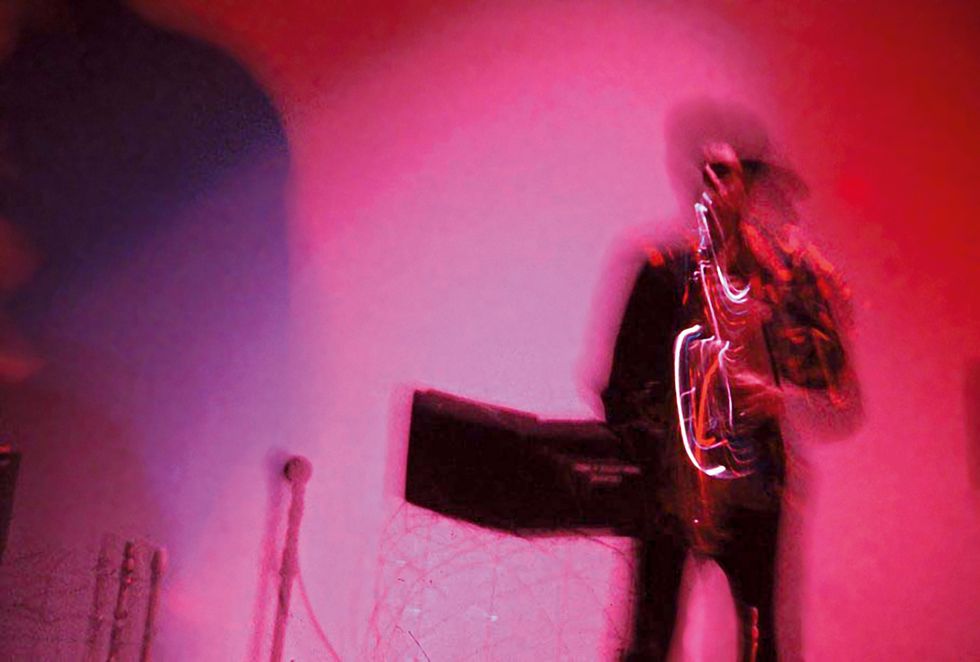 'Red Hot Jazz II,' 1979, courtesy Ming Smith Studio
Photography, especially photography by a young, beautiful Black woman, was suspect in the art world at the time; so, instead of waiting for galleries to catch up to her, Smith installed her first exhibition in 1973 at Cinadre, a cramped but highly regarded hair salon on East 57th street. It was there Smith met and photographed a young Grace Jones dressed in a black and white tutu, her reflection caught by a brightly lit mirror behind her, providing a poetic visual cue for Jones's eventual transformation from model to ground breaking musician and video artist. "We were talking like two girlfriends," says Smith of her rapport with Jones. "Two struggling Black girls, but still striving."
Other iconic photographs by Smith in the CAMH show include "Acid Rain," an image of silhouetted figures at dusk, standing beneath a Don't Walk traffic signal. Though photographed in downtown New York, the scenario feels international, and speaks to the presence of Black people across the globe. And then there's the majestic "Transcendence, Turiya and Ramakrishna for Alice Coltrane," which combines photography with painterly mark-making to realize what looks and feels like a spiritual awakening for the blue-tinted nude figure inside a vibrating landscape.

"I work mainly from my subconscious," says Smith, who has always felt from the beginning that something was leading her to the subjects and scenarios she would capture with her camera.
"Ninety-nine percent of all of the people I've photographed, I never intentionally went to go photograph," says Smith. "It was just by chance. They were just in my life. So, what could be more authentic? I was living the life as an artist."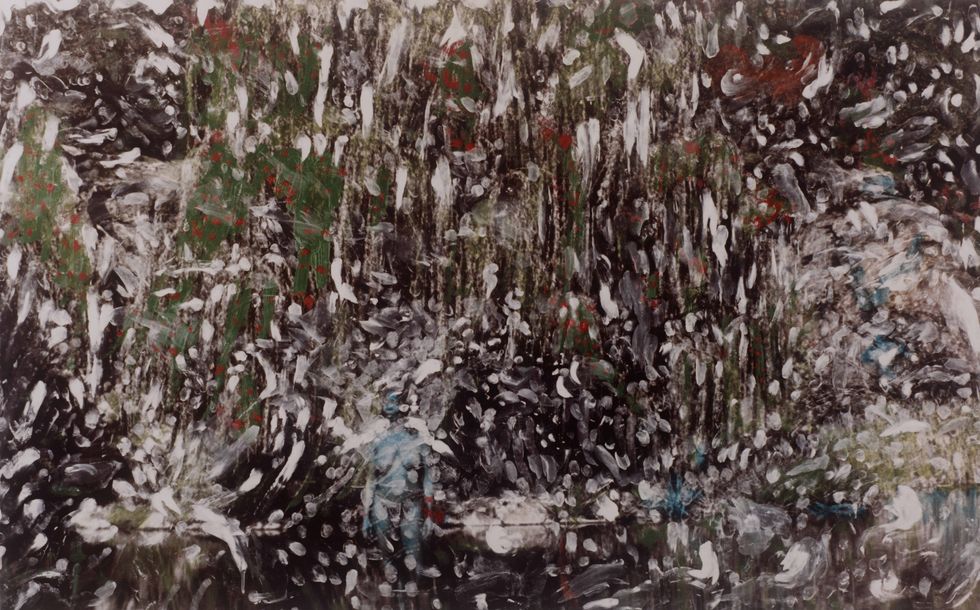 'Transcendence, Turiya and Ramakrishna,' for Alice Coltrane, 2006, courtesy Ming Smith Studio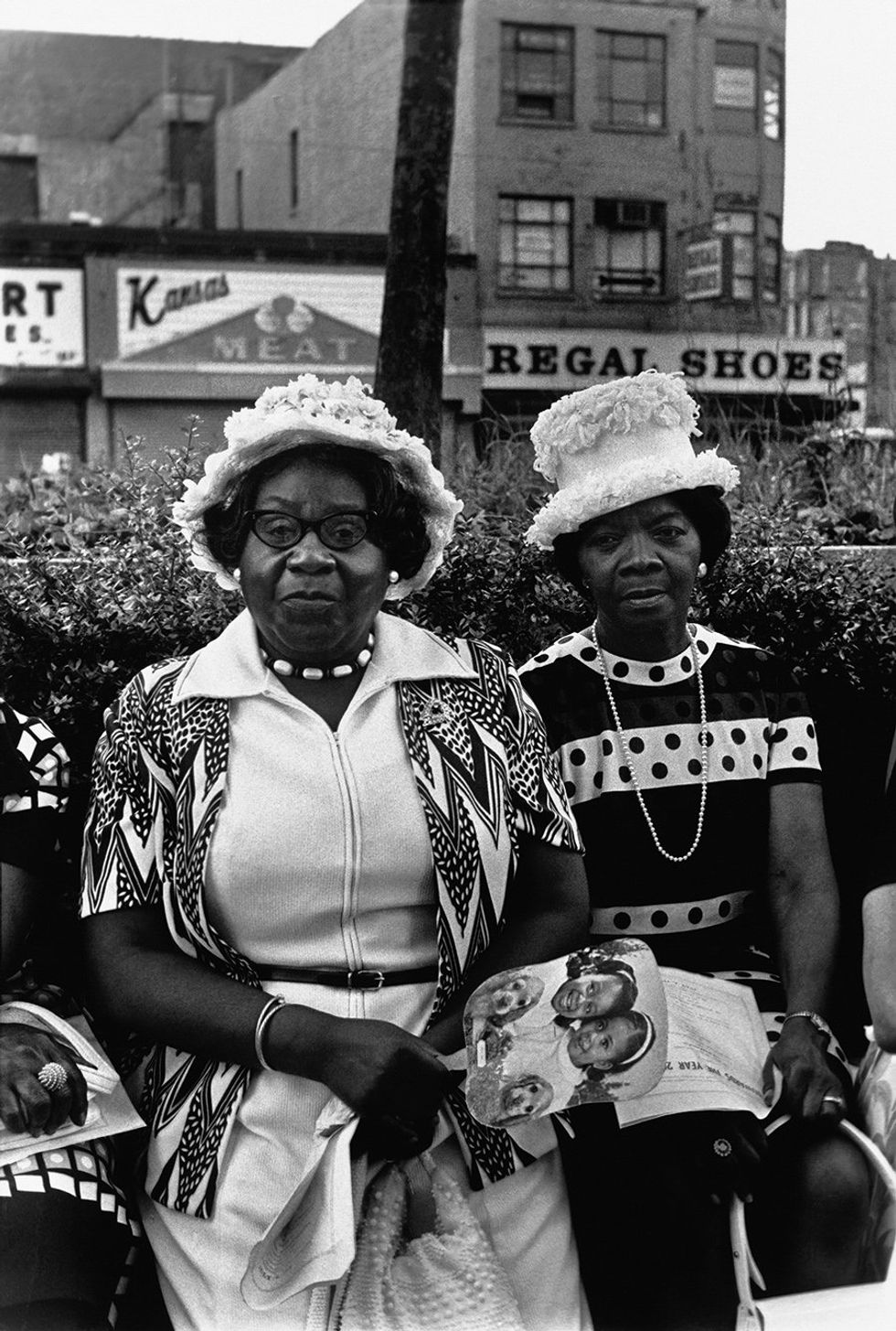 'Amen Corner Sisters (Harlem, New York),' 1977, courtesy Ming Smith Studio
Art + Entertainment