'Provocative' Accordion Music? You Bet Your Button: Apollo Chamber Players Bring the Genre to MATCH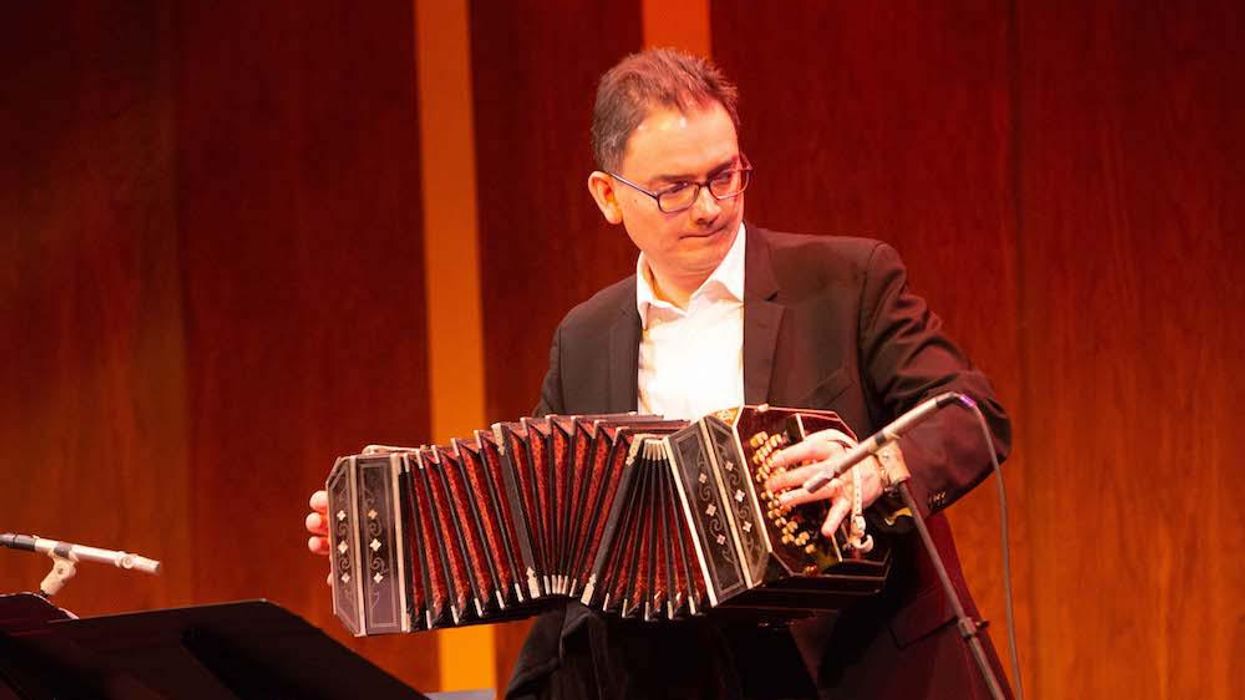 MATTHEW DETRICK, Apollo Chamber Players violinist and artistic director, likes to use the word "ecotone" to describe the "zone" his group inhabits when premiering new music and collaborating with musicians beyond the hermetic world of classical music.
---
"We explore the interesting territory of musical ecotone and bring all of these different cultures, genres and artforms together," explains Detrick. On Saturday, Nov. 20 at MATCH, Apollo continue this mode of exploration with Piazzolla Centennial, a program of newly commissioned pieces by Grammy-winning bandoneonist Hector del Curto and composer Adolphus Hailstork.
Detrick, a graduate of Rice University's Shepherd School of music, founded Apollo in 2008 with colleague Timothy Peters. "We wanted to do something fun to get away from the soullessness of doing orchestra auditions," says Detrick. His wife, violinist Anabel Ramirez, joined Apollo in 2012, along with violist Whitney Bullock. Cellist Matthew Dudzik rounds out the group.
Instead of regurgitating the standard repertoire of Beethoven, Beethoven and more Beethoven, this quartet of intrepid musicians focus on premiering new works and collaborating with artists from outside the world of classical music.
Such musicians include Vân-Ánh Võ, who specializes in playing traditional Vietnamese instruments and performed with Apollo at the Asia Society Texas Center; and electro-acoustic composer Pamela Z, who performs using her voice in combination with a MacBook pro, and appears on Apollo's recent CD, With Malice Toward None. Saturday's concert will be the first time Apollo has played with a bandoneon — or button accordion — player.
The concert's title takes its name from the late Argentinean composer Astor Piazzolla, who is credited with creating nuevo tango, or "New Tango," a provocative and controversial synthesis of jazz, contemporary classical music and traditional tango. (Piazzolla received death threats for playing this forward-thinking style of music.)
For Piazzolla Centennial, Apollo commissioned del Curto to compose a work for string quartet and bandoneon, an instrument perfectly designed for tango's florid, uber-expressive melodies. "He came back with this wonderful piece," says Detrick of the commission. "In addition to being inspired by tango and the music of Buenos Aires, it's reflective of Hector's experience of the passage of time during the pandemic."
Detrick first read about Hailstork in the San Francisco Classical Voice. "He has a wonderful body of work," says Detrick. "But what really caught my attention was he studied with Nadia Boulanger in Paris in 1963." Boulanger also taught Piazzolla, and famously told him to focus on tango instead of the atonal style so many composers of his time were adopting. For his commission, Hailstork chose to quote Deep River, one of his favorite spirituals, and depict the raw emotions of a slave imaging their escape from bondage to freedom. A performance of Piazzolla's fast-slow-fast six-movement Tango Ballet will close the program.
Piazzolla Centennial is the second concert of Apollo's 2021-2022 season, and a welcome example of Houston-based classical musicians utilizing the stage to reflect the range of cultures and ethnicities who have settled here.
"We're so proud to be Houstonians," says Detrick. "I don't think Apollo would be successful or even possible in any other city."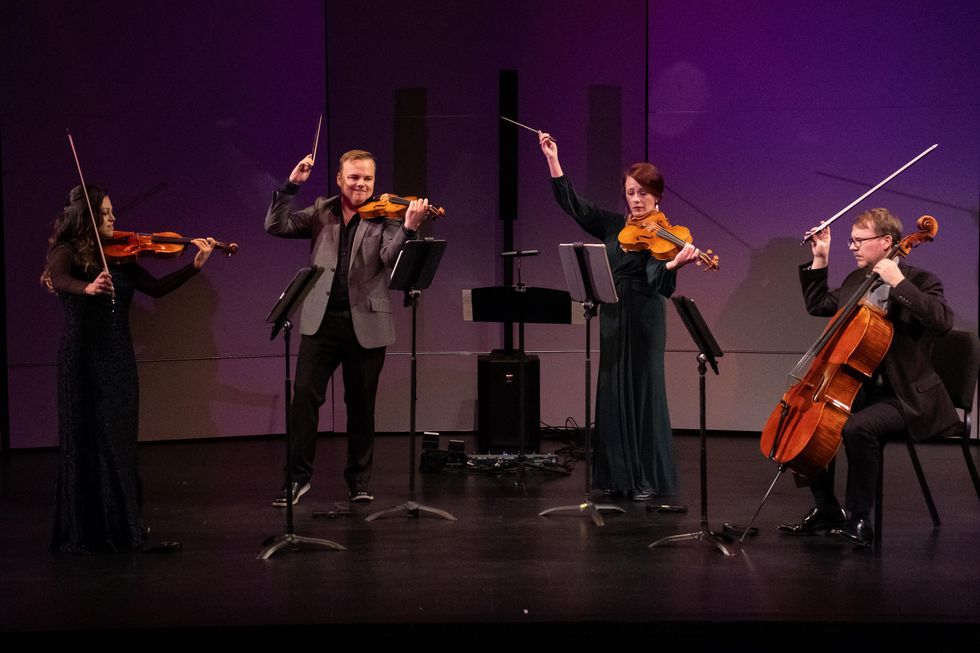 Apollo Chamber Players Anabel Ramirez Detrick, Matthew Detirck, Whitney Bullock and Matthew Dudzik / photo by Lynn Lane
Art + Entertainment