With Violins and 'Virtual Turntables,' a String Quartet's Collab with a DJ Will Make You Rethink Classical Music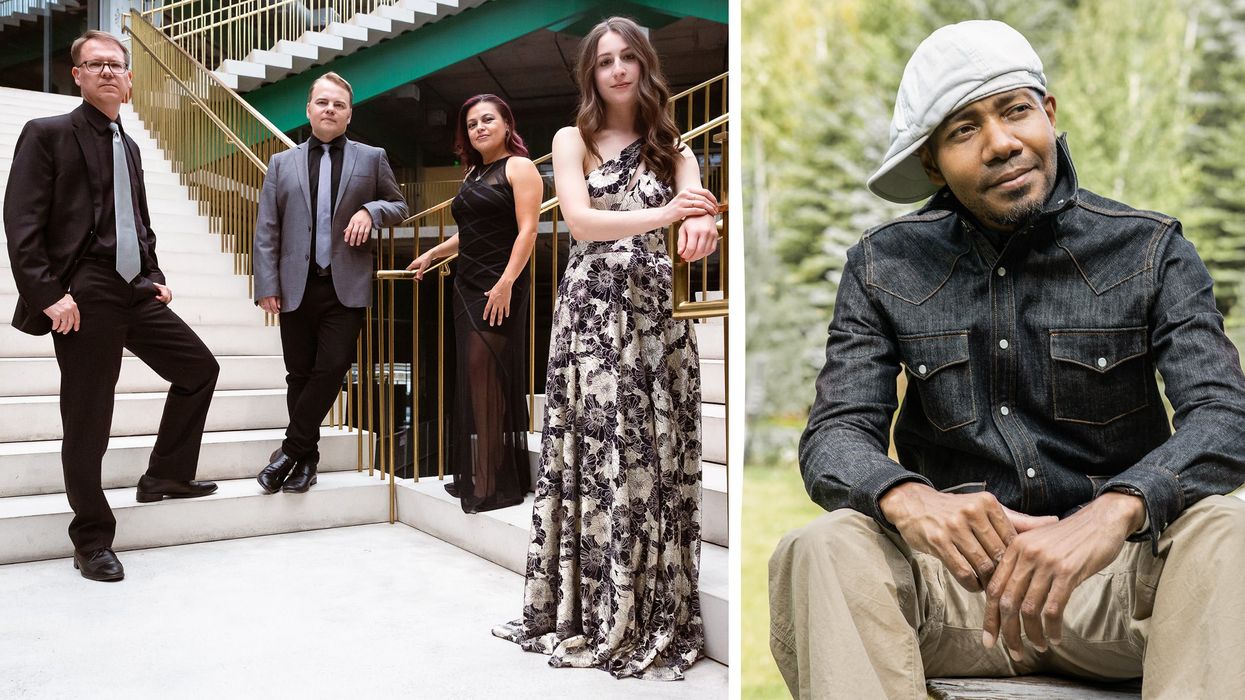 CAN MUSIC EXPRESS the sound of a melting ice cap? It's a question Houston's Apollo Chamber Players and New York-based composer, author, and multi-media artist Paul Miller, a.k.a. DJ Spooky, will explore Nov. 18 at the Burke Baker Planetarium in "Canceled," a concert of works for string quartet, digital electronics, and A.I. generated visuals.
---
A veteran of DJing clubs and abandoned warehouses back when vinyl was your only option, Miller's current rig includes a laptop and two iPad Pros, which he uses as "virtual turntables" to remix sampled sounds and ever-morphing images in a sort of dance and dialogue with Apollo's formidable musicianship. Listeners may be surprised to discover there is indeed the common ground between music of the European classical music canon and hip-hop.
Now in its 16th season, Apollo has distinguished itself as one of the city's premier string quartets, commissioning and programming new works by and closely collaborating with unrepresented composers from around the world. Founded in 2008 by violinist Matthew Detrick, the quartet includes Detrick's wife and fellow violinist Anabel Ramirez, violist Aria Cheregosha, and cellist Matthew Dudzik. The provocative and politically aware approach to programming continues to be a hit with Houston audiences.
Apollo first met Miller a year ago at a performance of his at Texas A&M. "All of us were very intrigued with what Paul is doing in his space connecting classical with hip-hop," says Detrick. "His ideas of how to create cultural harmony really jibe with Apollo's." Like Detrick and the other members of Apollo, Miller is "agnostic" when it comes to style, and believes collaboration across genres and disciplines is key to pushing back against the forces of censorship and bringing attention to climate change and other environmental concerns.
"It's all hands on deck at the moment," says Miller, who speaks highly of Apollo ("They're amazing!") and is currently Artist in Residence at Yale University Center for Collaborative Arts and Media. "We really need to rethink the role of moving between worlds, styles and scenes. That's one of the healthiest and most robust things we can do these days."
Global warming and climate change are the inspiration for Miller's Arctic Rhythms, one of the pieces on Saturday's program. To create the work, Miller took his studio to the ice fields of Antarctica to record climate data, including temperature differentials, water levels, and humidity indexes and then translate that data into music. The resulting "acoustic portraits" of the slowly melting ice sound a lot like the patterns one hears in four-on-the-floor techno and hip-hop, and Miller's straightforward string writing is crafted to emphasize the grooves. Also on the program is a new work by Miller based on George Orwell's prescient novel 1984, featuring an A.I. replication of the voice of legendary science fiction writer Samuel R. Delany reading the book, which in turn triggers images based on different scenarios described in Orwell's nightmarish vision for the future. (On a lighter note, Miller is currently working on an A.I.-generated cookbook of recipes based on sustainability.)
In conversation via Zoom, Detrick and Miller's appreciation for music's historic connection to storytelling, philosophy and science is apparent. (Detrick's office includes a framed image of a scowling Beethoven, who infused his music with the ideals of the Enlightenment; meanwhile, a large photograph of Albert Einstein looms behind Miller.) And while both readily acknowledge the perilous nature of our times — Miller jokes at one point there should be a t-shirt that just reads, "It's bad!" — each seems blessed with the tragic optimism psychologist and Holocaust survivor Victor Frankl describes in his book, Man's Search for Meaning.
"Music helps us reimagine what is possible," says Miller. "I'm happy to be alive in such a strange and surreal time."