Its Beaches Are Divine — And So Are Aruba's Food and Public-Art Scenes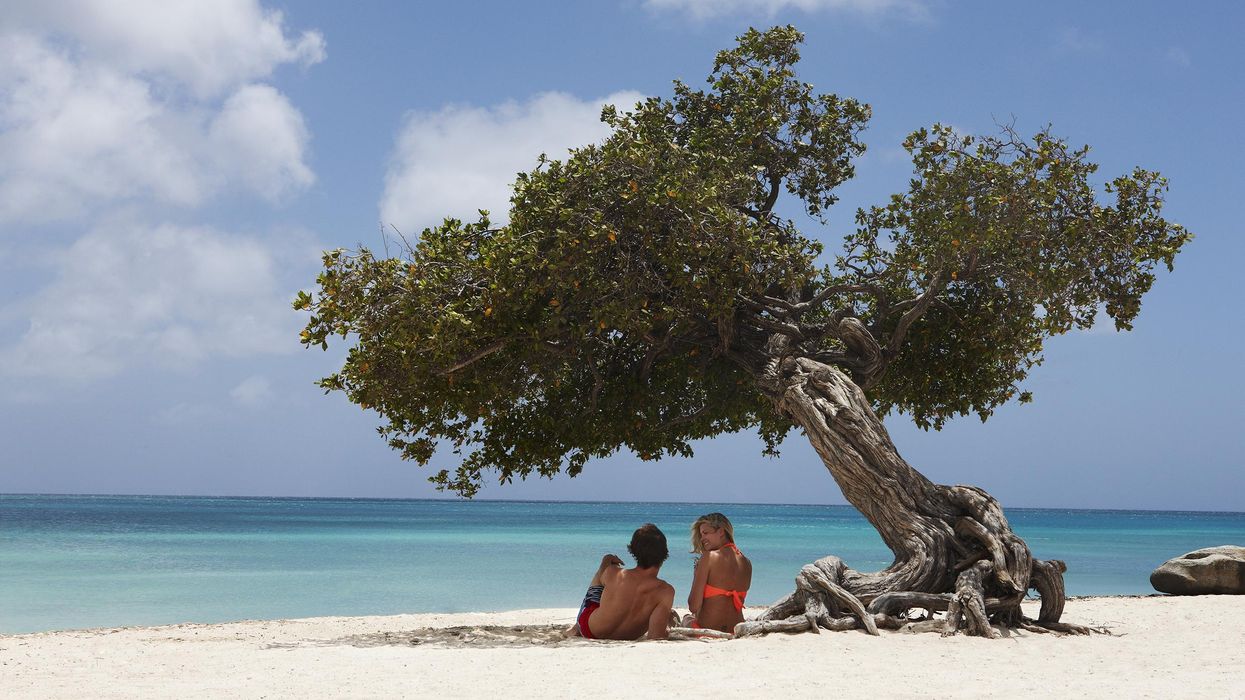 GLEAMING WHITE BEACHES and clear, turquoise waters in the shadows of towering cliffs dotted with centuries-old forts may come to mind when you think of the diver's paradise of Aruba. An historic, Dutch-style downtown with tall skinny candy-colored buildings, too. All that is, of course, a major draw.
---
Increasingly, so is public art — and great dining.
In fact, art-loving foodie visitors may stay at the newly renovated Aruba Marriott Resort & Stellaris Casino, where the food is top-notch, and the local art scene is celebrated. Despite its location on the on the Island's glitzy and clubby Palm Beach, Aruba Marriott Resort has a warm, friendly beach-chic vibe.
Guests can sip on specialty cocktails in private cabanas at H2Oasis adults-only pool or relax under their own oceanfront Palapa, which have service buttons to press anytime they need a refreshment refill. There's also a first-rate spa and, for those wanting to try their luck, Stellaris Casino is the largest in Aruba and one of the few open 24 hours.
With 10 eateries onsite, dining options here are vast, from the fabulous little gelato place that greets you immediately upon entering the lobby to the upscale dinner spot, Atardi, which means "late afternoon" in the native Papiamento. The latter, a pop-up restaurant set up nightly, has candlelit tables trailing down the beach almost to water's edge.
Delicacies at Atardi — where Senior Sous Chef Charles Wagner, a 26-year resort veteran, is in command — include Chilean sea bass, which comes with a creamy, nutty-sweet parsnip purée with a hint of cardamom, and a light white wine sauce. The shrimp starter is flavored with ginger, lime and tropical fruit, while the grouper entrée comes crusted in rich macadamia nuts. Very slow-cooked short ribs get a clever side of roasted pumpkin mash.
The coconut cake for dessert is famous — or should be! Think layered vanilla cake, rich coconut-white chocolate mousse filling, toasted shredded coconut and a topping with a pineapple sauce! But the best treat might be the breathtaking sunset.
There's also a Ruth's Chris Steakhouse on the grounds, and a poolside café or two, but one of the most talked-about eateries may be Gelato & Co. Known to draw customers from the Ritz Carton next door, Gelato & Co. makes its wide assortment of gelato, sorbet and ice cream daily using fresh ingredients, and hotel guests are quick to share their favorite flavors and combinations. A waffle cone stuffed with a combo of pistachio, peanut butter and Nutella is the talk of the resort!
Just a few minutes ride from the resort is the must-go breakfast spot, Linda's Dutch Pancakes, where thin oversized pancakes are topped with amazing combinations of sweet or savory ingredients. One number with walnuts cooked inside comes topped with brie and honey, and Linda's Coffee has Bailey's, Kahlua and Amaretto added. Two words: highly recommend!
Feeling adventurous and eager to see some of the island's hidden and most spectacular sights? You'll need to take a ride in an ATV along the outback. De Palm Tours offers guided UTV tours to hidden beaches, natural rock formations, and other attractions off the beaten path.
Increasingly, visitors are opting to add public art tours to their Aruba itineraries, venturing a few miles away to the village of San Nicolas, formerly a red-light district and the hub for Exxon's refinery, shuttered in 1985. Now it's the Street Art Capital of the Caribbean, says Forbes.
The animated Tito Bolivar leads groups for Aruba Mural Tours and can explain the history and symbolism of the dozens of murals that seem to cover every building these days — like the one by famous Dutch artist Dopie, whose huge, vibrant lionfish is rather menacing-looking, almost jumping off a wall near the town center.
More than 40 murals are painted on buildings in San Nicolas, each telling a unique story about the island and its people. There's a beautiful woman whose skirt becomes a butterfly, sea turtles swimming by, a larger-than-life deck of cards and so much more. It's an eye-popping display, and a wonderful way to see deeper into the soul of an extraordinary island.
Of course, if you just want to sit by a pool near a glimmering sea, that's allowed!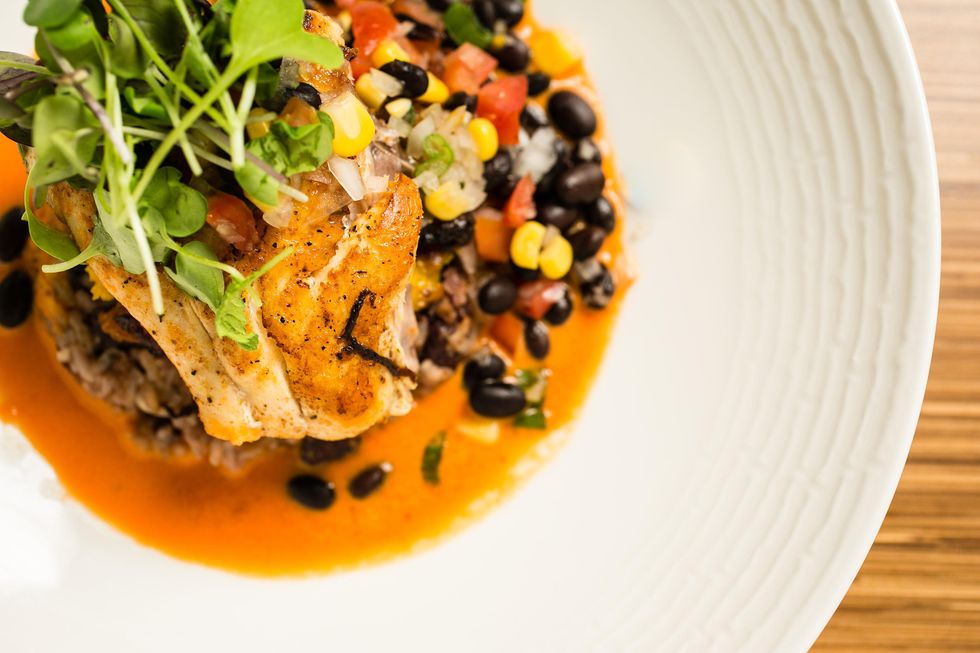 Red Snapper at Aruba Marriott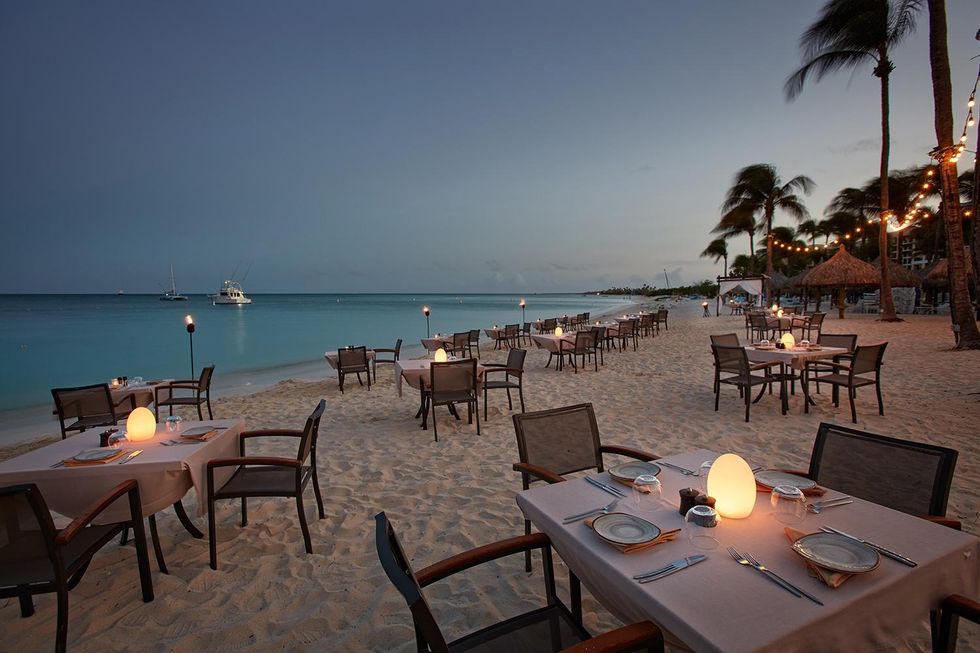 Outdoor dining at Aruba Marriott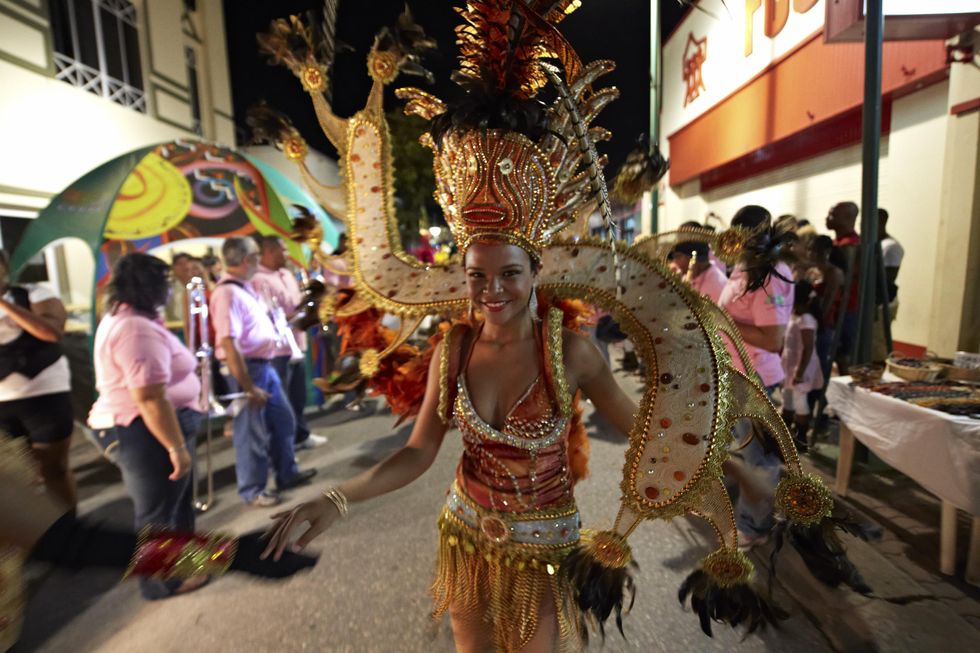 Woman at carnival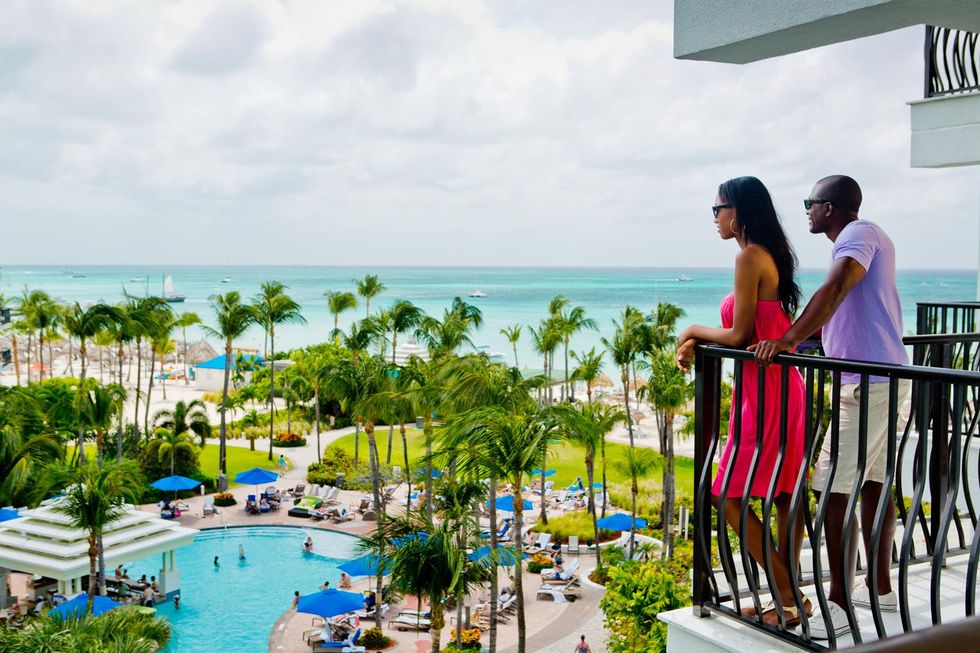 A balcony at Aruba Marriott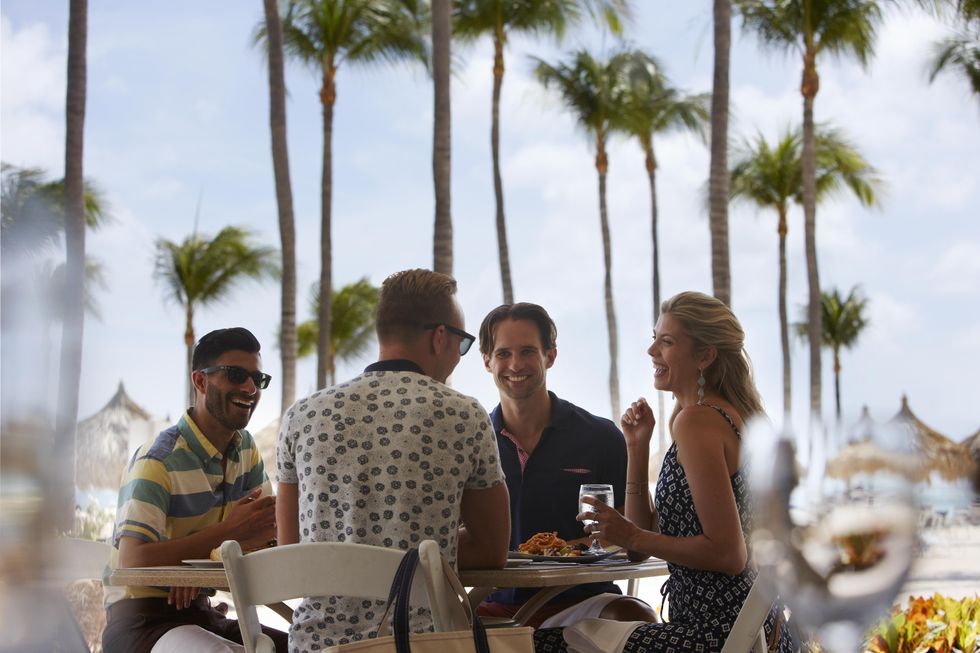 Outdoor dining at Aruba Marriott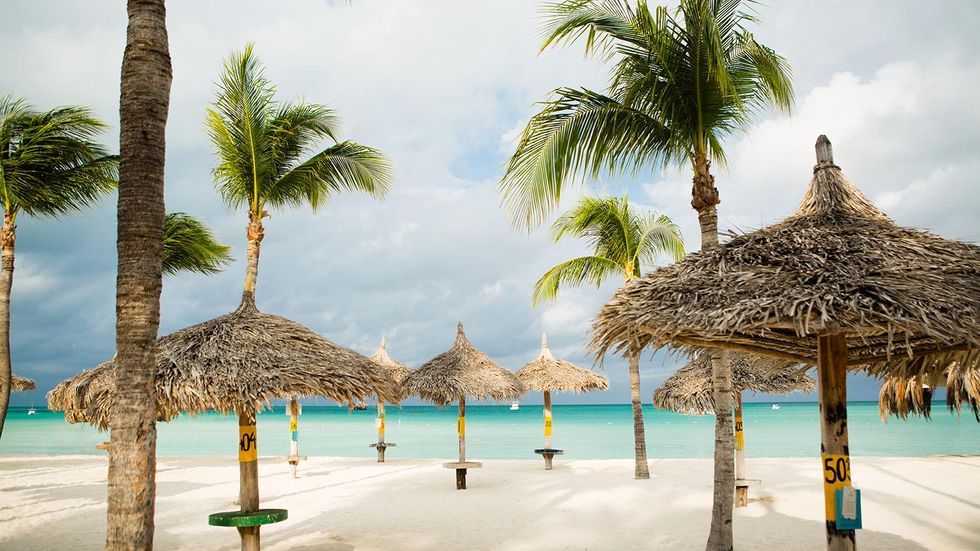 Palapas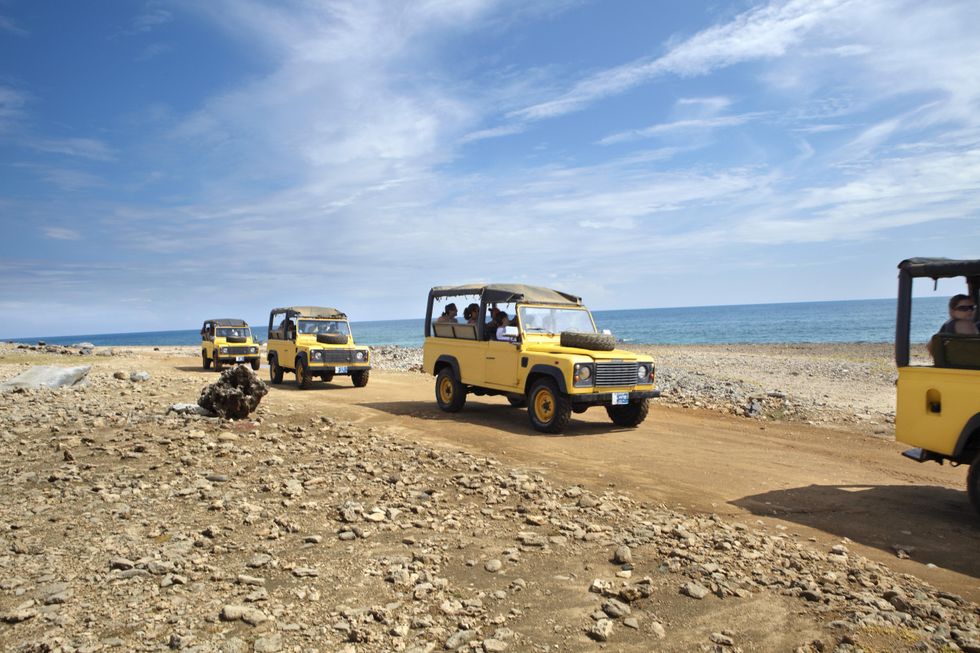 Jeeps on the beach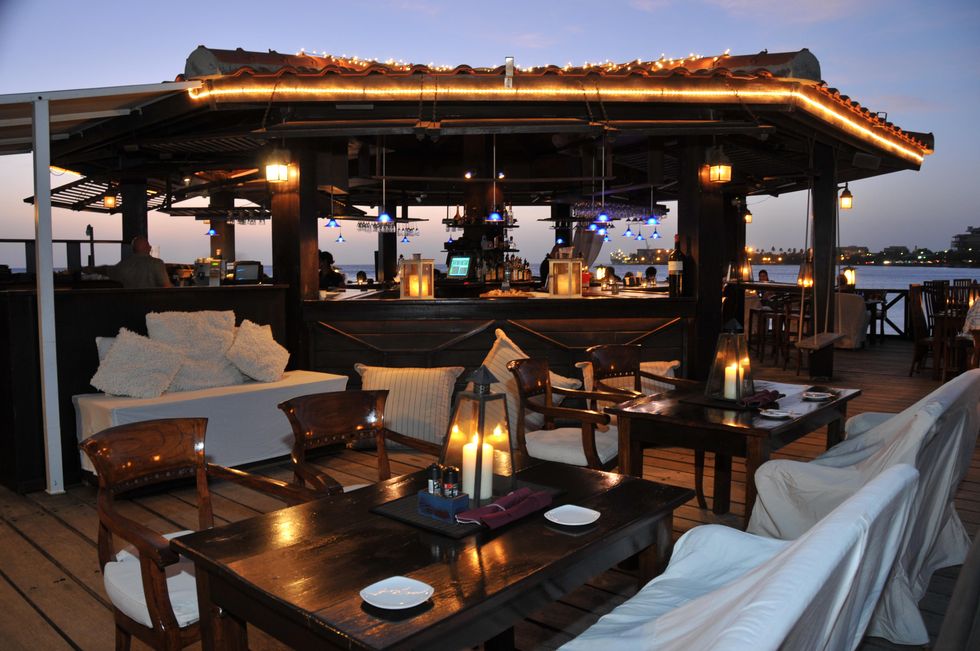 Pinchos at Aruba Marriott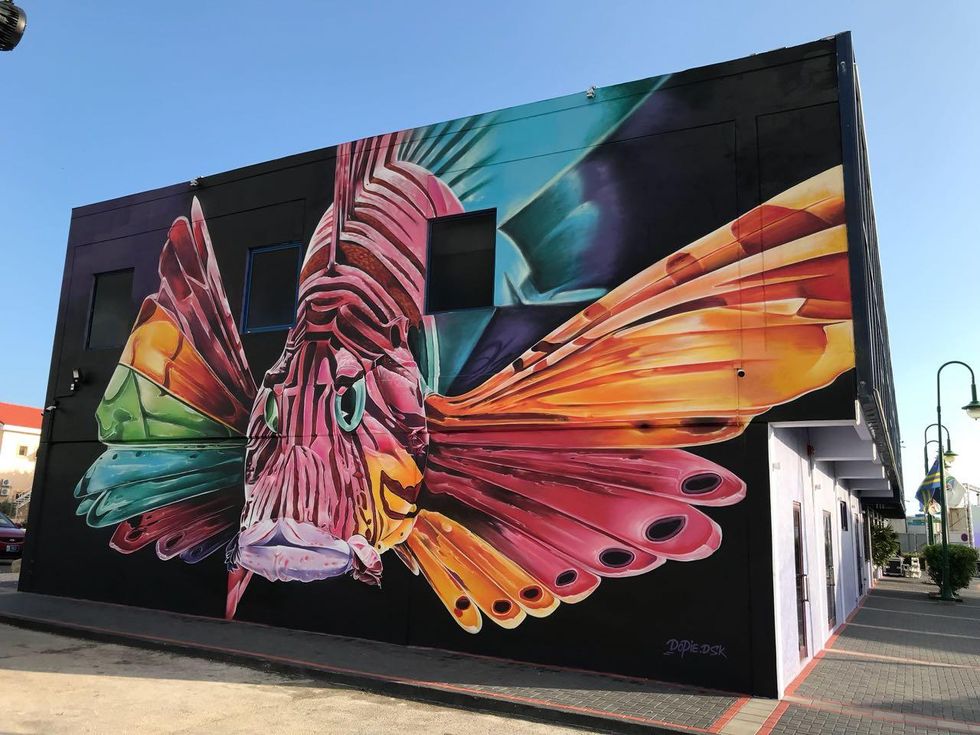 Aruba mural tour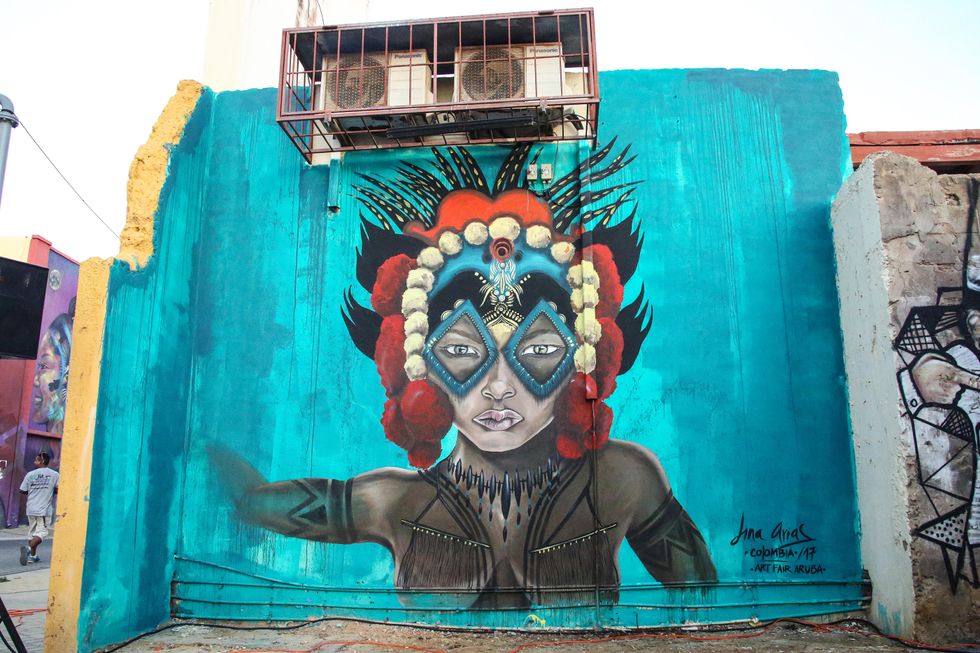 Aruba mural tour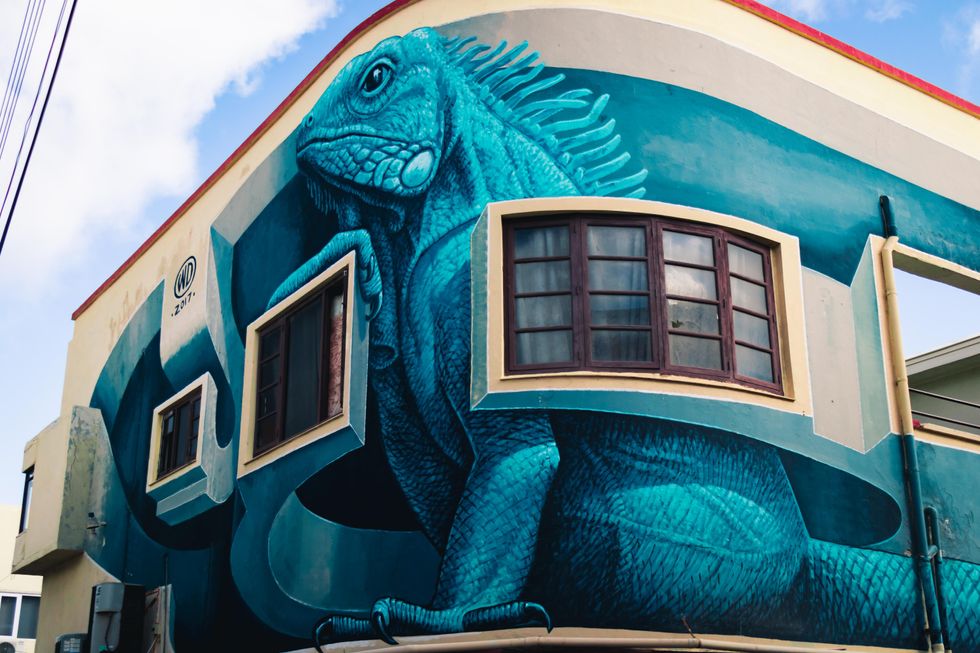 Aruba mural tour
People + Places