Combining Hymns and Inspiration 'from Above,' Axiom Offers Moving Finale of Concert Season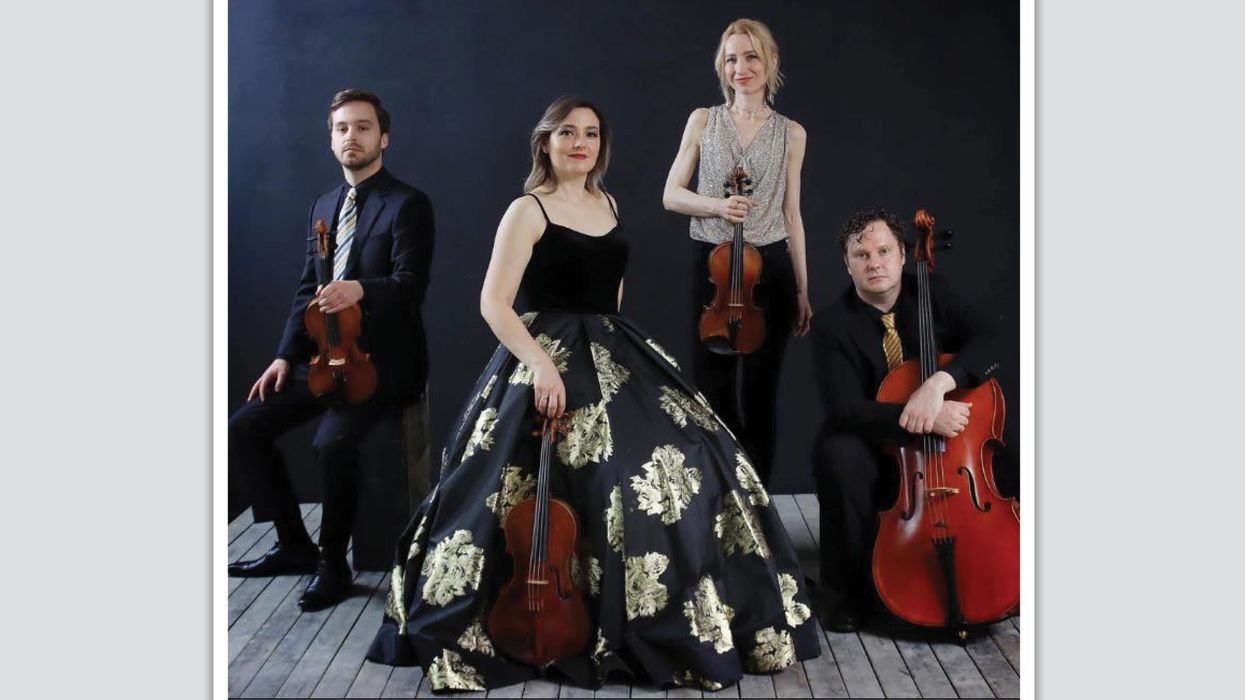 THE NOT-SO-simple question "If someone knocks on your spiritual door, will you let them in?" is the inspiration for Open Source, a dramatic new song cycle for string quartet and voice by Houston composer Karl Blench and librettist Jacqui Sutton.
---
Commissioned by First Congregational Church of Houston and its former minister of music, Maggie Tucker, Open Source pulls from FCC's history as place of worship welcome to everyone regardless of skin color, ethnic background, creed or gender identity. Houston's Axiom Quartet and bass-baritone Timothy Jones will premiere the work on Saturday, June 10, at FCC as a finale to the quartet's 10th anniversary concert season.
FCC is a strong supporter of Houston's music community; their hymnal, Hymns of Truth and Light, compiled by its members in 1993, is used by more than 100 other congregations.
Early in the compositional process, Blench decided to use one of those hymns in Open Source, and quickly settled on "Wherever I May Wander," a children's hymn he discovered immediately after the Uvalde school shooting. "It seemed like the universe was sending me a signal to use this hymn," says Blench. He sent an arrangement of the melody with his own chords to Sutton and told her he would like the piece to conclude with this hymn. Sutton's lyrics for that final movement includes the words:
What we've made is
An incubator of love
Inspired from above.
Of love.
From above.
Houstonians will remember Sutton as the lead singer of the Frontier Jazz Orchestra, a hybrid jazz, bluegrass and chamber music ensemble she created to perform her original songs and arrangements. "Jacqui was awesome to work with," says Blench. "None of this would be possible without her. The words mean so much."
Throughout the 30-minute work, Jones sings, speaks and sometimes shouts Sutton's words. (Blench humorously but accurately describes Open Source as "a song cycle that wants to be an opera.")
The music is challenging; there are sections where tempos speed up, slow down, and then speed up again, like water rushing over rocks in a shallow creek. Elsewhere, musical actions are superimposed on top of each other, evoking the aleatoric sounds in nature, while Jones uses the full range of his voice to sing Blench's deceptively simple melodies over rich, unexpected harmonies. "There's something about the overall harmonies in Open Source that seem very 'New England' to me," says Blench, who grew up in a small town in western Massachusetts and as a teenager, was inspired by musical experiments of fellow New Englander and maverick composer, Charles Ives.
With the premiere of Open Source just days away, Blench is justifiably excited for audiences to finally hear Axiom and Jones perform the piece. He's also pleased and maybe a bit surprised to be so moved by how he has set Sutton's words to his music. "There's a moment at the very end where Jones sings the words 'pure love,'" says Blench, recalling an early rehearsal of Open Source. "When I heard that, I almost started crying. When the music comes across that well, it makes the journey worth it."
Art + Entertainment