Celebrating 10 Years, Axiom Quartet Navigates the 'Complexity of Simplicity'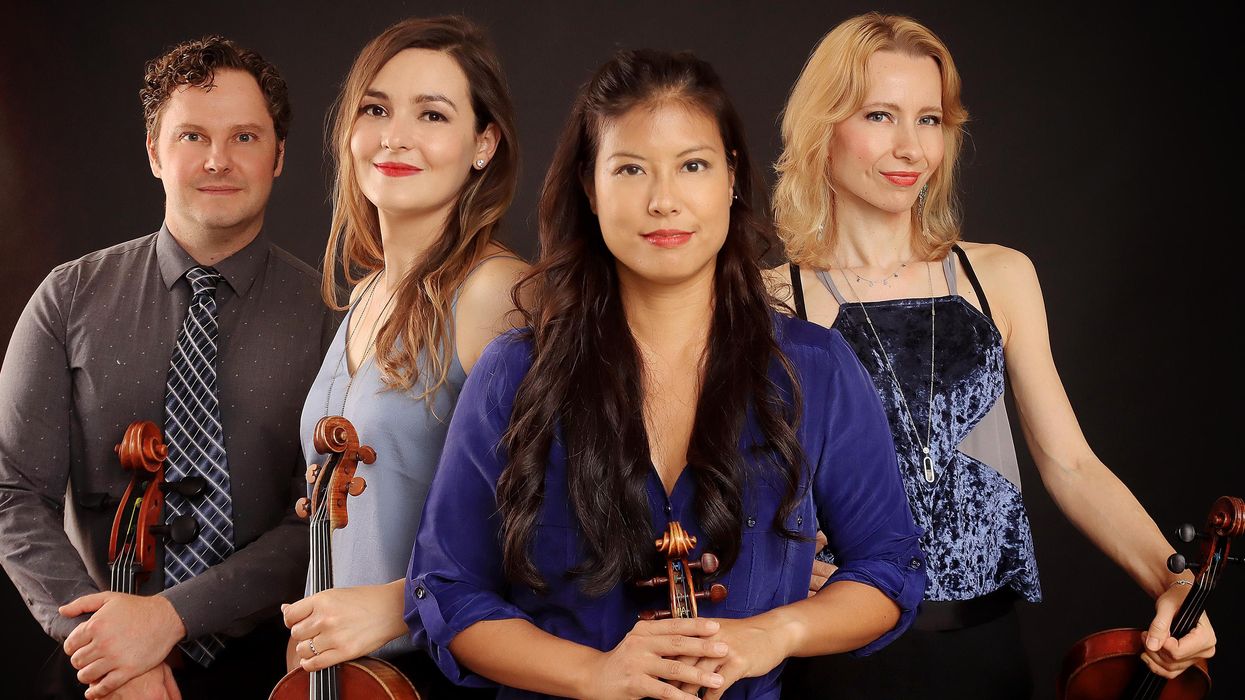 ON SUNDAY AT at the Holocaust Museum Houston, Axiom Quartet presents "The Complexity of Simplicity." The program consists of emotional, virtuosic string quartets by Polish-born, late 19th/early 20th century composers Mieczysław Weinberg and Karol Szymanowski and living composer Mark Nowakowski.
---
Sponsored by the Consulate General of Poland, the carefully curated concert celebrates the country's folk traditions, as well as the music of the late romantics, Shostakovich (who was a friend of Weinberg), and the French impressionists. "It's outstanding music," says Axiom Quartet cellist Patrick Moore of the program. "It should be as well-known as Beethoven. People just need to hear it, so they can get to know it."
Now in its 10th season, the Axiom Quartet consists of founding members Moore and violinist Dominika Dancewicz with new members Maxine Kuo and Katie Carrington on violin and viola respectively. They're a good-looking, gregarious bunch, and carry themselves with about a little pretention as is possible for four highly trained classical musicians who easily navigate traditional string quartet repertoire (Ravel, Beethoven), the outer limits of the avant-garde, and, on their popular "Jukebox Concert Series" at The Gypsy Poet, the music of such non-classical artists as David Bowie, Toto and Metallica.
The title of this Sunday's program refers to the surprising depth and complexity that can arise out of humble materials. Before tackling Szymanowski's "String Quartet No. 2," one of his most avant-garde compositions, Dancewicz, who is originally from Poland, showed the rest of the group YouTube recordings of the original folk songs that inspired Szymanowski. While the original source material may be "simple," (Moore prefers to describe the tunes as "efficient,"), it's deceptively simple, and yields a dizzying range of sonic possibilities and multiple layers of emotional content. The final movement of Weinberg's "String Quartet No. 5," a serenade filled with mood swings, evokes the popular dance music of his time, while Nowakowski's "String Quartet No. 1 (Songs of Forgiveness)," includes echoes of Polish lamentations.
"We strive to make sure voices are heard," says Moore when asked about Axiom's dedication to programming contemporary and relatively little-known music, and how often the music of Mozart and Beethoven is programmed on string quartet concerts. "The music of Szymanowski and Weinberg are equally excellent. I feel like that as a society, we would lose a lot if we don't hear those particular compositional styles."
Art + Entertainment