Houston Composer Orchestrates Musical Suite for Dan Brown's New Kids Book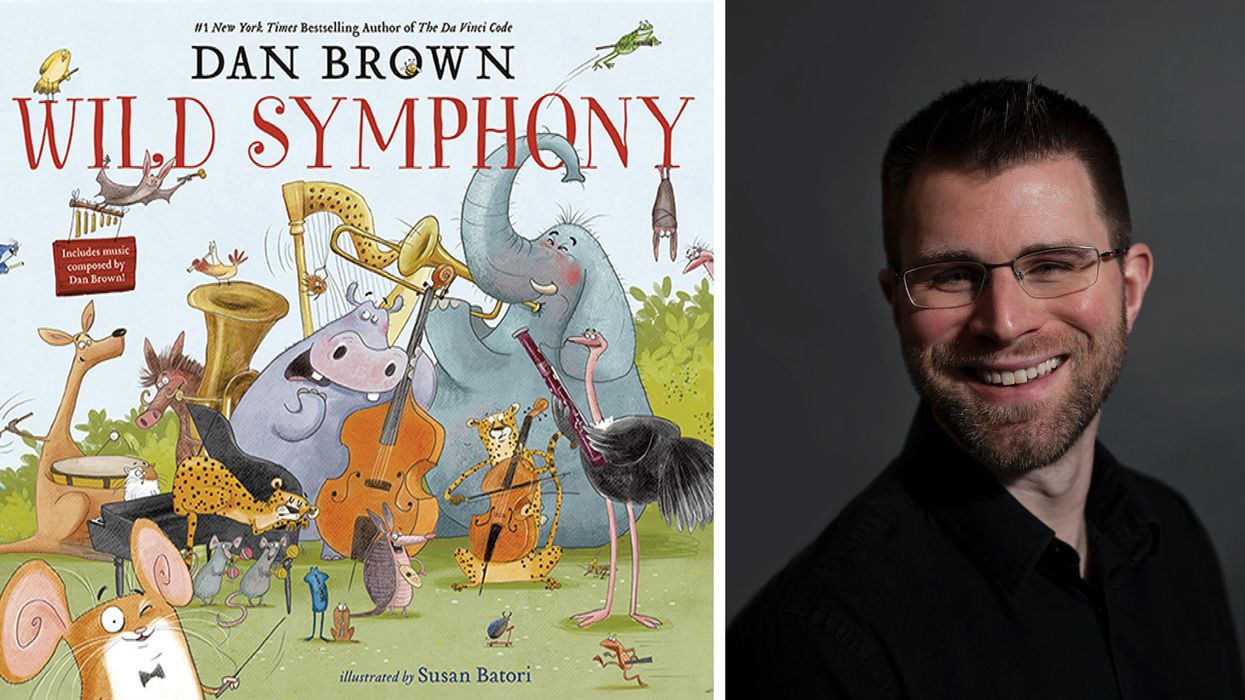 WHAT DOES AN armadillo even sound like?
It's a question Houston-based composer Karl Blench had to answer while orchestrating best-selling author Dan Brown's musical suite Wild Symphony, a collection of short pieces composed by Brown to accompany his first-ever book for children. On Saturday, Jan. 23, the Houston Symphony will livestream the North American premiere of Brown's Wild Symphony, with Robert Franz doing double-duty conducting and reading passages from Brown's book. And yes, we're talking about that Dan Brown, author of everyone-but-the-Pope's favorite airplane read, The Da Vinci Code, and six other cryptological thrillers for grown-ups.
---
In Wild Symphony, a cross-continental collection of animals — including elephants, kangaroos and the aforementioned armadillos — come together under the baton of Maestro Mouse to frolic in their respective habitats and impart some life lessons to young readers. A free app allows listeners to hover a smartphone over the pages and hear Brown's music: a fully realized orchestral suite brought to life thanks to Blench's ear for instrumental colors and textures.
"The way this project was described to me was sort of an updated version of Peter and the Wolf or Carnival of Animals," explains Blench, naming two beloved pieces of classical repertoire in which animals and their respective personalities are represented by a single or combination of orchestral instruments. In Wild Symphony, tubas are on hand for happy hippos, timpani for bouncing kangaroos, and plenty of pitched percussion for a swarm of busy beetles. To create this animal-inspired symphony, Blench first had to transcribe several compositions played on synthesizer by Brown, who happens to be a talented pianist. "I got the melodies and harmonies down, and then just stepped away and thought," says Blench. "In my mind, I just let the colors work until they came together."
As each section took shape, Blench shared his orchestral versions of the music with Brown, who only occasionally voiced concerns if he felt the music might be too dissonant or complex for young listeners. Blench found the relative restrictions of collaboration helpful. "When you have just enough feedback that is simple and to the point, it makes things so much easier," says Blench. The resulting score was recorded in Croatia by the Zagreb Festival Orchestra with Miran Vaupotić conducting.
The broad melodies and bouncy rhythms heard throughout Wild Symphony may surprise those familiar with the stately, elegiac atmospheres of Blench's chamber music. But there's definitely a lighter side to Blench, as in his blood pumping arrangements of rock and pop songs for Houston's critically acclaimed Axiom Quartet, who perform the music of Metallica and Brahms with equal aplomb. Blench met Axiom Quartet cellist Patrick Moore at Rice University in 2005, and they married in 2016, just before that year's contentious presidential election. In October, in the midst of the worldwide pandemic, they were able to travel together to Croatia for the concert premier of Wild Symphony, with stuffed animals occupying the seats between audience members to ensure social distancing.
So, with two musicians in one house (in addition to composing, Blench also plays trombone) do things get a little noisy? "Thankfully, we have two stories and a long hallway," laughs Blench. "So, if there's an issue, we can be separated without causing an international incident."
Tickets are now available for Wild Symphony via the Symphony's website.
Art + Entertainment