How Quirky Two Star Symphony Makes their Magic (Hint: It All Starts with Ice Cream)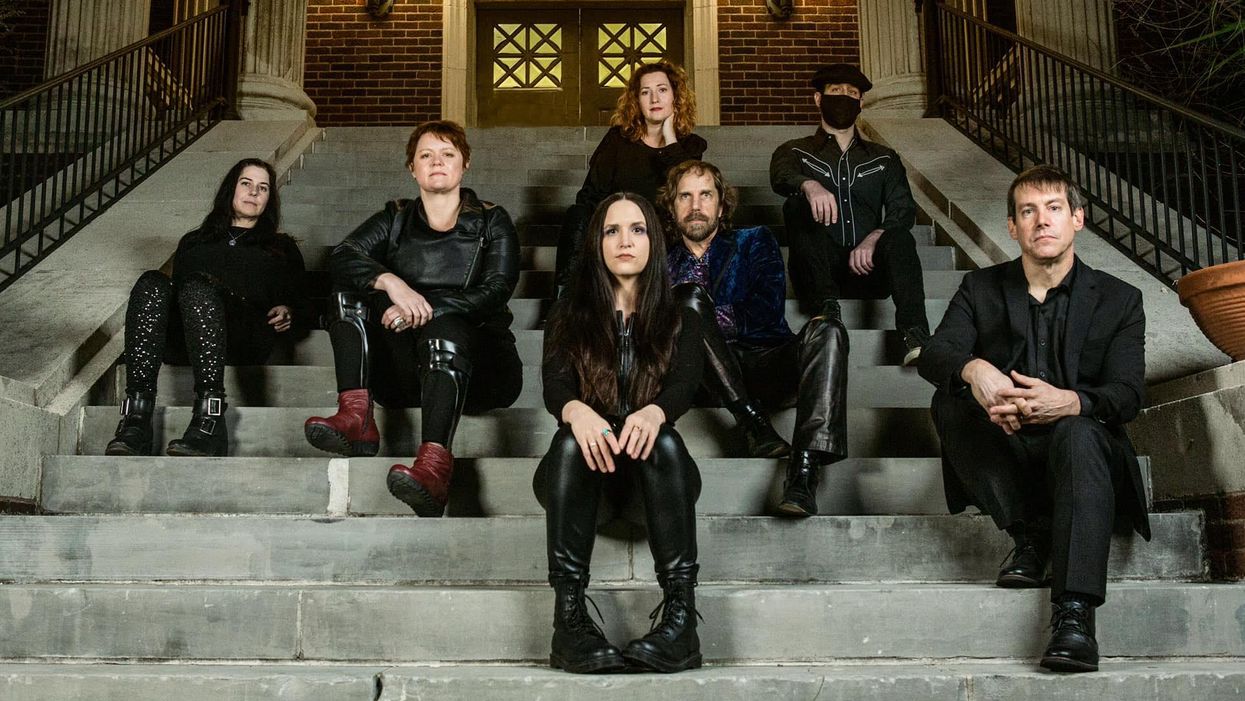 THE QUESTION THAT Houston ensemble Two Star Symphony hears the most from fans of their punk-classical, soundtrack-ready music is, "Who writes it?" Beginning tomorrow, curious listeners can experience the group's compositional process in real time. Inside a Montrose Collective gallery space, they'll develop a music video in collaboration with scenic designer and puppeteer Afsaneh Aayani.
---
The writing sessions are part of Two Star Symphony's CAMHLAB residency, the Contemporary Arts Museum Houston's residency program, which was launched in 2020 to address the loss of rehearsal spaces and performance venues due to the Covid-19 pandemic.

"It's a very open and trusting group of people that just want to have a good time and create music together," says violinist and founding member Debra Brown of her co-conspirators, who include Chris Bakos (upright bass), John Duboise (clarinet, piano), founding member Margaret Lejeune (cello), Cathy Power (accordion, flute, percussion), Kirk Suddreath (drums) and Brigette Yawn (viola). The whole gang will be present for a total of 14 writing sessions, currently scheduled through March 27, and at least two public performances. Covid-19 safety protocols will be in place, so be ready to rock your coolest face mask.
After over a decade and a half of music-making with Two Star Symphony, Brown is amazed, and genuinely appreciative of the opportunities that have come her way — especially given her humble musical beginnings. She first picked up the violin in junior high, but it didn't last long; it came back into her life at age 23 via a gift from her hairdresser.
She connected with Lejune, and the pair was initially inspired to write songs together by the promise of free ice cream at an open mic, but upon meeting violinist Jerry Ochoa and violist Jo Bird, the four bonded as a quartet, and things got a little more serious.
"Within the first year of us being together, we were in New York performing with the American Ballet Theater," says Brown. "We just kept getting opportunities to create new work. We had no idea what we were doing. We were young, and would show up for no money at all, so that also helped. Because we were just willing to play!"
Most recently, Two Star performed onstage at Jones Hall with the indie electronic-folk duo Say Girl Say as part of the SPA's Houston Artist Commissioning Project. Looking ahead, the group is scheduled to perform in the underground caverns of Buffalo Bayou Park Cistern, an opportunity that has been on their "bucket list" since the cistern opened to the public.
In the meantime, with the CAMHLAB residency ready to roll, Brown, Lejeune and company remain steadfast in their commitment to Two Star Symphony — a project that began with the promise of ice cream.
"It's definitely a labor of love," says Brown. "But I've met so many humans because of this project, and I've traveled to places I never would have gone."
Art + Entertainment