Breezy Galleria Glam
Heralding a wave of long-anticipated new restos in the city's retail capital, Fig & Olive channels the effortless chic of the Mediterranean.
Shannon O'Hara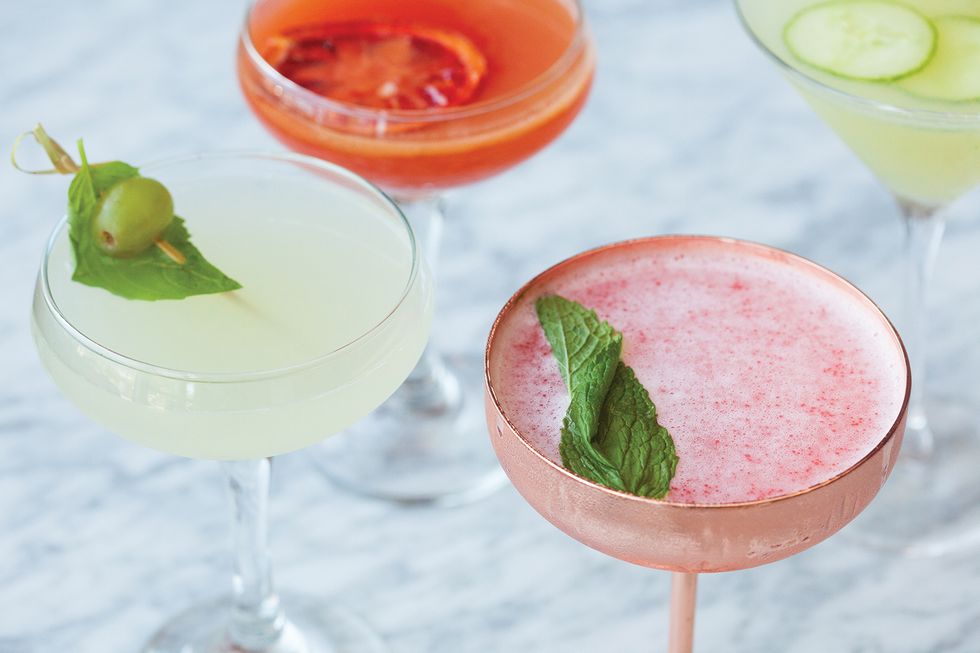 Even after several courses of flavorful Mediterranean dishes at the Galleria's posh new Fig & Olive restaurant, it's hard to deem oneself "stuffed." And that's kinda the point.
---
The restaurant, overseen in Houston by Thomas Laczynski and nationally by corporate Exec Chef Timothy Hughes, utilizes olive oil in various forms — instead of heavier ingredients like cream and butter — in its unique recipes. The result is impossibly light food, from the beginning of the meal to the delicious end.
The overall impression of Fig & Olive, which opened its flagship 12 years ago in New York and now has nine locations from coast to coast, is one of chic, effortless style — which is fitting, as the restaurant sits at the base of the iconic curved Philip Johnson-designed building formerly home to Saks Fifth Avenue. Famously hip Japanese spot Nobu also just bowed, and opulent Dubai-based Musaafer, and Blanco Tacos + Tequila open this summer as well, creating a new destination-dining atmosphere for the mall.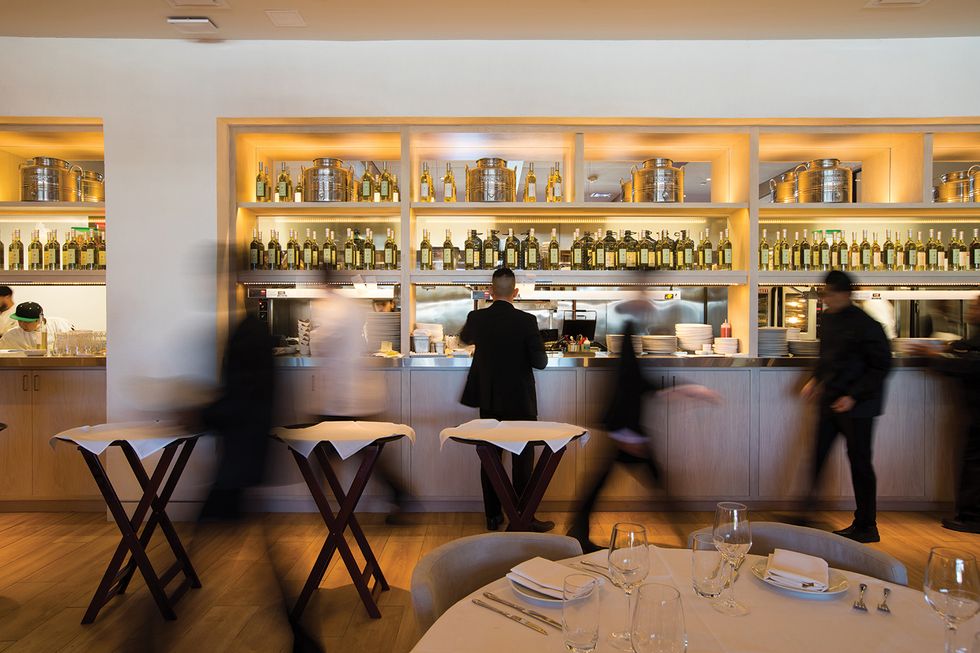 Bottles and vessels of olive oil line shelves at Fig & Olive
Unsurprisingly, in tune with its sceney international vibe, a French DJ named Julian, who lives in L.A., occupies the post of Fig & Olive's in-house music curator. Lunchtime means light and jazzy; happy hour brings a soulful vibe; and the dinner crowd enjoys a more EDM-tinged playlist — but nothing too … Vegas. This is still Houston, after all.
Upon entering, one first encounters a loungey area, at the center of which is a U-shaped bar. The back of the banquette here is topped with beds of fresh rosemary, cleverly dividing the bar area from the dining room. Rich tones of camel and rust swath benches and chairs, a palette brightened by gray marble-topped tables. To one's left, a two-foot-high cutout spans the length of the back wall, giving a peek into the kitchen. And to one's right, a wall of windows lines the front of the building, offering a view of the surprisingly charming patio that juts into a parking lot. On shelves throughout, hundreds of glass bottles, all filled with olive oil, catch the light and create a stained-glass effect.
The menu is appropriately expansive, in that there is not an overwhelming number of dishes listed — but there are plenty of customizable options available. After all, says chef Hughes, "the Kim Kardashians of the world are always changing their diets," and Fig & Olive can cater to them all. The restaurant's signature app is a rotating selection of crostinis, two-bite-sized slices of housemade rosemary-focaccia bread topped with things like jamón ibérico and smoked tomato concasse, or citrusy beef tenderloin. Need a gluten-free option? Swap the bread for polenta — the crispiness is divine — or even zucchini. (Those attempting to wait out Galleria rush-hour traffic should bide their time at Fig & Olive's Crostini & Martini happy hour on Wednesdays.)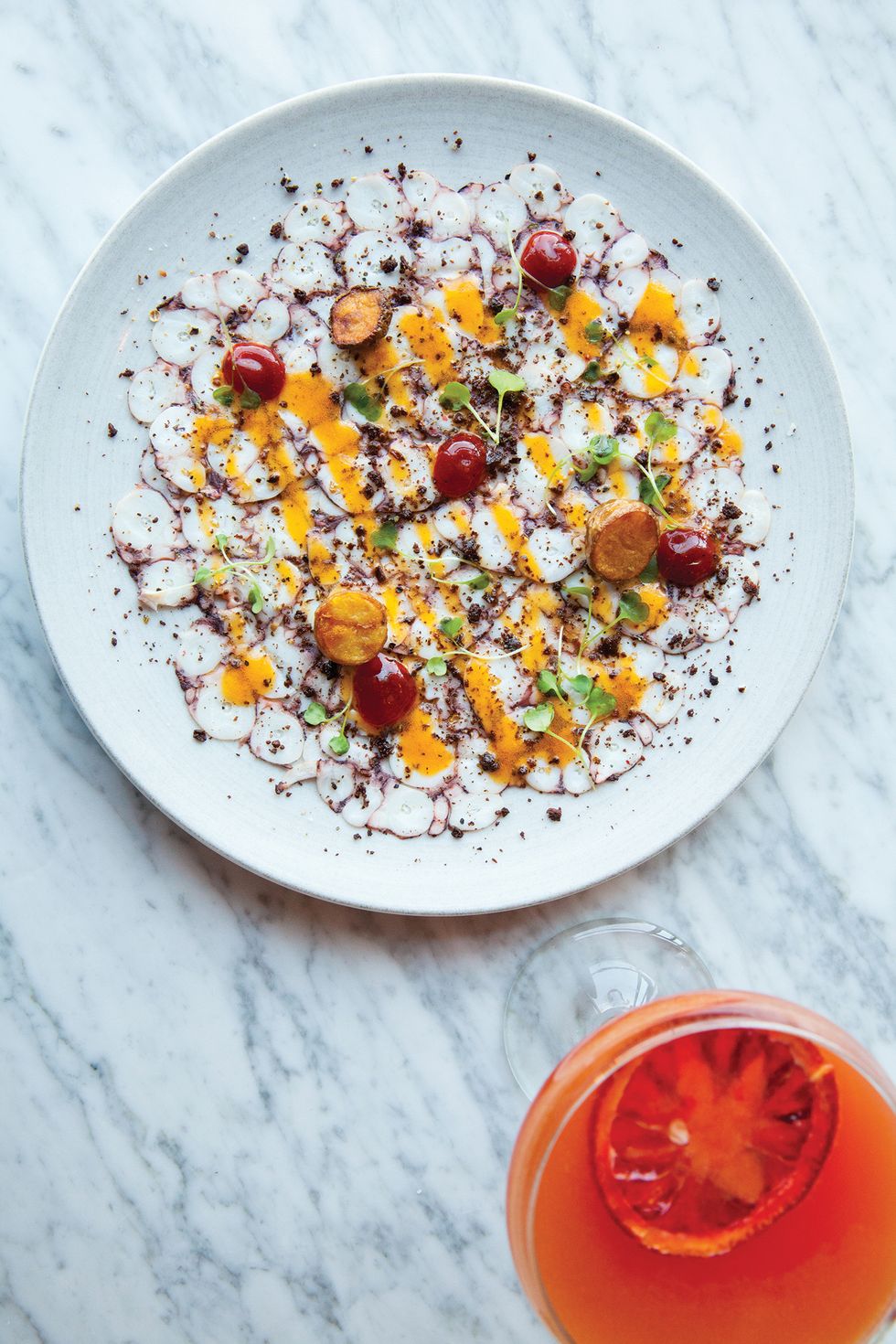 The octopus carpaccio
Other can't-miss starters include the "mosaic" of vegetables, a towering plate of colorful goodness — thinly sliced beets and carrots, hunks of ricotta — drizzled with picholine olive dressing. And the octopus carpaccio, topped with black olive dust, is textured and salty and refreshing.
There are a handful of salads and pastas, all simple and seasonal. The sandwiches at lunchtime are served with "skinny fries," which are, alas, not diet French fries. No, they're regular French fries — but sliced very thin, sort of like the shoestring potato sticks one might remember as an after-school snack.
The entrées here are ever-so-slightly heavier, as in the balsamic-glazed short rib with crispy polenta, smoked bacon and a sherry-bacon vinaigrette. And the Riviera Salmon leans against a pile of seasonal veggies and grains — spring's iteration has cauliflower couscous, mint, fennel, parsley salad and Marcona almond dust. Several straightforward sides — mushrooms with garlic emulsion and, of course, rosemary; asparagus gratin; Brussels sprouts with hazelnut, grapes, balsamic vinegar — are, as with everything, both healthy and flavorful.
When dessert time rolls around, the crostini makes a return; this time it's cheesy and berry-topped and drizzled with Prosecco syrup. And while it sounds incredibly rich, Fig & Olive's potted brûléed cheesecake, piled with Amarena cherries, is somehow manageable, with its lightly crispy top and its soft, crumbly crust. It's not hard to save room for that.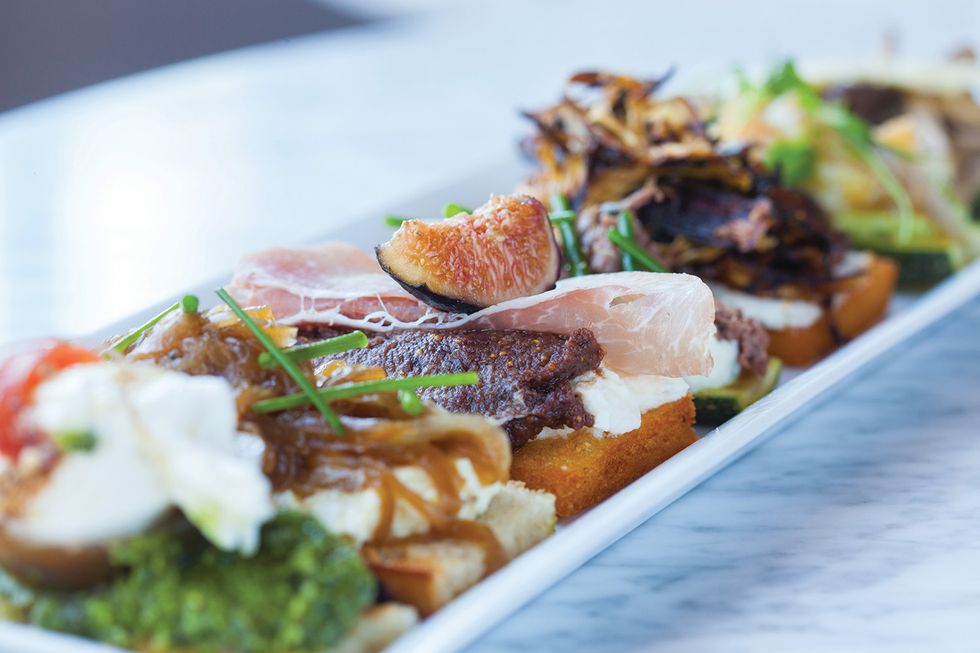 An assortment of the restaurant's signature crostinis
Food+Travel