B'Way Star Celebrates Houston Homecoming with Holiday Cabaret Show at Stages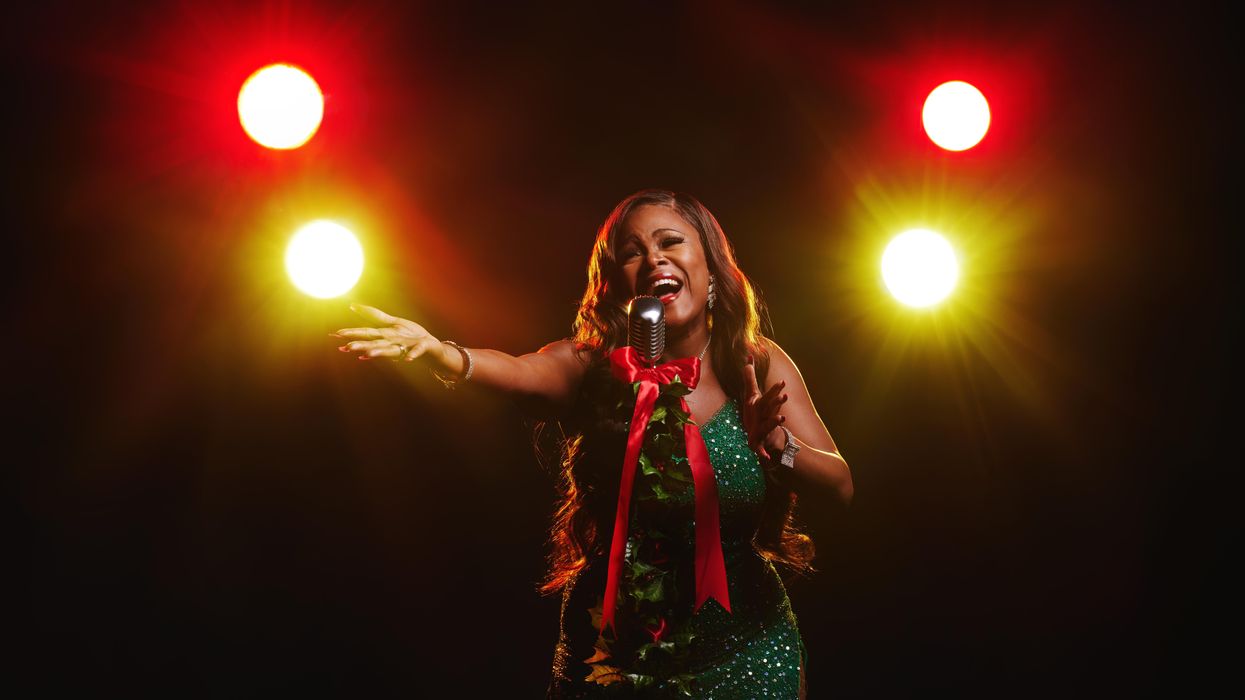 OVER THE COURSE of her career, Houston-born actress, singer, and dancer DeQuina Moore has starred in roles ranging from iconic jazz singer Billie Holiday, to disco diva Donna Sumner, to Elle Woods' sorority sister Pilar in the original Broadway cast of Legally Blonde: The Musical. Beginning Friday at Stages, Moore takes on what might be her most challenging role yet.
---
Moore stars as herself in an autobiographical, Christmas-themed cabaret show titled Houston for the Holidays with DeQuina Moore, directed by Aaron Brown and co-written by Moore and fellow Houstonian ShaWanna Goffney. In the show, Moore sings such holiday classics at "This Christmas," "Jingle Bell Rock," and "Silent Night," but in-between the Christmas merrymaking, breaks the "fourth wall" to recount her own personal struggles and triumphs. Moore also promises to share some "shocking and hilarious" behind-the-curtain Broadway stories, all of which she insists are true. "I have witnesses!" laughs Moore. Houston for the Holidays runs through Dec. 24.
Born in Houston, Moore grew up in Missouri City, Third Ward and Pearland. Her mother worked for IBM as a computer consultant and, like Moore, is blessed with a singer's voice. "Hers is the typical mom story," says Moore. "She decided to have children, and her singer dreams fell into the family dream."
Both her mother and father encouraged Moore's artistic aspirations and ensured inspiration was never in short supply by taking her to performances at Jones Hall, the Alley Theatre, and Ensemble Theatre, the country's largest African-American theater company, where Moore enrolled in its Young Performers Program. Moore would go on to study acting at the Houston School of the Visual and Performing Arts and, encouraged by her coaches at HSPVA who knew she was a genuine "triple-threat," audition for the musical theater program at New York University's prestigious Tisch School of the Arts. She got in, and then the real work began. "It was training on training on training," says Moore of her time at Tisch, "but it really set me up for my career." For years, Moore lived in Los Angeles and New York, but at the start of the Covid-19 pandemic, decided it was time to return home to Houston.
Moore's critically acclaimed 2021 performance as Billie Holiday in Lady Day inspired the Stages to ask Moore to do a Christmas show. "But then Plumshuga happened," says Moore, who played the role of legendary Houston ballet star Lauren Anderson in the critically acclaimed production and was inspired by how the show's author Deborah D.E.E.P. Mouton was able to strategically encapsulate Anderson's life story in the space of a couple hours. "It allowed me to open up more in Houston for the Holidays," says Moore, who decided she could "go there," as they say, when sharing the ups and downs of her own story on stage before a live audience. "There will be some tea spilt in this script as well," laughs Moore.
The challenges Black women working in theater, film and television encounter — and how those challenges negatively impact relationships between Black women — is another sensitive topic Moore addresses in Houston for the Holidays.
"There are definitely more opportunities, but we still have a long way to go," says Moore, who after her initial flush of success on Broadway, soon aspired to stretch out and play roles other than what she describes as "the token Black girl." Like her colleagues Goffney and Mouton, Moore hopes shows like Plumshuga and Houston for the Holidays will open up even more doors in the entertainment industry for young Black women.
"That's what gives you the hope," says Moore, "regardless of whatever trials and tribulations you have to deal with."
Art + Entertainment