Destination Houston
Posh pools, hip hangs and sweaty summer fun. What more could you want in a vacation? Post up at these hot Houston hotels for the coolest quick getaways.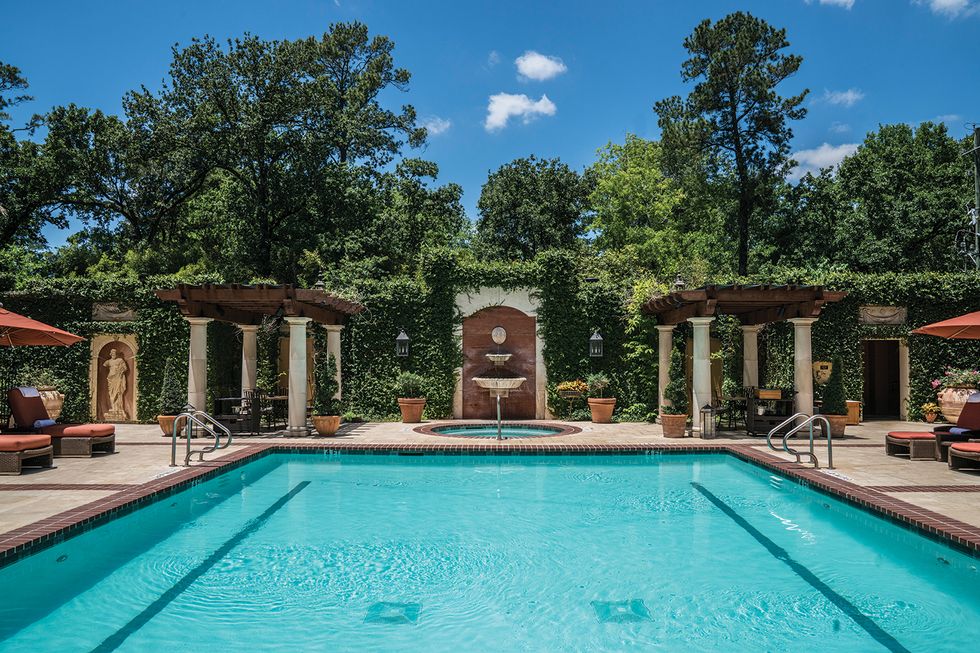 Editors' Note: Nobody knows when the current lockdown will end, but some say it's likely Houston will begin returning to normal before some our favorite travel destinations — New York, Europe, parts of Asia — are again accessible. So we're dreaming of fun staycations here in Houston when the time comes. Hopefully soon! Check out this beautiful story from a while back for some inspiration.
---
Style in the City
At the serene Granduca, escape from the urban bustle — and then embrace it.
While the landscape (and skyline) of the Uptown and Galleria areas has evolved a lot in recent years, one thing has remained steady: The lush Hotel Granduca (1080 Uptown Park Blvd., 713.418.1000) is as serene and secluded-feeling as ever, a welcome respite from the hustle and bustle of traffic and construction that surrounds it. Lounge at the verdant pool plucked from an Italian villa, and if further relaxation is required, the Granduca's just-launched wellness package includes lavender bath oil, lemongrass pillow spray, Aqua Di Parma bath salts and a sleep mask, of course. But a second wind is a must, as the Galleria beckons, with night-on-the-town-worthy attire and glimmering jewels for sale. Head back for the hotel's in-house supper club on June 16, featuring a four-course wine dinner and jams by local artists in the Rialto ballroom. And then enjoy a nightcap at the gleaming new Mastro's (1650 W. Loop S., 713.993.2500) steakhouse, where rowdy pretty people belly up to a u-shaped black marble bar and take in more live music.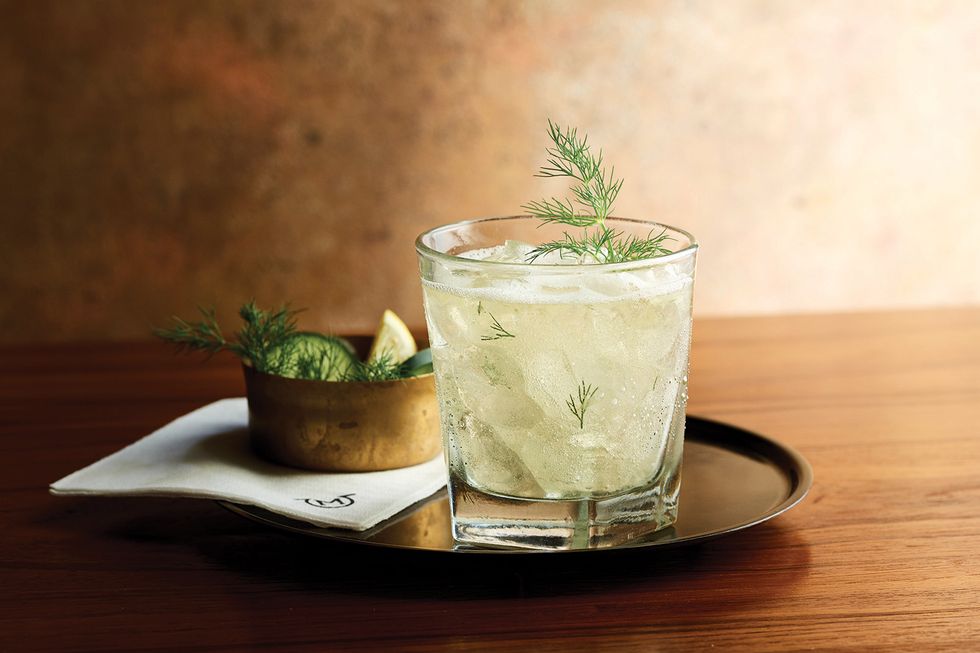 A sip of the summery Dill Breaker cocktail at Mastro'sa sip of the summery Dill Breaker cocktail at Mastro's
Due North
Head up to The Woodlands to get down at waterway restaurants and cool concerts.
It's certainly not a Houstonian's favorite commute — but a trek out to The Woodlands is made infinitely better upon arrival at the Westinhotel (2 Waterway Square Place, 866.419.4300). Its boutique-like and tranquil feel transcends its location in bustling Waterway Square, near Town Green Park and shopping along Market Street. Follow the bulbous, winding ceiling sculpture through the lobby and down the escalator to the waterway. On a zen walk through the koi gardens and past the water taxis, cool off with a beverage at one of several restaurants dotting the river walk and the streets above, like the brand-new, healthily hearty True Food Kitchen (9595 Six Pines Dr., 281.364.7222). At Hubbell & Hudson(24 Waterway Ave., 281.203.5641) Exec Chef Austin Simmons prepares anything from a quick sandwich with farm-fresh veggies, to a multicourse tasting menu experience in a plush private room. Good bets include the crispy Chinese pork belly during happy hour and, for dinner, truffle-infused squid-ink pasta topped with rich crab meat. And a trip to The Woodlands wouldn't seem complete without a stop at a sweaty summer staple, the Cynthia Woods Mitchell Pavilion(2005 Lake Robbins Dr., 281.364.3010). This season's lineup includes Post Malone (June 15) and Kesha and Macklemore (June 23), along with a summer series by the Houston Symphony. The best part? Not hassling with parking, instead walking just steps back to the Westin, where air conditioning, crisp linens and a good night's sleep await.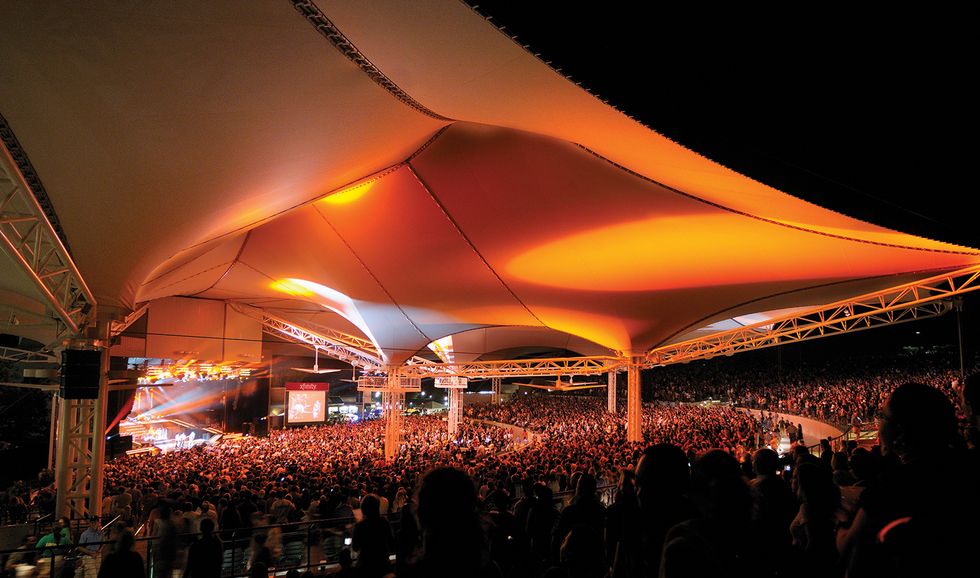 The Cynthia Woods Mitchell Pavilion
Culture Vulture
Museums, massages and cocktails — oh my! The chic set delights and unwinds in the Museum District.
Long known as one of the best and largest museum districts in the nation, Houston's culture capital is ever blossoming with great galleries and fun restaurants. The MFAH's new Glassell School of Art(5101 Montrose Blvd., 713.639.7500) campus is intriguing, with a walkable sloped roof accessing the BBVA Compass Roof Garden and overlooking the Chicago-bean-rivaling "Cloud Column" sculpture. And while the Menil is under construction this summer, the nearby Transart Foundation(1412 W. Alabama St.), celebrating the intersection of art and architecture and newly housed in a beautifully smooth white-stucco building, is worth a visit. But standbys, like the Hotel Zaza (5701 S. Main St., 713.526.1991), are not to be forgotten. In fact, the ZaZa pool is the perfect place to soak up sun rays on hot days — and they'll encourage you to do so, with a simply summery package that includes two glasses of chilled processco, served poolside. Keep the booze flowing and head to neighborhoody Night Heron (1601 W. Main St., 713.527.8010) for some standard-issue frosé, and bites like buttermilk-and-turmeric-marinated chicken frites. And why quit now? Sexy cocktail lounge Bar Victor (4321 Montrose Blvd.) awaits, with cocktails like the sweet pina colada-esque Coco D'Amour. Pro tip: Detox in the morning with a seaweed wrap at the ZaSpa(713.639.4566), followed by brunch at Monarch (713.527.1800). A pulled-pork-waffle sandwich should do the trick.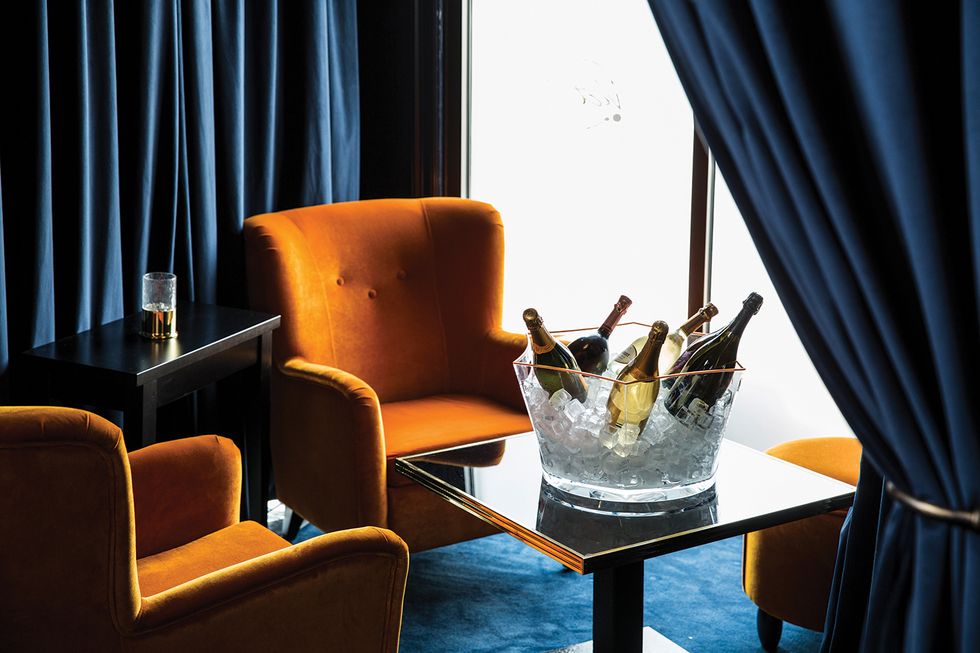 A toast at Bar Victor
Botton's Up, Downtown
Belly up to the bars and sip your way around town.
At the still-new Hotel Alessandra (1070 W. Dallas St., 844.204.5851), a soaring lobby and grand marble staircase set the tone for a glam night out on the town. In addition to a long, mod pool, and a top-notch spa, the hotel boasts a bike-sharing station, MetroRail stop, and complimentary car service within Downtown — perfect for exploring what's new in the neighborhood. But you don't need to leave the Alessandra to have a good time. Hotel restaurants aren't always the sexiest option — but in this case, Alessandra's Lucienne (713.242.8540) actually is. Chef Jose Hernandez offers a modern approach to a tasting menu — some options are a la carte — and fave courses include a cauliflower crepe with Gruyere cheese, and a tasty lamb tartare topped with a quail egg and served with thin, crispy toast points. Don't forget to grab a cocktail from the Bardot lounge, then grab another at two-story, '70s-inspired, art-filled Cottonmouth Club (108 Main St.), the latest great cocktail lounge to bow on Main. There's a handful of approachable, fun drinks, like the Maybe Memphis, Maybe Mexico — aka a spicy paloma that comes adorned with a tiny paper Mexican flag. Nearby, High & Dry(306 N. Main St.), which quietly opened in the spring, boasts a menu of a dozen rum-centric bevvies, including the frozen Main Lei in flavors like key lime, spiced coconut and banana. Still thirsty? Tiki bar Kanaloa (311 Travis St.) bows soon.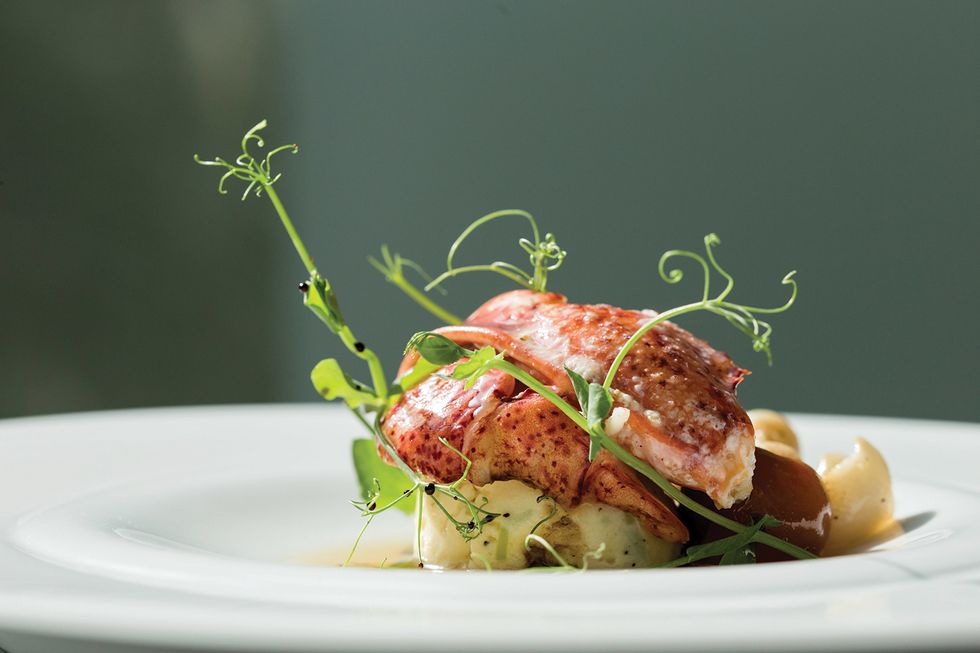 Artful French-fusion fare at Lucienne
Game On!
With a home base of the Marriott Marquis, splash and spectate in the heart of Downtown.
Pick your room's view — Discovery Green, pool or ballpark — at the Marriott Marquis (1777 Walker St., 713.654.1777), and set your sights on a fun-filled weekend. After making a splash in the Insta-famous Texas-shaped lazy river, eat your way through the still-new hotel's six restaurants, including nationally lauded Xochi and sleek sports bar Biggio's. But leave room for a trip to Minute Maid Park (501 Crawford St.), where folks watch the boys of summer go for back-to-back rings while eating like champions. Jackson Street BBQ (brisket-loaded cheddar biscuits, anyone?) and meat pies from Dat Creole are two of this season's winning options. Once the sun goes down and the mercury dips a bit, Discovery Green (1500 McKinney St.) — celebrating its 10th anniversary this year — is a nice place to spend an evening. There are Thursday-night concerts and family-friendly monthly events, like Flea by Night market and Screen on the Green movie nights. Feeling frisky? Hit up the acrobatic Circus Arts partner workout on Tuesday nights, and book a followup relaxing couple's massage at the Marriott Marquis' massive 5,000-square-foot Pure spa (346.229.2581).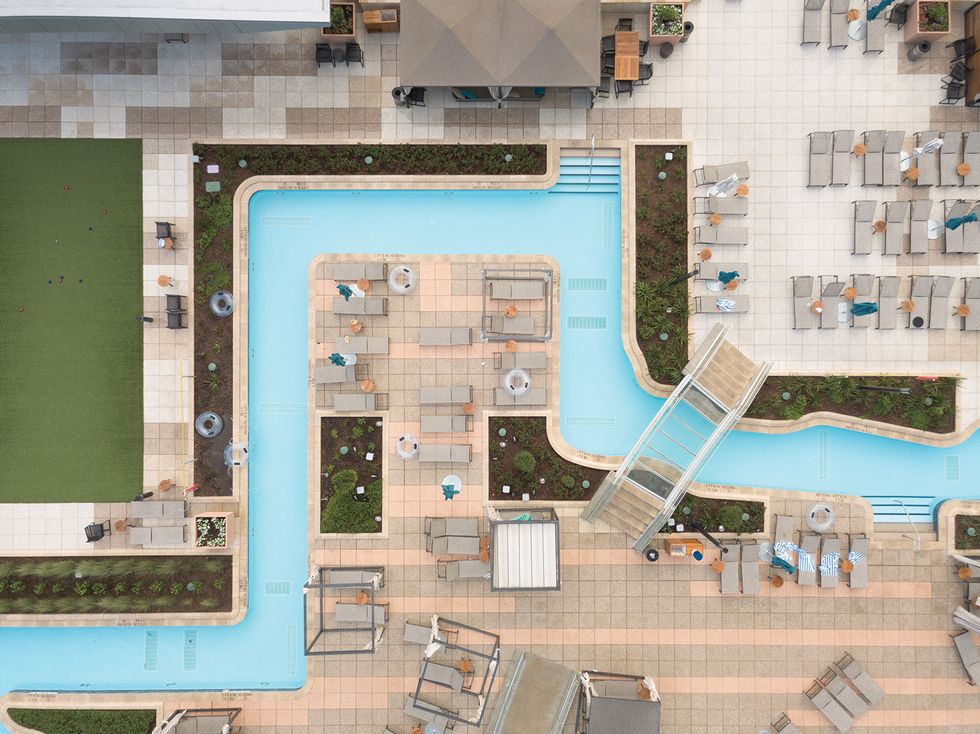 Marriott Marquis' Texas-shaped lazy river is a Houston summer essential
Food+Travel