Dublin By Design
Taking cues from its days as a hub for textiles and fine crafts, Dublin's creative renaissance is in full swing.

Best known for its brewery scene and literary history, Ireland's capital city is a national treasure and an essential gateway to the country's lush emerald coasts. But Dublin has more to offer than world-famous beer and the footprints of James Joyce: A revival of Irish craft and specialist design flows from its city center, and has established this urban destination as a hub of innovation and home-grown creativity. 
---
Upon closer inspection, this may not come as a big surprise. Ireland's history of textile artistry has had a sizeable influence on the country's social, cultural and economic development; woven wool has been exported from the country since medieval times. Ireland has also brought the world a handful of 19th-century art pioneers and architectural marvels. The city's artistic rebirth, led by a growing population of independent designers and committed-to-local creatives, has successfully blended the old and the emerging. It is in this space that visitors find a new Dublin.
Take The Marker Hotel, for example. Its cozy-mod design scheme — geometric shapes, stone textures and bold pops of color — is elevated further by its remarkable collection of works by some of the country's most celebrated artists. The hotel is right at home in Grand Canal Square, an artsy and tech-forward urban space — originally a Viking settlement and port — just minutes from Dublin's city center. Guests wake up to waterfront views along River Liffey and enjoy a tranquil morning yoga session on the rooftop terrace overlooking the cityscape. The hotel's restaurant, The Brasserie, serves up a sharp focus on Irish, locally-sourced produce with dishes that are divergent yet simple (think elderflower-cured sea trout and seaweed gnocchi). Visitors unwind in The Marker Bar — but not before checking out the adjacent Bord Gáis Energy Theater.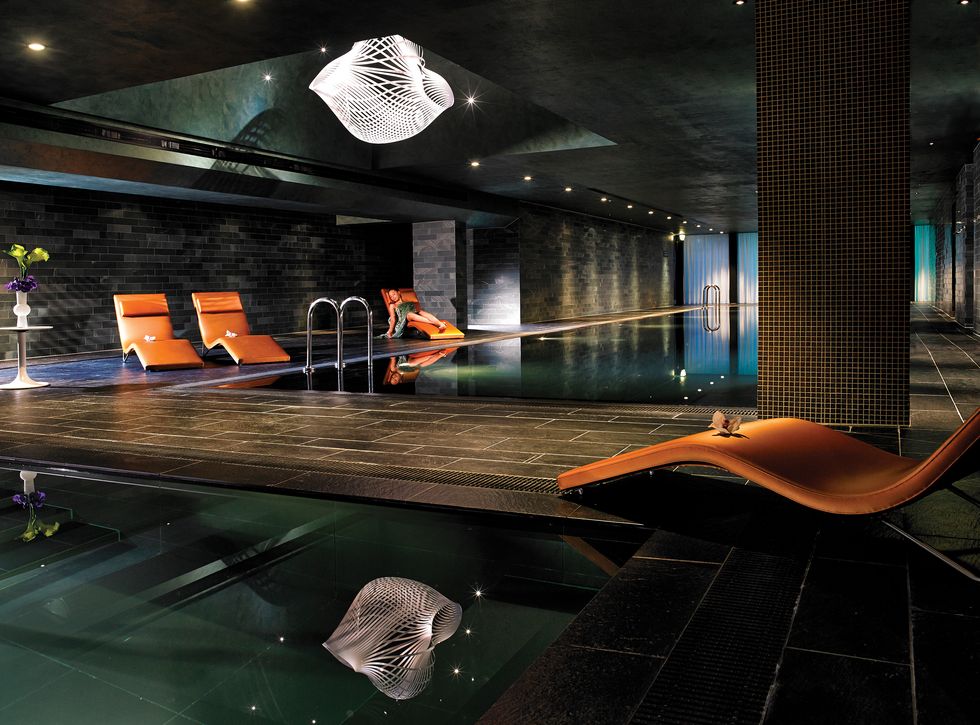 The indoor pool at the chic Marker hotel
A couple miles to the west, Dublin's Creative Quarter sprawls from South William Street to South Great George's Street, boasting an eclectic mix of indie boutiques and specialty design studios. Powerscourt Townhouse is a majestic 18th-century mansion-turned-shopping-center, home to more than a dozen different shops. Third-floor Atrium has chic knitwear staples in vibrant patterns that recall a bit of that Marker hotel aesthetic; local designers showcase their goods here. 
A few blocks away, the stunning iron arch of the 1881 George's Street Arcade invites shoppers to peruse an urban market jam-packed with craft vendors and boutique stalls. Nearby, Designist, with its quirky collection of Irish-made gifts, and Carousel, featuring locally designed vintage-inspired dresses, are also worth a gander. 
Design enthusiasts can't leave the Creative District without stepping inside Irish Design Shop, a thoughtful collection of high-end home goods and accessories, all with fascinating backstories. Fancy those fine cashmere wraps? They're by Ekotree, a natural yarn studio in the village of Doolin near the famous Cliffs of Moher and Aran Islands. (If ever on Ireland's west coast, the studio features a visitor center and an exhibit that traces the history of Irish knitwear, the Aran sweater and Irish stitch structures.) Another example of traditional Irish craft reinvented is the work of Martina Scott; her framed contemporary drawings are hand-printed using silk screen on locally-sourced linen.
Just on the other side of the River Liffey, the Decorative Arts & History Collection at the National Museum of Ireland beautifully tracks Dublin's artistic revitalization. Exhibits like Reconstructed Rooms and 21st Century Irish Craft illustrate the best of Irish design over several centuries, including its modern-day influence at home and abroad. Meanwhile, the National Gallery of Ireland displays an impressive array of works by Irish masters like William Leech, Roderic O'Conor and Jack B. Yeats. 
A fun evening out would include a night at the Olympia Theater, a short walk from the National Gallery. With an intricate wrought-iron façade, ornately adorned gold molding and red velvet boxes, this Victorian gem is an exceptional reminder that Dublin's design days date back for centuries.
AT TOP: The National Museum of Ireland – Decorative Arts & History
Food+Travel