Easter Feasts for Every Bunny's Budget!
Easter Sunday is fast approaching, and families all over Houston are forced to think outside the basket for this year's feast. CityBook rounded up some of the best deals and most savory splurges to make the most of your weekend.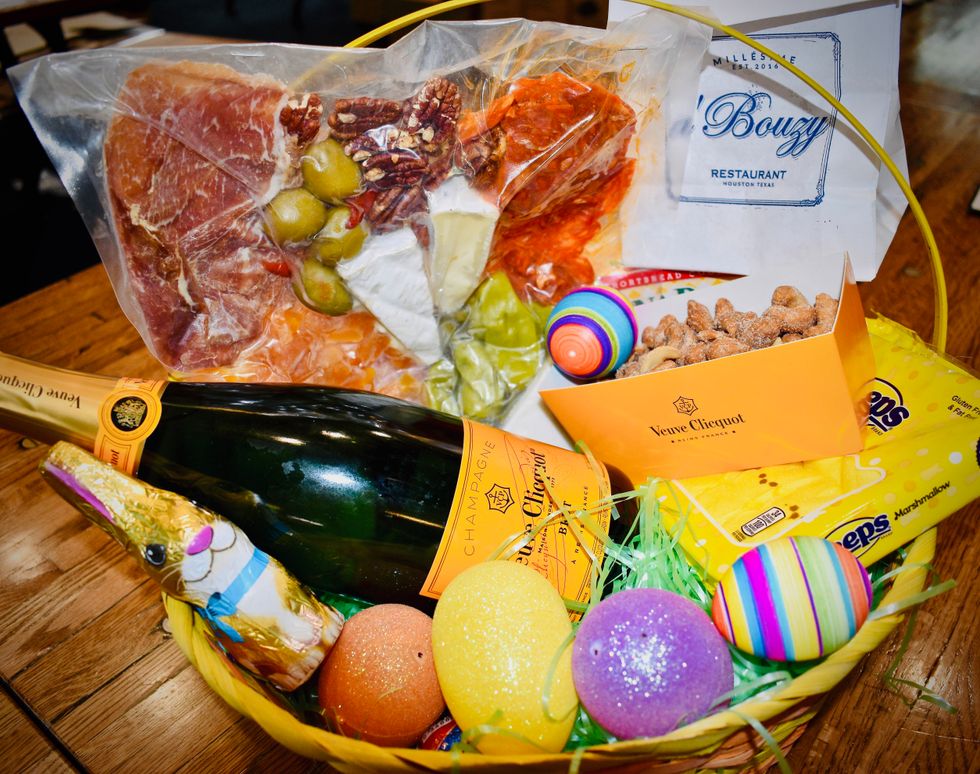 Under $20 per person
Some of the most unbeatable deals are also some of the most delicious, like bargain brunches from Toasted Yolk  and Postino. The former offers a family-style feast for four for just $40, with a choice of egg style and protein (chicken sausage, bacon and more). Plus, pick between pancakes and French toast, and also get a hashbrown casserole — and donuts for dessert, naturally.
---
Postino Heights dishes out its Back Patio Pack for $50; it serves four to six. Snack on spinach and artichoke quiche, a panzanella caprese salad and gigantic cinnamon rolls!
For dinner, order from TheFederal Grill, whose $75 meal serves four. There's a big green salad with champagne vinaigrette, a family-style entrée (truffle chicken stuffed with herbal cream cheese, anyone?!), and chocolate chip cookies for all!
$20-$40 per person
In this price range, supreme steak and seafood options are abundant. Perry's has a decadent three-course deal for $39 per person; highlights include a 16-ounce caramelized prime rib with steak butter and whipped potatoes, or vegan spaghetti squash primavera for the non-meat-eater. Kids meals are just $13 each, and all wine and mixed-drinks to-go are 50 percent off.
The Houstonian's Tribute restaurant has a family four-pack for just $89 — or $69 for members! A juicy, bacon-wrapped pork tenderloin with a maple-mustard glaze, herb-crusted three-cheese macaroni, honey-butter yeast rolls, roasted veggies, and — this is our favorite part — a housemade lemon-blueberry mousse pie awaits.
Grotto's three-course meal-for-two is $45; signature selections include chicken parm and a six-ounce filet — and dark chocolate cake.
The Easter menu at sister resto Willie G's is full of Creole flavor — chicken and sausage gumbo to start, crawfish etoufee to follow — and is $35 per person. Tack on an order of deviled eggs for $12, and enjoy half-off all beer and wine with a food purchase.
And at Brenner's on the Bayou, score a savory four-person meal for just $99. A mouthwatering, three-pound portion of roasted prime rib with au-jus and creamy horseradish is the main course here; add more for $25 per pound.
$50 or more per person
You can't go wrong with a holiday spread from Houston institution Brennan's. For $100, score two starters, two entrees, three sides and bread and butter. Every order also comes with Bananas foster bread pudding and a special lagniappe. May we recommend a Creole Bloody Mary kit (Tito's vodka included!) for $21?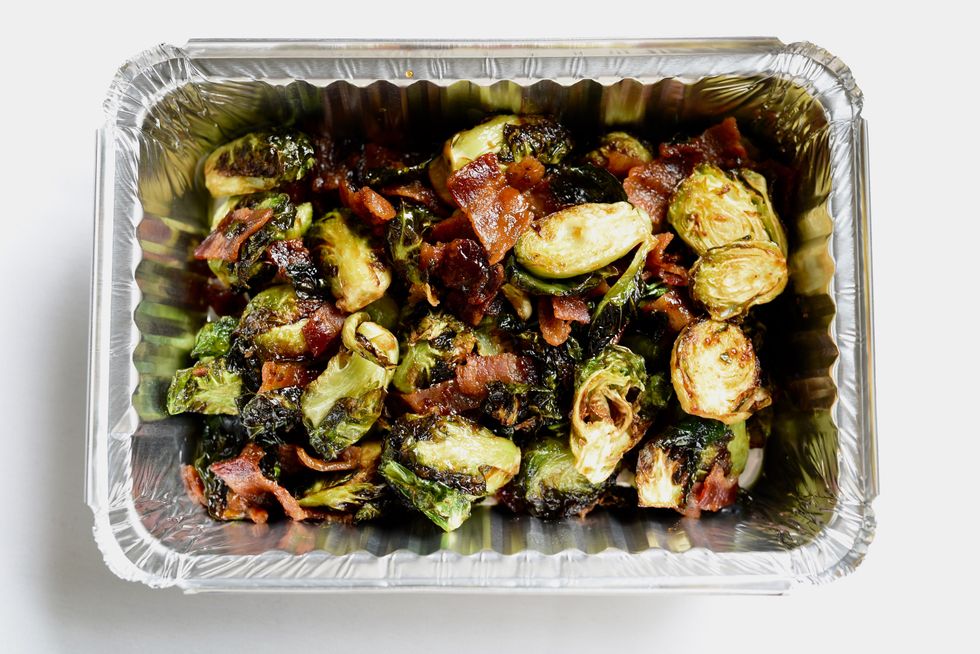 Brennan's bacon brussel sprouts
Traveler's Table also serves a $50-per-head deal, with two small plates, two entrees and two desserts. Here, tack on a bottle of wine for just $15, and earn a $10 gift card for every $50 spent.
Underbelly Hospitality — which is also selling individual take-and-bake dishes at Georgia James and H-E-B — has a true family feast in its Easter package. There's a slab salad, three pounds of smoked 44 Farms prime rib, macaroni and cheese, creamed greens, dinner rolls and peach cobbler with cinnamon whipped cream. For $200, this serves four (very) hungry family members.
Go big at Steak 48, with a five-course meal at $85 per person. Indulgent menu items include Shetland Island salmon, loaded whipped potatoes and a melt-in-your-mouth warm-vanilla-caramel cake.
Feeling extra?
A'Bouzy's grownup Easter basket is a boozy brunch must-have. There's a bottle of Veuve, selection of charcuterie and crackers, truffled egg salad, croissants, candies and Easter eggs, all for $89.
AT TOP: A'Bouzy's grownup Easter basket
Dispatches