Feminism is Fun
Novelist Jennifer Mathieu's new book, whose movie rights Amy Poehler has already snapped up, joyfully empowers high-schoolers to shake up gender roles.
Daniel Ortiz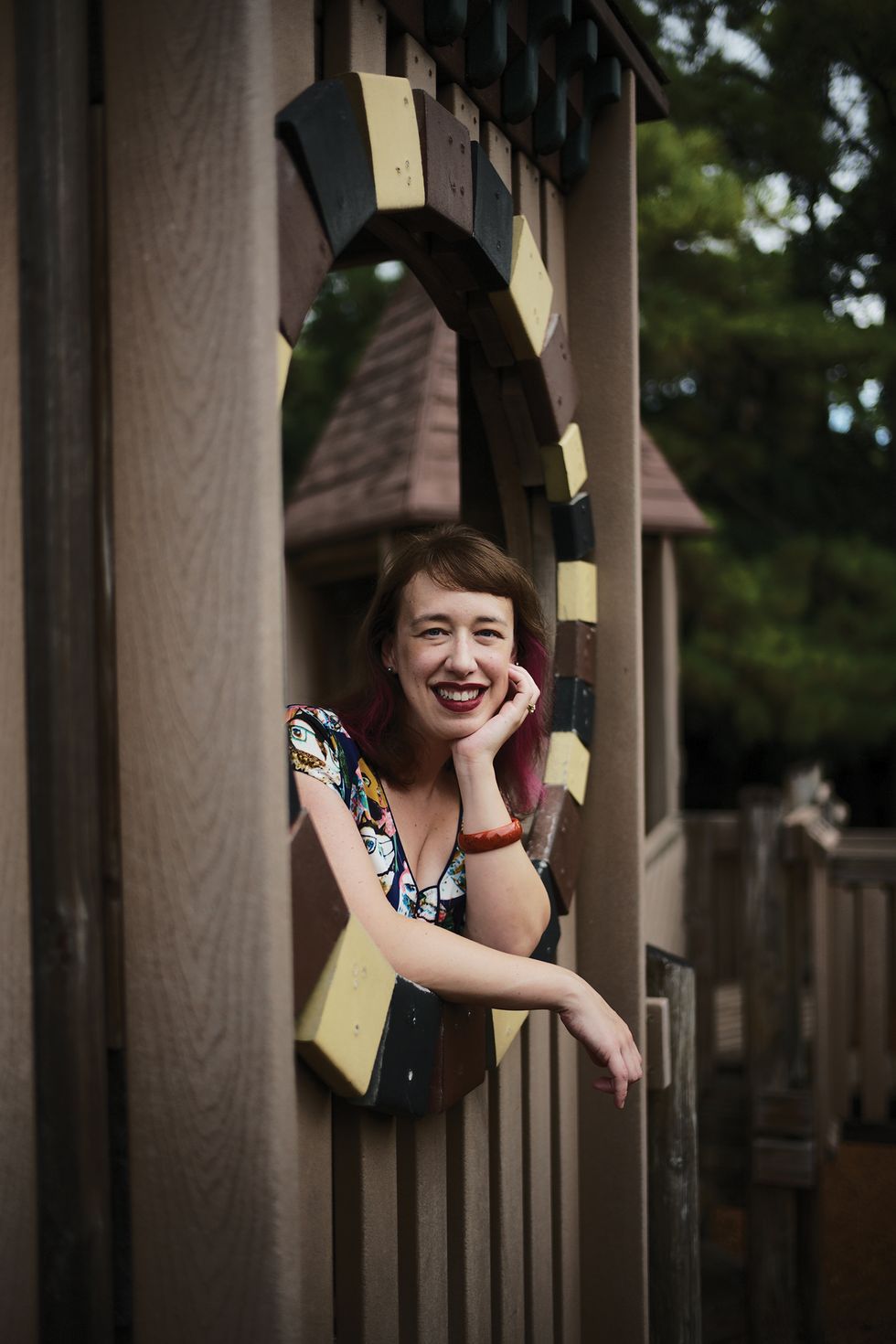 Stashed away in a crowded bookcase in young-adult author Jennifer Mathieu's Westbury-area home, near the book-and-paper-strewn dining table she uses as her writing station for a couple of hours every evening after putting her 7-year-old son Elliott to sleep and spending some quality time with her musician and printshop worker husband Kevin, is a copy of the first book the D.C. native and Bellaire High School English teacher ever wrote. It's a slender, time-worn novella titled Mystery at Grandma's that Mathieu, now 40, dreamed up as a fifth grader for a school writing competition.
---
In some sort of clairvoyant, future-career foreshadowing, Mathieu won that competition, and, due to the prudence of her mother, who had the presence of mind to save a copy of the book as a keepsake, it now gets to reside next to copies of the four highly praised novels Mathieu has written since. With its cutesy pre-teen author portrait and its fantastical plot, Mystery at Grandma's is a constant, chuckle-inducing reminder to the author of just how far she has come.
The author's fourth novel, Moxie, which tells the story of a feminist uprising at a small-town Texas high school, will be released this month. And, ahead of its release, it's already garnering quite a bit of national attention. Nearly a year ago, actress Amy Poehler's production company, Paper Kite — the force behind Comedy Central's critically acclaimed Broad City and Hulu's popular Difficult People series — obtained an early copy of the book and, seeing its big-screen potential, acquired the feature rights to the novel. The last time Mathieu checked in with the Paper Kite team, they had started interviewing screenwriters for the movie version of the book. "I trust them because they're so great at what they do," says Mathieu of Poehler and her staff. "I couldn't have picked a better group of people to do it."
What sets Mathieu apart from many other young-adult authors, and perhaps what won Paper Kite over, is her honest approach to the heavy topics she is known to explore in her books, which in the past have addressed the likes of sexism, abortion and molestation. "I'm a big believer that teenagers can smell hypocrisy really quickly and can tell when someone is trying to preach or lecture to them," says Matthieu. "So I try to write books that tell the truth. And even if that truth isn't always pleasant, I believe that it should always still be told."
In Moxie, Mathieu, who considers herself a staunch yet approachable feminist, explores the topic of gender inequality through the lens of 16-year-old protagonist Vivian Carter, who leads a rebellion at her school after stumbling upon some feminist zines and cassettes her mother, a former "riot girl," had hidden away in a closet at their home. While the book tackles some serious subject matter, Matheiu considers it the most joyful and fun book she has written thus far. She's eager to see how it's received by her young fans.
"I wanted to write a book where girls — and guys, too — could see that being a feminist is not about hating men or about women being better than men," she says. "I want young people to know that feminism is about liberation from all of these really restrictive gender roles that tell boys that they can't cry or that they should be good at sports, or that tell girls that they have to be thin, quiet and super pretty to be of any value.
"There's a really negative stereotype about what it means to be a feminist, and I love smashing that stereotype. My hope is that my new book will do just that."
Art+Culture