Friends in Low Places
At Lowbrow and Better Luck Tomorrow, top toques trade haute cuisine for pub grub with panache.
Kirsten Gilliam and Jenn Duncan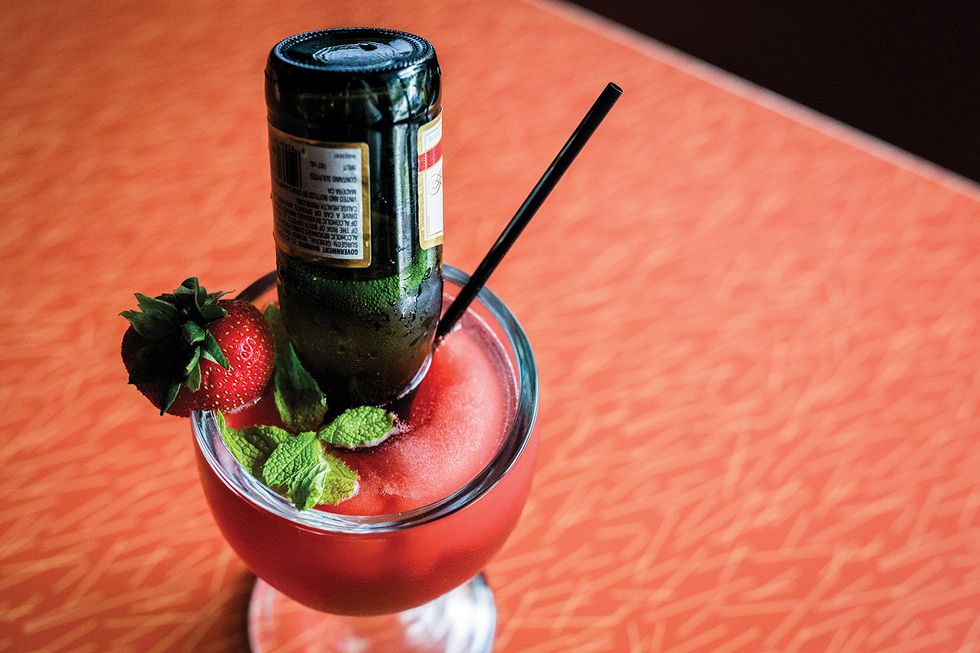 In the old magic trick, when a crisp, white tablecloth is swiftly pulled out from under an elegantly appointed table setting, the tableware — long-stem wine glasses, crystal Champagne flutes and all the plates and flatware — remains motionless in a captivating illusion. A slight of hand, undoubtedly met with "oohs" and "aahs." In real life, however, removing the fancy tablecloth is no easy task. Just ask any restaurateur.
---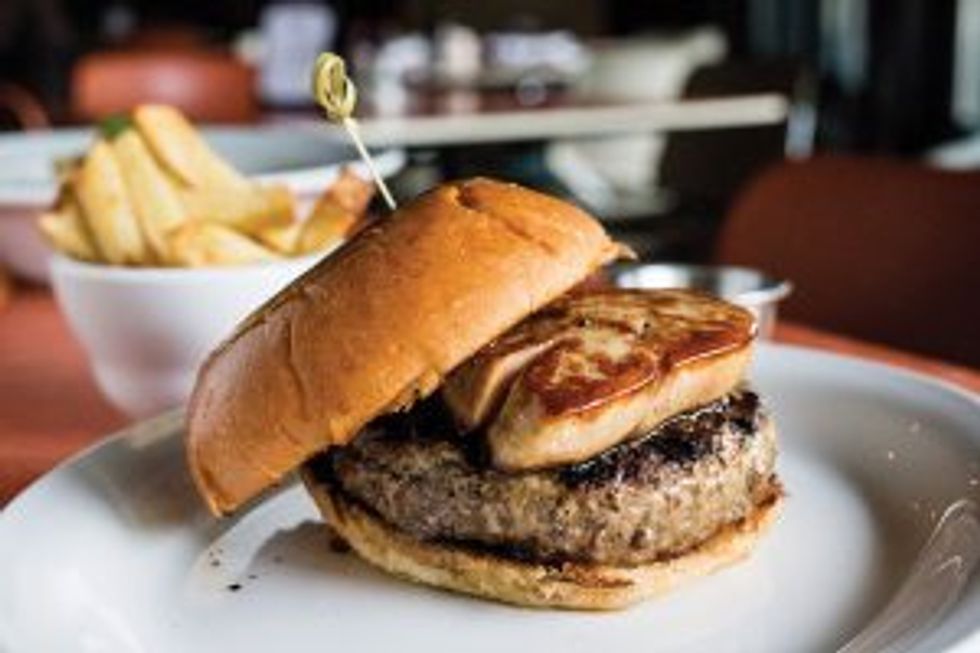 A burger with foie gras, which can be added to any dish for $9.
And yet that's just what some of the city's top chefs are doing, literally and figuratively, putting fine dining aside, at least for a while, and lending their five-star hands to divier, neighborhoodier joints. Household names like John Sheely of the former Mockingbird Bistro and Justin Yu of recently shuttered Oxheart are opting for a relaxed take on elevated dining in lieu of strict dress codes and tasting menus.
Yu, a James Beard-winning chef, with craft cocktail king Bobby Heugel as his partner, chose a nondescript Heights locale for the hip but accessible new hideaway Better Luck Tomorrow (544 Yale St.). And Sheely's announcement this summer that he'd transform the already popular Montrose patio bar Lowbrow into the quintessential neighborhood hangout with a serious menu and wine list earned much praise.
"I'm a big advocate of great service," says Sheely, who was chef-owner of storied Mockingbird Bistro in Montrose for 15 years, until it served its final meal in December. "Fine-dining food and service in a patio bar," he says. "That's what we are trying to achieve at Lowbrow."
Among the most significant changes in store for the ultra-casual watering hole — most recently run under the direction of the Creek Group (Cedar Creek, Piggy's) — is a revamp of the interior, including nixing the neon and remodeling the washrooms. There'll be an enhanced beverage program by Chris Ray and, of course, an overhaul to the menu with Sheely's magic touch. "It's like putting perfume on a pig," he laughs, "but she sure smells good now!"
Not trying to "reinvent the wheel," he says, his menu reads like a list of favorite American bistro dishes, from "a really great burger" — the Lowbrow Cheeseburger finds chargrilled chuck and blue cheese on an artisan bun — to the rigatoni with beef Bolognese and the fresh catch of the day. He draws influence from the Gulf and sources ingredients daily — due in part to the restaurant's tiny kitchen. It suits him. "Simple flavors, three or four ingredients, salt and pepper," he says. "That's my style."
Offering an alternative to Lowbrow's darkened-pub vibe, Better Luck Tomorrow is all neon flash. But the approach to the food is similar — relaxed and simple, but inventive. Hidden in plain sight on Yale Street, the space that formerly housed Dry Creek Café is tightly packed with indoor and outdoor seating, all first-come-first-served. As night falls, the brass bar top is illuminated by a wall of fluorescent bulbs in bold colors inspired by the Dan Flavin installation at Richmond Hall.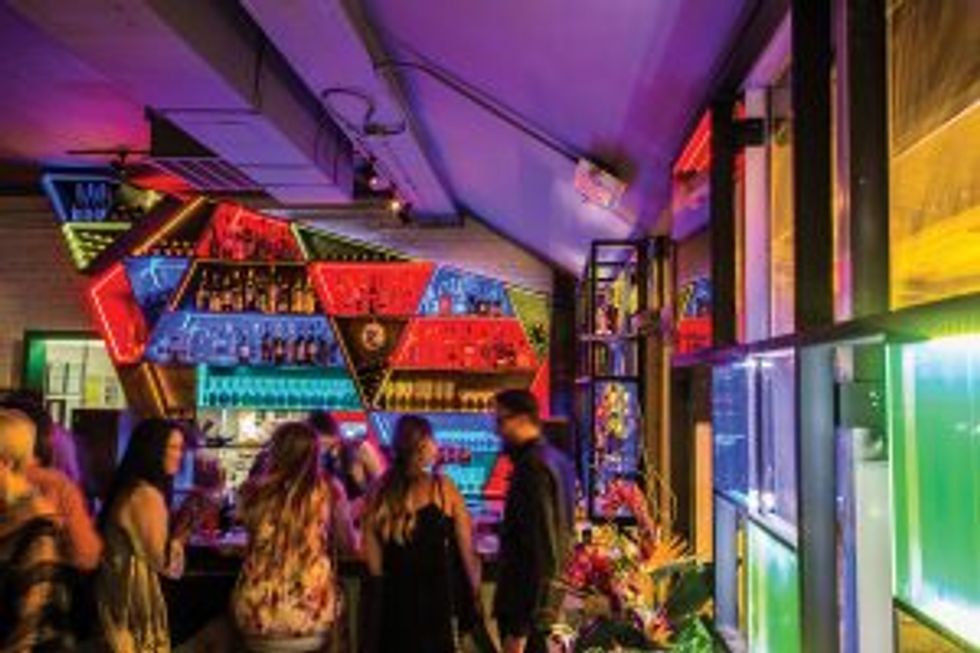 The colorful decor of Better Luck Tomorrow
The globally inspired menu with a strong focus on local ingredients is as compelling and occasionally surprising as the space itself — a combined effort of Yu's and resident Better Luck chef Matt Boesen. "There are no rules with our cooking," says Boesen, who gained much of his experience cooking in California at restaurants like Prospect and Benu. "I was inspired by a lot of Asian cooking in San Francisco, and in Houston, naturally, we draw from a lot of Southern influences."
Boesen says that, in the short time Better Luck's been open, a few crowd favorites have emerged, destined to stay put even if the rest of the seasonal menu evolves around them. The "Not a Pizza," a savory pancake topped with spring onions and anchovy-garlic bagna cauda sauce, and the fried chicken with pickled cabbage are among dishes to remain in rotation. And, not so surprisingly, there are meatless options aplenty. Boesen insists his chefs visit the produce markets daily, to find ingredients for dishes such as grilled corn with butter, miso, chili flakes and candied sesame seeds.
Although you most certainly won't find any white tablecloths here, don't assume that a dearth of pretense equals a lack of attention to details or commitment to quality. Boesen promises that his chefs and mixologists work hard to present great food and drinks with style. "We want Better Luck Tomorrow to feel comfortable," he says, "but also inspired enough for someone to want to come in for a nice meal."
ABOVE: Berry Froze' with a Veuve de Vernay split 
Food+Travel