Aaron Bludorn's New Restaurant Navy Blue Is Open. Here's What You Should Know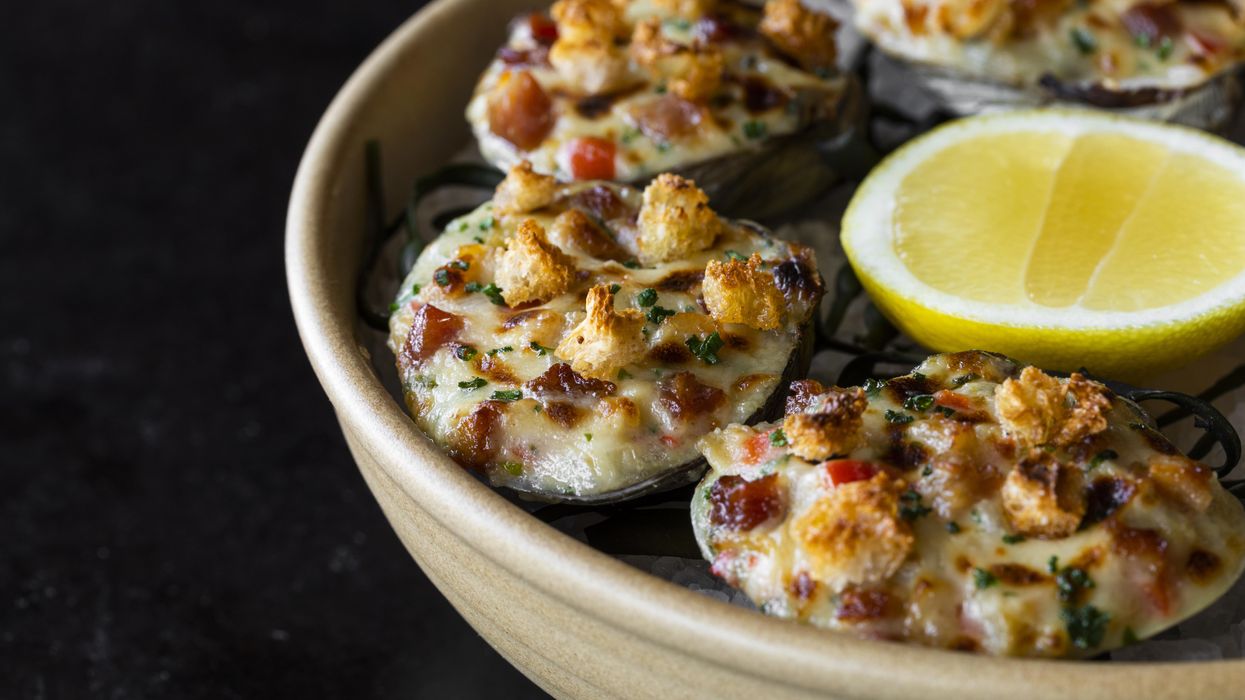 ONE OF THE year's most anticipated restaurants, modern American seafood concept Navy Blue, has dropped anchor in Rice Village, taking the space formerly occupied by Politan Row. Everything points to success — from its buzzy vibe to the big New York chef Jerrod Zifchak, and the quality seafood, of course. Catch our first bite!
---
The Vibe
The name pays homage to chef-owner Aaron Bludorn's naval-aviator father, whose call sign was "Blue." Expect a completely reimagined space by Austin-based Föda Studios, who worked in tandem with Courtney Hill Interiors and Gensler to create a design inspired by the idea of an ocean untouched by humanity.
Guests are greeted by an oversize, oyster-shaped wall built with sandy concrete breeze blocks, and a hostess stand conceived as a proverbial pearl. Awash in organic elements in tune with nature, the 110-seat dining room has a clean and crisp aesthetic. But the most striking feature is the huge, gleaming open kitchen where chefs Bludorn and Zifchak orchestrate the magic with a team who occasionally exclaim in unison, "Yes, Chef!"
The Food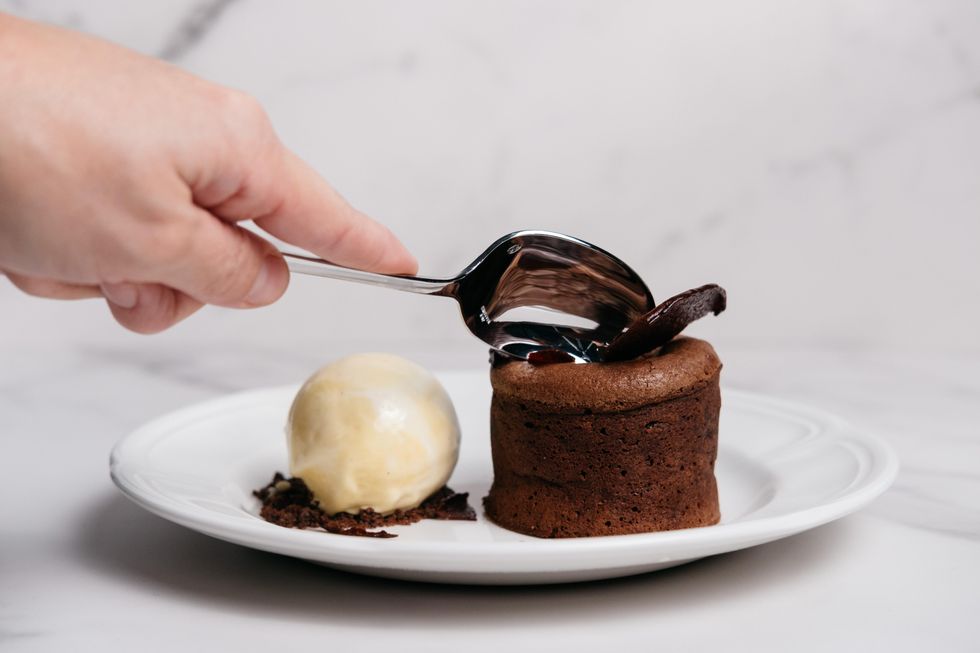 Chocolate Coulant (photo by Caroline Fontenot)
The two chefs curated a menu of oceanic delicacies: think thick and exotically-seasoned swordfish au poivre; blackened red snapper with ahi amarillo; and whole Dover sole prepared Almondine, Oscar or Provencal.
Pasta fans should try the clean-tasting linguini Vongole with Manilla clams, addictive seafood risotto, or rich lobster ravioli. Whet your appetite with the cool tuna crudo with fennel and apple, or charred octopus salad with sweet potato and preserved lemon. Or warm it up with the jumbo lump crab cake anointed with celeriac remoulade and tomato chutney. Mouth-watering desserts by executive pastry chef Marie Riddle are a highlight — don't leave without trying the amazing carrot cake with ginger ice cream.
Although most menu items sound like classics, always expect a twist. "We wanted to create a menu with plenty of options and the same kind of approachability that guests love at Bludorn," said Bludorn, adding, "What oysters are to Bludorn, which are done 3 ways — fried, baked, and raw — clams, shrimp and Dover sole are to Navy Blue. We have a running rotation of fresh fish with preparation suggestions, but guests can swap it out however they want. We are flexible when it comes to putting our guests' tastes first — that's why we are here, and we love what we do."
The Seating
Guests enter through a covered sidewalk patio with manicured planters and a few tables. Slender, black-ribbed pendants and plush banquettes soften concrete columns, providing both a chic sense of style and a natural transition to the white-grey Japanese ceramic tile.
A unique steel-and-driftwood light installation brings the softly-lit bar to life. Tucked away to the back of the space, the bar became a hopping scene the first week of opening.
Speaking of scenes, a flexible private dining room ensconced behind the bar can accommodate up to 40 guests for a reserved event, complete with A/V bells-and-whistles and an intriguing mural by Austin artist Emily Eisenhart.
The Service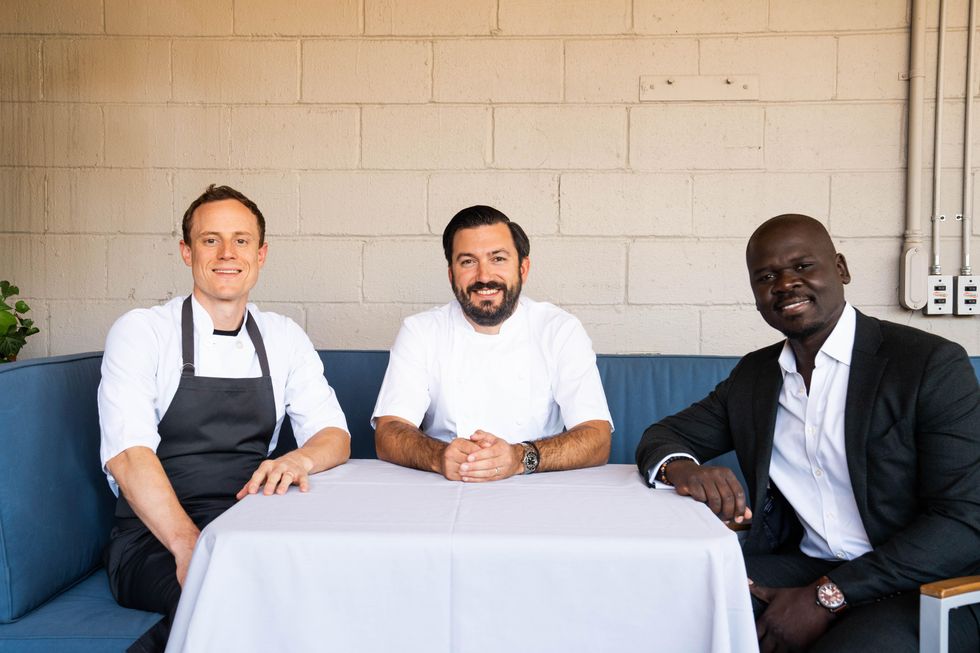 Jerrod Zifchak, Aaron Bludorn and Cherif Mbodji (photo by Michael Anthony)
Expect exemplary service at every turn, including a sophisticated number-tab system for holding to-go items in a "coat closet." Working with his wife Victoria and their partner Cherif Mbodji, Bludorn has enlisted a dream team of veteran hospitality professionals to uphold the same standards of excellence that made his first Houston restaurant a runaway success.
Mbodji oversees the front-of-house operations led by GM Elizabeth Acosta. In the kitchen, executive chef Zifchak earned his culinary chops at the Michelin 3-starred restaurant Le Bernardin before working under Bludorn at Café Boulud New York.
The Dress Code
"At Bludorn, we found that the ultimate luxury was the ability to choose your own dining experience and we plan to emphasize that even more at Navy Blue," said Bludorn. He added, "The ability to come in and enjoy the restaurant without feeling the need to dress up or to feel pressure to adhere to traditional standards of a fine dining restaurant is what we strived to achieve." Expect to see diamonds, denim and everything in between.
The Details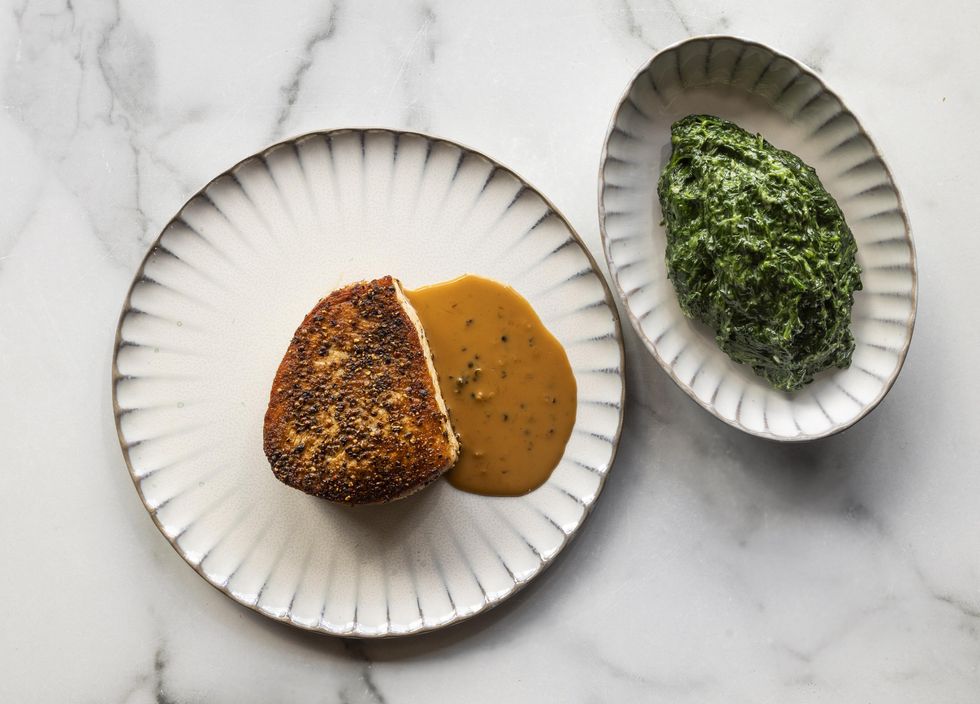 Swordfish au Poivre (photo by Julie Soefer)
Navy Blue
2445 Times Blvd.
713.347.7727
Dinner Mon.-Sat., 5pm-10pm (10:30 on Fri-Sat.). Sunday dinner begins Dec. 4, from 5pm-9pm. Lunch and Sunday brunch will follow in 2023. Valet or self-park in Rice Village. Reservations available on Resy, or visit navybluerestaurant.com.
Food