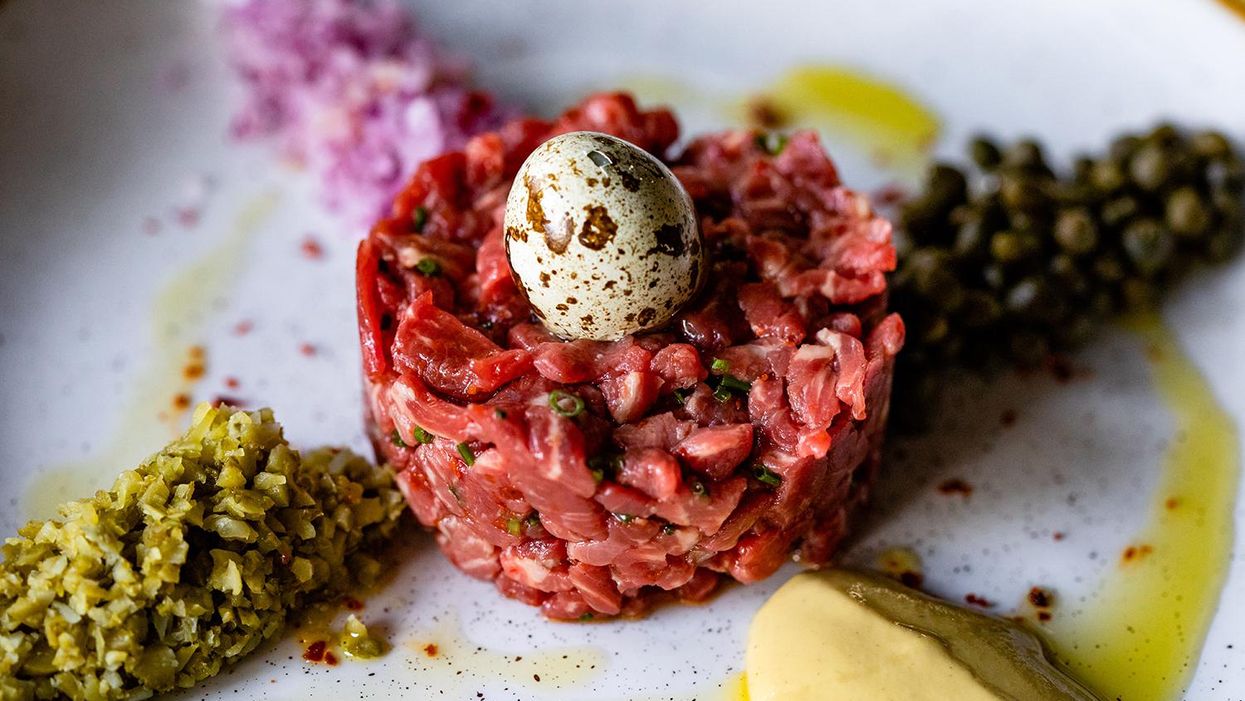 THERE SIMPLY MAY be no trendier restaurant in all of Houston at this moment than Grant Cooper's Gratify in Rice Village. If you happen to overhear a group of well-heeled yo-pros discussing brunch, or a gaggle of PYTs making girls-night plans, they will, almost inevitably, reference the buzzy, six-month-old hotspot billed by its owner rather understatedly as a "neighborhood bistro."
---
Make no mistake, this place — which was previously another of Cooper's eateries, the Southern-style Punk's — is, even without the former restaurant's acclaimed fried chicken, a total clucking scene.
Indeed, on a recent Wednesday night, even at the late seating, there are no empty tables. More than one is all-female, sipping cocktails such as the Gratify Smash (tequila, ginger, lemon and basil) right through their multiple courses, culminating with cotton candy presented festively in a silver Champagne bucket and set alight with a sparkler. Happy birthday, beautiful! Some of the other tables appear to be occupied by after-work happy-hour holdovers who decided to just make a whole evening of it.
For his part, Cooper — who, with former chef-partner Charles Clark, has been behind some of Houston's most noteworthy restaurants of the past couple decades, including Coppa Osteria next door, the late great Ibiza in Midtown, and the similar scene on the palm-lined River Oaks shopping strip, Brasserie 19 — says Punk's belongs in the suburbs. And Gratify, which he calls an "adult playground," better befits the space's dense and bustling inner-Loop locale.
News of the split with Clark is only about a week old, an announcement that stunned the city's dining industry. Cooper, under the newly formed Good Vibes Hospitality banner, will continue to own and operate Gratify, Coppa and a new place on Allen Parkway, Flora, formerly known as The Dunlavy and set to reopen next month. Chef Clark will continue to be the face of Brasserie 19.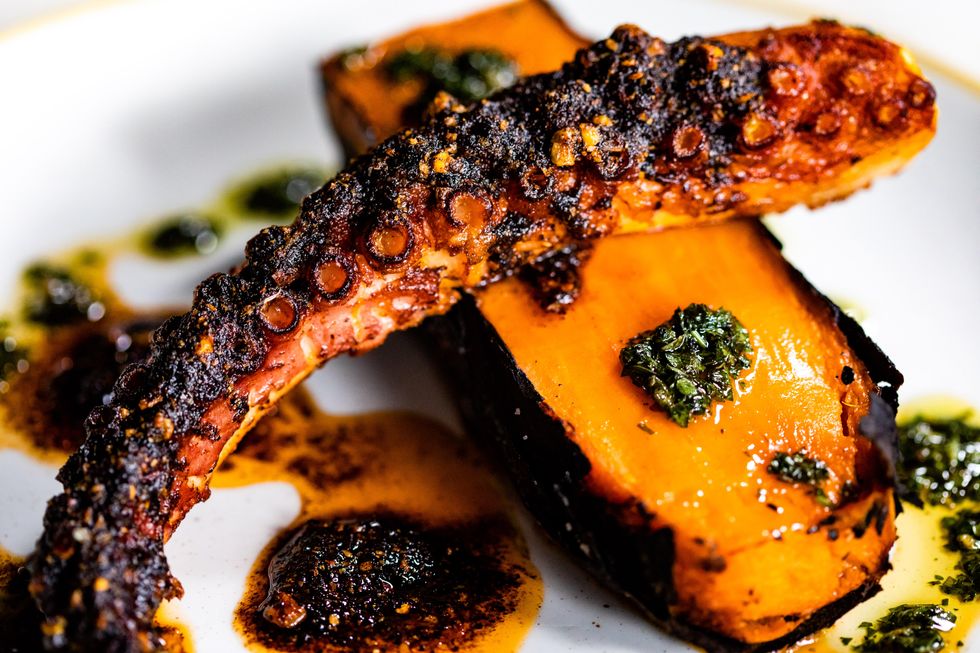 Charred octopus and sweet potato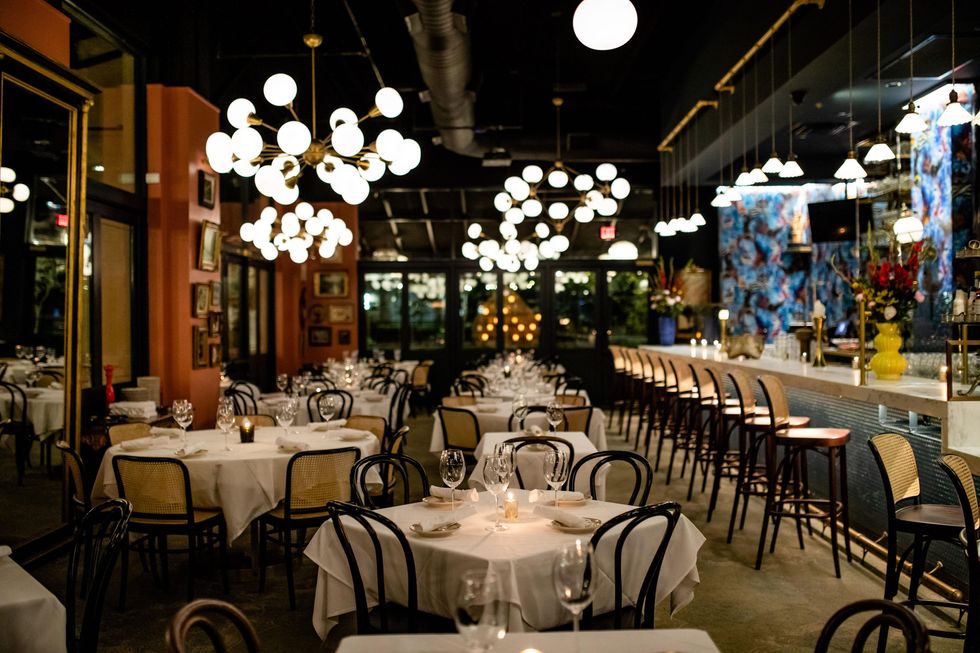 Inside the dining room at Gratify
For its part, Gratify, done up in dark hues and candlelit and adorned with mirrors and plush lounge seating here and there and flanked by a long marble bar one side and not one but two thrillingly urban patio spaces — may be the truest manifestation yet of Cooper's own personality. Many of the vibey accents, in fact, were sourced from his and wife Jacy's personal belongings. Even the ever-shimmering disco ball near the entrance? "Yes, actually" laughs the cosmopolitan Cooper, tonight bedecked in his signature style, in a skull cap and many layers of hip neck and wrist jewelry. "Even that."
This extends, of course, to the creatively curated and highly sharebable menu. Standout starters, apart from selections from the ample raw bar and caviar service, include classic garlicky Oysters Rockefeller on the half shell, broiled with decadent creamed spinach, a generous topping of Parmesan breadcrumbs and a splash of Pernod. And it must be said that the lamb meatballs, simply plated with a smear of tzatziki and bite of herbed salad, are just plain great.
Some items are a bit more off the beaten path, and are becoming a bit famous. The grilled broccolini with spicy black lentils makes a statement, especially when the poached farm egg on top is broken and mixed in; this is a dish Jacy makes at home. And the most memorable and delicious dish on the menu is the charred octopus with charred sweet potato; the presentation, with a fat reddish-black tentacle wrapping around a bright orange chunk, all set upon a shallow pool of dueling red and green salsas, is striking.
If there's still room for entrees — and who says you have to leave any? — the short ribs come on the bone with mashed potatoes on the side. Desserts are also approachable and fun to share, as in flourless chocolate cake and butterscotch pudding so good it makes you wonder why it isn't on every menu.
Food