Healthy Holiday
Thanks to a beautiful new cookbook, the wellness-savvy lifestyle celebrated at Cal-a-Vie, the famous Southern California spa owned by Houstonians, is within reach this season.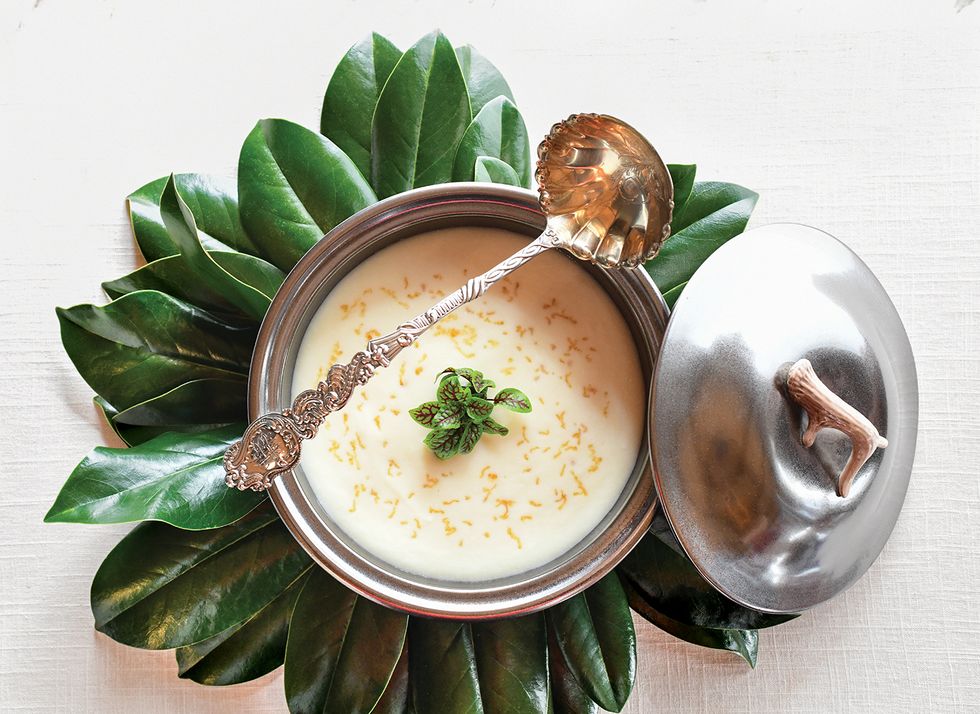 Internationally renowned health spa Cal-a-Vie, the Southern California dream destination owned by Houston power couple Terri and John Havens, is continually evolving and improving — just as it encourages its guests to do. "We pride ourselves on being on the cusp of beauty, body, fitness and nutrition," says Terri. She cites the intense new "turbo-jolt" massage that "flushes out all of the toxins" in the body; and a unique nutritional test called Wellness FX, which can pinpoint food intolerances and hormone imbalances. And the vineyard's fabulous, 300-year-old Parish house was recently imported from Dijon, France, with its own outdoor fireplace and panoramic vistas to soak up during wine tastings.
---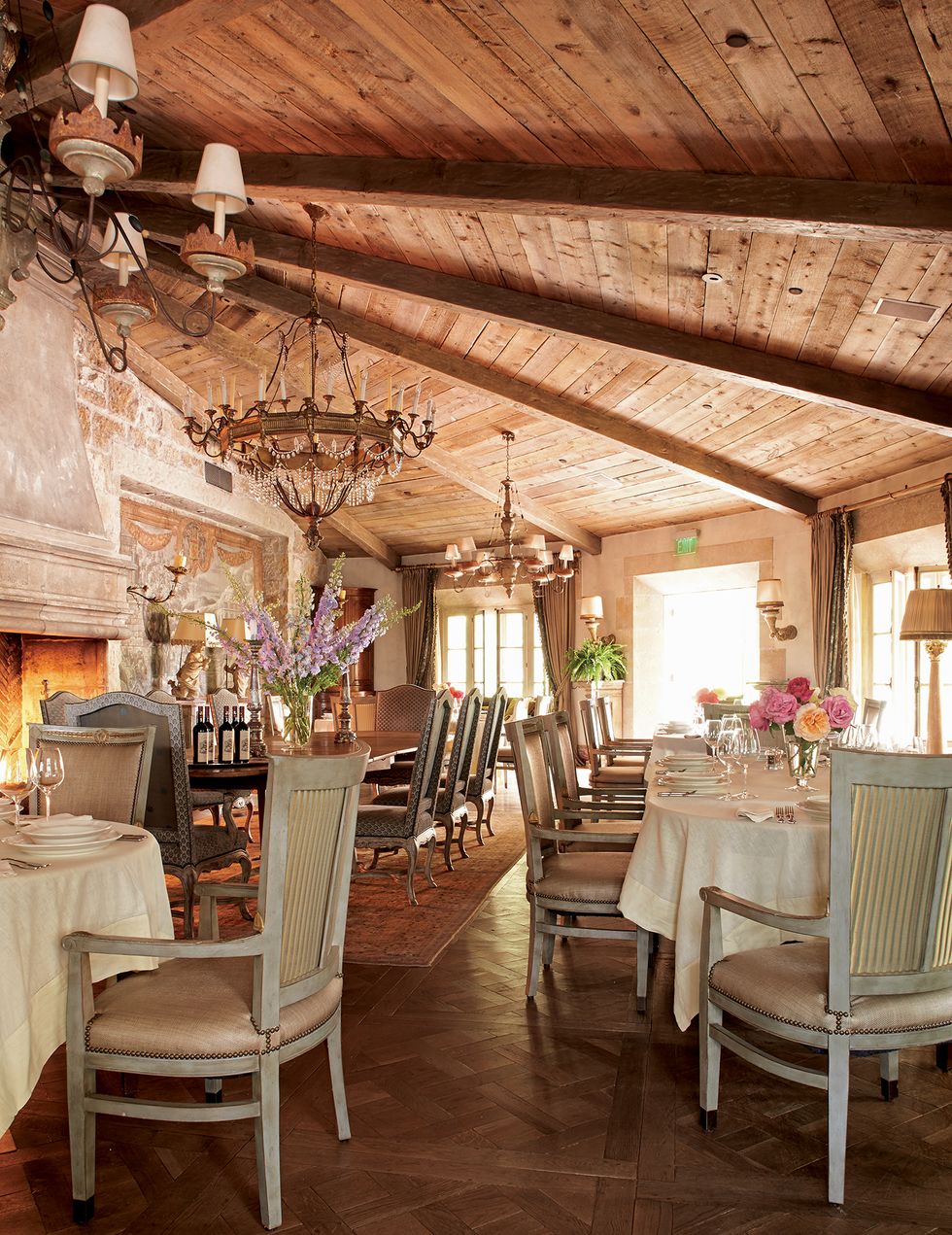 Like the guest rooms, the main dining room at Cal-a-Vie is appointed with grand European antiques
But arguably Cal-a-Vie's most exciting offering this fall is its first-ever cookbook, Beautiful Living: Cooking the Cal-a-Vie Health Spa Way. "Our guests were begging us for it," says Terri. "We have cooking classes, and everyone always asks the chef for the recipes. He was constantly writing out recipes for people! We knew it was time to send [a cookbook] home with everyone."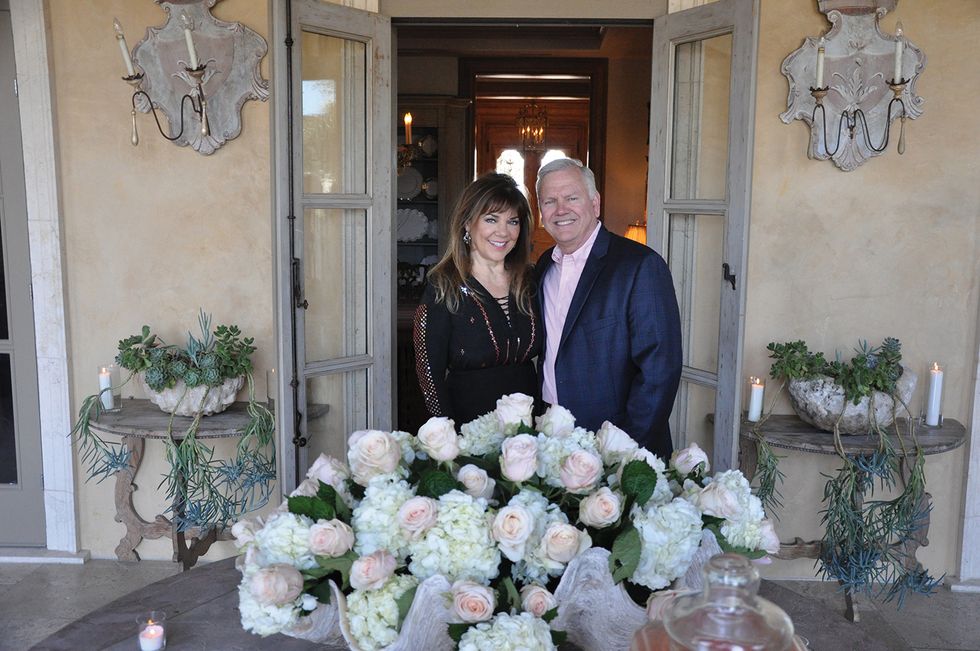 Terri and John Havens
Interspersed among the 100-plus recipes are stunning photos by Houston's Debora Smail, and tales of the Havens' journey to owning Cal-a-Vie. Terri herself was extremely hands-on throughout the process. "The most surprising thing was how hard it was to take a recipe that is made for 35, and pair it down for a family meal," she says. "You can't just divide by six. We had to cook every recipe for a home kitchen. There were lots of adjustments." Here are three (well adjusted) recipes to try this holiday season.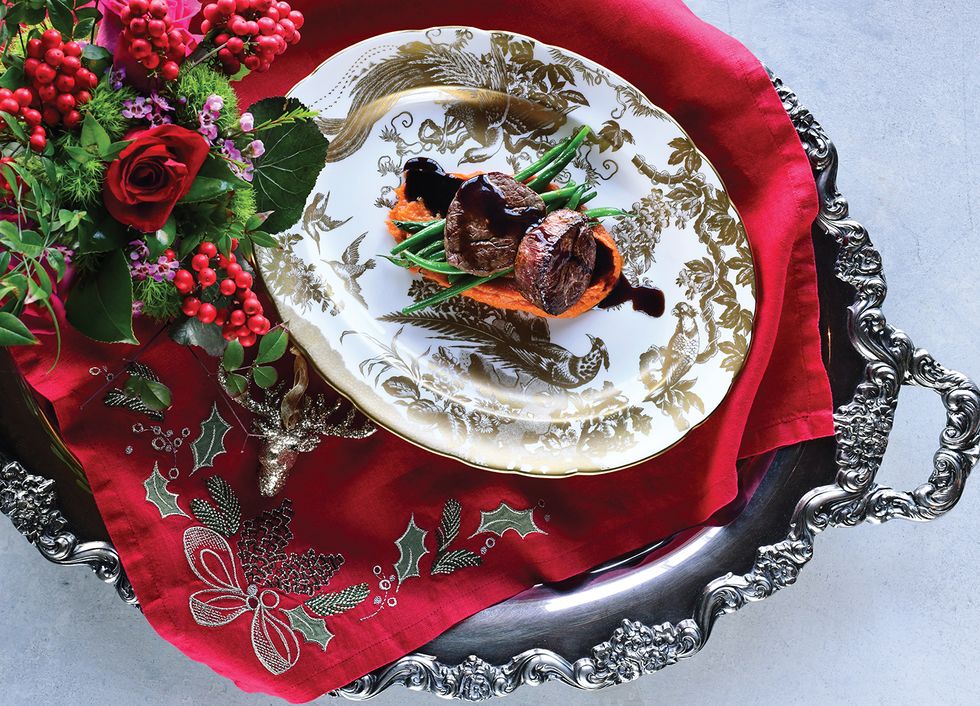 Beef Tenderloin With Red Wine
 

Demi-Glace and Sweet Potatoes

Marinate Beef Tenderloin

1 tablespoon grapeseed oil

2 tablespoons chopped fresh parsley

2 tablespoons chopped fresh chives

kosher or sea salt and freshly ground black pepper

8 beef tenderloin fillets (4 ounces each), cut 3-inches thick

In a small bowl, combine the oil, parsley, and chives. Salt and pepper the steaks. Rub the marinade over the beef and marinate for 2 hours in the refrigerator.

Mashed Sweet Potatoes

1 pound sweet potatoes

1 teaspoon smoked paprika

1 tablespoon maple syrup

½ teaspoon kosher or sea salt

¼ cup + 1 tablespoon orange juice

Preheat the oven to 350ºF. Roast whole sweet potatoes on a baking sheet for one hour, or until soft and tender all the way to the center. Peel the sweet potatoes while still warm, and break up with a potato masher. Add other ingredients and continue mashing until smooth. Set aside and keep warm.

Red Wine Demi-Glace

2 tablespoons grapeseed oil

1 onion, sliced

2 ribs celery, peeled and sliced

2 carrots, trimmed, peeled and sliced

2 tablespoons tomato paste

2 cups dry red wine

4 cups beef or veal stock

sea salt

In a large saucepan over medium heat, add the oil, onions, celery, and carrots. Sauté for about 10 minutes, stirring often, until the vegetables are caramelized. Add the tomato paste and cook until it turns brick red. Add the wine, bring to a boil and then reduce the heat to a simmer. When reduced by half, add the beef stock and continue to simmer until a syrupy consistency is achieved. Strain the vegetables and season with salt to taste. Set aside and keep warm.

Tenderloin Preparation

Marinated Beef Tenderloins

2 teaspoons grapeseed oil

Preheat the oven to 350ºF. Remove the tenderloins from the refrigerator, take out of the marinade and pat dry with paper towels. Let sit for about 30 minutes so they come to room temperature. In a large oven-safe sauté pan over medium-high heat, add the grapeseed oil. Sear the first side of the tenderloins for about a minute, or until they're a golden brown color. Flip the fillets over and sear the other sides. Transfer to the oven and cook for about 5 minutes for a medium finish. Remove from the oven and let rest for 5 minutes.

To serve, place one tenderloin on each plate with sautéed green beans and mashed sweet potatoes. Top with the Red Wine Demi-Glace sauce.
Parsnip-Apple Soup
1 tablespoon extra-virgin olive oil
1 onion, sliced
3 pounds parsnips, peeled and chopped (about 6 medium parsnips)
1 garlic clove, smashed
1 pound Gala apples, peeled, cored, and chopped (about 2 large apples)
½ cup dry white wine (we recommend using Chardonnay)
2 quarts vegetable stock
4 sprigs fresh thyme
1 bay leaf
salt and freshly ground pepper, to taste
2 cups 2% milk
In a large soup pot over medium heat, add the olive oil. When warm, add the onions and parsnips. Sauté about 8 minutes until soft and beginning to turn brown. Add the garlic and stir about 1 minute. Add the apples, wine, vegetable stock, thyme, and bay leaf. Bring to a boil and then reduce the heat to simmer for about 45 minutes or until apples and parsnips are soft enough to smash with a fork on the side of the pot. Remove from heat and discard the thyme sprigs and bay leaf. Using a blender, puree in batches while adding the milk to create the correct soup texture. Return to the pot and reheat. Add salt and pepper to taste.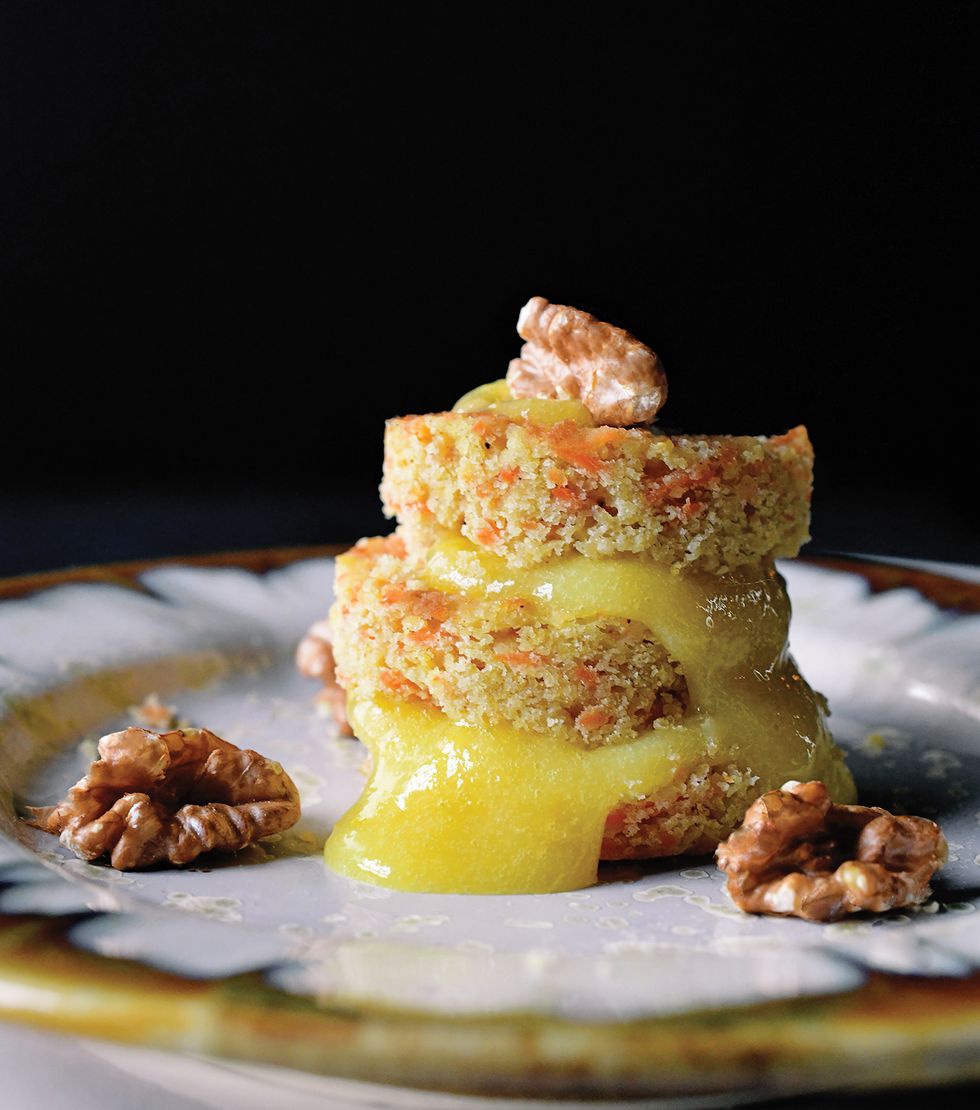 Cal-A-Vie Carrot Cake with Lemon Curd
Carrot Cake
1½ cups gluten-free flour (we recommend Bob's Red Mill®)
1 teaspoon baking powder
1 teaspoon baking soda
¼ teaspoon allspice
¼ teaspoon ground cinnamon
¼ teaspoon ground nutmeg
1½ cups sugar
½ teaspoon sea salt
¾ cup plain Greek yogurt
¼ cup coconut oil (melt first if using solid coconut)
3 eggs
1½ cups grated carrots
Preheat oven to 350F. In a large bowl, combine the flour, baking powder, baking soda, allspice, cinnamon, nutmeg, sugar and salt. Set aside. Using a standing mixer with the paddle attachment, combine the yogurt and coconut oil, blending together for about 2 minutes. Gradually add the dry ingredients and mix until incorporated. Add the eggs one at a time and then gently add the carrots until mixed well. Grease a 9-inch cake pan with non-stick spray and pour in the batter. Bake for 30-40 minutes or until a toothpick comes out clean when inserted. Set aside to let cool.
Lemon Curd
3 egg yolks
⅓ cup sugar
⅓ cup fresh lemon juice
In a medium saucepan, add enough water to come about 1 inch up the side. Bring to a simmer over medium heat. In a small bowl, combine the egg yolks, sugar, and lemon juice. Place the bowl over the saucepan and whisk until the mixture is smooth and thickened (about 10 minutes). Set aside to cool.
Using a small biscuit cutter, cut cake into small squares and top each with a small amount of Lemon Curd.
Food+Travel