Hooked on the Outdoors
The Gordy family builds a luxury clubhouse for Houston's sporting class.
Jhane Hoang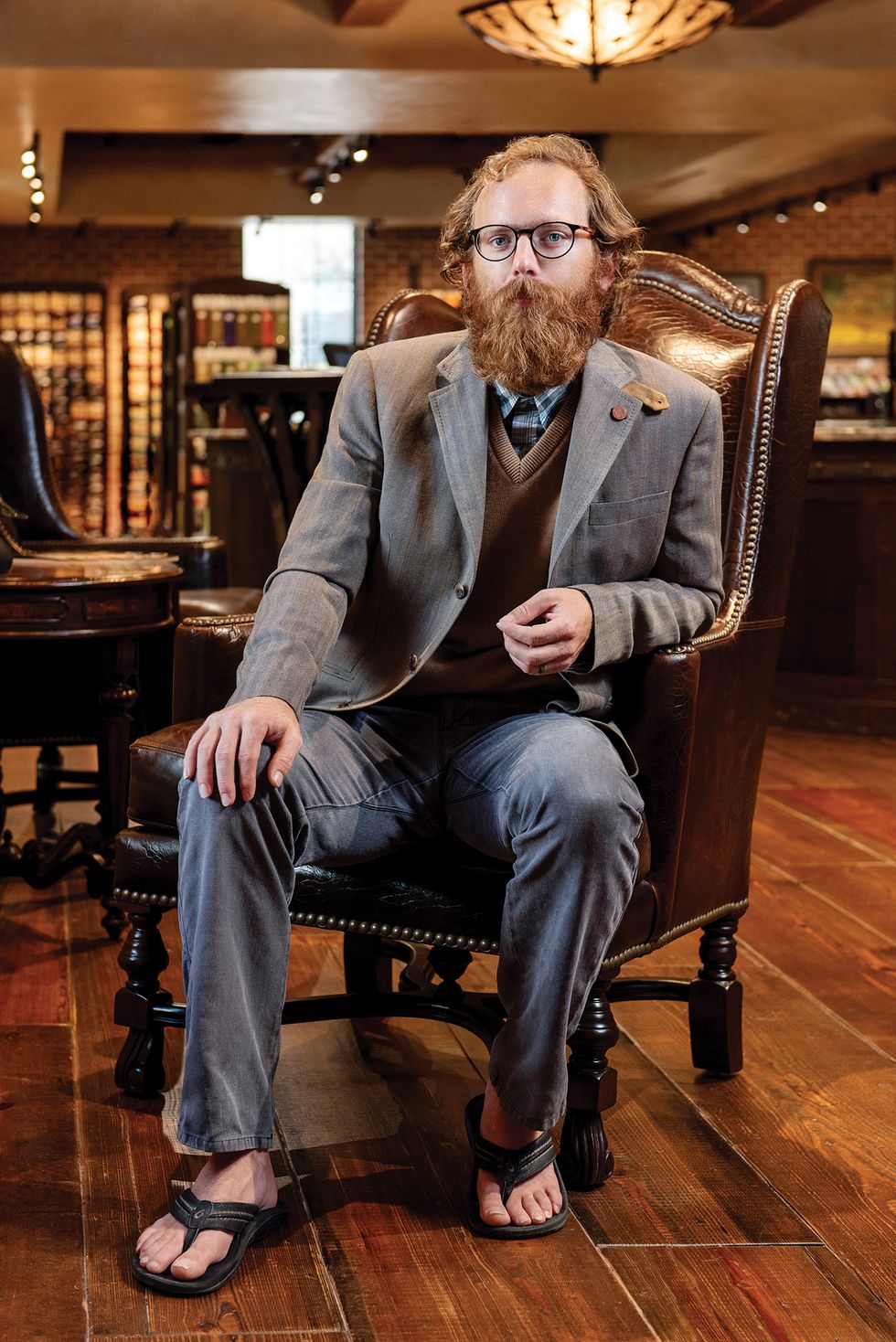 The swankiest sporting emporium in the United States celebrated its first year in business this fall, but there's no arguing that the 11,000-square-foot Gordy & Sons is anything but old school. The shop, located on Waugh just off Washington Ave., offers everything a well-heeled wing-shooter, fly-fisherman or big-game hunter could desire. Whether the game is pheasant and partridge in the U.K., or chasing redfish on Matagorda Bay, or simply an afternoon cigar while luxuriating by the manmade pond out front, Gordy & Sons has it covered.
---
The shop, with its floors of longleaf pine and a gun vault with repurposed safe doors from a 1930s bank, is an ode to Houston oilman Russell Gordy's boyhood obsessions. The son of a policeman and cleaning lady, Gordy's adventures across East Texas and Louisiana instilled a passion for outdoor pursuits. At age 16, he bought his first shotgun — a Remington 12-guage — with money earned as a rough neck.  Gordy graduated college from Sam Houston State, and hit his stride in the energy industry, skirting bankruptcy and eventually buying up mineral rights from U.S. Steel.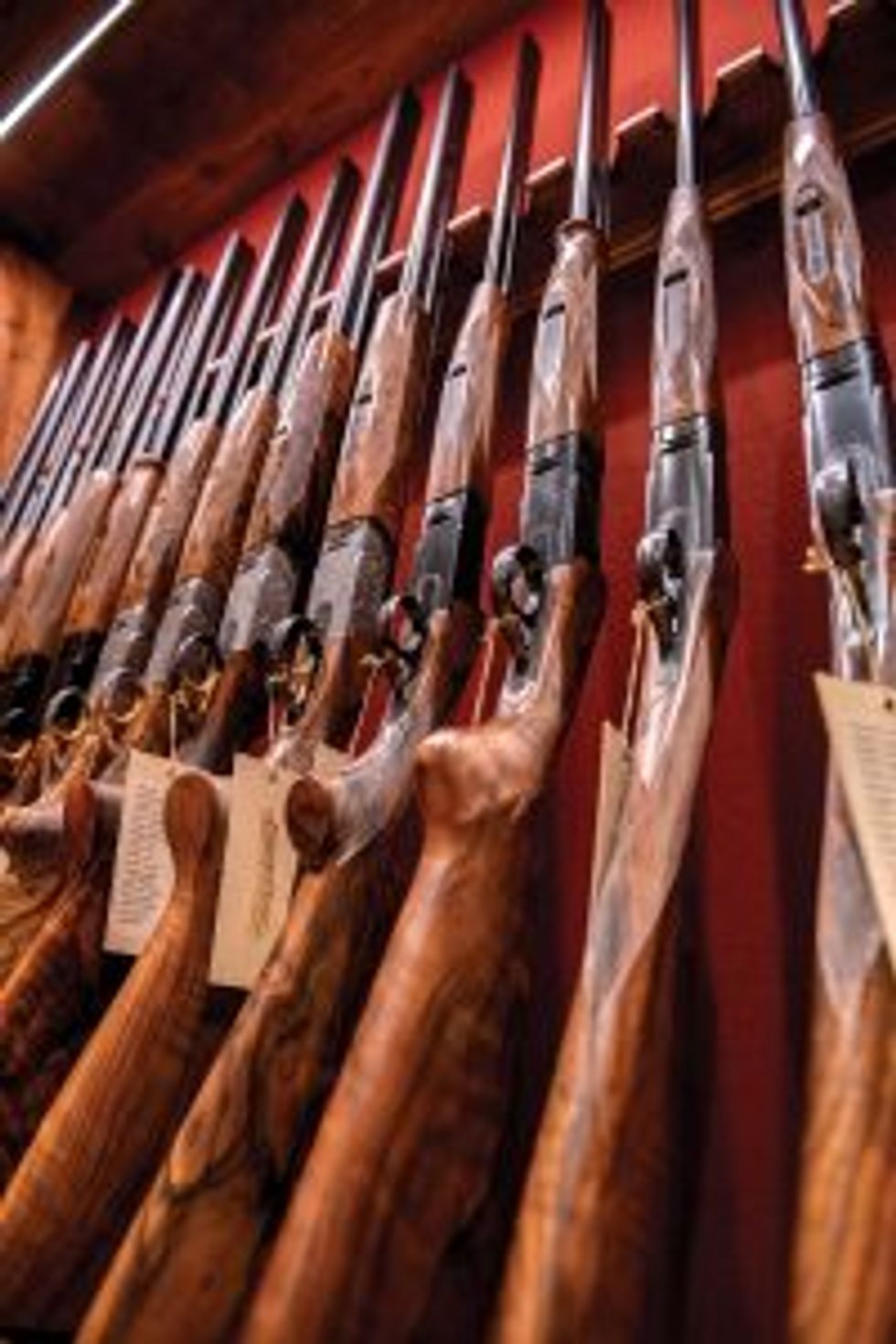 Gordy & Sons' selection of high-end shotguns
"A lot of gas and oil guys are into hunting and fishing," says Gordy, who in addition to a museum-worthy gun collection has acquired ranches in South Texas, Montana and Wyoming; according to reports, he is one of the largest individual landowners in the U.S. "My wife told me, 'You are getting older, and you should do what you want.' But I don't think [the shop] is what she had in mind."
Gordy brought in a crew of specialists to oversee the store's elaborate gun-smithing suite and fly-fishing operations; Dustin Mount, one of the few people in the country certified to work on the British-brand Purdey shotguns — with top models selling for more than $150,000 — was a special hire.
And Gordy's grown sons Shaun and Garrett both have a hand in helping manage the store. The overall attention to detail is apparent in the gun vault architecture, inlaid with black walnut that highlights the artistry of the high-end custom firearms held therein. "We made a conscious decision to stick to the premium brands when it comes to hunting and fishing," says Garrett, the youngest of Russell's sons. "A handmade shotgun can take 2,000 hours to make. It's like a functional piece of art."
"It's almost a lost art," chimes in the store's gunsmith, Jeff Rodgers.
Speaking of art, the visual arts are also on display throughout the store. Legendary outdoor artists such as the late pioneer John Cowan and Texas Coast native Al Barnes have work on display, depicting scenes of duck hunters, surf casters and others in quintessential poses. Gordy & Sons also works closely with up-and-coming Waco talent Chance Yarbrough, who produces lifelike giclée prints of deer and fish.
"My wife doesn't let me go in the vault," muses Russell. "She worries I'll just end up buying another gun. I'm only allowed to sell women's jewelry, not guns." Indeed, the jewelry — precious custom stonework crafted by Elichai Fowler, who is based in Livingston, Montana, not far from the Gordy spread — is displayed in cases that sit just outside the vault, and out-prices the firearms, with a few exceptions for consigned collector's guns. Elsewhere on the floor, there is plenty of top-quality functional fashion for everybody, as well as first-rate accessories, from Filson shirts to folding knives.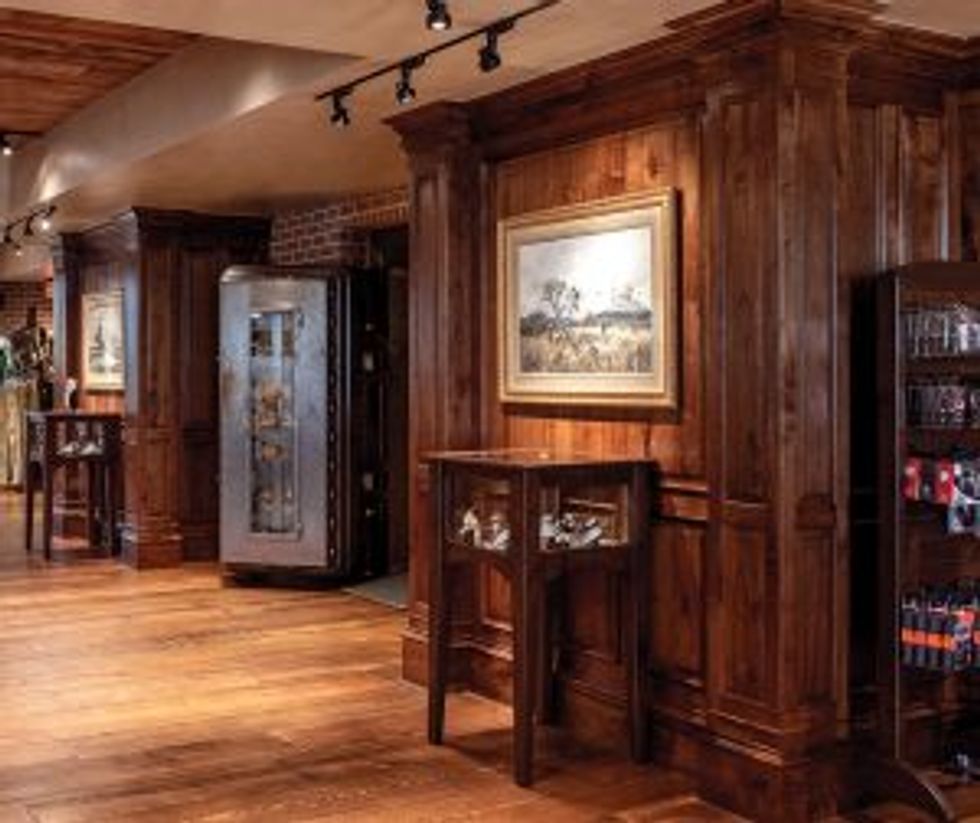 The gun vault at Gordy & Sons is flanked by cases of pricey jewelry.
In the meantime, for his part, Garrett tends to gravitate to the expansive fly-fishing section of the store. Though he grew up following his older brother and father on trails in East Texas, Garrett is the resident fishing expert, which he acknowledges is a relatively new obsession, born of recent trips to Galveston, where he has been pursuing redfish, trout and occasionally tarpon — all within sight of the shoreline. "For the family, shot-gunning is the main passion. We all hunt, big game too, but the fly side is really what I lean towards. It really is a brotherhood."
With $300-plus Abel and Galvin reels, a wide selection of rods from top manufacturers, waders and all the paraphernalia to get anglers started in the sport, in point of fact the fishing selection is a relative bargain. At $1,600, the Gordy & Son's patented "tarpon setup" includes a Hardy Zephrus rod, hand-picked flies for the "silver kings" of the Texas Coast, and leaders tied by the shop's specialists.
"We can set you up for anywhere in the world," says Garrett. "But with the Gulf of Mexico just 45 minutes away, we do tend to specialize in saltwater."
AT TOP: Garrett Gordy, along with his brother and dad, run Gordy & Sons high-end outfitters.
Home + Real Estate