Homaging Its Late Founder, Gallery's Holiday Show Ushers Viewers Outside 'The Box'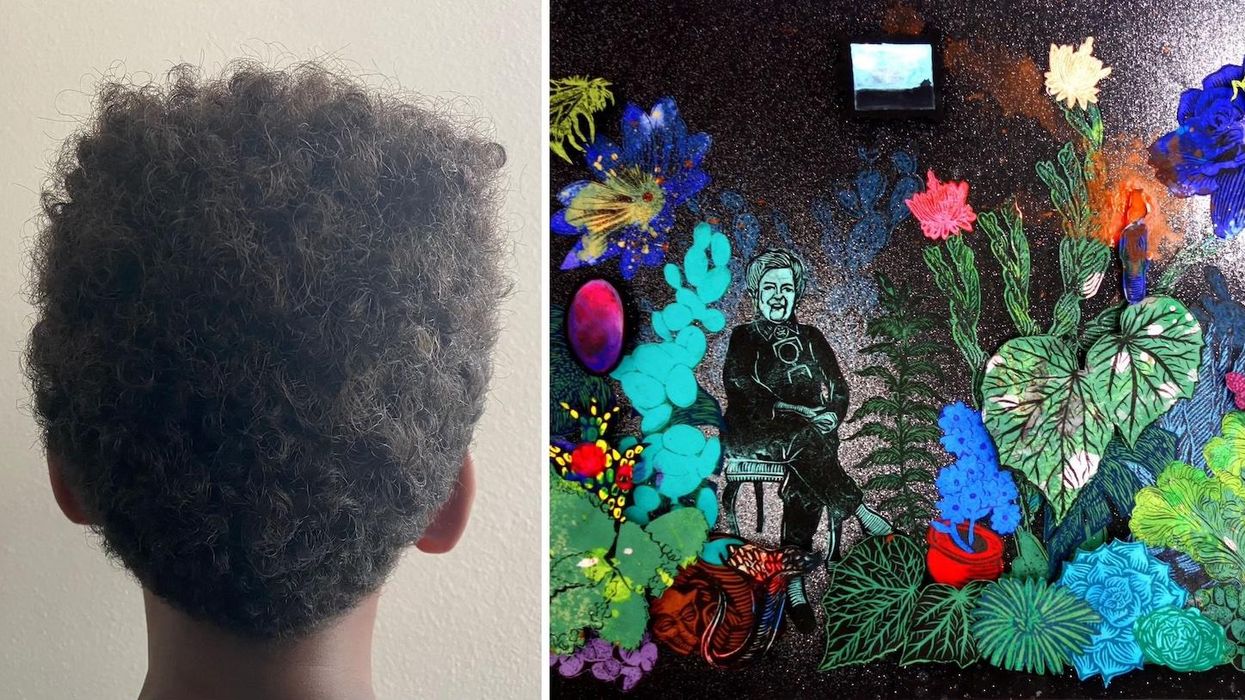 In a corner next to the front entrance of Hooks-Epstein Gallery, hanging above a small, antique writing desk, is a portrait of the gallery's owner, the late Geraldine "Geri" Lee Epstein Hooks, who passed away at her home on June 7, 2021. She was 86.
---
This simple altar anchors the gallery's current show, The Box (through Jan. 8), a group exhibition of 44 works by some of Houston's best known artists, each with a strong connection to Hooks, including Kermit Oliver, HJ Bott, Meredith Jack, Floyd Newsum and Gael Stack, as well as younger artists Shayne Murphy, Rabéa Ballin and Ronald L. Jones. Non-Texans in the show include twin brothers Kelly and Kyle Phelps and Stephanie Mercado.
The carefully installed show gives plenty of space for the viewer to move around and take in each relatively small work, and with sun pouring through the glass entrance, the experience is far less gloomy than the casual visitor might expect.
Hooks, a Houston native who ran the gallery with her husband Charles V. Hooks, was known for her themed exhibitions, and had the concept and several artists selected for The Box months before the pandemic. In September, gallery director Yvonne Garcia and the rest of the team at Hooks-Epstein decided to go forward with Geri's vision and reach out to artists across Houston for works to include in the show, be it a drawing, painting or sculpture, so long as the work somehow manifested "the physical and intellectual concept of a box." The show also provided an opportunity for the artists to pay their respects to Geri and celebrate her legacy.
Some works in The Box allude to the rituals we follow when someone has passed, such as the glowing LED candles paired with cicada exoskeletons in Angel Castelán's mirror box "17th Iteration of Trees," the bones and flowers in Robert Kinsell's "Boxed Memorial," and a single, dry plant in Kermit Oliver's stark drawing "Hortus Siccus."
But more often, there's a sense of contentment and even joy in the art on display. Mercado's print collage "Untitled" features a smiling Geri seated in what could be a butterfly garden on an alien world, complete with a giant bumblebee, while a mysterious, rectangular portal hovers just behind her in the nighttime, star-filled sky. Despite the fantastic nature of her surroundings, Hooks seems entirely at ease in this weird world, and ready to reassure the viewer she's in good shape, and wow, isn't life both beautiful and strange?
Founded in 1969, Hooks-Epstein holds the distinction of being Houston's oldest commercial gallery still open for business. Going forward, the gallery will retain its name, and no doubt continue support and bring attention to a new, diverse generation of artists, not unlike those who have come together and show their love and appreciation for Geri in this expansive and engaging show.
Hooks-Epstein Gallery will be closed through Monday, Jan. 3. The gallery will reopen on Tuesday, Jan. 4.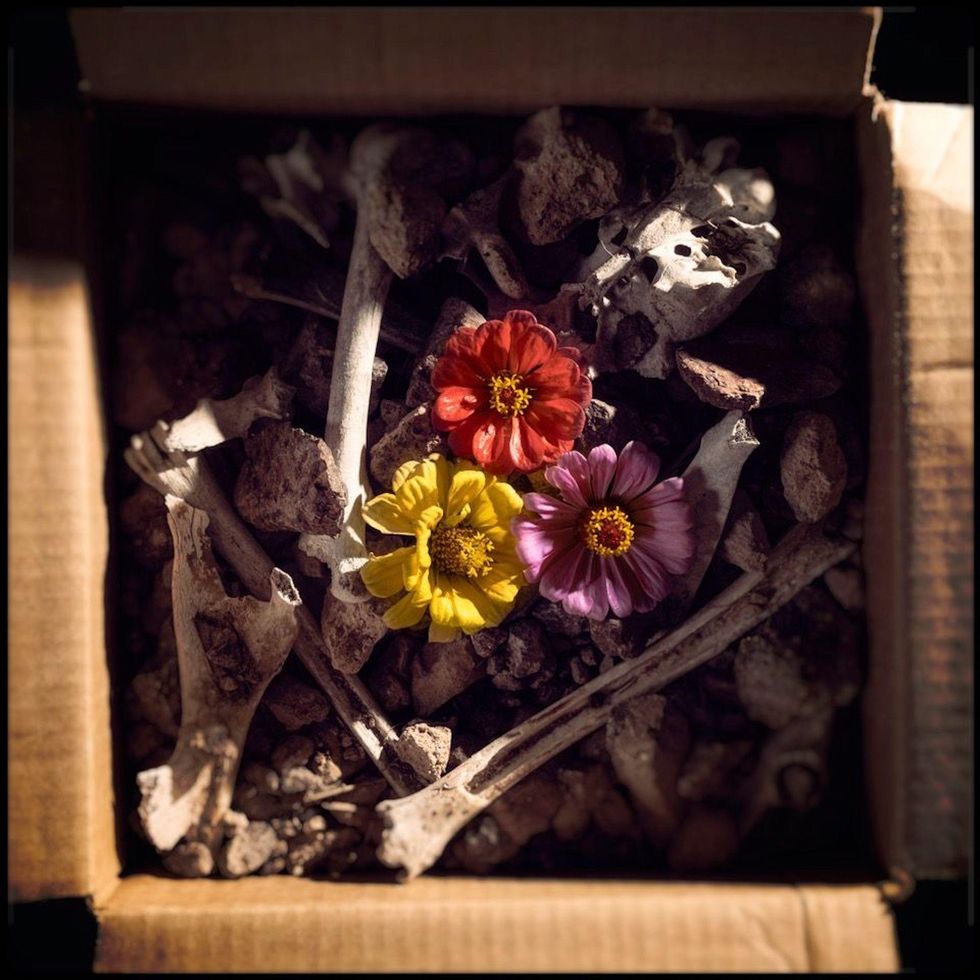 Robert Kinsell's 'Boxed Memorial'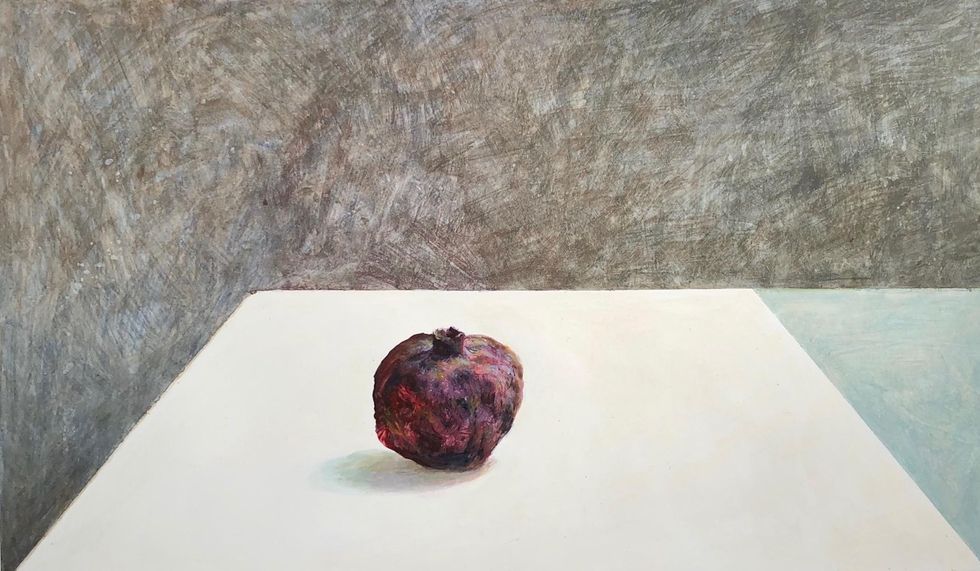 Kermit Oliver's 'Hortus Siccus'
Art + Entertainment