Unexpected Layers Wait to Be Discovered at this Annual Quilt Show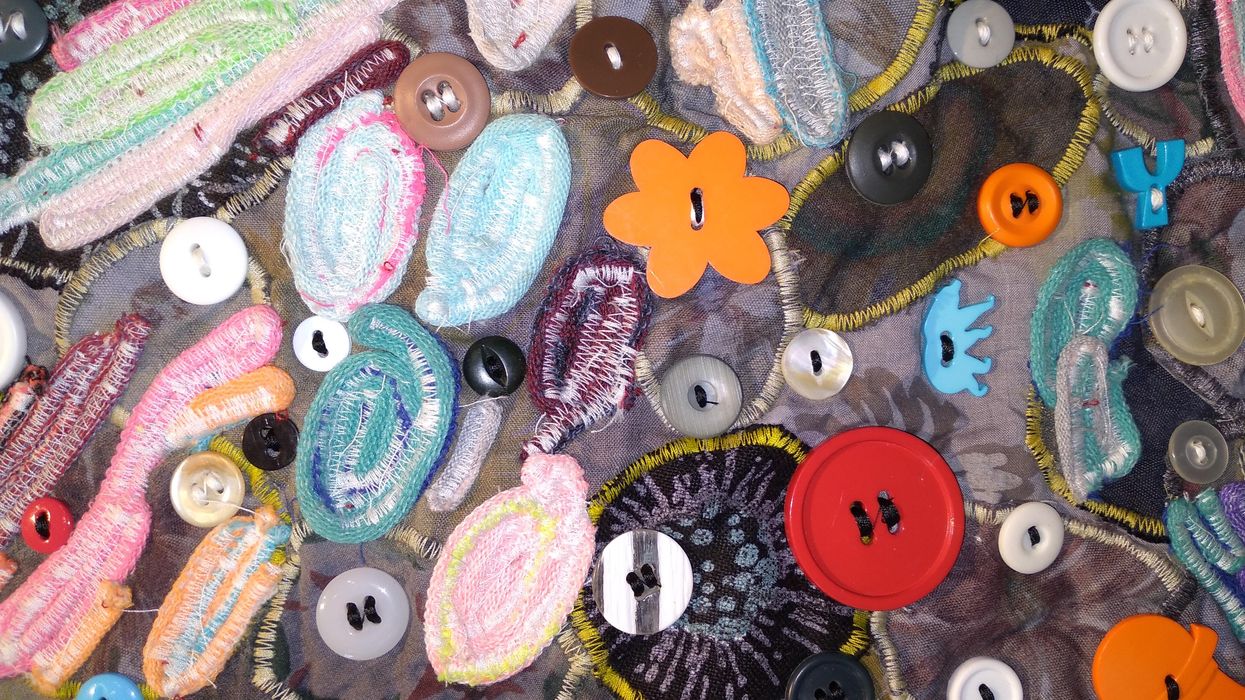 EACH YEAR, THE Community Artists' Collective (CAC), popularly known as "The Collective," puts on the Hearts, Hands, and Heritage Quilt Show, showcasing the art of quiltmaking.
---
Founded by artist-educators Michelle Barnes and Sarah Trotty, the organization this year celebrates 35 years of providing support for African American artists, as well as educational programs in art appreciation, and workshops in all artistic mediums, including quilting.
On view through Nov. 19, this year's Hearts, Hands, and Heritage is a captivating exhibit of beautiful, skillfully made quilts by members of The Collective's Jubilee Quilt Circle, which was founded in 2007 for participants to learn and share what they know about the art of quilt making. For those who might consign quilting to a quaint, folkloric practice, Hearts, Hands, and Heritage is an opportunity to discover how contemporary and experimental the quilting can be.
In the early part of the 17th century, abolitionists working to bring an end to slavery in the U.S. raised money at outdoor fairs by selling African-American-made quilts. These quilts were practical in nature, sewn by enslaved women to keep themselves and members of their family warm — but within the staggered patterns and "mismatched" patchwork, there might be symbolic messages for those ready to attempt the journey to freedom via the underground railroad.
Today, contemporary artists such as Faith Ringgold draw inspiration from the techniques and visual language of African American quilt making to tell new stories — and, in the case of Ringgold's "Picasso's Studio: The French Collection Part I, #7," in which a nude Black woman poses with the ladies of "Les Demoiselles d'Avignon," engage with and subvert the history of art and its male, Euro-centric narrative.
That said, it's interesting that among the quilts in Hearts, Hands, and Heritage, three are made by men: Gabriel Martinez, Daniel Williams and Sean Casey, who, as guys participating in a practice developed and sustained over several decades by women, bring a different kind of energy to the medium.
Houston textile artist Casey, currently the youngest member of the Jubilee Quilt Circle, created "Untitled" as a gift for his mother, with the outlined image of Casey's grandmother materializing like a constellation in a galaxy of plastic buttons, minute toys and patches of fabric. Meanwhile, Martinez's painterly "Untitled" is an example of quilting at its most abstract, and like so many of the quilts in the show, just when you think you've taken in the entirety of the composition, the patterns, colors, and shapes seem to rearrange themselves, demanding yet another look.
Among the quilts made by women is Lady Trish Henderson's "Cookie Lyon's Shoes," a gorgeous grid of 20 extravagantly and singularly designed high-heel shoes, each one a pattern cut and sewn to the fabric by hand. The title namechecks Cookie Lyon, the tough-as-nails hip-hop mogul played by Taraji P. Henson on the TV show Empire, and evokes the spirit of resilience, range of creative vision, and sense of humor to be found in modern day quilting.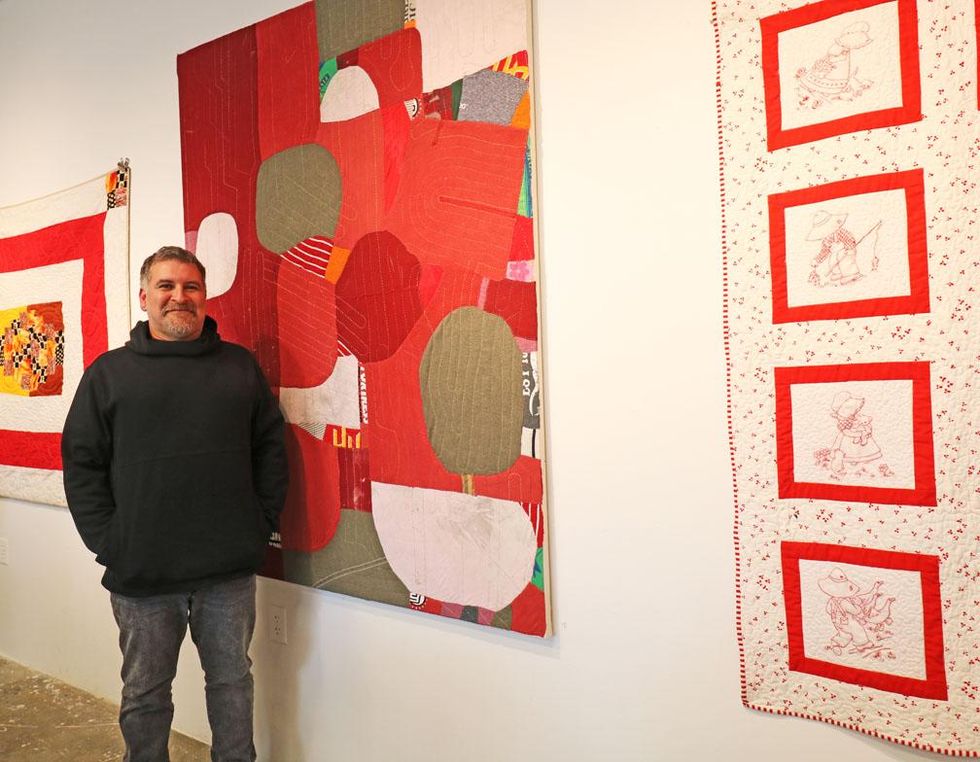 Martinez with his 'Untitled,' found fabrics on canvas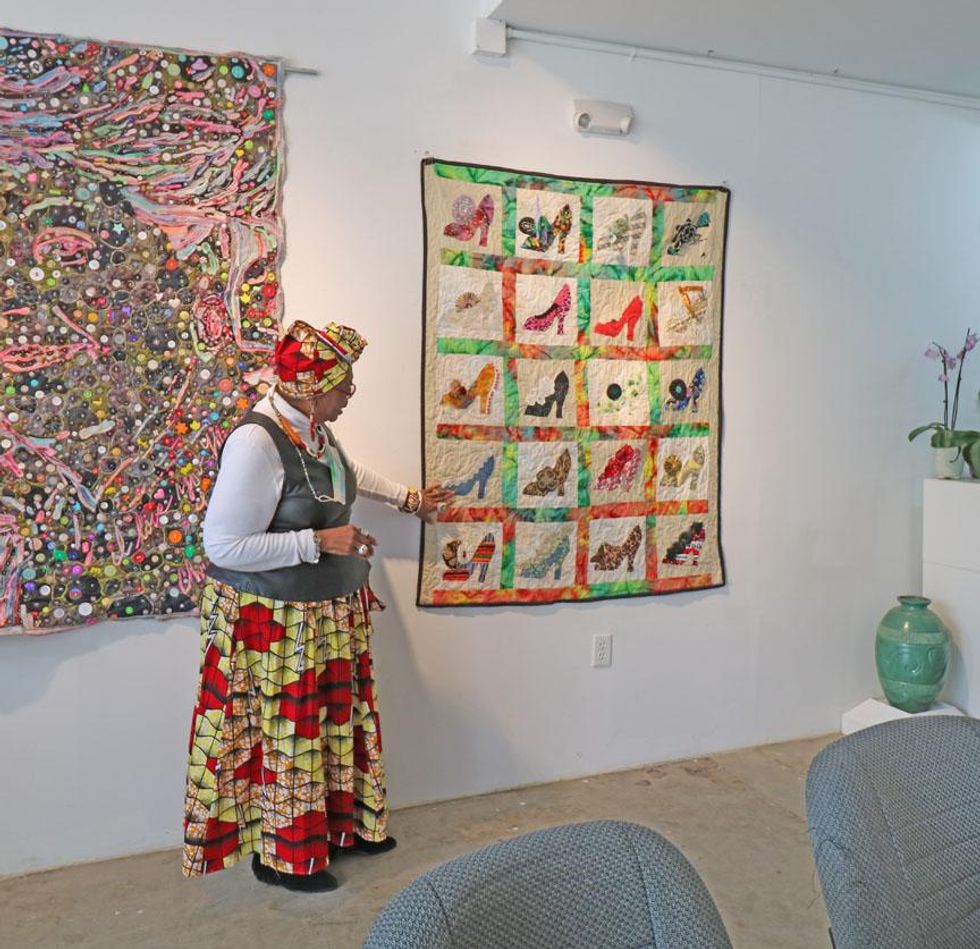 Lady Trish Henderson with 'Cookie Lyons' Shoes'
From Your Site Articles
Related Articles Around the Web
Art + Entertainment