You Can Be at the Swim-Up Bars at These Close-In Resorts in Puerto Vallarta in Three Hours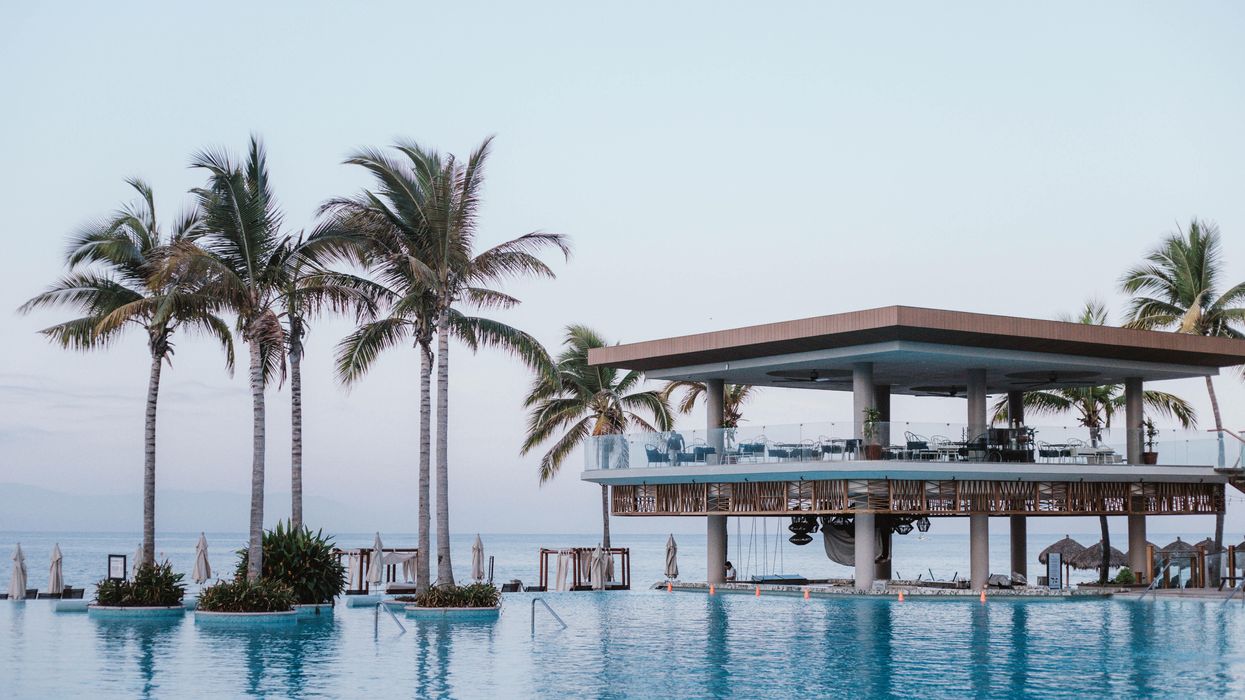 PUERTO VALLARTA, THE beautiful Mexican resort town on the Pacific, flanked by the Sierra Madre mountains, is an increasingly popular destination for Houstonians, and for good reason.
---
Direct flights are quicker and easier than most domestic destinations. And now a pair of sprawling resorts under the same management firm, both literally just minutes from the P.V. airport, near Marina Vallarta on Bandera Bay, make the idea of a quick trip all the more appealing. With a bit of luck, you can literally be sipping fruity drinks from a coconut at the swim-up bar less than three hours after boarding your plane in H-Town.
The Marriott Resort Puerto Vallarta, with an all-inclusive option, is noted for its slick recent contemporary-minded remodel, sexy open-air vibe and onsite sea-turtle rescue operation. A football-field-sized infinity-style pool takes up most of the seaside grounds. Teeming with pretty people, many of them Texans, the pool has a unique, partly in-the-water, two-tiered outdoor lounge in the corner.
Even a rainy evening, which can happen in these parts, is lovely, as songs like Elton John's "Tiny Dancer" echo through the downpour, a sweet soundtrack for watching a storm roll in from a bougainvillea-bedecked balcony. Other memorable moments may be had at the Ohtli spa, which touts couples treatments, or sunrise yoga on the beach.
Meal options at the Marriott are immense and wonderful. There's an ice cream parlor off the lobby, and, at the big breakfast bar, a chilaquiles station. Las Casitas by the sea has a burrito stuffed with shrimp, peppers, caramelized onions and serrano ailoi, with a gratin of cheddar cheese seared onto the outside; it's a wow. For more upscale meals, there's Mikado, with pretty sushi and Japanese teppanyaki performance cooking. Or you can book a private dining room or the twinkle-lighted herb garden for a tequila tasting of the resort's private label, or a multi-course meal with jalapeño-roasted lobster and guava cheesecake.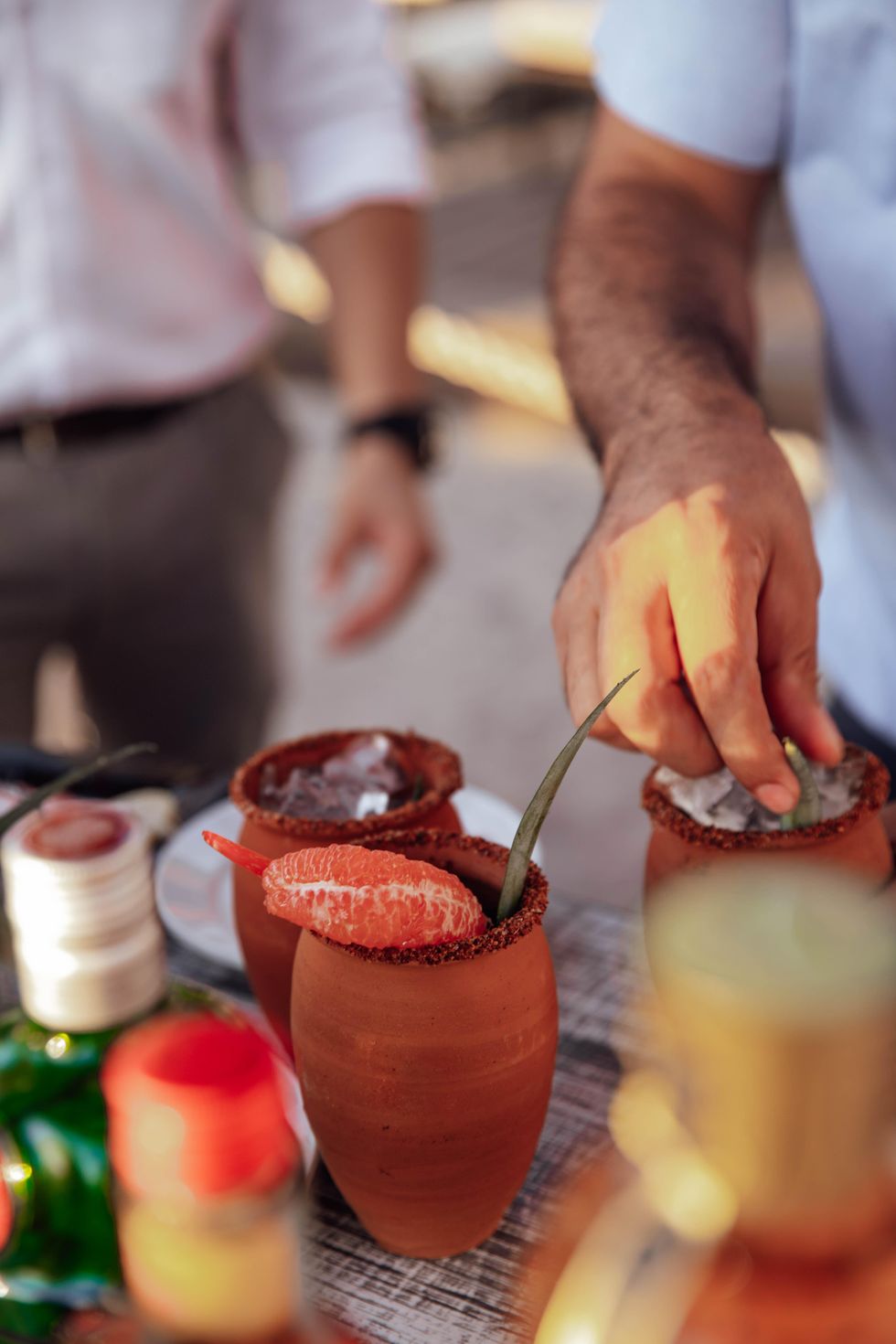 Cool cocktails at the Westin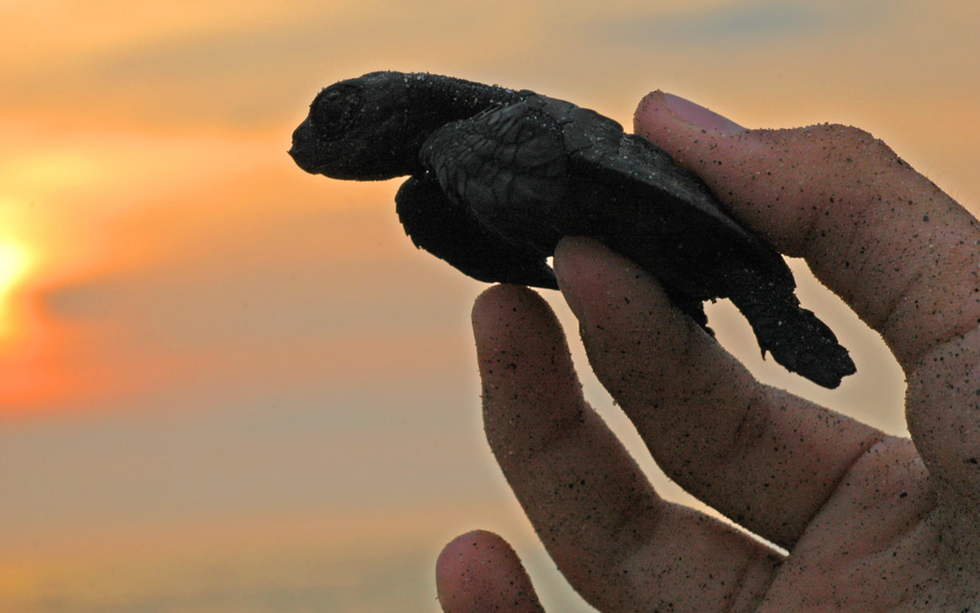 Baby turtles safe and sound
The Westin Resort & Spa, Puerto Vallarta has similar amenities, including towering indoor-outdoor spaces and its own spa, with men's and women's private spaces with indoor pools and waterfalls. The vibe is different here, though, a bit less razzle-dazzle and bit more verdant, with lushly landscaped grounds, and a big freeform pool that seems to wind and curve throughout. Mature ficus trees with foliage shaped into squares provide shaded nooks here and there.
The Westin kitchen will make you a picnic of cheese and charcuterie and mini-baguette sandwiches of brie and pear or roasted duck and berry relish — chomp them after a morning kayaking in the bahía. At night, dine on grilled octopus or mahi mahi at the open-air steakhouse; at late night have a street-food-style burger, grilled at a cart in front of you and topped with chorizo and mushrooms, in the grandest sports-bar setting ever, a vast and soaring terrace that overlooks the whole property like Evita overlooking Argentina.
The whole point of these convenient resorts is that you never have to leave. But if you choose to, suggested excursions include a hike or a zipline adventure at the Canopy River preserve outside town. Here, you can access a covered patio bar situated atop a deep ravine and stocked with Corona by traversing the world's longest vehicle-safe suspension bridge.
Or take a 30-minute hotel shuttle ride south to the cobblestone streets of old downtown P.V. for souvenir shopping, or a stroll along the art-strewn, waterfront Malecon, where joggers and small-boat fisherman alight in early morning. Or downtown's nightlife-savvy Zona Romantica, where the LGBT crowd, including many a Houston gay, gets rowdy after hours.
People + Places