Into the Temple
The sacred and sublime meet in central Vietnam, where a newly reimagined resort coexists with an ancient city.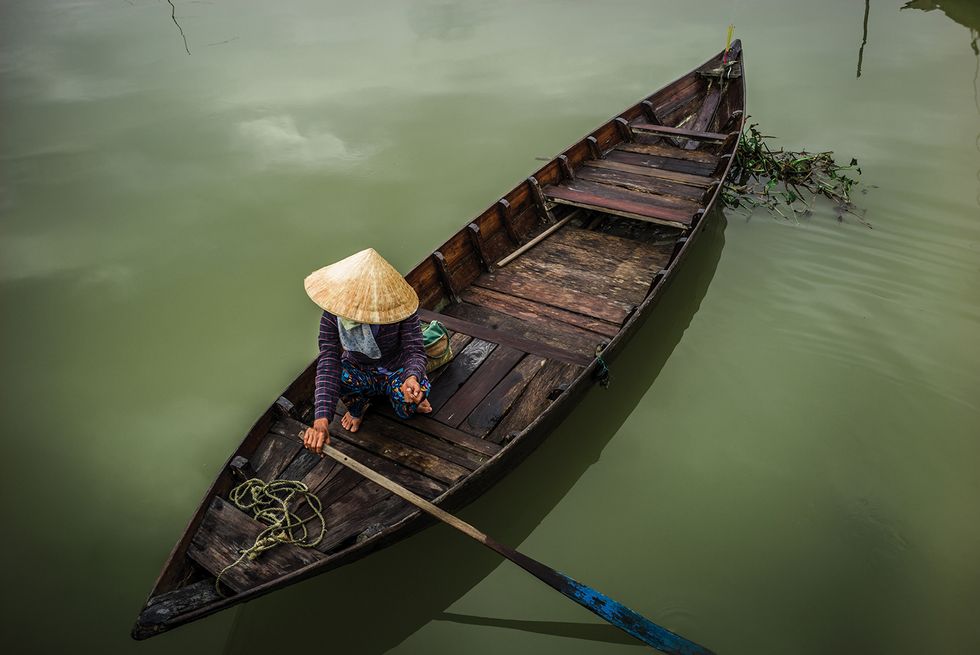 It's hard to leave the Nam Hai in central Vietnam. The sleek and sexy, mindful and meditative coastal resort was recently acquired by The Four Seasons and, after a round of renovations and improvements, reopened a few months ago. It's remarkably accessible these days thanks to posh flights from Houston to Singapore via the U.K. on Singapore Airlines, and a hop up to Da Nang on SilkAir.
---
The enclave, with its vast grounds, lush with tropical landscaping and organized around huge, tiered, infinity-style swimming pools that stretch from a temple-esque open lobby all the way to the South China Sea, is the kind of place you dream of dropping anchor for a long stretch, and letting the very proper staff attend your every need. "Why yes, I'd love another splash of fresh watermelon juice mixed with coconut water! How did you know?"
Then again, it's also hard not to leave, as the property, the Four Seasons' first and only in Vietnam, is nestled in a region ridiculously rich in culture, history and particular natural splendor. The only reasonable thing to do is both, perhaps starting with a few days of cultural excursions, and leaving a few days unplanned and open later in the trip for pool time, spa visits and more.
Of course, the folks at the Nam Hai will even make leaving their premises easy, arranging a private car and tour guide to ferry you to the Hindu temples of My Son — an extraordinary set of ruins built between the 4th and 14th centuries —  or to Hoi An, a trading port on the Thu Bon River that dates to the 15th century and is sometimes called the prettiest town in Vietnam.
In either case, getting there is half the fun. As the car jockeys for its rightful place on roads at times crowded with mopeds darting in and out of rather dangerous-seeming clusters — often three or four surgical-mask-wearing, exhaust-filtering Vietnamese of widely varying ages per motorbike — a panoply of other tableaux appear out the window. Water buffalo meander through rice paddies. Fishermen cast rustic-looking nets from rustic-looking boats into muddy lakes and muddier rivers. Farmers in conical hats tend gorgeous green gardens, growing food for restaurants and markets.
The hustle-bustle of the motorbike brigade ends abruptly at the edge of old Hoi An, a UNESCO World Heritage Site in whose canal-cut central district they are not allowed. Here, on narrow streets bedecked festively with thousands of colorful, spherical lanterns zigzagging overhead, rickshaws are more the style.
Hoi An is a tight-tied mix of French colonial architectural flourishes; pagoda-type covered bridges; mixed-use shophouses with commercial space below and residences above, in the Chinese tradition; Western-style coffee joints blaring everything from Beethoven to Van Morrison; and centuries-old shotgun (or "tube") homes. The eclecticism reflects the town's varied history and influences, a bit like the French Quarter but way older and more Eastern. And it's abuzz, with busy locals tempting visitors — whose ranks include a crush of handsome European and Australian backpackers (this is not in the brochure, but wow) — with unique goods and services.
You might choose to watch silk being made the ancient way; worms are involved, and tedious thread-by-thread work on a loom, and you'll be expected to buy a scarf after. Or buy a blessing at one of the town's many Buddhist temples, which have three front doors — one for men, one for women, and one for visiting spiritual leaders. After selecting your proper entry point and stepping inside, you may, for the modest cost of $25, light one of the slow-burning, cone-shaped spirals of incense overhead and send up a special prayer.
And by all means say grace over the fabulous street food. In a sprawling food court of sorts, vendor after vendor hawks the same menu including steamed chicken legs yellowed with saffron and turmeric, "white rose" dumplings filled with pork and shrimp, skinny little fried veggie spring rolls, cao lau noodle bowls with lemongrass broth and sliced roast pork topped with a salad of bean sprouts, spicy greens and crunchy rice-dough croutons. Near suppertime, when the thick air gets hazy, long lines form at the best banh mi shops.
Back at the Nam Hai, the food is also remarkable, which isn't surprising given the great abundance of organic ingredients grown on the grounds. Pineapple, sweet potatoes, peanuts, mangos, basil, melons, pumpkins, limes and chilies are just some of the bounty. A lovely meal of fresh banana flowers with smoked duck on the poolside patio of the property's Lá Sen restaurant may just be the second best treat to be had here.
The top prize, however, would have to go to the four-hand massage in a glass box of a treatment room hovering over a lotus pond at the Heart of the Earth spa. At a later point in your stay, you'll be asked to participate in a "Love Letter to the Earth" ceremony, in which you'll write a note about something you're thankful for, and set it afloat, on the very same pond, in a colorful paper box. Luckily, once the two therapists are done with you, you'll have very little trouble deciding what grateful message to scribble to the universe.
Food+Travel