Into the Wood
Take a rare peek behind the gates of Stablewood, as the remarkably remote, incredibly elite Uptown enclave on the forested banks of the bayou turns 25.
Jack Thompson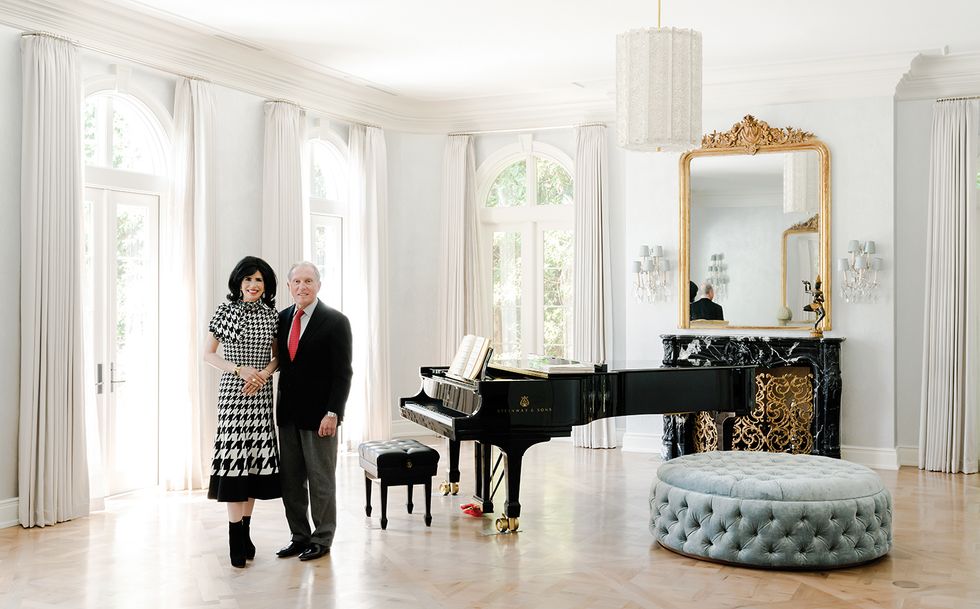 The Upper East Side. Beverly Hills. Chicago's Gold Coast. Here in Houston, there's River Oaks. These neighborhoods conjure images of wealth and prestige upon mention. The name Stablewood — which is every bit an equal of the others in terms of the prominence of its residents and the stateliness of its environs — may not garner such immediate recognition. But if it weren't such a well-kept secret, intentionally off the radar and quiet behind guarded gates, the Uptown-adjacent Memorial-area neighborhood celebrating its 25th anniversary this year certainly would.
---
Most of central and west Houston's established neighborhoods appeared in the early and mid 20th century, a time when the city routinely doubled its population and homebuilders struggled to keep up with demand. The Galleria opened its doors in 1970. Skyscrapers like Williams Tower quickly followed along Post Oak Boulevard, popping up throughout the '70s and '80s. Through it all, however, the Wiess family's 76 acres of woodland along Buffalo Bayou, purchased during World War I, remained untouched. It wasn't until 1992 that they finally decided to sell their estate and develop Stablewood, an enclave of large wooded lots located right in the heart of Uptown Houston.
Giorgio and Cathy Borlenghi in their traditionally designed 6,000-square-foot Stablewood manse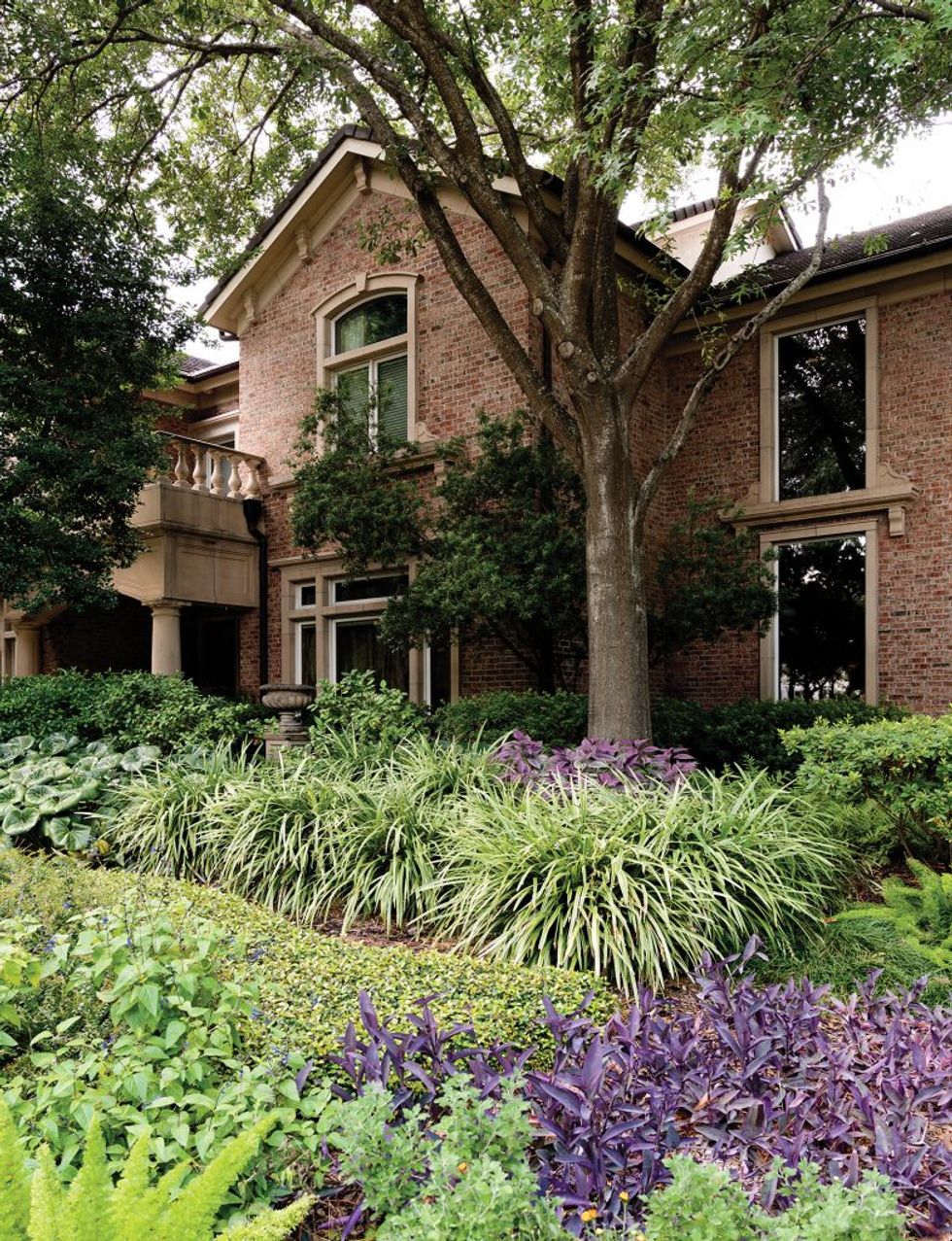 Giorgio and Cathy Borlenghi's beautiful brick exterior
Today, 121 custom-built homes sit along a handful of treelined boulevards. The street names, like Stable Crest Court and Harness Creek Lane, pay homage to the former property's equestrian heritage, and the Wiess family stables, designed by legendary 1920s architect John Staub, still remain. The place was a surprisingly bucolic retreat, and still provides tranquility today thanks to its direct access to Buffalo Bayou, the Houstonian Hotel & Spa and Memorial Park. Despite its rural feeling, the commute is unbeatable due to its proximity to both 610 and I-10. 
And the whole area is secured by a guard house and regular patrol team that make it arguably the city's safest neighborhood. Corporate lawyer Robert Gray, the current president of the Stablewood homeowners association, moved his family here from Bayou Bend Towers back in 1998. Work regularly takes him around the world at a moment's notice, so security for his family is key to his peace of mind. Although residential towers provide that, you can't beat your own backyard just out the door. "This is like a high rise on the ground," he says. Not only do professionals keep watch, but Gray also fondly recalls a scene years ago when his late neighbor, legendary philanthropist Lester Smith, stopped his son for running a stop sign on his bicycle. Lester's wife Sue still calls the neighborhood home.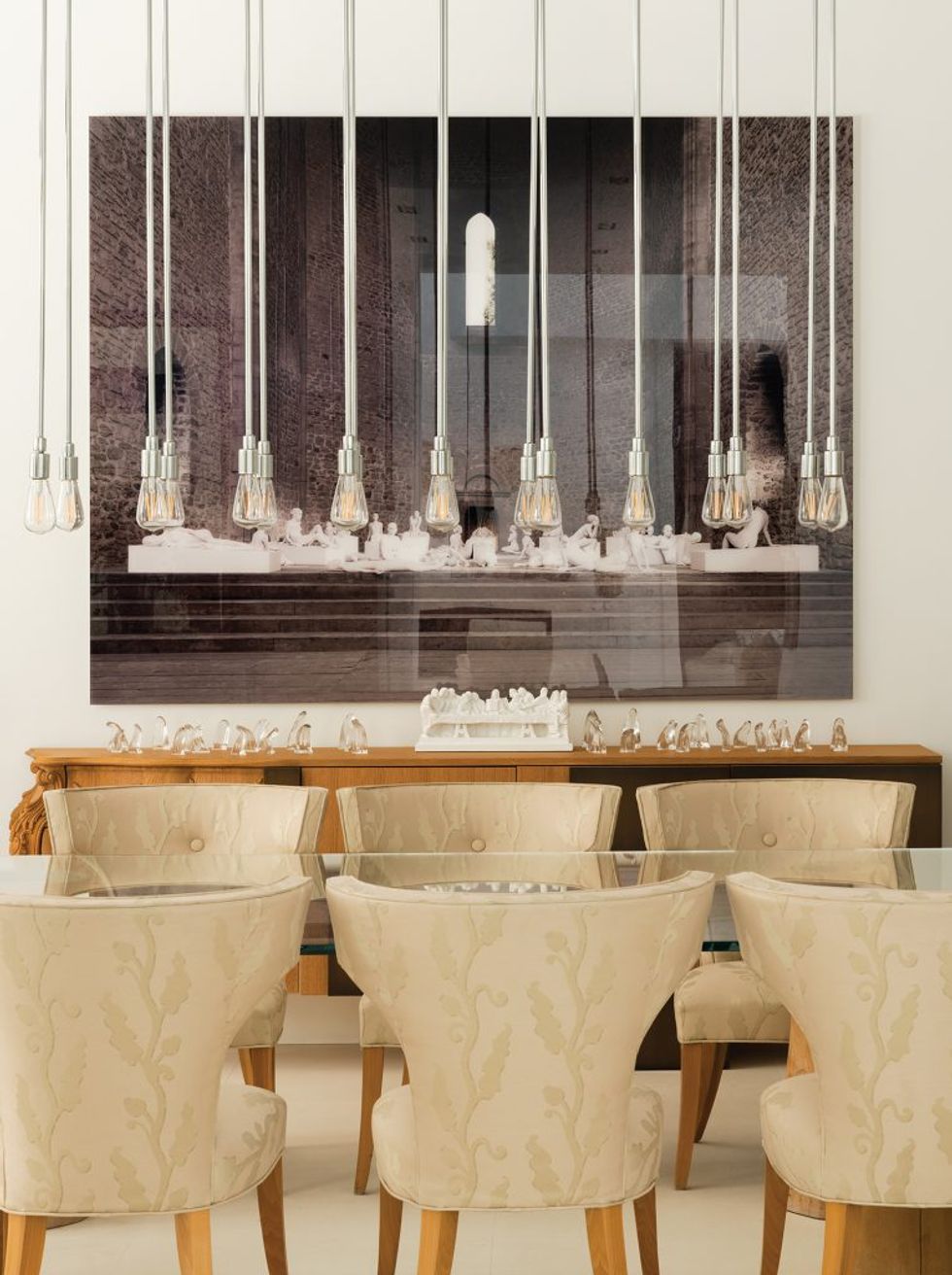 Lucinda and Javier Loya's dining room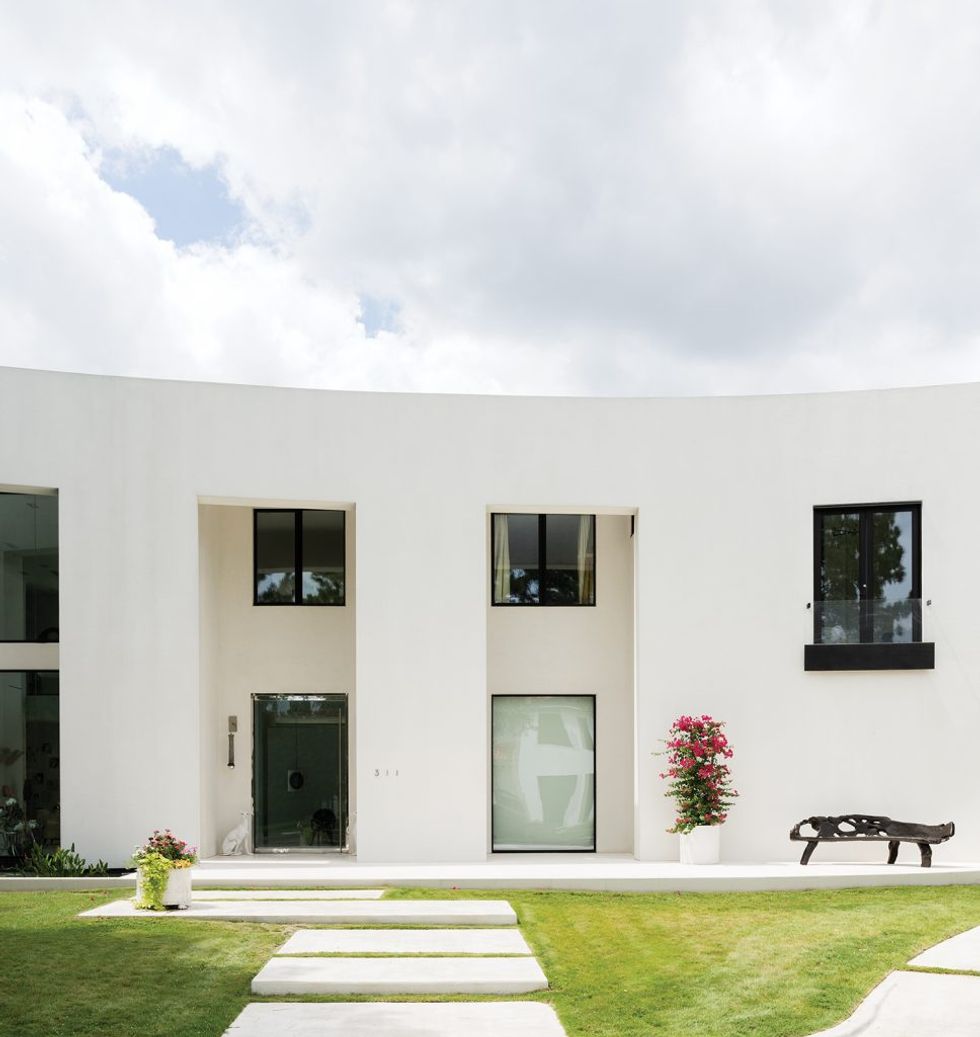 The facade of their contemporary Stablewood mansion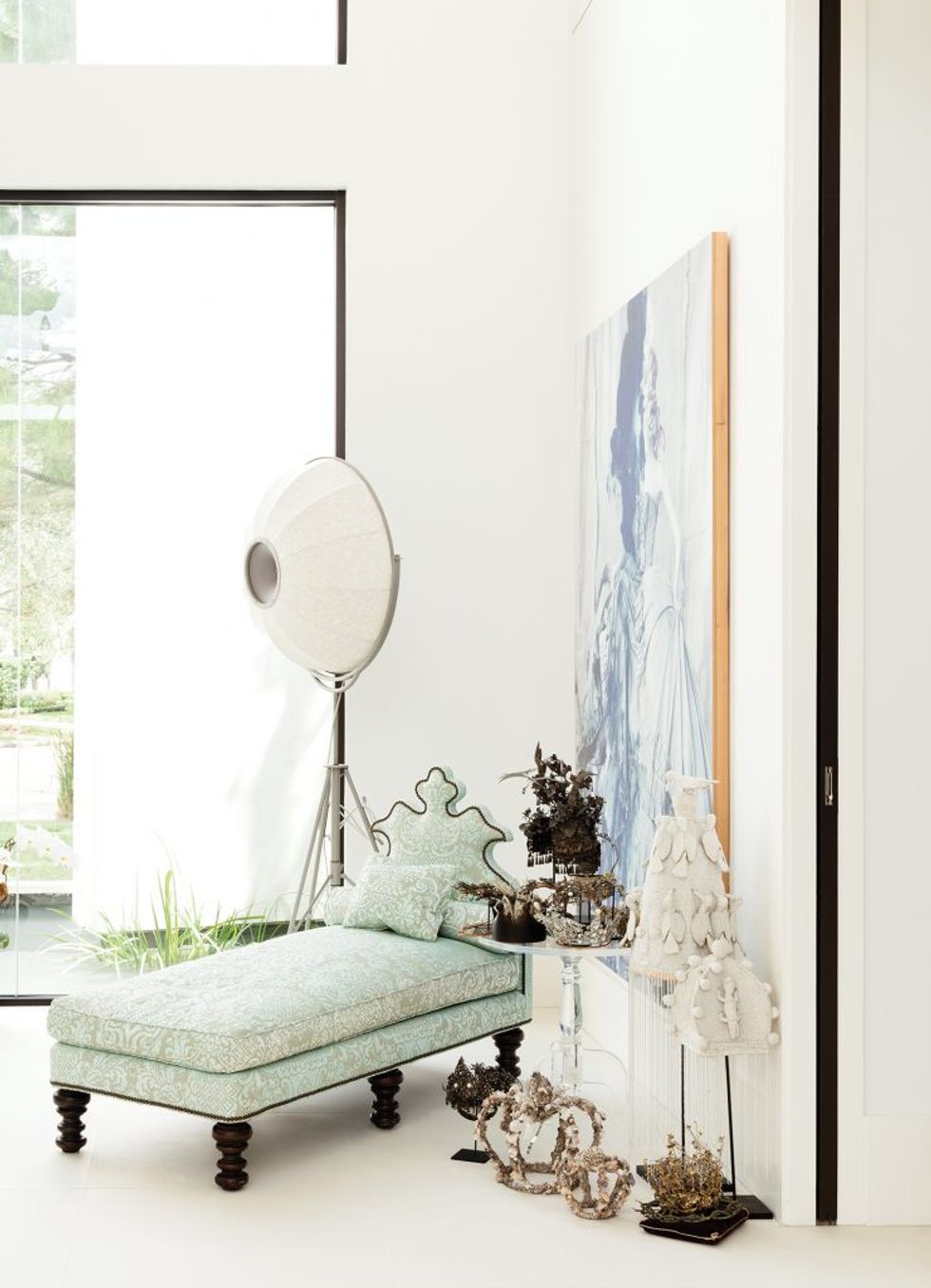 A seating area in the living room features a mint-green chaise and a Susy Gomez painting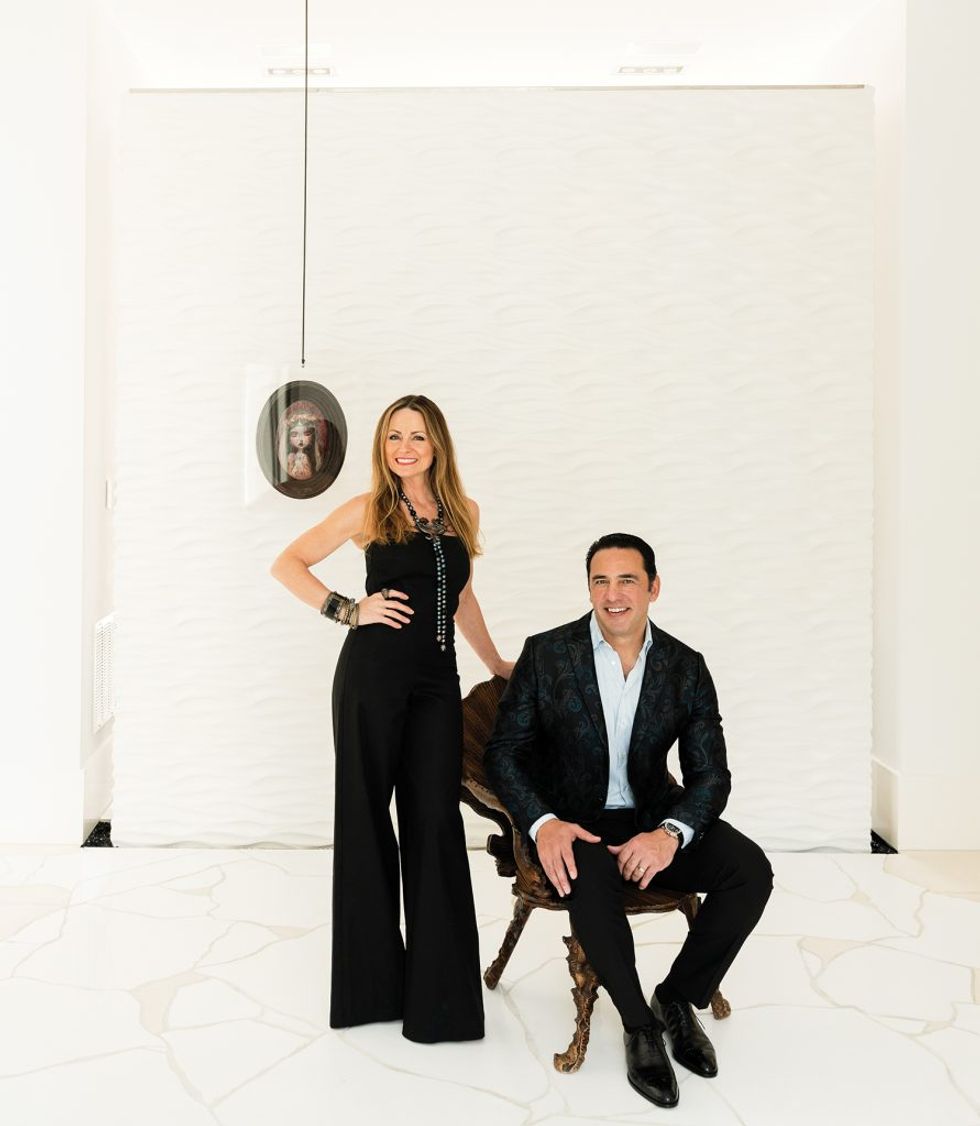 Lucinda and Javier Loya's dining room
Stablewood residents Giorgio and Cathy Borlenghi, the real estate developers who own the nearby Hotel Granduca, relocated to Stablewood when their son left home to attend UT more than a decade ago. "We've always loved the area," Giorgio says, noting that his office, his hotel and both the Galleria and Downtown are just minutes away. The couple swiftly swapped their 12,000-square-foot residence on a three-acre lot on Friar Tuck for a 6,000-square-foot ivy-covered traditional brick home just down the street. It still has an expansive, verdant feel — but with a margin of the upkeep. Inside, they've also maintained plenty of space for entertaining guests and displaying their Italian art collection. "We should've moved in 10 years earlier," Borlenghi jokes.
Kate and business exec Cary McNair — whose name may ring bells for Houston Texans fans, since his family owns the NFL team — also decided to settle into the neighborhood after their kids fled the nest. Uncannily, they called the Borlenghis neighbors on Friar Tuck before moving to Austin 14 years ago. Upon deciding to return to Houston in 2012, they settled in Stablewood. Like the Borlenghis, they've scaled back a bit, but their French Colonial home is still the perfect size for visitors and hosting dinner parties. But it's the access to nature and the 24/7 security that they most enjoy. "Cary often runs or cycles in Memorial Park as part of his triathlon training, and we are only a mile away from Sunday matches at the Houston Polo Club," Kate says.
Other residents find the neighborhood perfect for raising families. Interior designer Lucinda Loya and her investment banking husband Javier chose to rear their daughters, both of whom are at Kinkaid, here. "We moved in when I was six months pregnant and have owned three different properties," Lucinda says. "My girls learned to walk here, ride their bikes here, and even drive here. It backs up to the Houstonian, where they often had playdates. They were empowered and able to have independence earlier than normal. They could go off and swim, rock climb, explore — all because I knew they were safe."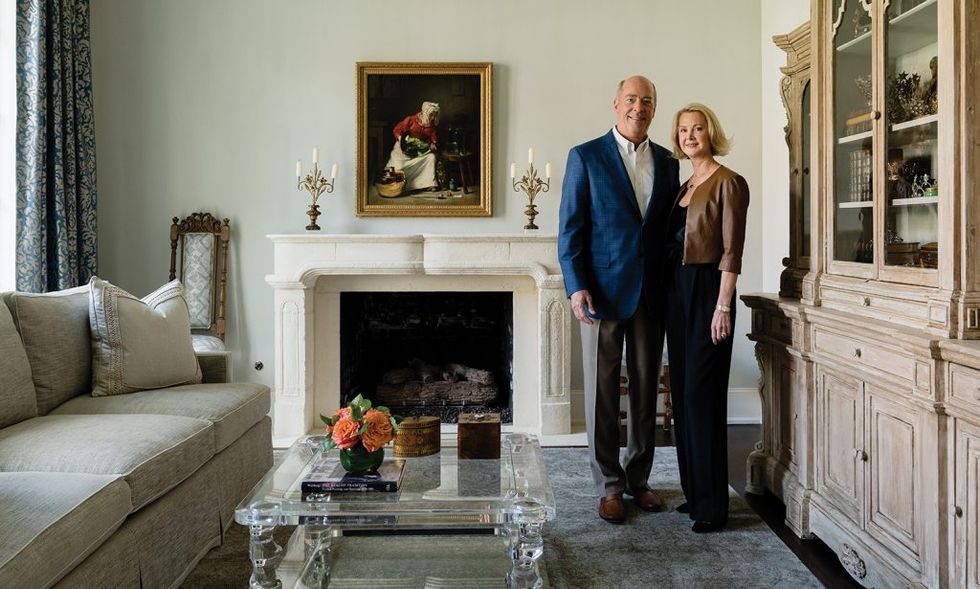 Cary and Kate McNair in their regal living room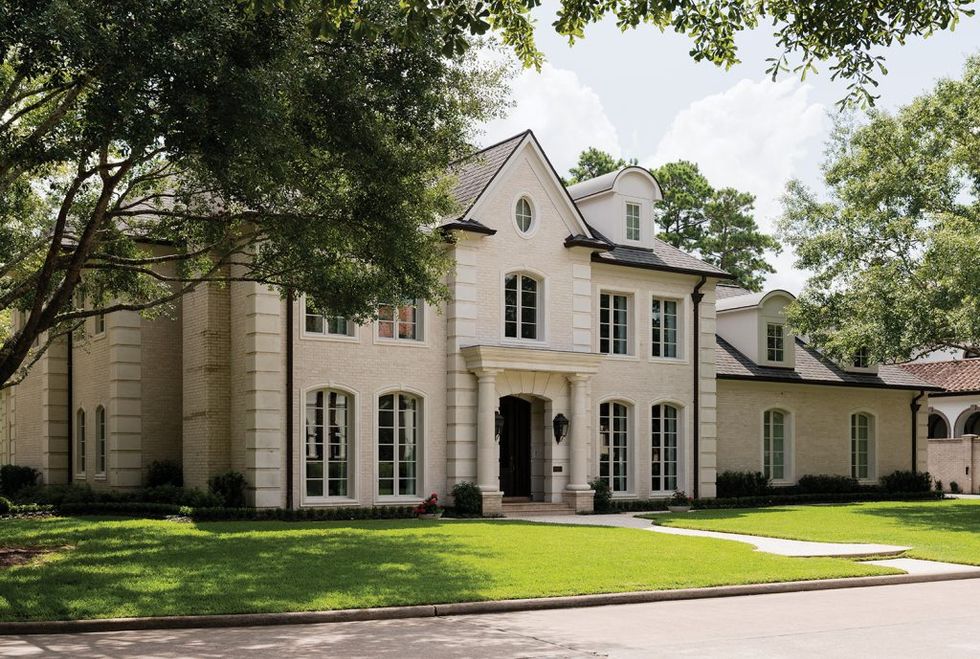 The McNair home's French Colonial exterior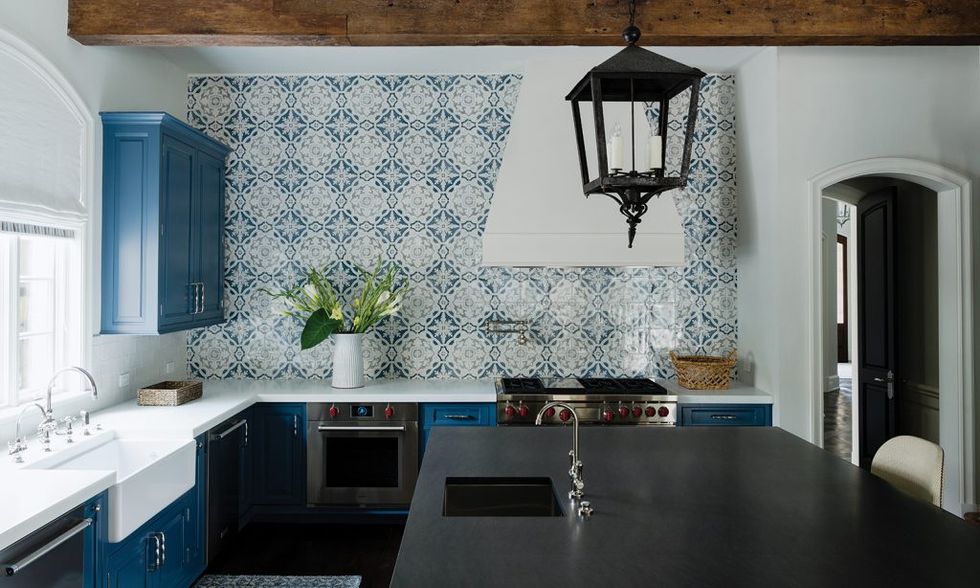 The kitchen boasts a modern farmhouse flair
Lucinda has injected a healthy dose of modernism into the mostly traditional-leaning neighborhood. Her home, an 11,000-square-foot showpiece of her bold, contemporary touch, is one of the neighborhood's most striking, and she's had seven other projects in the neighborhood. (Next on the list is a new construction she's designed for the lot next door.)
Kelli Cohen Fein and Martin Fein, another philanthropic power couple — they are co-chairing the Men of Substance Gala benefiting Texas Children's Hospital Nov. 1 — have also moved within the neighborhood and never considered leaving. "The area has retained its sense of nature and beauty," notes Kelli, a renowned physician, and it's conveniently situated for both professional commutes, as well as her frequent trips to the opera, ballet and theater. 
"It's such an intimate and special community," Lucinda adds. There is great privacy, and residents can come and go as they please without worry, but it also offers up a sense of community for those who are interested. Stablewood has its own book club, a full calendar of seasonal events and block parties, and a regular meeting for residents interested in discussing market trends and investment strategies. 
There's a bit of everything for everybody, and though the Wiess family horses no longer canter through the woods, it's clear that there are few other communities that allow living deep within the tranquility of nature and the safety of a remote enclave, while also having immediate access to the center of the action in one of the world's great cities.
AT TOP: Kelli Cohen Fein and Martin Fein in their elegant music room
Art+Culture