Latest Dish - November 2018
Houston's Best Food News, in Small Bites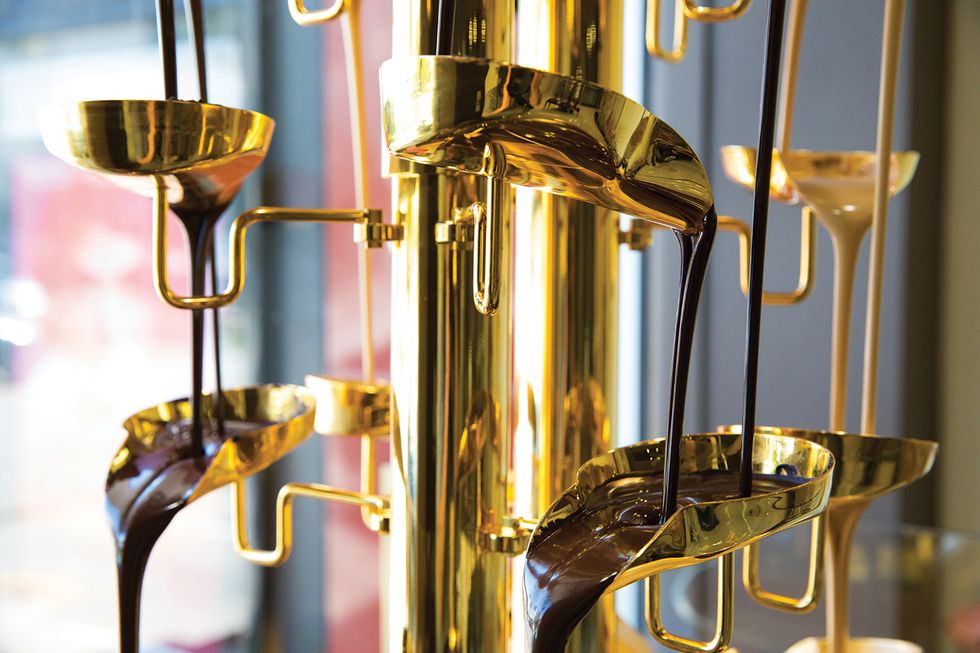 Adam Brackman and Monica Pope have launched Vinegar Hill Houston in the space formerly occupied by the original Beaver's. The multi-purpose concept, which will serve as part co-working space, part bar and part extended-stay pop-up shop, will allow chefs to sharpen their chops in a fully functional kitchen before committing to a brick-and-mortar. 2310 Decatur St.
---
Breakfast in the Buff?! Both locations of Buff Burger have launched breakfast with tasty options available from 7am to 11am daily. Try the house-smoked salmon with chevre cream cheese on an "everything" bun, or a loaded breakfast burg with a 44 Farms beef patty and hen egg on a warm challah bun.
New York-based group Four J Foods, helmed by Jonathan Waxman, Joey Campanaro, Jimmy Bradley and Jason Giagrande, has launched its first location of The Roastery at H-E-B in Bellaire. The quick-service coffee and dining concept will focus on chef-driven meal options and a robust beverage program to include beer and wine, and will appear in multiple other stores later this year. 5106 Bissonnet St.
Former State of Grace pastry chef Sharon Leonard has opened Sweet Bribery in the Heights. Dessert-lovers can get their fill with a mouth-watering menu of house-made ice creams and classic toppings along with pastries, tarts, cookies and more. 250 W. 19th St.
Benjy's has introduced a post-happy hour, available Monday through Saturday in the Lounge, from 7pm until close. Offerings include $8 cocktails — like the seasonal sangria and the Elderflower Elixir — and $10 bites, including the cheddar-cheesy akaushi burger. 2424 Dunstan Rd., 713.522.7602
After more than a decade in its Chelsea Market location, Danton's Gulf Coast Cuisine will briefly close and reopen in the former Mockingbird Bistro space as Eugene's Gulf Coast Cuisine, a nod to proprietor Kyle Teas' father. Fan favorites such as the Bloody Danton and steaks grilled over a wood burning fire will still be served, but guests can expect a menu refresh come early 2019. 1985 Welch St.
It's showtime for Diana American Grill at the Hobby Center! Helmed by James Beard-winning chef Robert Del Grande, the restaurant boasts a timeless menu focused on the classic dishes associated with a traditional American grill. 800 Bagby St.
Guests can nosh on much more than whiskey, beer and tacos at Eight Row Flint these days, as the Heights ice house is offering an updated menu of bar bites to include items like sweet corn hushpuppies with queso fresco and all-beef "Sonora Dogs." 1039 Yale St., 832.767.4002
King of Tex-Mex? We'll see. Famed pit-master Ronnie Killen has announced he will soon add Killen's TMX to his list of concepts in Pearland. Expect protein-heavy dishes like brisket enchiladas and wagyu beef fajitas, and Killen's own Mexican travels will inspire the look and atmosphere of the cantina. 9330 W. Broadway St.
Gourmet chocolatier Cacao & Cardamom has opened a second location, bringing its decadent selection of handmade chocolate bon-bons and truffles to River Oaks. Fondue Fridays, chocolate happy hour and a nearly five-foot, gold-plated, dual-cascading chocolate fountain are new additions to the opulent boutique. 2013 W. Gray St., 713.814.5914
AT TOP: Steams of white and dark chocolate flow through the five-foot-tall, gold-plated fountain that graces the window of Cacao & Cardamom's new location, daring passersby strolling through the River Oaks Shopping Center to pass it up. 
Food+Travel